These whole30 chicken fajitas are so delicious, easy to make, and healthy. This whole30 dinner is a simple sheet pan recipe that will quickly become a family favorite! Plus, learn how to make the best whole30 fajita seasoning.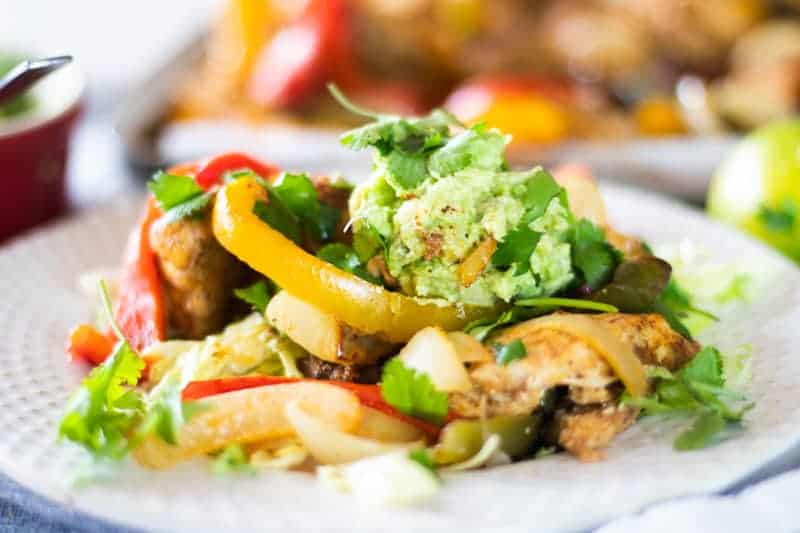 Fajitas are my absolute favorite Mexican dish ever! However, they can be hard to assemble for a large crowd AKA a family of 6! Sheet pan dinners are so easy to make and work great for a large family. Whole 30 chicken fajitas are kid-approved and can be made on those busy weeknights.
After I made my first sheet pan dinner, I started noticing that I could turn almost anything into a sheet pan dinner. I love how healthy they are, and my family loves eating them.
I will show you how to turn this classic Mexican dish into a whole30 approved meal that is loaded with flavor!
PIN IT FOR LATER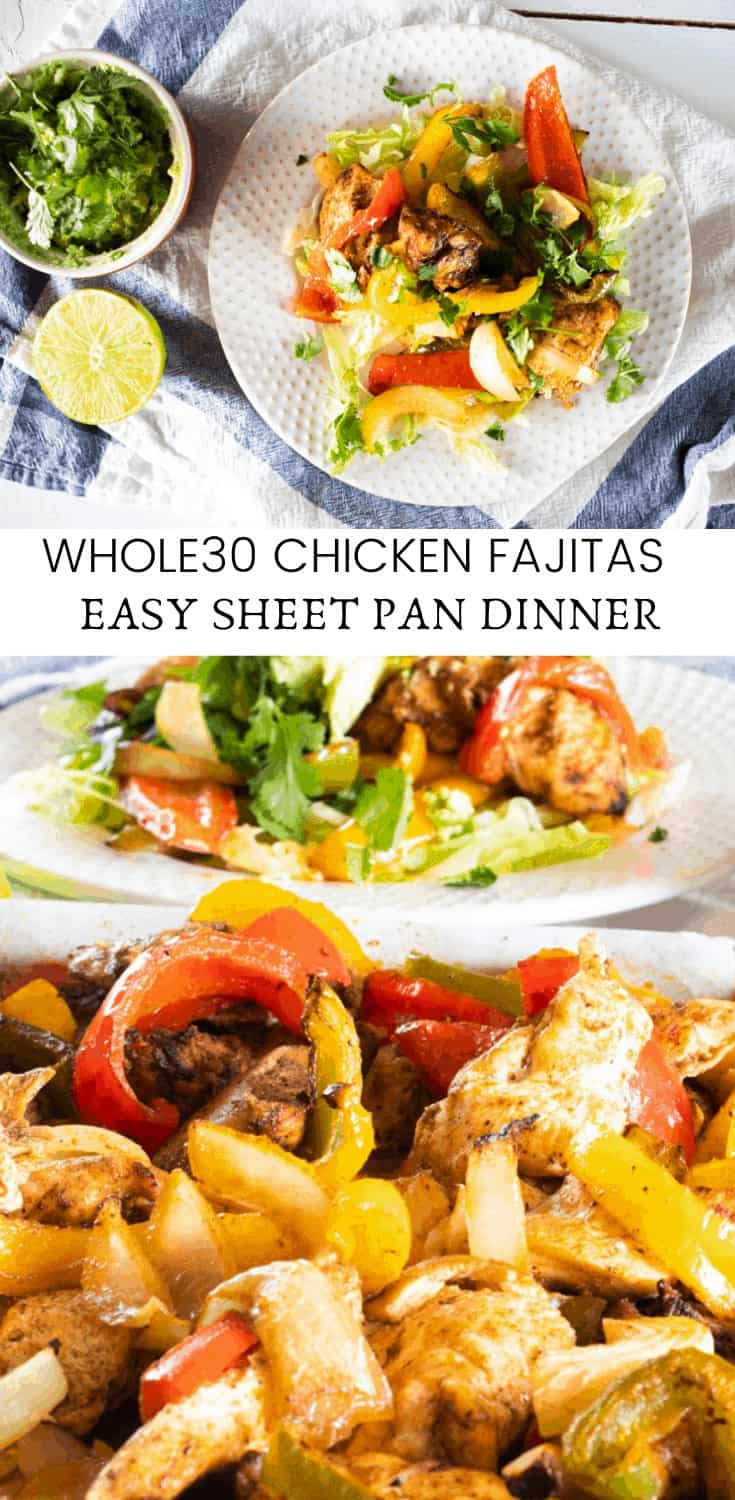 HOW TO MAKE CHICKEN FAJITAS WHOLE30
Fajitas are often smothered in cheese and rolled up in a flour tortilla. Two things that are definitely not found on the whole30 approved list! So how can we still get that delicious fajita flavor without the gluten, dairy, and overly processed foods?
Swap out that flour tortilla for coconut flour or cassava tortillas. Or you can serve the fajita on a bed of lettuce and ditch the wrap altogether.
Instead of sour cream, top the fajitas with sugar-free salsa and homemade guacamole. Fresh pico de Gallo also adds delicious flavor!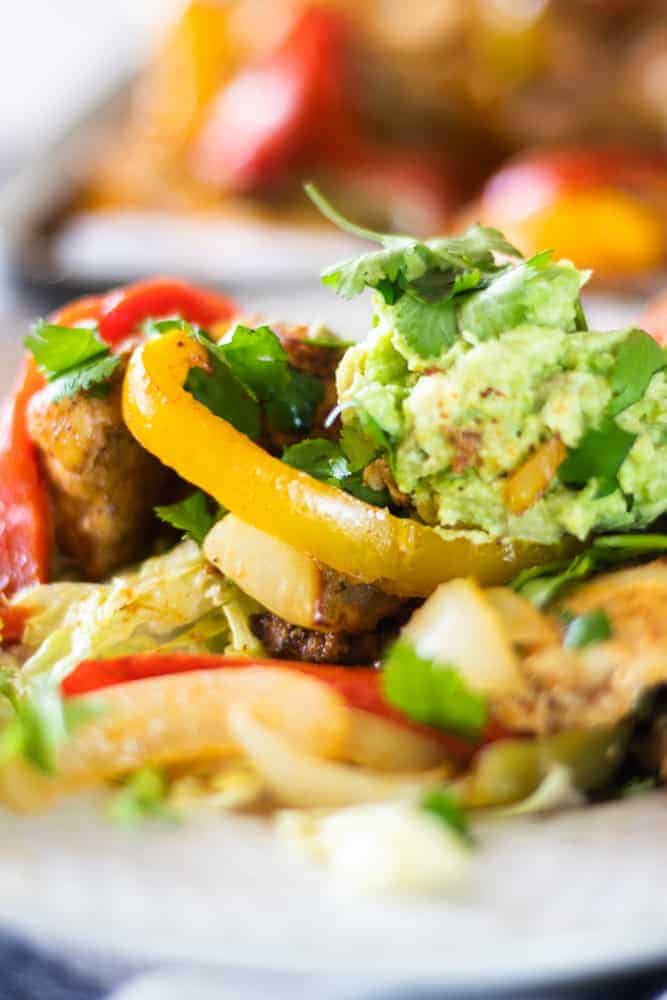 CHICKEN FAJITA DINNER
You can make fajitas with vegetables, chicken, steak, or even shrimp! Good ol' fashion chicken is my favorite! It is so tasty and such a classic. The way you season and cook your chicken is crucial.
You can use boneless skinless chicken breast, chicken thighs, or chicken tenderloins in your chicken fajitas. I have even used leftover shredded chicken from a whole chicken the night before. Any chicken will do!
I prefer to cut the chicken into slices, but shredded or cubes work too.
WHOLE30 FAJITA SEASONING RECIPE
After cutting the chicken into slices, it is time to coat it in some delicious whole30 approved fajita seasoning. This seasoning has a little kick to it, and you can leave out the paprika if you want to tone it down.
Spices you will need for the whole30 fajita seasoning:
Chili powder
Cumin
Garlic powder
Salt
Pepper
Paprika
I show the exact measurements of the spices in the recipe card below. You can make a large batch of this at a time and keep it in an airtight container to make fajita night even easier!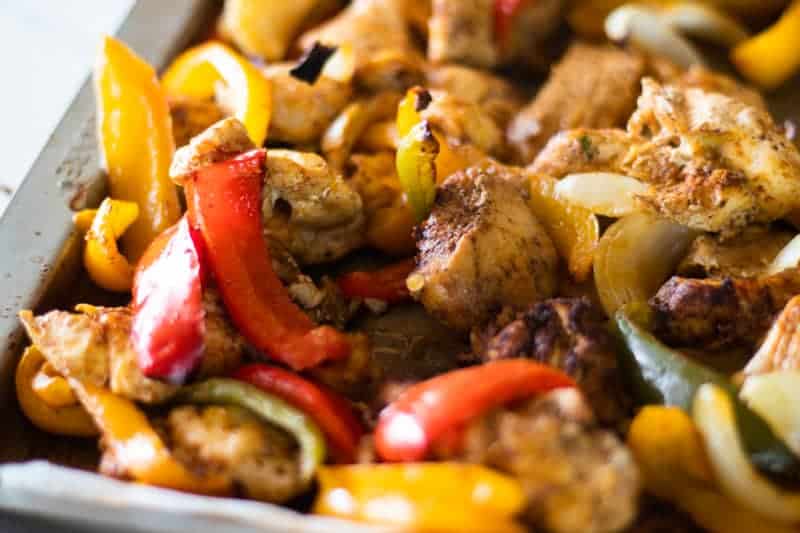 WHOLE30 CHICKEN FAJITAS SHEET PAN RECIPE
This post contains affiliate links, which means I make a small commission at no extra cost to you. Get my full disclosure HERE.
Pretty much all sheet pan recipes are the same concept, just using different ingredients. We will be using chicken, red bell peppers, yellow bell peppers, orange bell peppers, and onions for this recipe. Put it on a pan and bake it!
I like to use a baking sheet lined with parchment paper. Add ingredients to the pan. Drizzle with avocado oil and top with your favorite spices. Bake in a 400-degree oven for 25-45 minutes, depending on what meat you choose and the thickness of the cut.
For these whole 30 chicken fajitas, I like to top with some fresh lime juice and cilantro.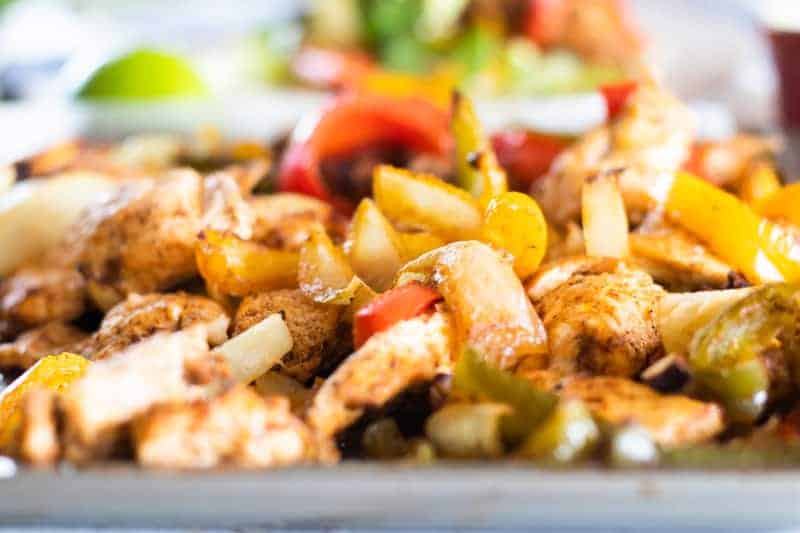 WHOLE30 CHICKEN FAJITA TOPPINGS
The best part about chicken fajitas is the toppings! You can go so many ways with this, and the more, the better, in my opinion.
Shredded lettuce
Pico de gallo
Sliced avocados
Homemade guacamole
Diced tomatoes
Lime wedges and fresh lime juice
Fresh cilantro
You can even serve this with a side of cauliflower rice or beans if not doing whole30.
HOW TO MAKE WHOLE30 GUACAMOLE
1 ripe avocado, peeled and pitted
Jalapeño, cored and finely diced (optional)
Finely diced red onion
Fresh lime juice
Cilantro leaves, finely chopped
Sea salt
ground cumin
Roma tomato, diced
Use a fork to mash the avocados to your desired consistency.
Stir in the jalapeño, onion, lime juice, cilantro, salt, and cumin until well-mixed.
Top with diced tomatoes.
HOW TO MAKE WHOLE30 PICO DE GALLO
1 tomato, diced
1/2 onion, diced
1/2 green pepper, diced
1 jalapeño, diced
1/4 cup fresh cilantro, chopped
Juice from one key lime
Add all the ingredients to a small bowl and mix until well combined.
HOW TO MEAL PREP CHICKEN FAJITAS FOR LUNCH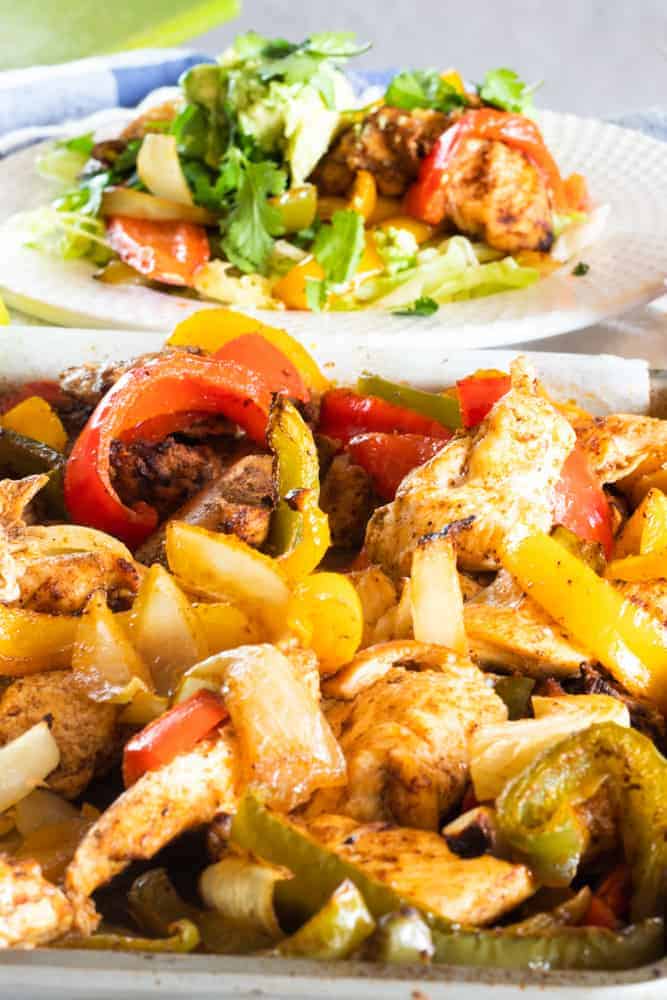 Meal prepping is the best way to ensure that you will be getting healthy meals every day. This is especially important if you work outside of the home or you are often gone during meal times.
Chicken fajitas make a great lunch or dinner. You can double this recipe and make two sheet pans at once if you want to make lunches for the entire week.
After the chicken fajitas are finished baking, let them cool and then divide them up into small containers. I pack my husband's lunch every single day, and I love using glass containers that have locking lids.
Keep your toppings separate until the day of eating to avoid them from getting soggy. To make mornings easier, prep your toppings beforehand, so all you have to do is toss it on top of the fajitas before leaving the house.
HOW LONG WILL WHOLE30 CHICKEN FAJITAS LAST?
They will last for 5-7 days if stored in an airtight container in the refrigerator.
WHAT IS WHOLE30?
Whole30 is a dietary change intended to be kept for 30 days. While on the whole 30, no sugars, processed foods, grains, or dairy intake are allowed. Basically, meats, healthy fats, fruits, and vegetables will be the main source of food.
MORE WHOLE30 APPROVED RECIPES:
Whole30 Chicken Fajitas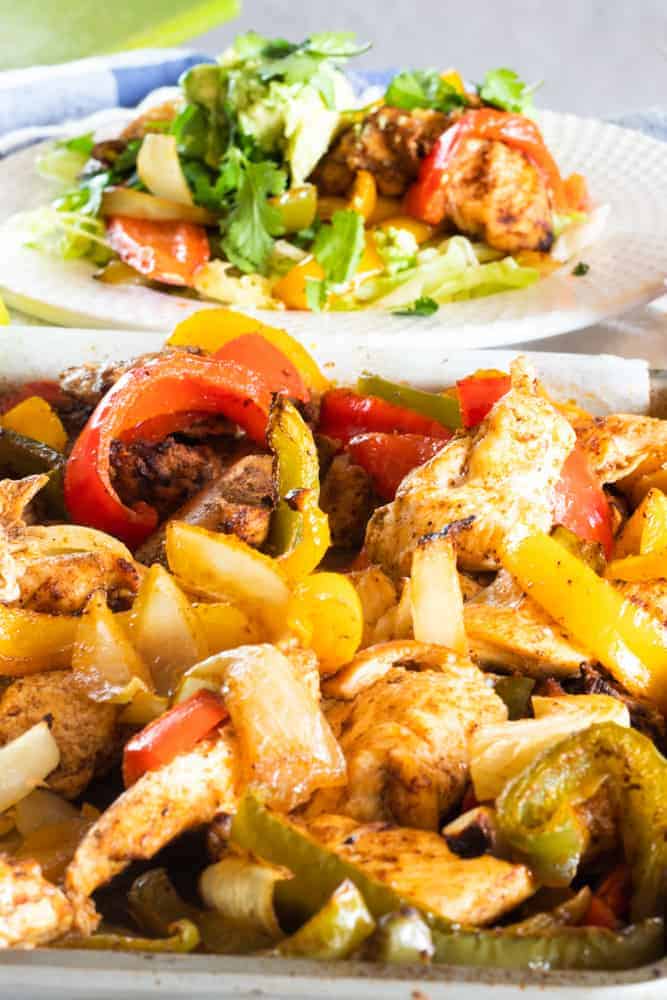 Ingredients
1 pound chicken, boneless skinless breasts
1 red pepper, sliced
1 orange pepper, sliced 
1 yellow pepper, sliced
1 onion, sliced 
1/4 cup avocado oil 
2 teaspoons chili powder 
1/2 teaspoon cumin 
1/2 teaspoon garlic powder 
1/2 teaspoon salt 
1/2 teaspoon pepper 
1/4 teaspoon paprika
1/4 cup fresh cilantro 
1 key lime, juiced 
Instructions
Preheat oven to 400 degrees.
Slice chicken into one-inch slices and place them in a large bowl.
Add in vegetables, avocado oil, and spices.
Toss to coat.
Cover baking dish with a piece of parchment paper.
Spread chicken and vegetables out evenly on a baking dish.
Bake for 25-30 minutes or until chicken is cooked.
Top with cilantro and lime juice.
Serve with fresh guacamole, salsa, shredded lettuce, tomatoes, and jalapenos.