Try this whole 30 pumpkin spice latte made with real ingredients. It is so easy to enjoy this famous fall drink with this simple whole 30 coffee recipe: Dairy-Free and gluten-free pumpkin spice latte with no added sugar.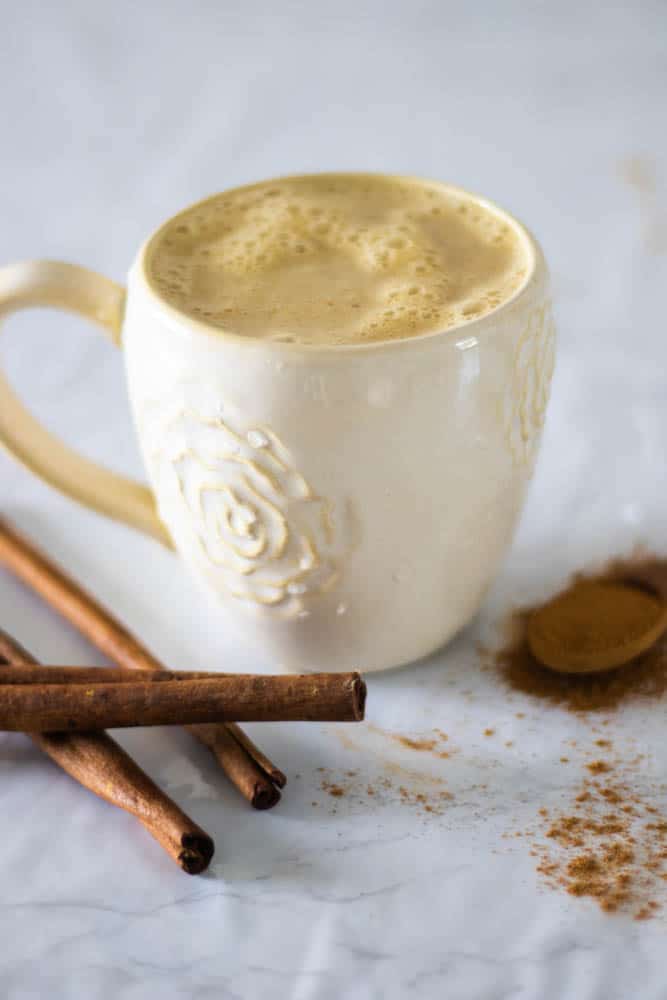 PIN IT FOR LATER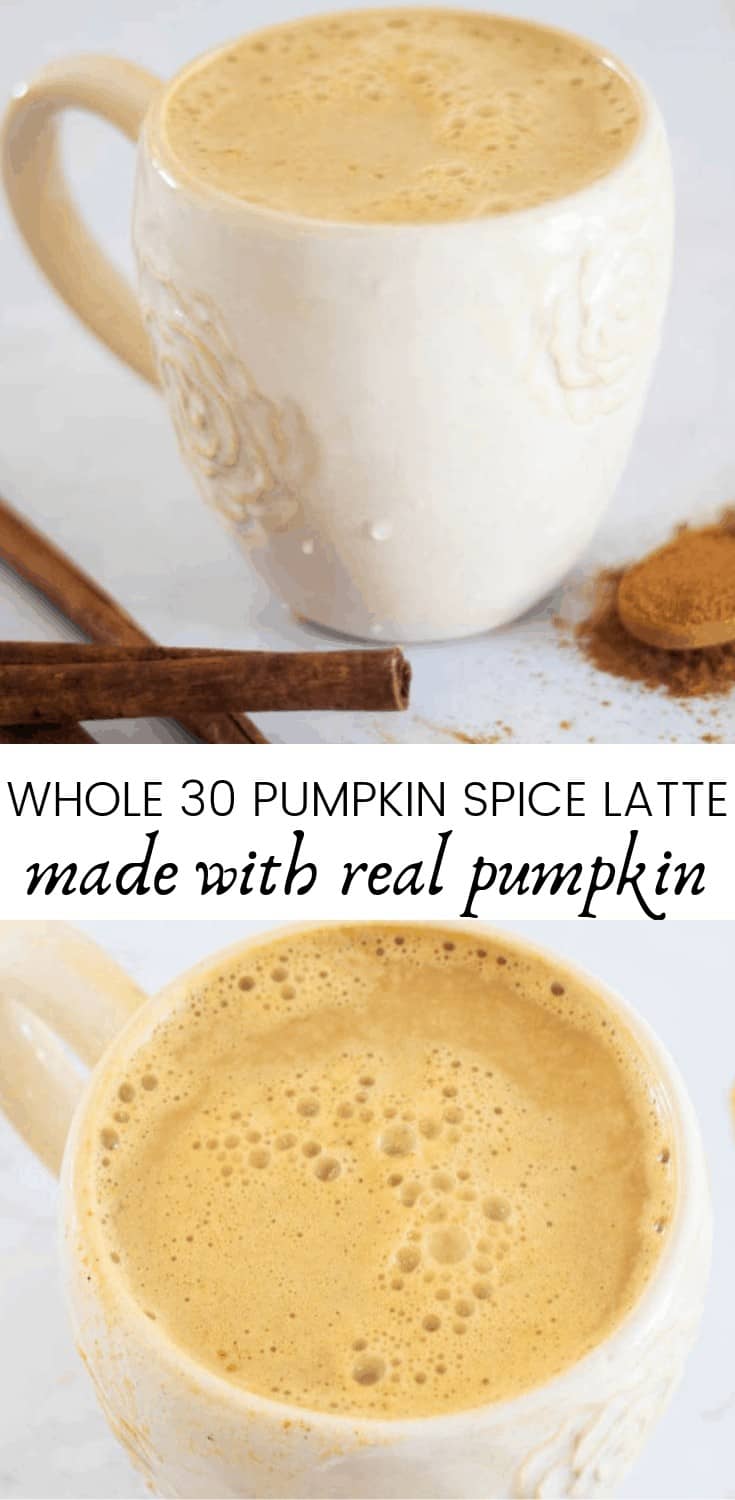 Pumpkin is in the air, well, at least it is at my house. You will already find my husband sipping this whole 30 pumpkin spice latte on the weekends while the kids are enjoying pumpkin granola, muffins, and pancakes, and it is still September!
I have all the fall diffuser blends going, and it is starting to get cooler outside. Every year I hate to see summer go, but fall really is a magical time of year. Something about windows open and pumpkin bread in the oven can really set the mood.
WHOLE 30 PUMPKIN SPICE LATTE
Ok, so I have to admit, I am not a coffee drinker. I always thought I would become one as an adult. Well, I'm 31 with 4 kids and still not a coffee drinker. I guess it isn't going to happen. However, I can really get down with a pumpkin spice latte.
It isn't that I don't like the taste of coffee because I do; I just don't think about it or need it. Plain coffee with a little creamer isn't my jam. Add some froth and sweetness, and I am all about it. Yup, I like the unhealthy kind! I rarely drink coffee, but I'll make a few exceptions during the fall. 😉
WHOLE 30 COFFEE DRINK
As soon as the PSL hit the local Starbucks, it got me thinking. Everyone goes crazy for them! Why not make this coffee at home? It is so much cheaper! Why not make a pumpkin spice latte with no sugar? No guilt! Why not make the thing whole 30 approved?
This whole 30 pumpkin spice latte is made with real pumpkin puree, almond milk, and fall spices. Absolutely no artificial flavors here, just the real stuff!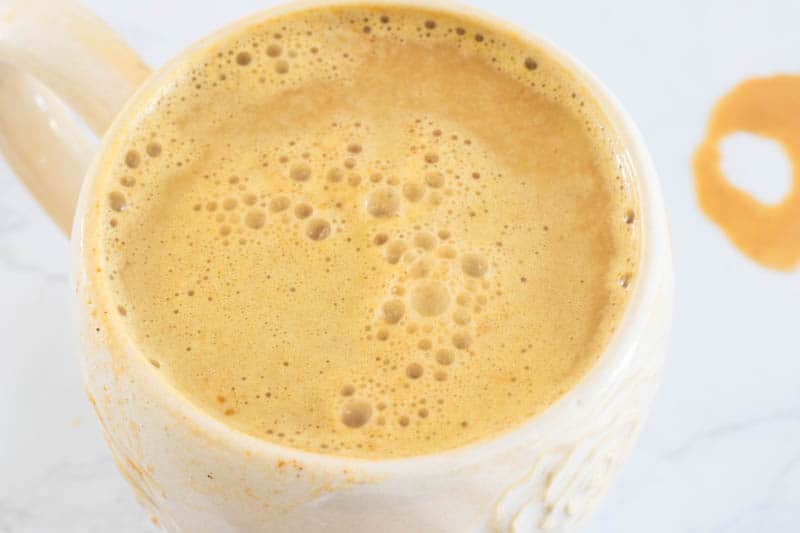 This post contains affiliate links, which means I make a small commission at no extra cost to you. Get my full disclosure here.
HOW TO MAKE WHOLE 30 COFFEE
Coffee is whole 30 approved. You can drink it black or with non-diary complainant milk. You can even find whole 30 approved coffee creamers.
Almond milk and coconut milk are allowed on the whole 30 diet. However, you need to check your labels! A lot of almond milk and coconut milk have added ingredients in them that will need to be avoided while on the whole 30.
Whole 30 doesn't allow any type of sweeteners; even stevia is out. You can add in cinnamon or real vanilla. Stay away from imitation vanilla; it has sugar in it.
PUMPKIN SPICE LATTE WITH ALMOND MILK
This whole 30 pumpkin spice latte will call for almond milk. That is my favorite type of dairy-free milk. You can also use coconut milk if you prefer.
I have made it with both. I prefer almond milk, but both are delicious.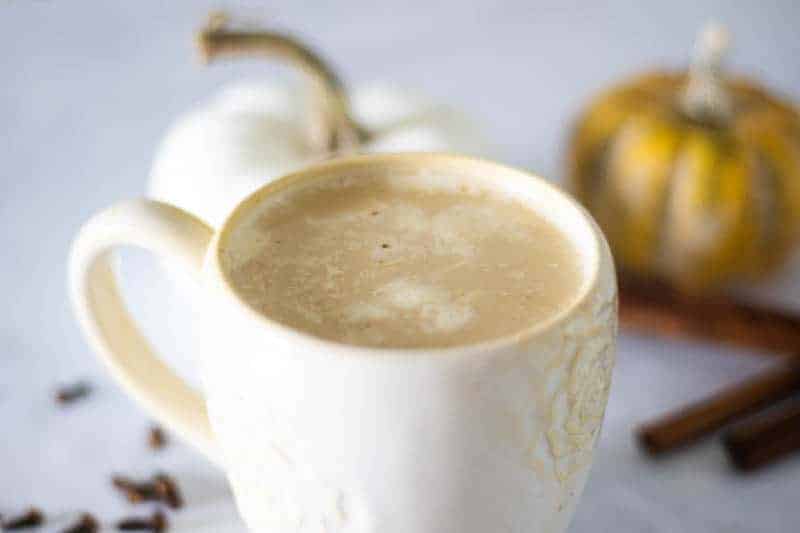 BEST COFFEE FOR PUMPKIN SPICE LATTE
You will see that the recipe calls for strong brewed coffee. That is because it will be diluted with milk, spices, and pumpkin puree. You can use regular or decaf coffee.
My husband is what I like to call a "coffee snob." He grinds whole beans every morning and only uses a french press. The guy even packs his grinder and press for weekend vacations. See what I mean? 😉
You will need 1/2 cup of strongly brewed hot coffee; figure about 1.5 tbsp of coffee grinds. I am using the french press, but a regular pot will do too!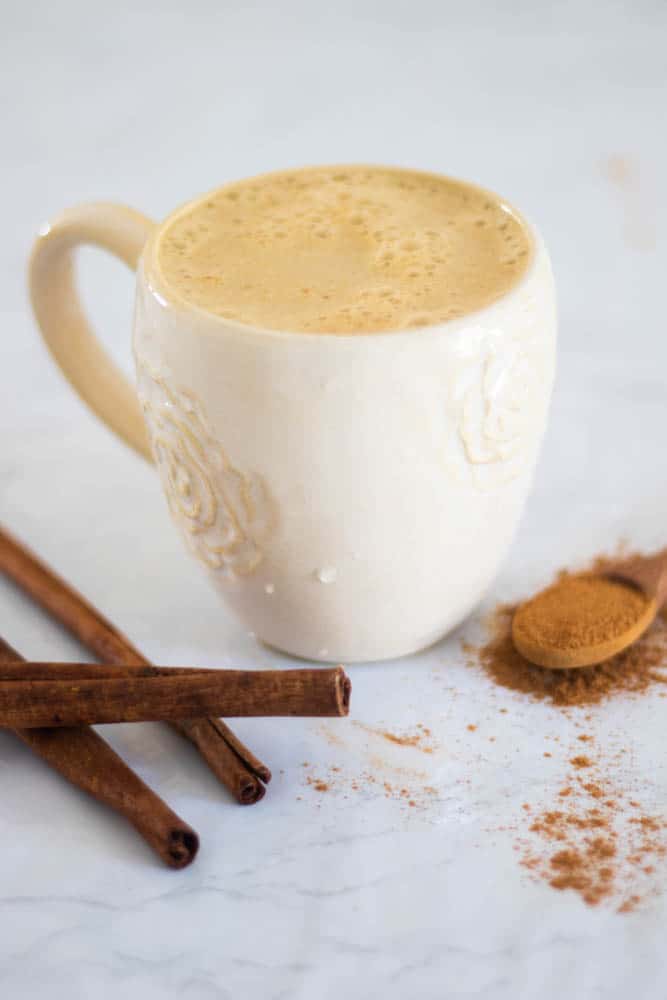 PALEO PUMPKIN SPICE LATTE
You can easily turn this into a paleo pumpkin spice latte if you are not on the whole 30 by adding a couple of tablespoons of sweetener to your pumpkin spice latte. When I am not doing the whole 30, we stick to the paleo diet.
Healthy sweeteners, like honey, coconut sugar, maple syrup, and stevia, are allowed on the paleo diet. I have an option to add this to the recipe if you are not on the whole 30. It is delicious without and is completely optional!
Looking for more healthy meal ideas? Check out my 30-days of healthy eating cookbook.
Whole 30 Pumpkin Spice Latte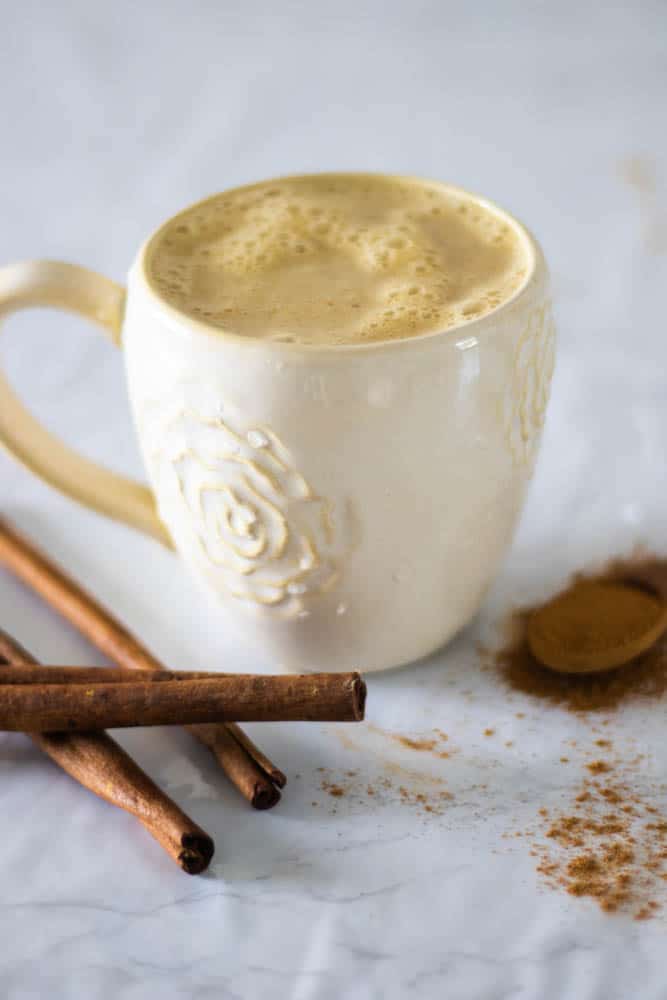 Ingredients
1/2 cup strong brewed coffee
1/2 cup almond milk
2 tablespoons pumpkin puree
1 teaspoon pure vanilla extract
1/4 teaspoon pumpkin pie spice
1/4 teaspoon cinnamon 
2 tablespoons honey (If not on whole 30.)
Instructions
Add milk, pumpkin pie spice, and cinnamon to small saucepan. Heat over medium heat for 3 minutes stirring often. Then pour into a blender.
Place the rest of the ingredients into the blender.
Blend on high for 2 minutes.
Pour into coffee mug.
Top with coconut cream and sprinkle with pumpkin pie spice. (OPTIONAL)