Golden Milk is a delicious hot drink loaded with health benefits. Learn how to make the perfect golden milk with Tumeric essential oil.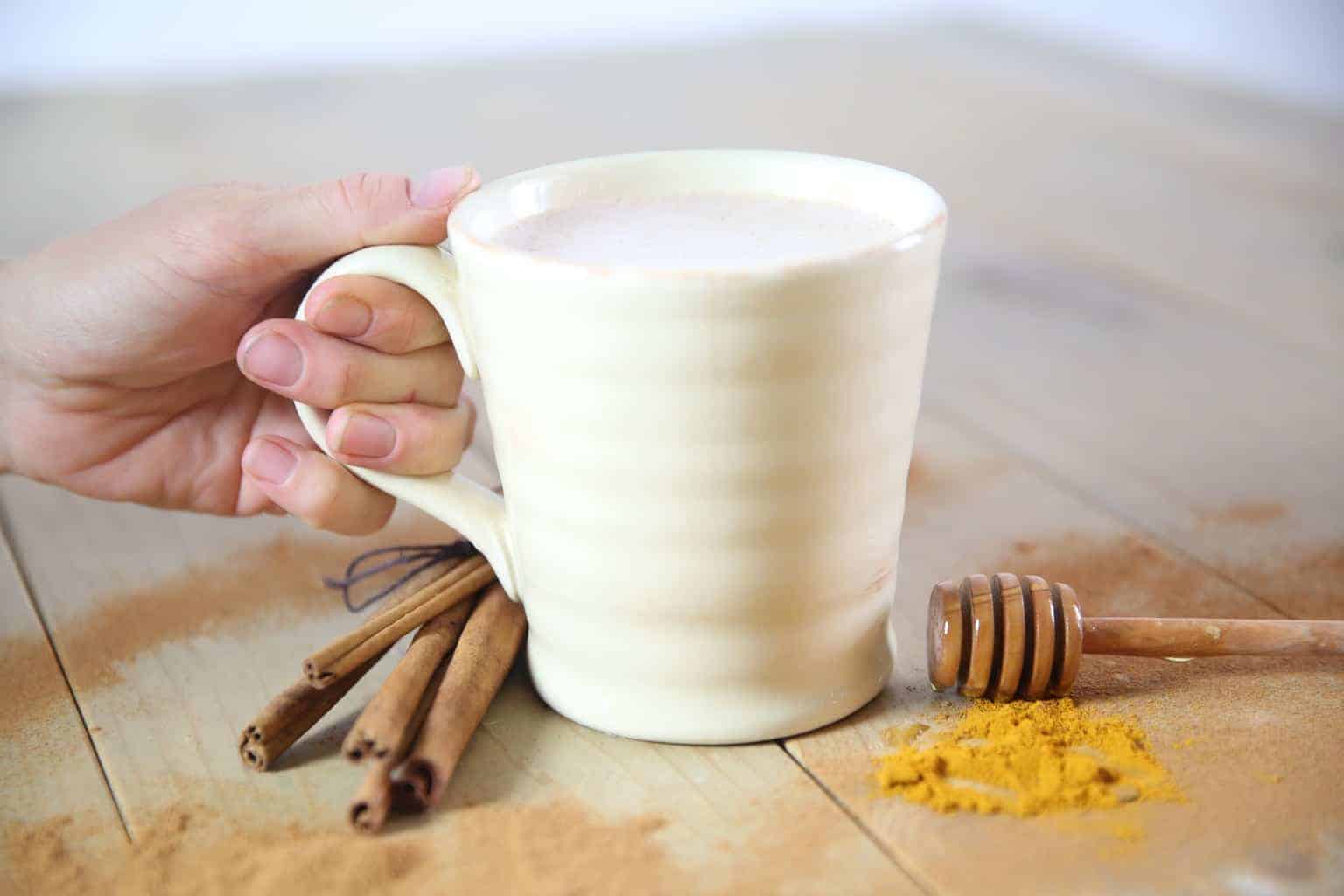 I just added turmeric essential oil to my oil collection a couple of months ago for its many benefits. When I stumbled across a recipe to make "golden milk," and it called for powdered turmeric, I tweaked the recipe just a bit and substituted turmeric essential oil for the powder.
Fair warning: Once you make it one time, you will be hooked! My husband and I have made this every evening since. We are obsessed.
I am excited to share this delicious drink with you to enjoy throughout the cold winter months; maybe you will substitute it for hot chocolate or even coffee? Am I going too far now?
HOW TO MAKE GOLDEN MILK
INGREDIENTS
1 cup of milk (regular, coconut, or almond)
1 tsp honey
1/4 tsp cinnamon
1/2 tsp coconut sugar
1/2 tsp coconut oil
dash of black pepper
1-2 drops turmeric essential oil
INSTRUCTIONS
Add all the ingredients, except the essential oil, into a small saucepan.
Heat over low to medium heat until the desired temperature is reached. Stir often to avoid burning the milk.
Pulse the milk for 3-5 seconds in a blender or until frothy.
Pour the milk into a mug and add turmeric essential oil. Stir and serve hot.
BENEFITS OF TURMERIC ESSENTIAL OIL
Turmeric is essential for your daily health routine and, when taken internally, promotes a healthy immune function and response.
Make sure the oils you are using are safe for internal use.
Turmeric has had a long history of traditional health practices coming from India that inspire modern-day uses. It is steam distilled from the root, and its main chemical components are Turmerone and ar-Turmerone.
HOW TO USE TURMERIC ESSENTIAL OIL
Turmeric essential oil can be used topically, aromatically, and internally.
TOPICAL USE
Dilute 2-3 drops of turmeric essential oil in 1 tablespoon of coconut oil and apply it to the area of concern.
Make a roller bottle for topical use by adding 15-30 drops of turmeric essential oil to a 10mL, amber-colored, glass roller bottle, and top off with fractionated coconut oil.
AROMATIC USE
Turmeric essential oil has a warm, spicy, earthy, and woodsy aroma. I don't particularly enjoy the smell of turmeric essential oil in my diffuser, but it can be diffused to help improve mood or boost the immune system.
If you don't love the smell throughout the house but you still want the aromatic benefits, you can add 1-2 drops to the palm of your hand and cuff over the nose. Or simply inhale out of the essential oil bottle.
INTERNAL USE
This is the primary way that I like to use turmeric essential oil. Like I said earlier, we love to make golden milk with our turmeric essential oil, but you can take it internally a few more ways.
Drop 1-2 drops of turmeric essential oil under the tongue, hold it for 30 seconds, and swallow.
Add 1-2 drops of turmeric essential oil to an empty veggie capsule and swallow like a pill. This is a great option if you don't like turmeric's taste but want the health benefits.
TURMERIC ESSENTIAL OIL TOP USES
Take 1-2 drops daily to boost the immune system, improve immune response, and promote healthy blood circulation.
Turmeric is a significant source of antioxidants, vitamin C, calcium, flavonoids, fiber, iron, niacin, potassium, zinc, and other nutrients.
One of the active ingredients in turmeric can be used for weight loss. Turmeric helps aid digestion and metabolism. Take one drop internally before meals to increase your body's ability to burn fat, suppress hunger levels, stabilize glucose levels, and deter sweet cravings.
Turmeric has cleansing and purifying properties that are great for the skin. Apply topically to the area of concern to help with skin imperfections, blemishes, and skin tone.
Use aromatically to promote feelings of positivity and to improve mood.
Apply for a soothing, warm massage after a workout or long day at work.
Use turmeric essential oil for culinary purposes to receive the benefits of the oil and add the unique taste of turmeric to drinks, soups, and sauces.
HOW TO COOK WITH TURMERIC ESSENTIAL OIL
Essential oils are very concentrated, and a little goes a long way. Typically, 1-2 drops are all that is needed when using turmeric in a recipe.
If one drop is too much, you can use the "toothpick drop." Place a toothpick in the top of your essential oil bottle, just getting the tip wet, and swirl around in the dish you are seasoning.
Add the essential oil last, especially when making something hot, to preserve the therapeutic benefits.
Only use high-quality essential oils internally. Many essential oils have adders and fillers that make them unsafe for internal use. Be sure to check with the company on how they test and source the essential oils before taking them internally. Learn more about taking essential oils internally HERE.
Start with less and add more if needed. I prefer more turmeric than my husband, and this will just depend on individual taste buds. Start with one drop and add more if desired.
Have you ever tried turmeric essential oil? What are your favorite ways to use turmeric essential oil?
CURIOUS about getting ESSENTIAL OILS in your home?
Watch my Free Online Class and purchase MY FAVORITE essential oils HERE.
PIN IT FOR LATER