Pumpkin muffins make the perfect fall breakfast or treat. This healthy pumpkin muffin recipe with cinnamon crumble is my favorite and definitely kid-approved. Make these for an easy snack, healthy breakfast on the go, or as a dessert for your next fall gathering.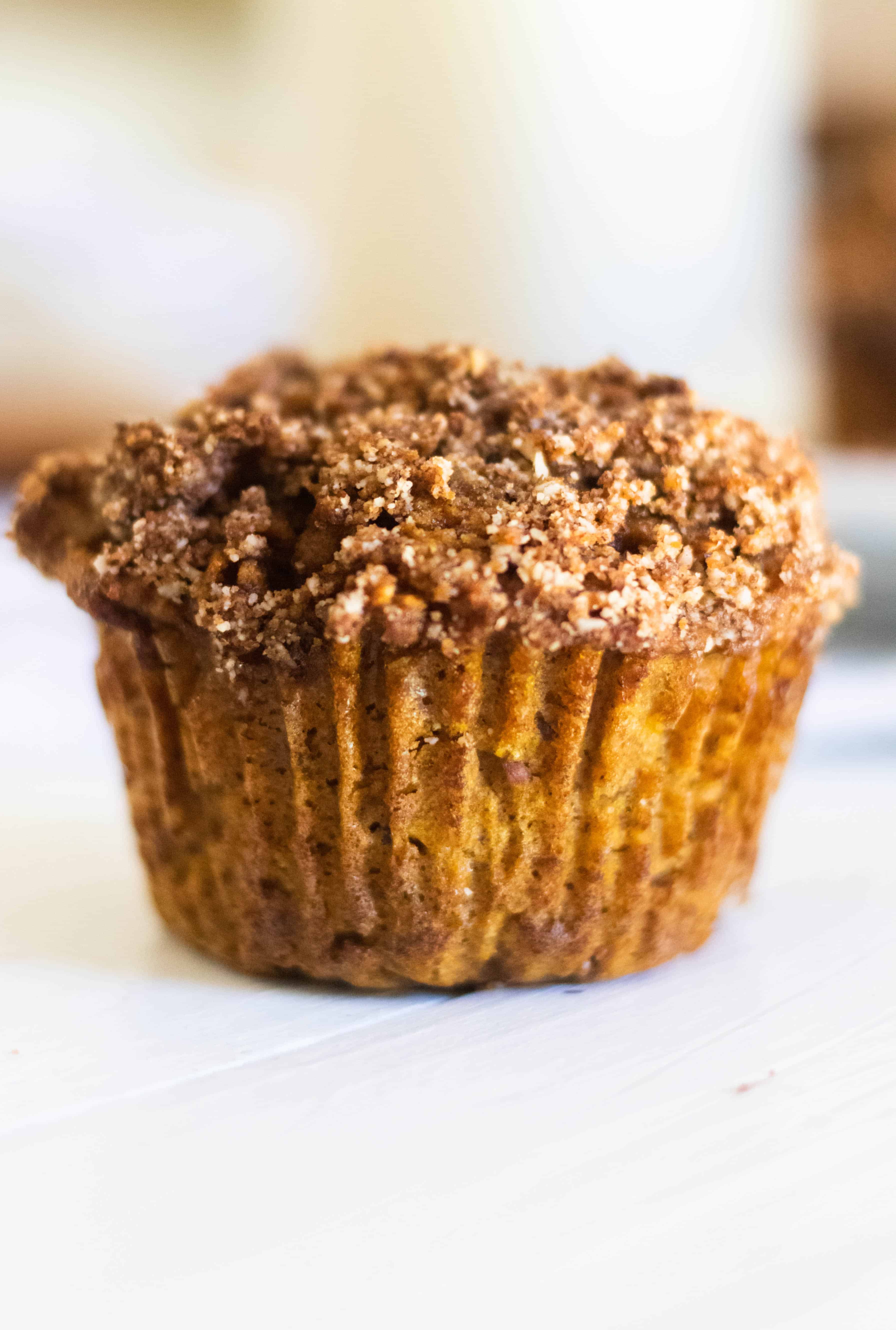 There is no better way to roll in the cooler fall weather than baking all things pumpkin. I love that adding a healthy vegetable into everything is a fall tradition! Pumpkin muffins, pumpkin soups, or pumpkin bread, count me in!
My kids love to help in the kitchen, and I love feeding them healthy. This healthy pumpkin muffin recipe is the perfect treat for us to bake. And they are so easy to whip up.
With the added cinnamon crumb topping, they are my favorite pumpkin muffins. My kids love them too!
PIN IT FOR LATER

This post contains affiliate links, which means I make a small commission at no extra cost to you. Get my full disclosure HERE.
PUMPKIN MUFFINS WITH COCONUT FLOUR
These pumpkin muffins are made with coconut flour and almond flour, making them high in protein and grain-free. Coconut flour and almond flour are great flours to bake with, especially if you have a gluten intolerance.
Baking with gluten-free flours isn't much different than cooking with all-purpose flour, except they are a little denser. The key to keeping your gluten-free muffins fluffy is adding extra liquid to the recipe. If you have ever baked with coconut flour, you probably noticed that the recipe called for a lot of eggs.
With this easy pumpkin muffin recipe, the pumpkin puree also adds a lot of liquid, keeping these muffins from getting dry.
If you are a sourdough lover, you can try these pumpkin sourdough muffins.
PUMPKIN MUFFINS WITH CRUMB TOPPING
I have made a lot of pumpkin muffins; you might say I am obsessed with pumpkin everything. I wanted to make these pumpkin muffins extra tasty, so I played around with a topping.
Wanting to keep this pumpkin muffin recipe paleo-approved, I stuck to all things healthy for the topping too. The muffins are delicious without the optional crumb topping. However, I highly recommend adding it to the top. It is so delicious!
After you fill the muffin liners with the batter, simply sprinkle the cinnamon crumb topping on top of the muffins and bake.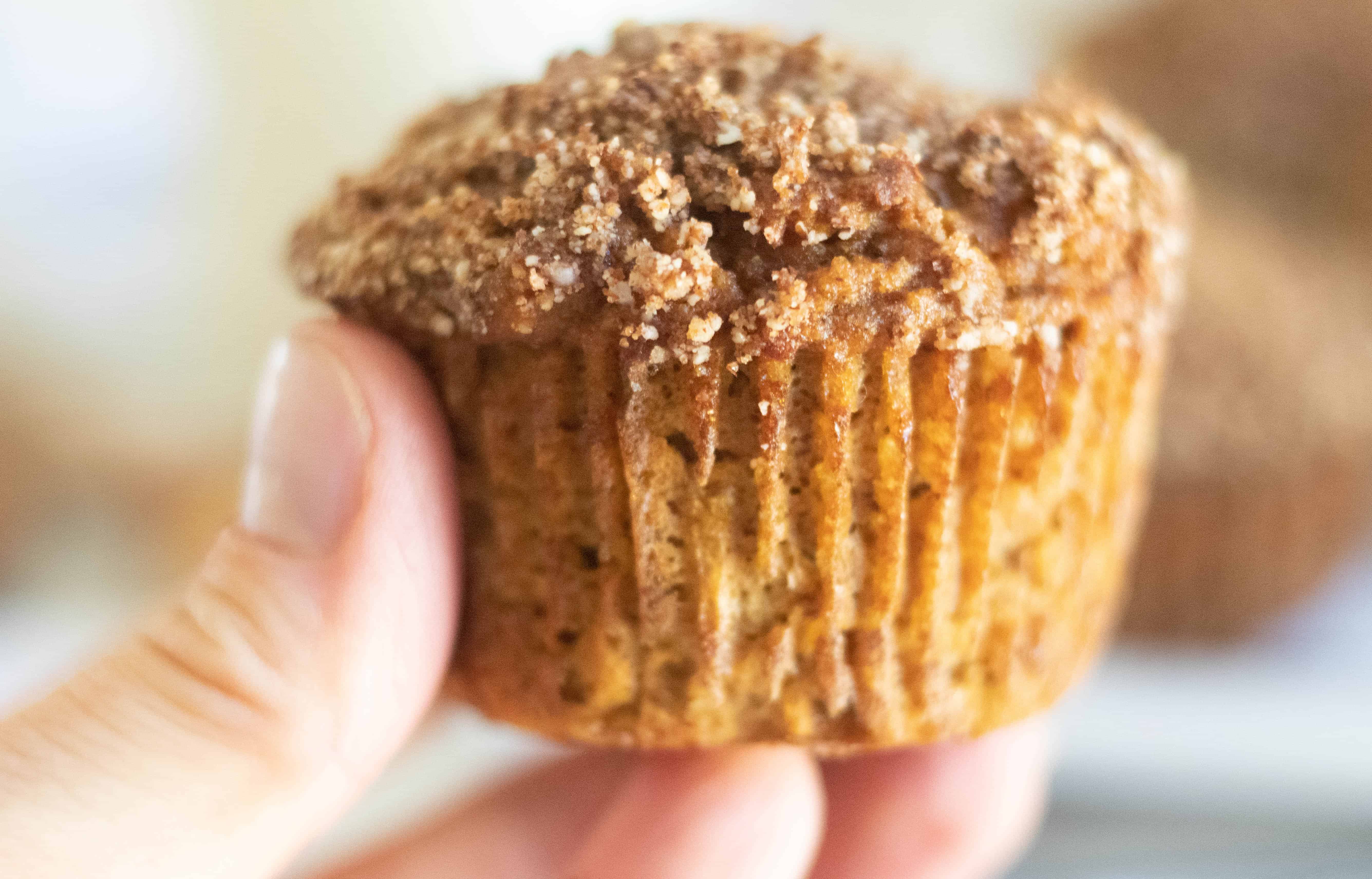 ARE PUMPKIN MUFFINS HEALTHY?
Yes and no! It totally depends on the recipe. Pumpkin itself is very healthy for you and is loaded with nutrients. However, a lot of recipes will add in a lot of refined sugar, soy products, unhealthy oils, and gluten flours.
If you follow a recipe, like this one, that is made with all clean ingredients, then yes, they can be very healthy. Healthy enough to count as a nutritious breakfast, in my opinion.
This healthy pumpkin muffin recipe is made with lots of eggs, vegetables, healthy fats, and proteins. You can feel good about serving these anytime of the day!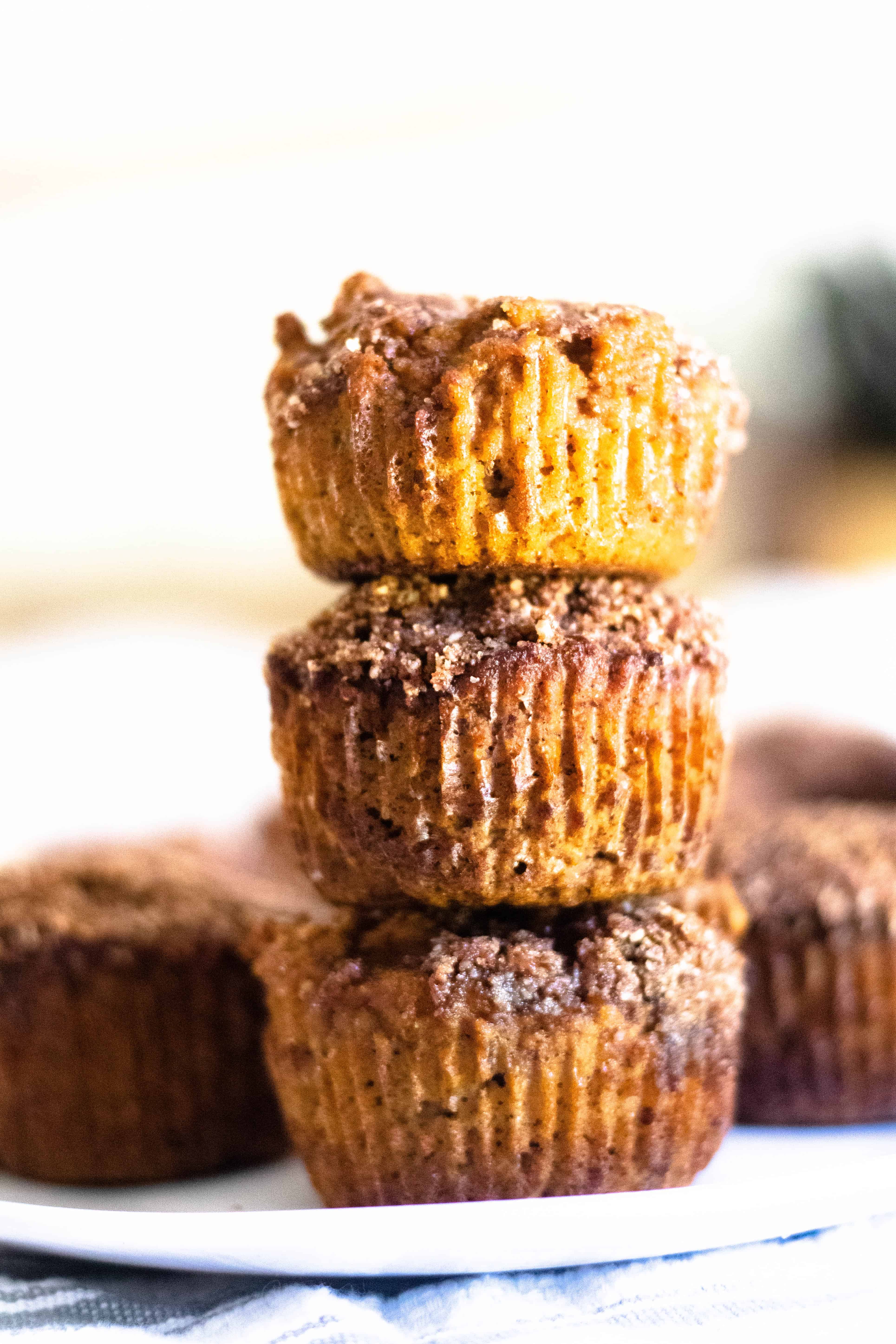 HOW TO STORE PUMPKIN MUFFINS
Pumpkin muffins can be made ahead of time and be used for an easy healthy breakfast on the go. You can make a batch and store them in an airtight container at room temperature for 5 days.
If you store them in the refrigerator, they will last up to one week. However, I can't say I have fully tested that because I can't seem to get these muffins to last more than a few days at my house! 😉
If you want to make a double or triple batch, you can freeze them. Once they are completely cool, put them in a freezer-safe bag, and then place them in the freezer. If they are in a sealed bag or airtight container, they can last for 6 months in the freezer.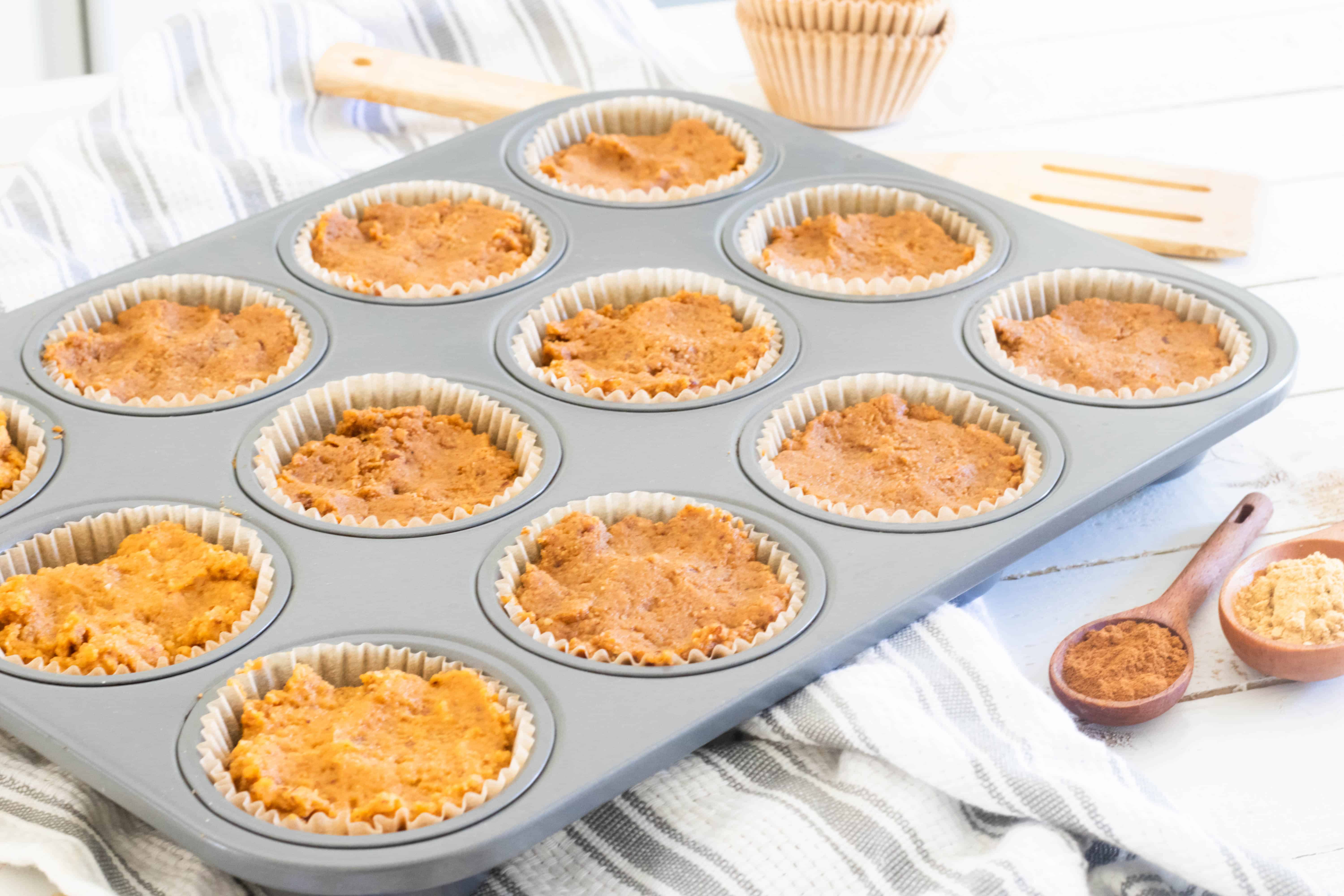 SHOULD I USE CANNED PUMPKIN FOR PUMPKIN MUFFINS?
This recipe calls for one cup of pumpkin puree. You can use canned pumpkin, or you can make your own pumpkin puree.
I usually like to make my own because it tastes so much better! Have you ever compared fresh and canned pumpkin?
Anytime I can get my hands on pumpkins, I use that instead of canned. However, that isn't always possible. Pumpkins are only available during the fall months where I live.
If you decide to use a whole pumpkin stick to pie pumpkins, they are sweeter than those large ones that are fun for carving. The larger pumpkins are edible but have a higher liquid content, are stringy, and have a bland taste. Choose pumpkins that are smaller; something under 8 pounds is best!
If you decide to use canned pumpkin, be sure to check your labels. Make sure that the only ingredient is pumpkin. Sometimes your canned pumpkin is made with other winter squashes and will taste different.
Try to be organic if possible and look for cans that are made with a BPA-free liner.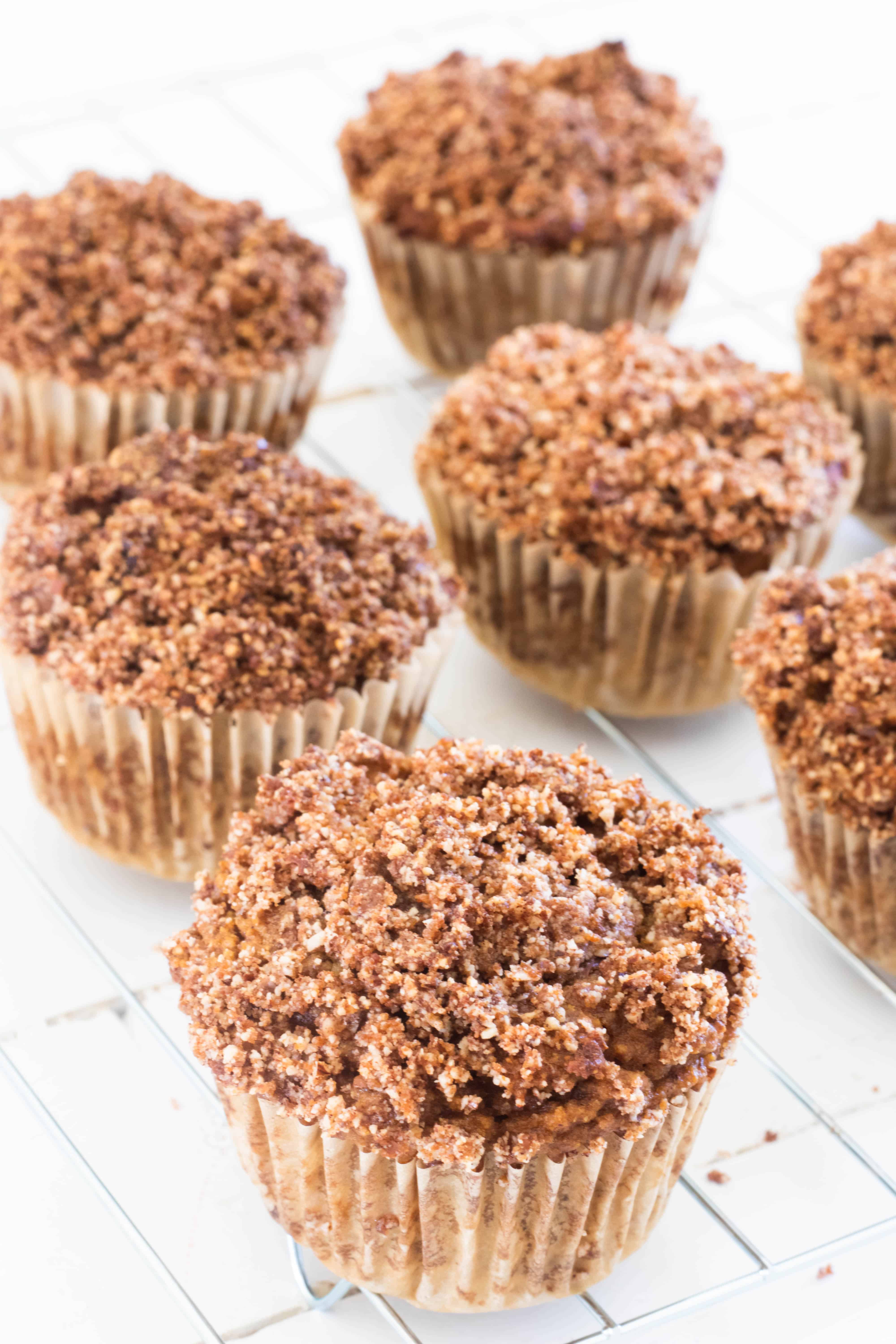 Yield: 12
Healthy Pumpkin Muffins Recipe with Cinnamon Crumble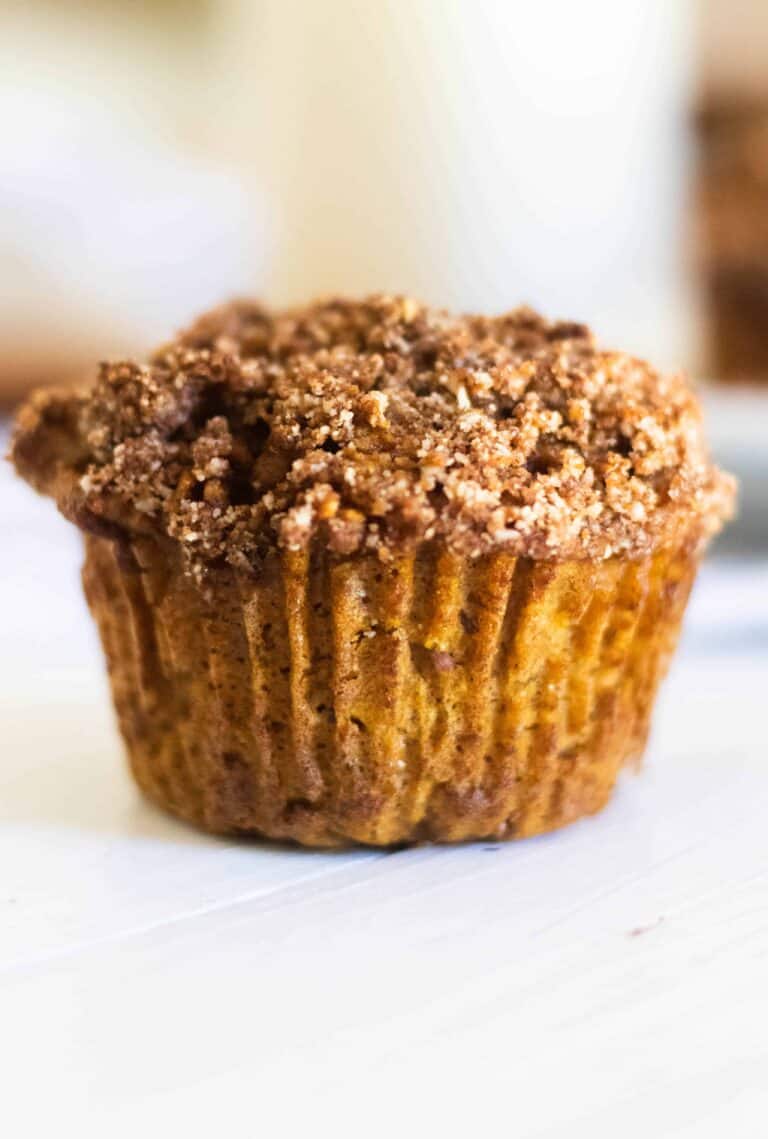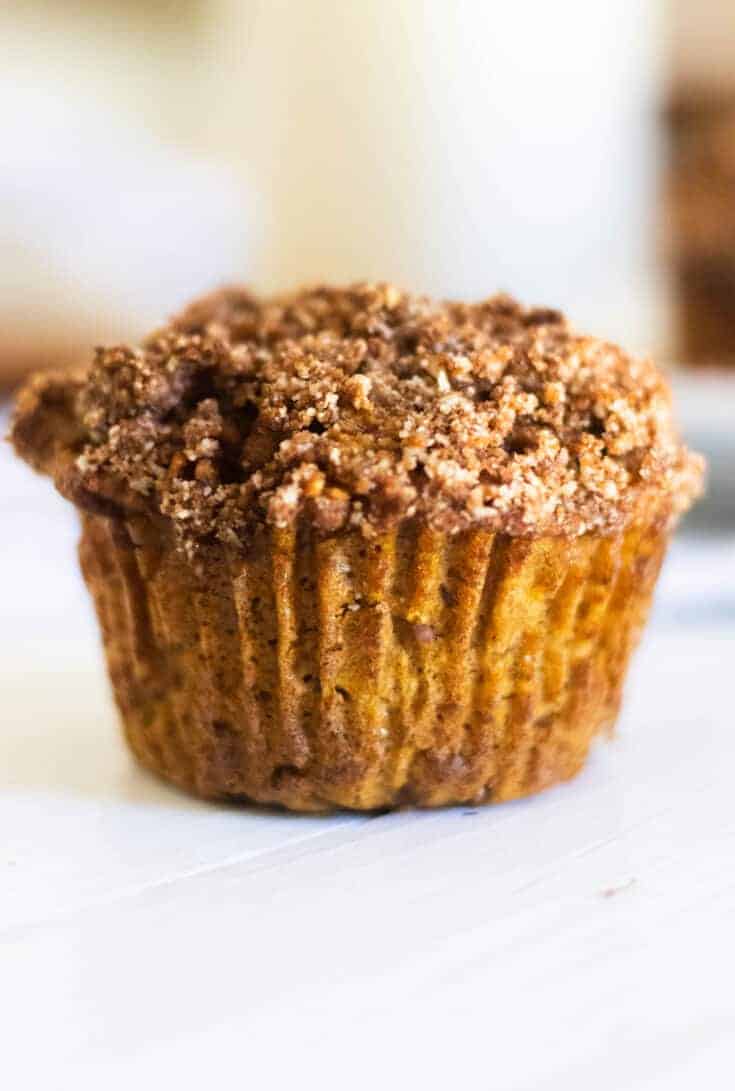 Healthy and simple pumpkin muffin with a cinnamon crumble topping. Gluten-free, dairy-free, refined sugar-free, and paleo-approved!
Ingredients
Cinnamon Crumble
1/2 cup almond flour
1/3 cup coconut sugar
1 tablespoon cinnamon 
1/4 cup solid coconut oil 
Muffins
1/2 cup coconut flour
1/4 cup almond flour
1/2 tablespoon pumpkin pie spice
1 teaspoon baking soda 
1/2 teaspoon baking powder
1/4 teaspoon salt
1/3 cup coconut sugar
4 eggs
1 cup pumpkin puree
1 teaspoon vanilla 
2 tablespoons coconut oil 
Instructions
CINNAMON CRUMBLE
Mix all the dry ingredients together in a small bowl.
Using a fork, smash the solid coconut oil into the dry ingredients until well mixed.
MUFFINS
Preheat the oven to 375 degrees.
Add all ingredients into a large mixing bowl and whisk together until well combined.
Line a muffin tin with parchment paper muffin liners.
Fill the muffin liners almost to the top with the batter. (Leave a little room for the cinnamon crumble.)
Sprinkle the cinnamon crumble on top of the batter.
Bake in a preheated oven for 25 minutes or until a toothpick comes out clean.
Notes
If your coconut oil is melted, place 1/4 cup in the freezer before making the crumble.
Place the cinnamon crumble in the freezer while making the muffins to keep the coconut oil from melting.