Pumpkin granola makes the perfect fall breakfast, snack, or dessert. Full of nutrients, this homemade pumpkin granola is a great way to start your day. I am so excited to share this homemade crunchy granola with no added sugar recipe with you.

It has become a tradition in our home to make a batch of homemade granola every Saturday for our Sunday morning breakfast. Almost every other day of the week, we have eggs or butternut squash pancakes, but on Sunday's we have granola!
Granola makes the best breakfast for a busy morning. Adding in pumpkin makes it healthier and more delicious!
This post is in collaboration with my friend Sara from the blog, The Bettered Blondie. She shares healthy, delicious recipes you will want to check out! After making this homemade pumpkin granola be sure to head over to her blog for another fall pumpkin treat. Spoiler alert, it is pumpkin donuts! I know, I can't wait to try them either!
PIN IT FOR LATER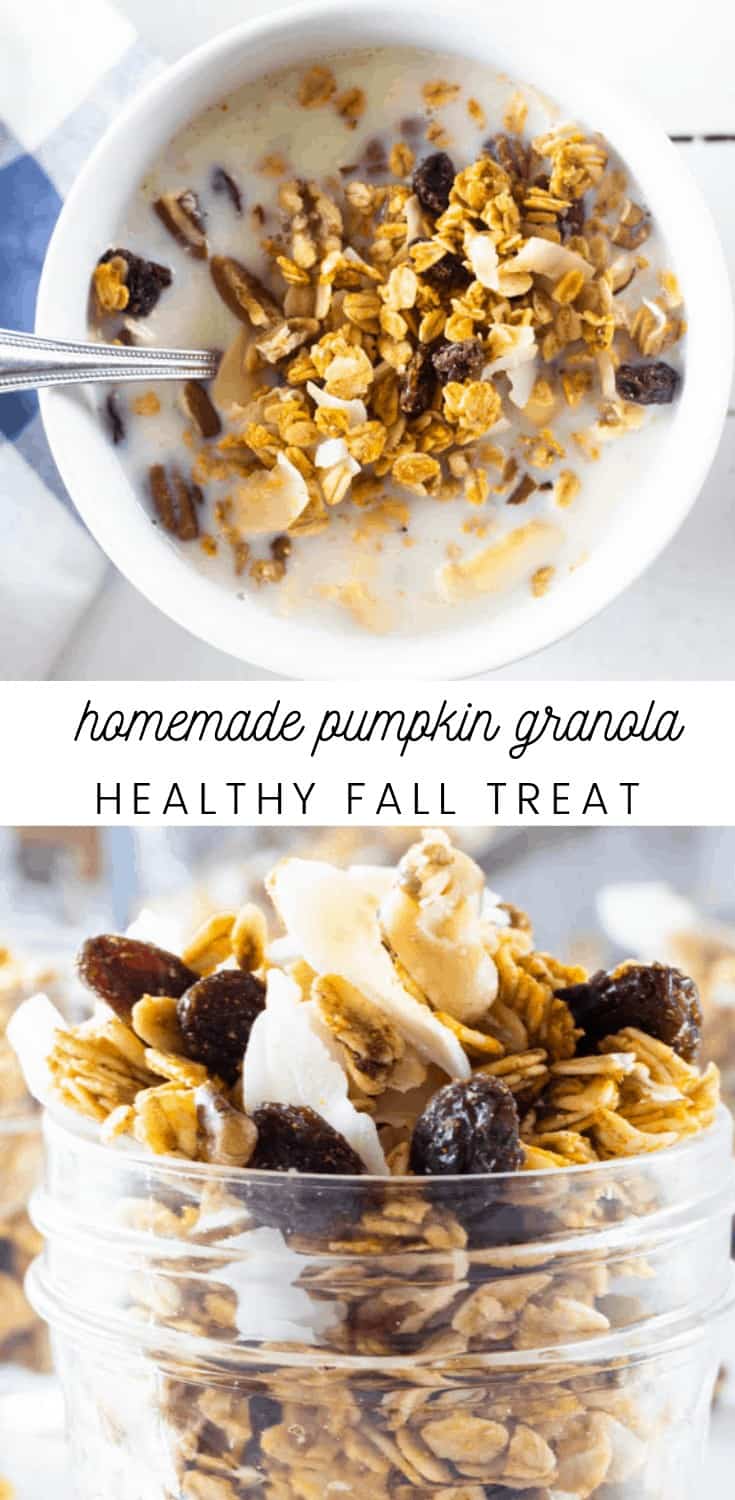 This post contains affiliate links, which means I make a small commission at no extra cost to you. Get my full disclosure HERE.
HOMEMADE PUMPKIN GRANOLA

Making pumpkin granola is so easy and delicious. During the fall, I try to find a way to sneak pumpkin into all my recipes. The more vegetables, the better!
This recipe is very similar to traditional granola, just with a couple of extra ingredients. You guessed it, PUMPKIN. And instead of the classic cinnamon you find in most granola recipes, I used pumpkin pie spice.
Making pumpkin granola is as simple as mixing a few ingredients in a bowl and cooking it at a low temp in the oven. We like to make a double batch so we can snack on the leftovers throughout the week.
WHAT SHOULD I ADD TO MY PUMPKIN GRANOLA?
Throwing in nuts, shredded coconut, and dried fruit is the best part about granola. Get creative with this! We have tried several different combinations, all of which are delicious.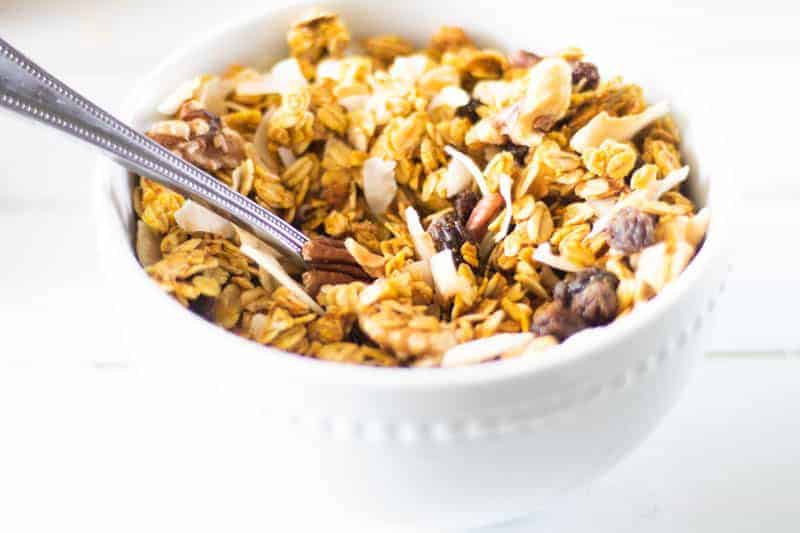 Here are a few of our favorite toppings: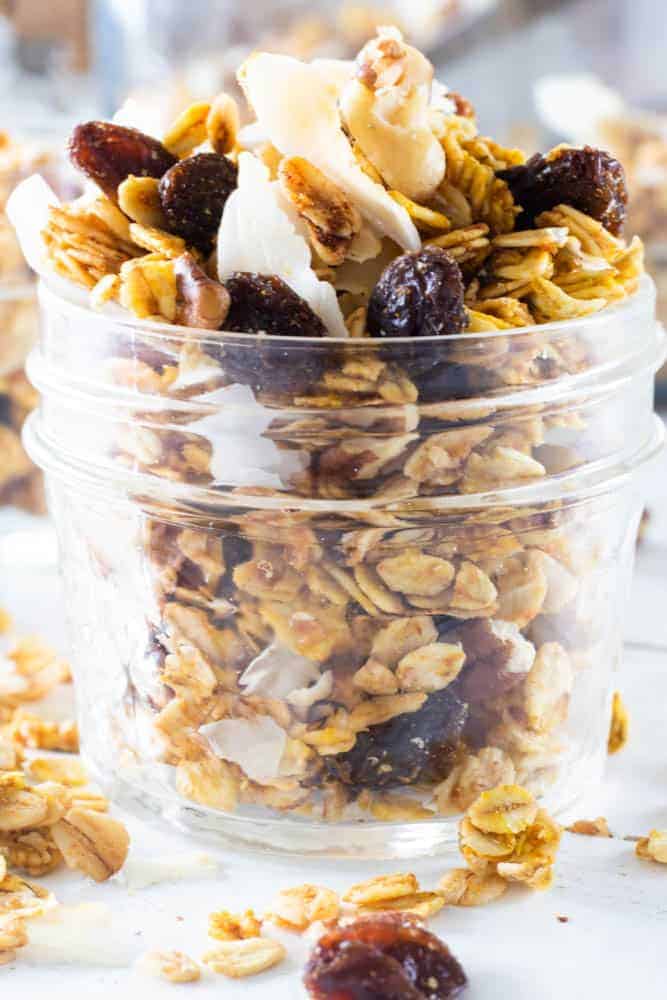 HOW TO MAKE CRUNCHY GRANOLA
My husband is usually the granola maker in our home, and right away, the kids told me dads were better than mine. Thanks, kids! 😉 But for real, it is so nice because now the granola making is up to him. I will gladly hand over any job in the kitchen.
His granola is crunchy like the store-bought kind. Thankfully, he was nice enough to share his secrets with me.
The first key is the type of oatmeal you are using. Stick to quick oats for granola baking. Old fashion oats are larger and tend to not "crunch up" as well as quick oats do.
The second key is to bake it longer at a lower temperature. Doing this will result in delicious crunchy granola every time!
Granola can burn pretty easy so stirring it often is important.
HOMEMADE GRANOLA WITH NO SUGAR
Granola is a sweet treat and often loaded with sugars. Instead of using refined sugars, try to use a healthier substitute. In this recipe, we use honey. You can also use pure maple syrup.
Both are delicious and a much better option than refined sugar.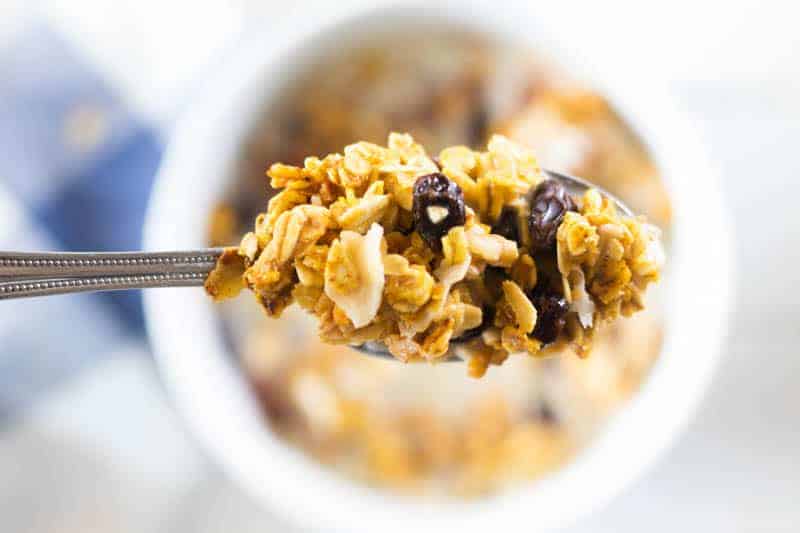 IS GRANOLA GOOD FOR YOU?
Most likely, the granola you buy from the store isn't going to that be great for you. Marketers make you think buying granola is a healthier option than buying other cereals. If you actually compare labels, buying a box of cookie crisp is going to have about the same nutrition as buying granola.
Both will be loaded with sugars, bad oils, artificial flavors, and possibly food dyes, depending on the brand.
Making your own granola can be a much healthier option. You can make delicious homemade granola with all real foods and clean ingredients. Using an oil, like coconut oil or avocado oil, that has a high smoke point is ideal.
HOW TO STORE HOMEMADE PUMPKIN GRANOLA?
I have a large glass container with a lid in my pantry for granola. In fact, my sister gave me the container filled with homemade granola as a housewarming gift, and I have used it for granola ever since.
I keep a stainless steel scoop in the container to scoop it into bowls.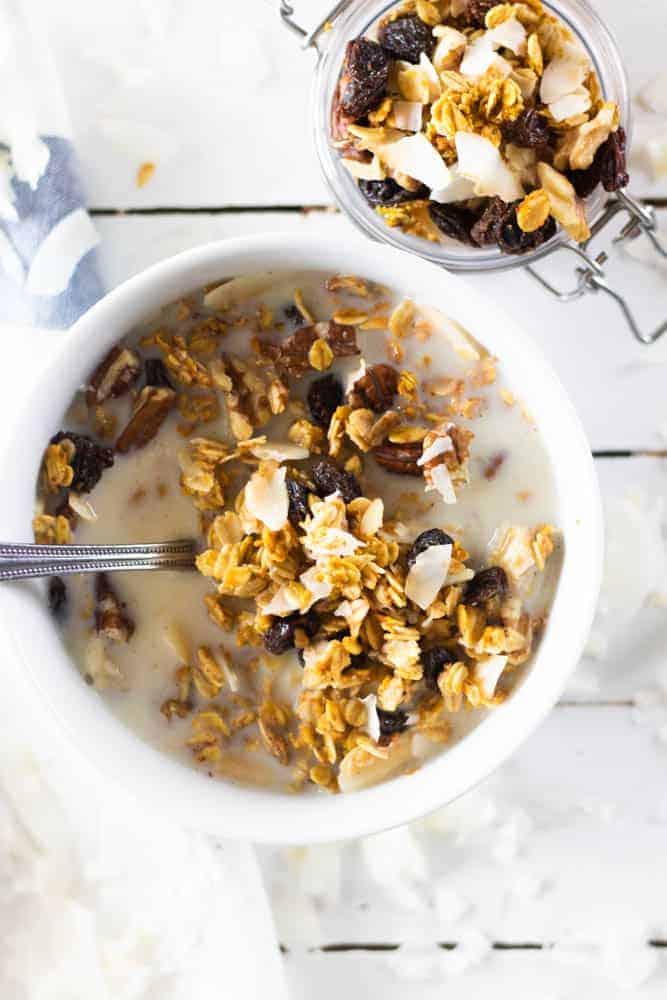 HOW LONG DOES THE PUMPKIN GRANOLA RECIPE LAST?
Homemade granola will last up to two weeks, as long as you keep it in a container with a lid.
PUMPKIN GRANOLA RECIPE
You will need oatmeal, honey, coconut oil, pumpkin puree, vanilla extract, spices, shredded coconut, and mixed chopped nuts.
I like to use a mixture of pecans, almonds, and walnuts. You can buy them chopped, or you can chop them yourself. I personally chop mine pretty fine for the baby. If you have a ninja blender, you can place whole nuts in it and blend them on the pulse setting for about 15 pulses, and they chop up really well.
Same as the nuts, you can pick which dried fruit you want to add. We usually stick to raisins, but we also love to add dried cranberries when we have them.
You can make your own pumpkin puree, or canned pumpkin puree works just as well. If you use canned, be sure to check the ingredients and look for a can that is made with a BPA-free liner.
Enjoy this delicious recipe with some Homemade Instant Pot Yogurt.
FOR MORE HEALTHY RECIPES
Yield: 8-10
Homemade Pumpkin Granola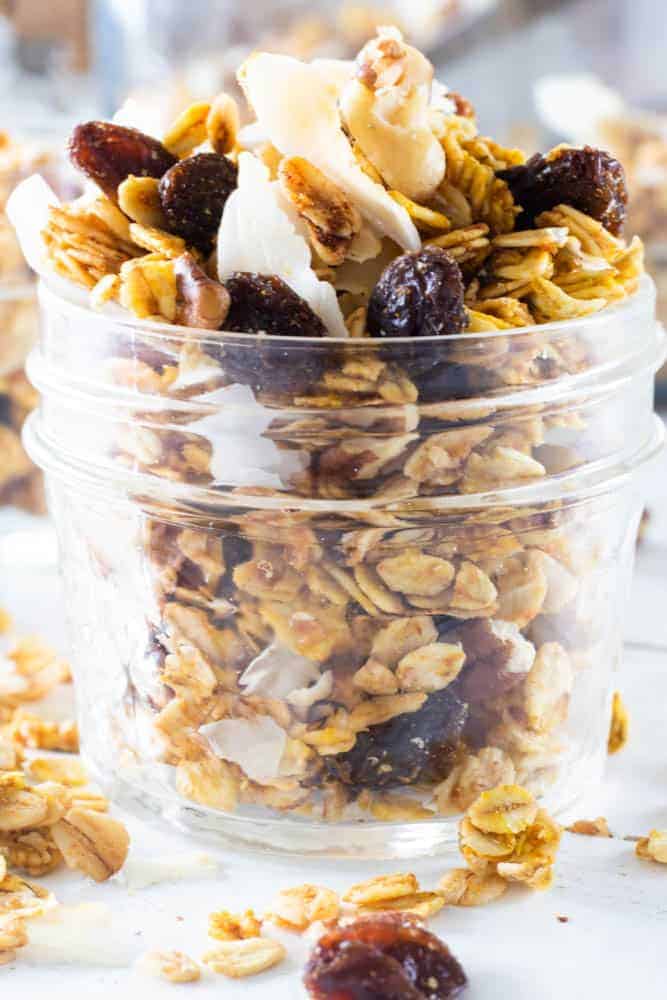 Ingredients
4 cups oatmeal 
1/3 cup coconut oil 
1/2 cup honey 
1 cup pumpkin puree 
1/2 tsp salt 
1 tbsp vanilla extract
1 tbsp pumpkin pie spice 
1 cup chopped nuts 
1 cup coconut shreds 
1/2 cup raisins
Instructions
Preheat oven to 300 degrees.
Mix all the ingredients together, except chopped nuts, coconut shreds, and raisins, in a large mixing bowl.
Spread the mixture out on a cookie sheet.
Bake for 15 minutes.
Remove from the oven and add in chopped nuts and shredded coconut.
Bake for additional 30 minutes, stirring halfway through.
Let cool and add in raisins.
Enjoy!