Making fermented drinks at home can be easy with this simple recipe. This water kefir soda is loaded with beneficial bacteria for optimal gut health and is absolutely delicious.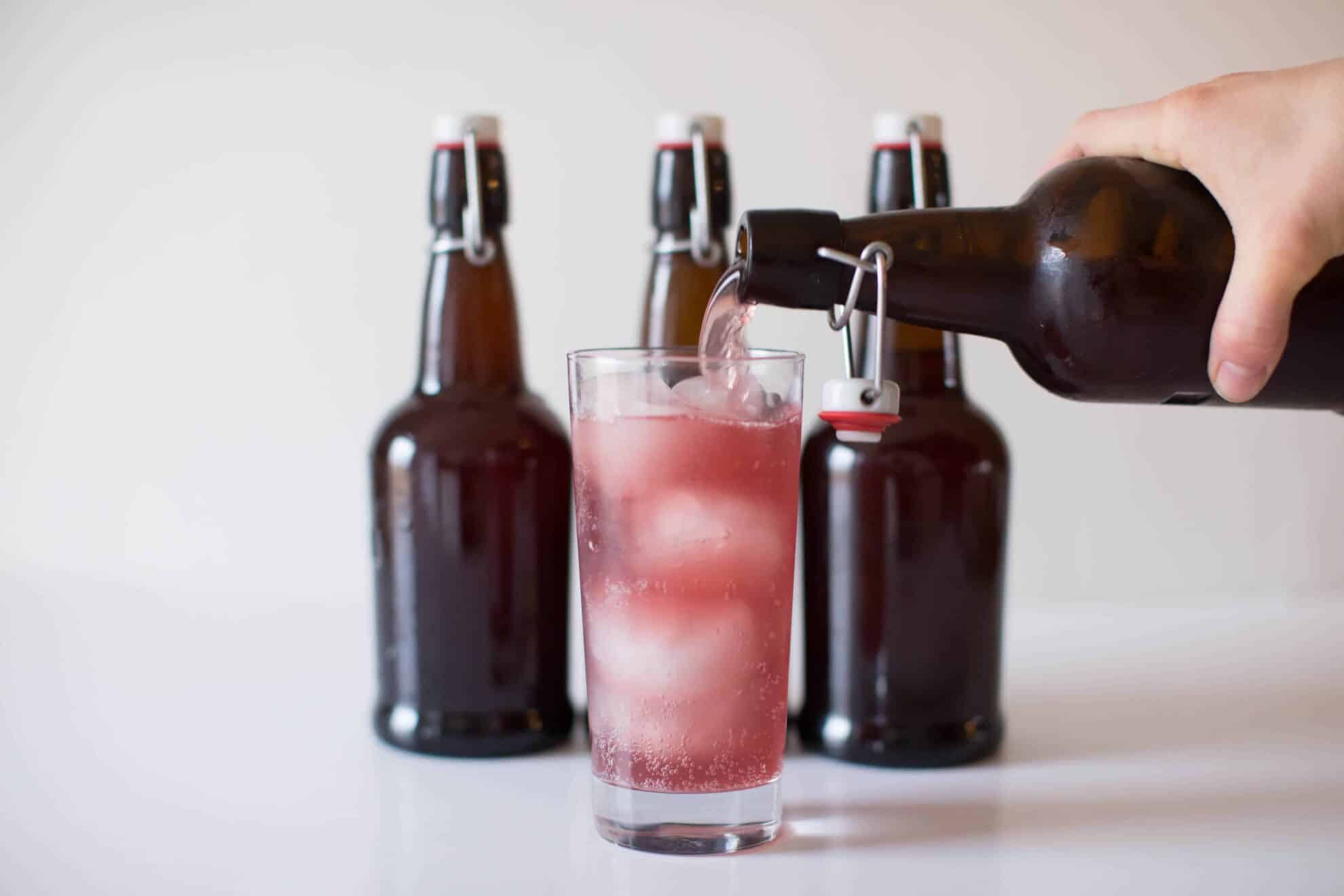 You may have caught on by now that I am a little obsessed with fermenting. If you follow me on Instagram, you often see that most of our meals consist of something fermented. From sourdough to sauerkraut, we love getting our probiotics from the foods we eat. Sometimes we even drink them! I am so excited to share this water kefir soda recipe with you.
I have dabbled in homemade yogurt, milk kefir, and water kefir. In my opinion, nothing is quite as refreshing as water kefir. I love to experiment with flavors by doing a second ferment with juice.
Making fermented drinks at home is amazing for your gut health and is way cheaper than buying them from the store!
PIN IT FOR LATER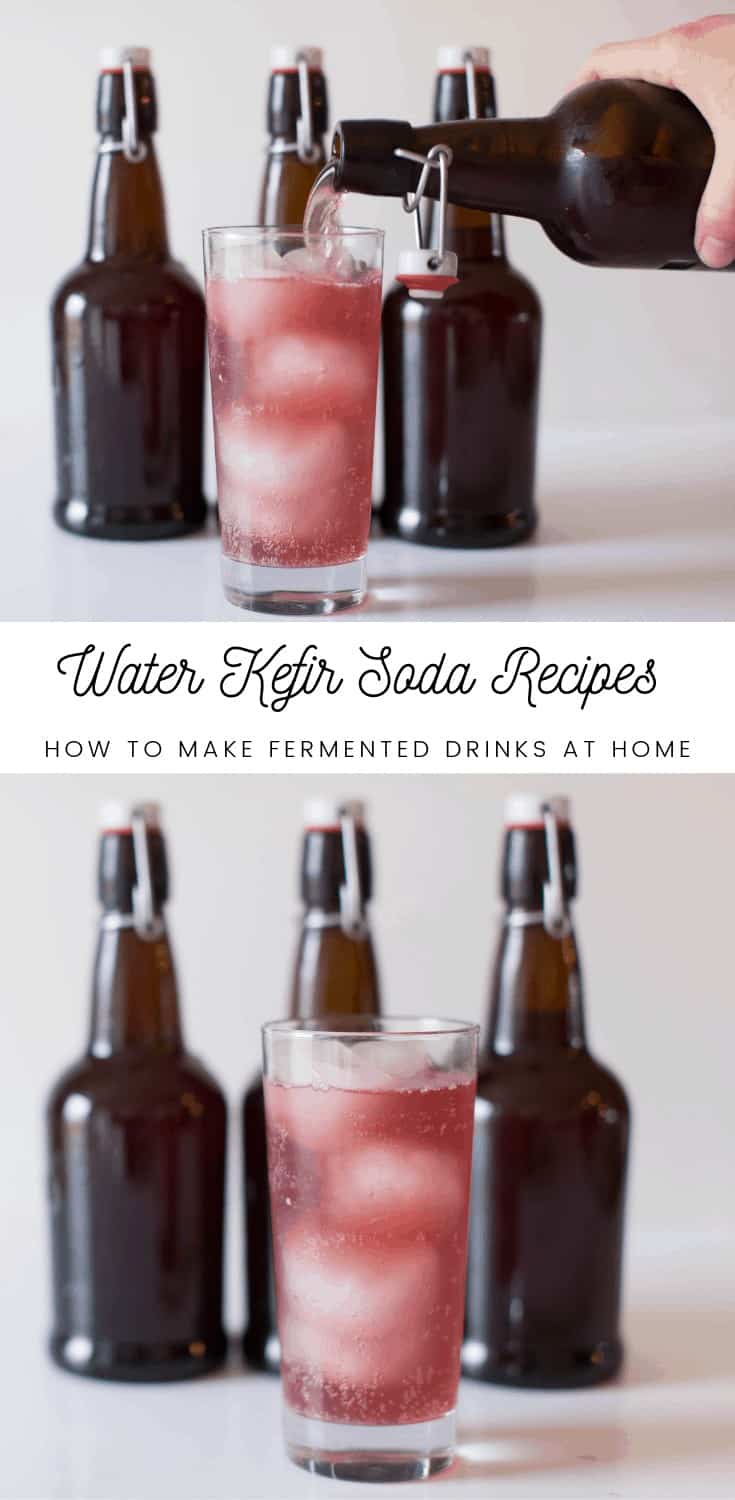 This post contains affiliate links, which means I make a small commission at no extra cost to you. Get my full disclosure HERE.
WHAT IS WATER KEFIR?
Water kefir is a probiotic-filled drink that is made from water kefir grains. The grains are clear and squishy; they have a similar texture to a gummy bear. Don't let the name fool you; they are not actually a grain of any kind. Rather the name is describing the way they look. They are gluten and dairy-free.
Water kefir grains are grown in water and sugar. The grains live off the sugar and consume almost all of it during the fermenting process, leaving you with a healthy drink loaded with probiotics.
WHERE CAN I BUY WATER KEFIR GRAINS?
You will only need to buy water kefir grains once, and once you get going, you will have an abundance to share. They multiply quickly! I bought my first set on amazon, which you can find here.
NOTE: When you first receive your grains, it may take a couple of weeks to get them adjusted after the shipping process.
HOW DO YOU MAKE WATER KEFIR?
Making water kefir is actually a very simple process. All you need is water, sugar, and kefir grains.
Stick to real sugar or brown sugar when making water kefir. You will want to stay away from raw honey or sugar substitutes as they can kill your water kefir grains. I prefer to use organic white or brown sugar. Using organic ensures that the sugar doesn't have any GMO's in it.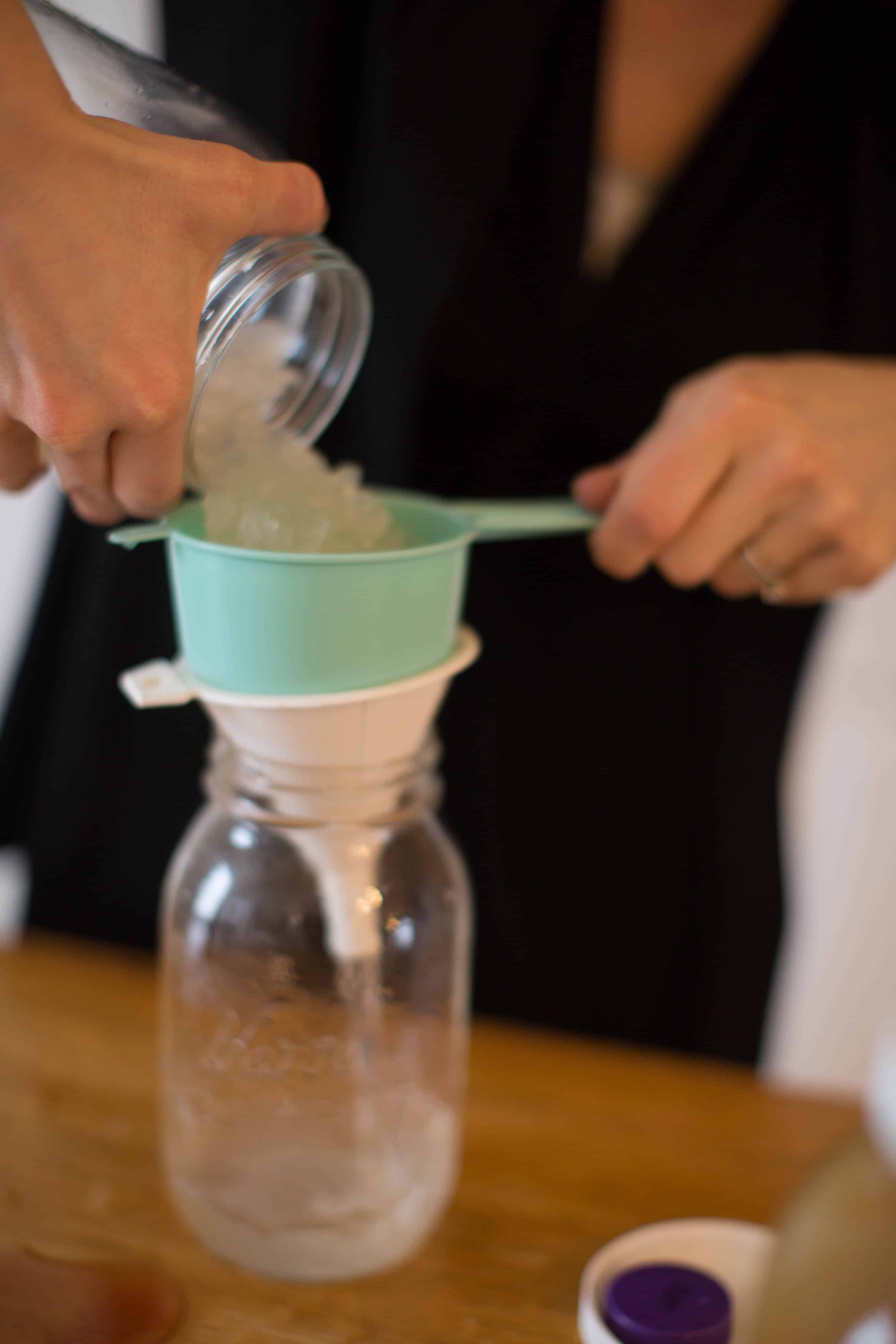 INSTRUCTIONS
Put 2-3 tablespoons of water kefir grains in a large glass jar. I use a quart-size mason jar.
Pour 3 cups of water over the grain.
Dissolve 1/4 cup of organic sugar by adding it to one cup of hot (not boiling) water. Let it cool, and then add it to the glass jar.
Stir well and cover with a cloth secured with a rubber band.
Leave it at room temperature for 24-48 hours.
Remove the grains from the liquid with a small strainer, and it is ready to drink. We like to ferment it a second time with grape juice to make soda! Keep reading for that recipe.
HOW CAN I FLAVOR WATER KEFIR SODA?
Water kefir is beneficial after the first ferment and is already loaded with probiotics and live cultures. However, I like to take it one step further. Doing a second ferment with juice in an airtight container will add flavor and major carbonation. The carbonation is no joke!
Add 1/4 cup organic grape juice to a flip-top soda bottle.
Pour the fermented water kefir into the bottle. Leave about an inch of space at the top for expansion.
Let sit on the counter for an additional 12-24 hours.
Try different flavors of "soda" by adding in different juices. We have tried apple, lemon, pomegranate, and cranberry. Grape is by far the favorite around here!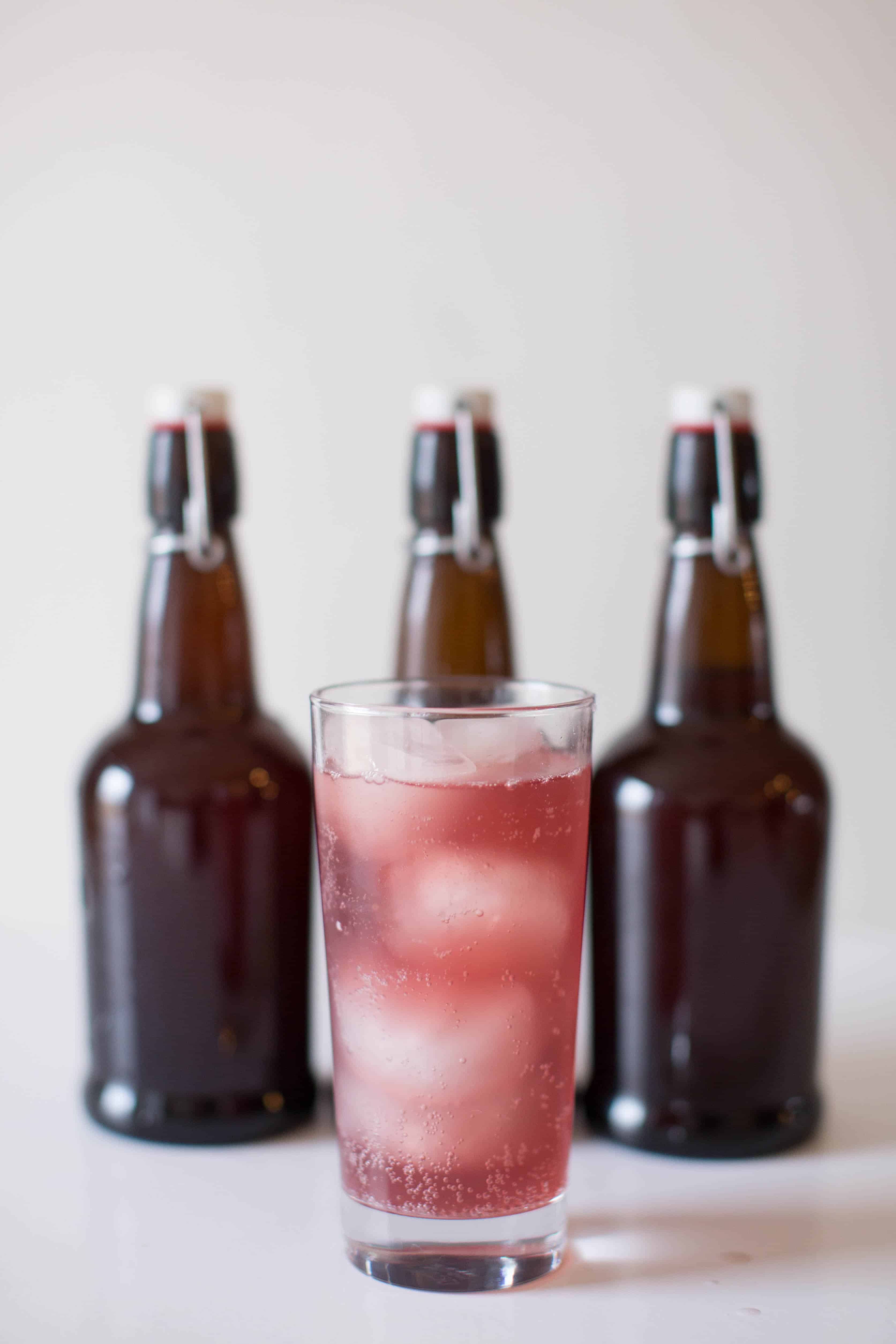 HOW DO I STORE WATER KEFIR GRAINS?
Once you are done making your water kefir, you can immediately start another batch or store the grains in the refrigerator.
If you are ready to start another batch, simply place them back into the glass jar and cover them with a fresh batch of the water sugar mixture.
If you have enough kefir water and want to store the grains, simply place them in a small container and put them in the refrigerator. Be sure to feed them once every two weeks to keep them alive and active.
To feed the grains, just make a batch of water kefir and then place the grains back into storage.
WHAT DOES WATER KEFIR TASTE LIKE?
You may expect this to be a sweet drink because of the added sugar, but it actually sour. Remember that these grains are living, and just like everything else in the world, they need to eat to live. The grains eat the sugar during the fermentation process, leaving you with a sour-tasting drink.
Just like all things fermented, the longer it ferments, the sourer it will become. I always suggest starting with less fermented time and then adding more as your tastebuds allow.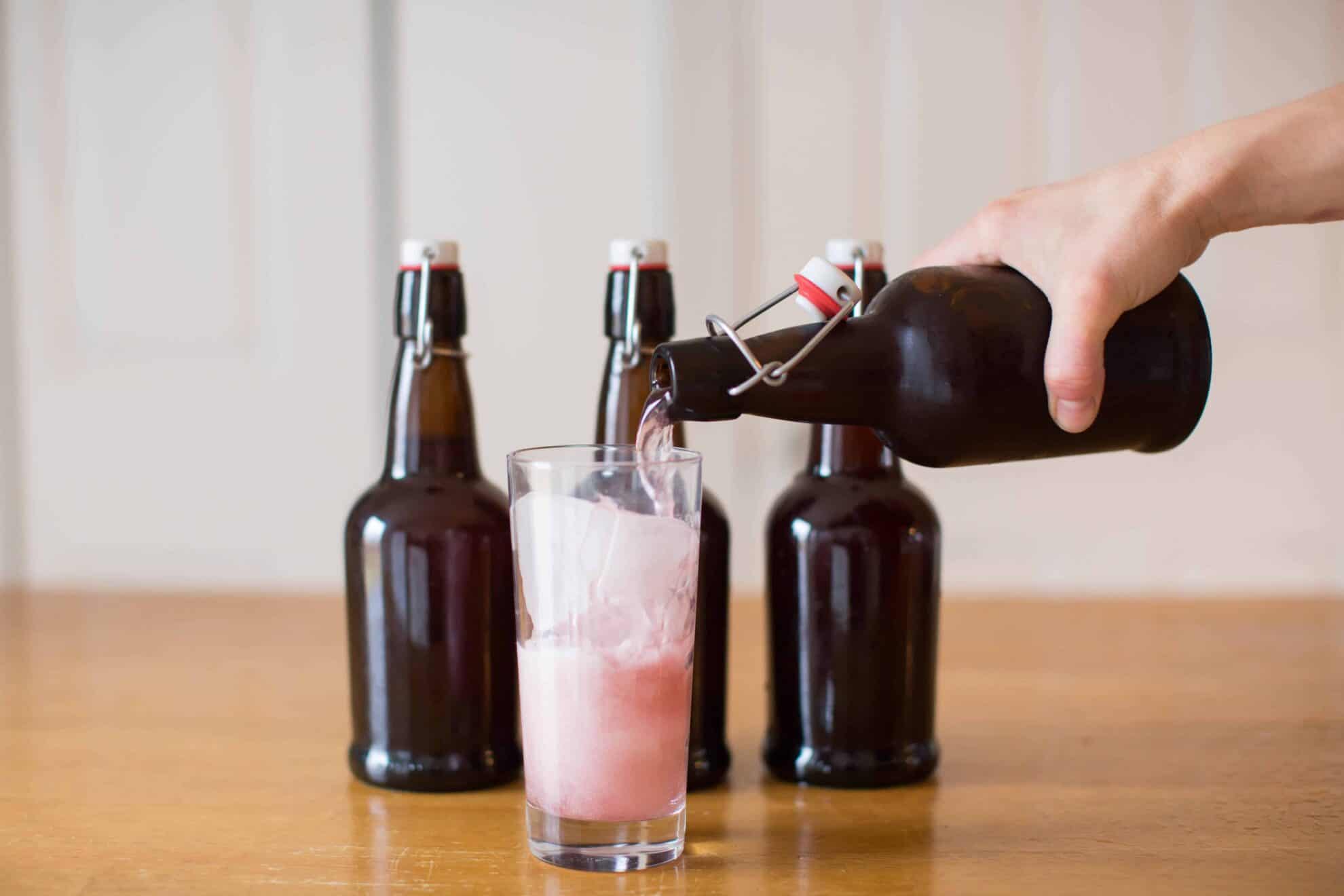 A FEW TIPS ABOUT MAKING FERMENTED DRINKS AT HOME
The fermenting time can vary from home to home, depending on the temperature of your house. The warmer the climate, the faster it will ferment. The first fermentation isn't too crucial. However, the second one is the one you will want to be looking out for. Having the kefir in an airtight container is what gives it the carbonation, but you will want to be careful about over carbonating it.
You can check your bottle by slowly opening it, and if you hear fizz, then it is probably ready. If it does nothing, I will let it go longer.
To be on the safe side, always open your soda outside. I learned this lesson the hard way, and I have grape soda on the ceiling to prove it.
The Kefir grains will naturally multiply as they do, be sure to remove the extras from the batch. Using more than 4 tablespoons will make the fermentation times change and alter the taste. You can share the grains with friends, eat them (my kids love them), blend them in smoothies, or discard them.
When making water kefir be sure to use filtered water that is free of contaminants. Things like fluoride and chlorine can kill your kefir grains. I use the Berkey water filter system in my home and find that my grains thrive on it.
Water kefir should lighten in color and turn cloudy. If your water kefir ever looks, smells, or tastes unpleasant, this may mean your grains are bad, and you should not drink it.