Leave skin feeling soft and smooth with this homemade face cream with shea butter. The essential oils in this recipe can help with anti-aging, acne-prone skin, dry skin, and, well, really any skin type.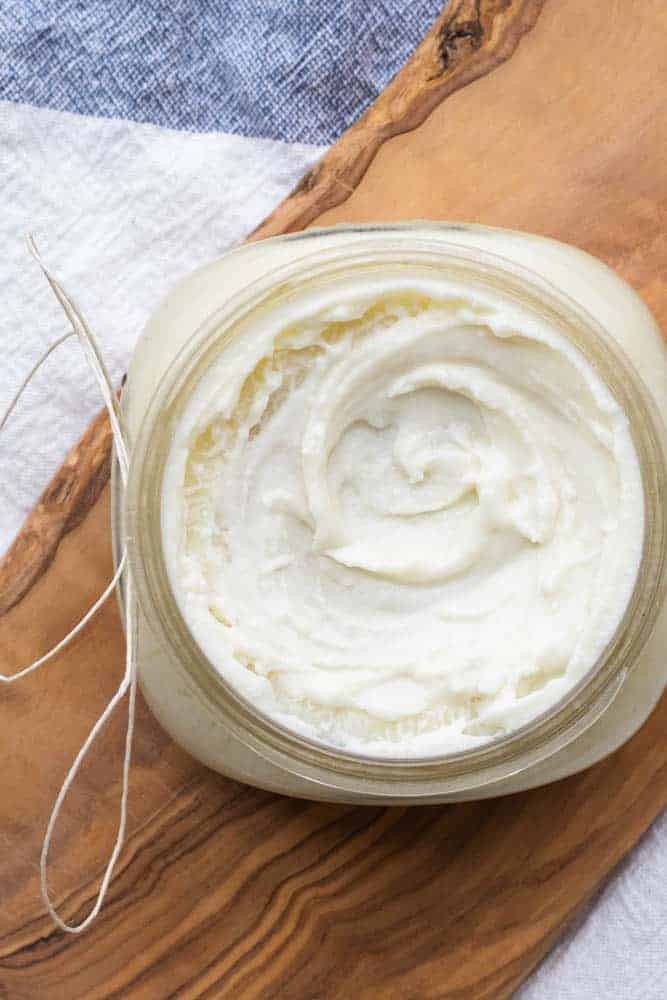 BEST NATURAL HOMEMADE FACE MOISTURIZER
During the winter months, I can go through some moisturizer! The cold midwest winter temps are no joke on the skin. I love using this natural face moisturizer recipe, so I know exactly what I am putting on my skin.
Whether you have sensitive skin or are just looking for more natural skincare swaps, then this recipe is for you! This homemade face moisturizer is lightweight, hydrates the skin, and is made with only 3 ingredients.
Natural skincare is easier than you think. Once you get started, you will see! To make your life even easier, I have a free ebook with all my favorite skincare recipes!
PIN IT FOR LATER

This post may contain affiliate links, which means I make a small commission at no extra cost to you. As an Amazon Associate, I earn from qualifying purchases. Get my full disclosure here.
This recipe is actually quite simple, and as I said, you only need a few ingredients. I am going to share a couple of variations, including several essential oil blends to choose from.
For the base, I am using shea butter; of course, we will need a carrier oil, which I use fractionated coconut oil, and lastly, essential oils. Your skin type will determine which carrier oil and essential oils you will want to use.
To make the lotion, you will need a glass bowl, saucepan, and glass airtight container for storage.
CAN I USE COCONUT OIL ON MY FACE AS A MOISTURIZER?
I use coconut oil on my face every day, and I often get asked if it causes breakouts. If you google it, you will get several different opinions on this. Clearly, I am on the "it's good for the face" bandwagon.
I do not find it to clog my pores or cause breakouts. In fact, I find it to do the opposite. My skin is very soft and clear. I use fractionated coconut oil as a makeup remover every night before bed, and it works great. It is gentle enough to apply close to the eyes to remove eyeliner and mascara.
I use coconut oil for a makeup remover; it is in my homemade face wash and moisturizer. It is also found in my whipped body butter and lotion bars. I basically slather in the stuff, and my skin thanks me for it.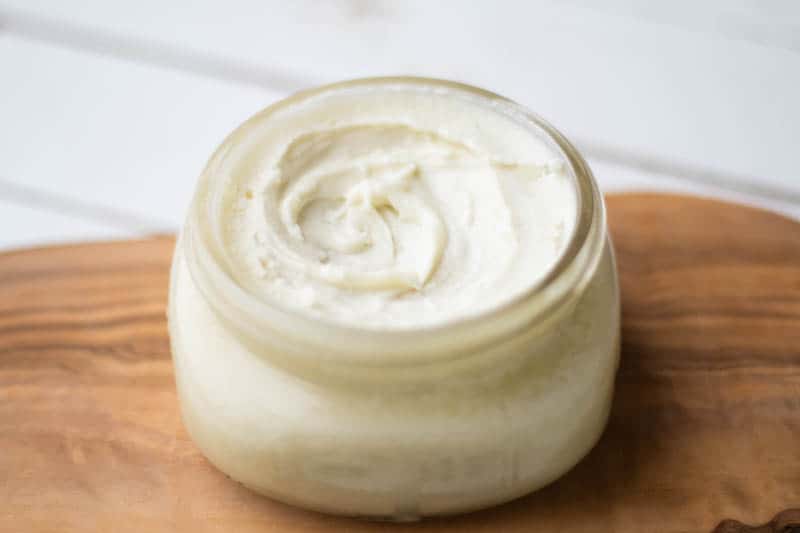 WHAT ESSENTIAL OILS CAN I USE ON MY FACE?
Essential oils are very concentrated and potent. Diluting them before using them topically is important, especially when using them on the face. The face has sensitive skin, and if you put essential oils straight on the face, it may cause some irritation.
I use a few essential oils straight on my face, but I wouldn't recommend starting that way, especially if you have sensitive skin.
Yarrow Pom is my absolute favorite essential oil for my face. I have only had this essential oil for a little over a year, but I have used it on my face almost daily since I received it. It has a beautiful deep blue color and has powerful anti-aging properties. This essential oil was the first one I added to my face moisturizer recipe.
I like to stick to gentle essential oils on the face, like yarrow pom.
CHOOSE YOUR ESSENTIAL OILS
WARNING: If using citrus essential oils on the face, avoid direct sunlight for 24 hours due to photosensitivity.
NATURAL FACE MOISTURIZER INGREDIENTS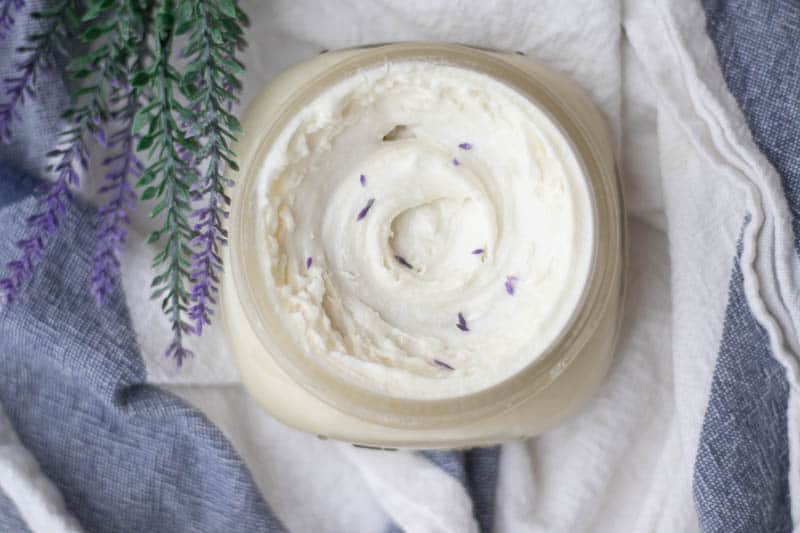 SHEA BUTTER
Shea butter is the ultimate skin moisturizer. It is often used in lotions and other conventional cosmetics. Shea butter is incredible for dry skin and can even be extremely helpful for cracked skin.
It can be used to even out skin tone, lessen acne scars, tighten skin, and improve skin discolorations. Other options for the base include cocoa butter or mango butter.
CARRIER OIL
This recipe calls for 2 tablespoons of oil. You have several options here. I prefer to use a combination of jojoba oil and fractionated coconut oil. These carrier oils have a mild scent and are very moisturizing for the skin.
Other carrier oil options include argan oil, avocado oil, sweet almond oil, grapeseed oil, hemp seed oil, or rosehip oil. Read more on carrier oils to decide which one is best for your skin.
Mason Jars for Storage
I like to store my homemade body butter in short mason jars with wide mouth lids. These make it easy for getting out every last bit of your body butter.
ESSENTIAL OILS
The added essential oils will help with anti-aging, acne, dry skin, or oily skin. It will also add a beautiful scent.
For this recipe, I am using 10-15 drops of essential oils. I prefer to use a blend of oils. Below are a few of my favorites!
CLEAR SKIN
5 drops frankincense
5 drops lavender
5 drops tea tree
Get the oils for this blend wholesale here.
Learn more about essential oils for clear skin.
ANTI-AGING
3 drops frankincense
3 drops rose
3 drops helichrysum
2 drops myrrh
2 drops lavender
Get the oils for this blend wholesale here.
Learn more about essential oils for anti-aging.
DRY SKIN
5 drops myrrh
5 drops lavender
5 drops sandalwood
Get the oils for this blend wholesale here.
REJUVENATING BLEND
5 drops lavender
5 drops sandalwood
5 drops yarrow pom
This is my favorite blend!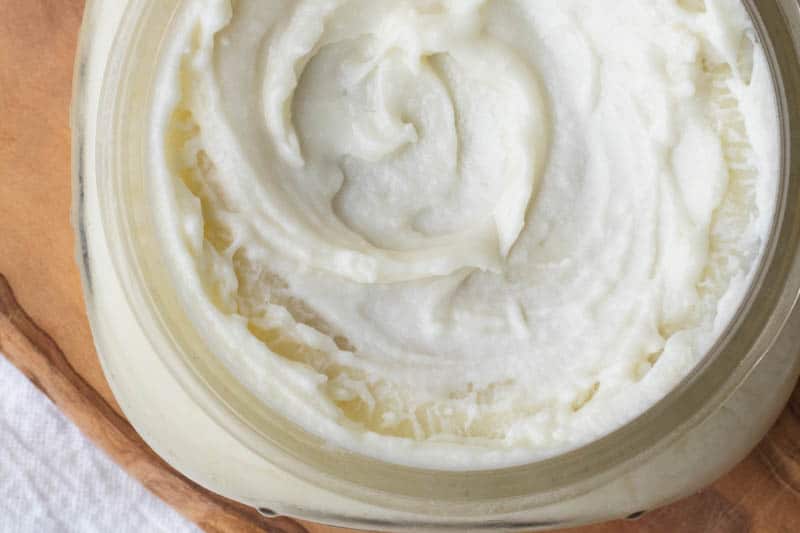 HOW TO USE HOMEMADE FACE LOTION
Face moisturizer is best when used after washing the face. Check out 5 DIY face wash recipes for all skin types to make your own.
A little will go a long way! Add about a dime-size amount of face lotion to the palm of your hand and massage it into the skin. For best results, use daily.
HOW LONG WILL DIY FACE LOTION LAST?
If stored in an airtight container, your face moisturizer will last for one year. Store at room temperature out of direct sunlight.
More posts you may enjoy.
Natural Face Moisturizer Recipe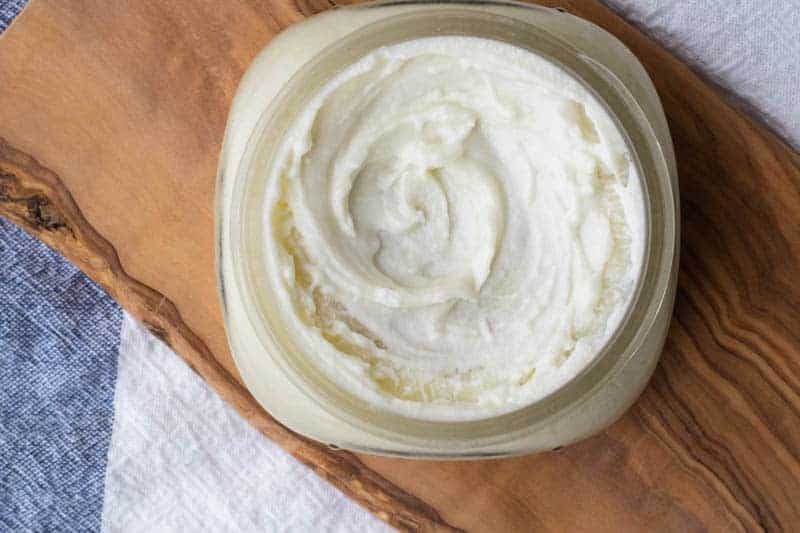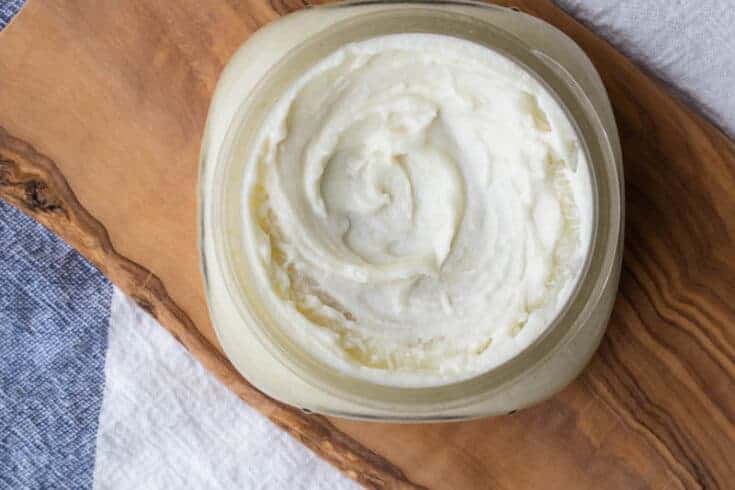 This moisturizer is perfect for all skin types and will not cause breakouts.
Ingredients
5 drops sandalwood 
5 drops yarrow pom
Instructions
Add shea butter, jojoba oil, and coconut oil to a glass bowl.
Set the glass bowl over a pot of water to create a double boiler. Melt all ingredients together.
Remove from heat and allow to cool slightly.
Add in essential oils, and stir together well.
Store in an airtight container.