Learn how to make draw salve with this simple recipe. Draw salve can come in handy for removing splinters, relieving bee stings, and other skin irritations. It is made with natural ingredients, essential oils, and activated charcoal.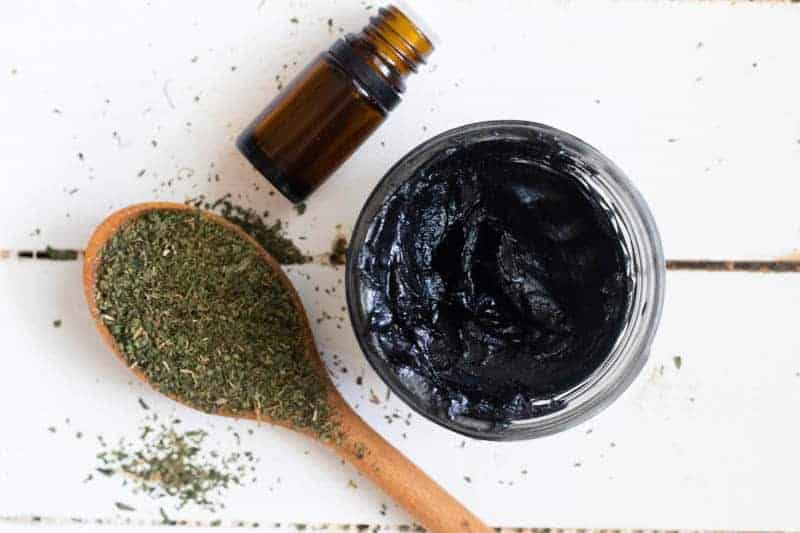 Last week we had some beautiful fall weather, so I took my kid's apple picking with some friends. Well, one of the little girls went to pick an apple off the ground and was stung by a bee. I had some lavender in my bag and rolled it on her. Lavender is really good for relieving bee stings and helping with skin irritations.
We then noticed the stinger was still in her. OUCH! The apple orchard had some drawing salve for sale, so my friend bought that and rubbed it on the bee sting. My wheels started turning. I wanted to make some drawing salve to have on hand. Not only for bee stings but also for removing splinters, soothing skin irritations, and helping with spider bites.
I looked at the recipe on the tin and went home, and started experimenting. This salve didn't have activated charcoal in it, which I knew I wanted to include in mine, so I had to change it up just a bit.
PIN IT FOR LATER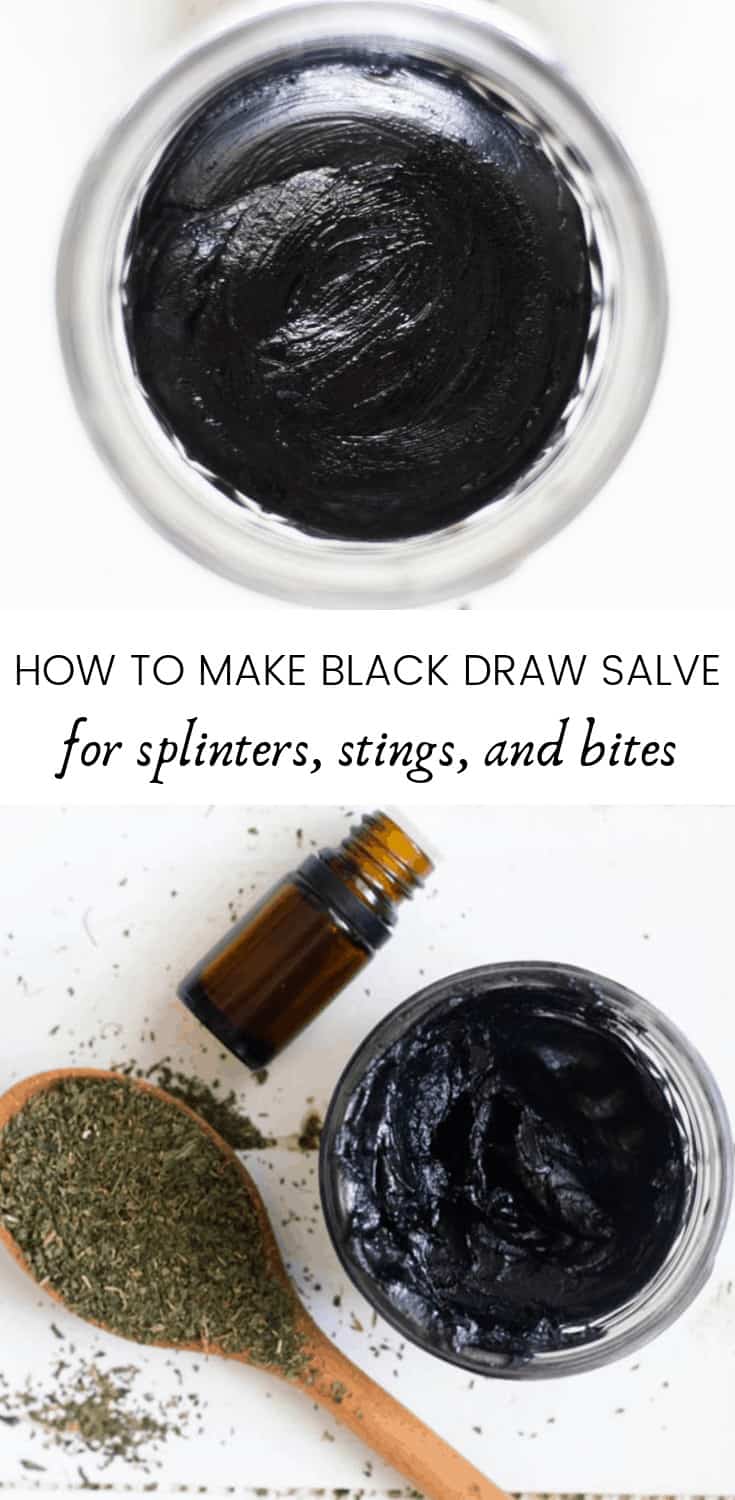 WHAT IS DRAW SALVE?
Draw salve is rubbed on the skin topically to help "draw" irritations under the skin out, hence the name. 😉 It can provide relief and reduce infections.
This post contains affiliate links, which means I make a small commission at no extra cost to you. Get my full disclosure here.
WHAT IS ACTIVATED CHARCOAL?
Activated charcoal is a fine black powder made from bone char, bamboo, wood, coconut husk, peat, petroleum pitch, coal, olive pits, or sawdust. You can make activated charcoal at home, or you can buy it on amazon.
It will most likely be a one-time purchase, as it lasts forever, and you only need a little bit for each use.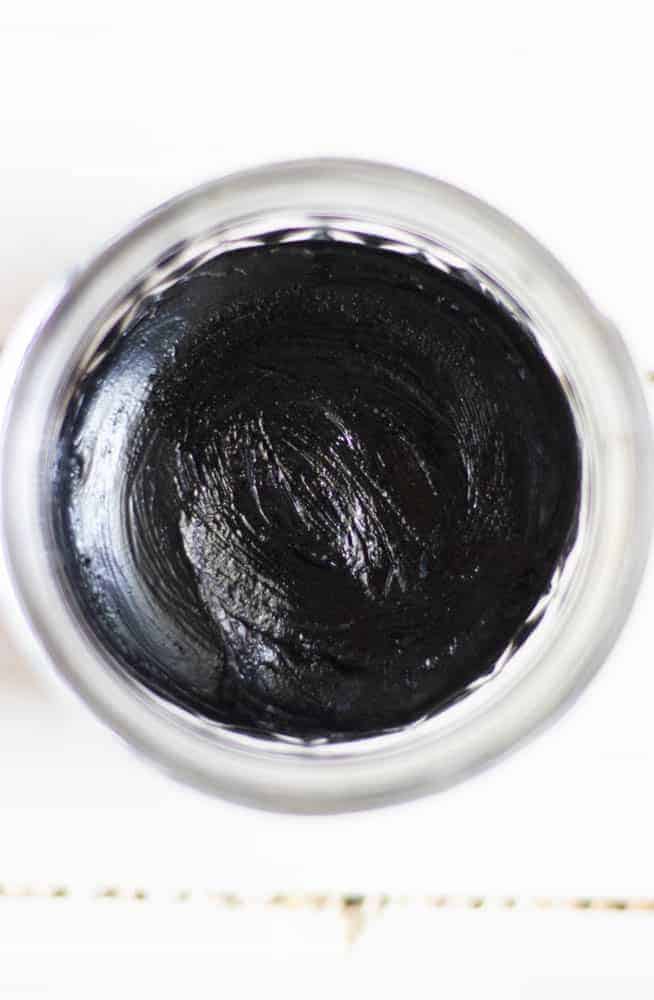 WHAT DOES ACTIVATED CHARCOAL DO?
Activated charcoal can be used to pull toxins and poisons out of the body. In fact, it is an excellent deep pore cleanser, helping to draw out impurities from the skin.
I bought some when we had a spider bite scare, and I decided I would always have some on hand, just in case.
As you can imagine, it is a mess. But if you need it, you won't be worried about it. We have used it several times, and it will stain the skin slightly, but it goes away eventually.
Anytime we have an unidentified bite, sting, or rash, I will go to activated charcoal. I prefer to use it outside or in the bathtub to cut down on the mess.
WHAT ESSENTIAL OILS ARE BEST FOR DRAW SALVE?

Several essential oils can be used to help draw irritations out of the skin. I am using a blend of the 5 essential oils listed below in my recipe. You can use one or two or all of these to make a drawing salve.
LAVENDER
Lavender essential oil is good for all things skin-related. I especially love using it on my children because it is such a gentle oil. Lavender can soothe occasional skin irritations and be used to draw splinters out.
Learn more about lavender here.
TEA TREE
Tea tree is another one of my go-to's for skin irritations. It is a very cleansing and purifying essential oil that can help keep the area of concern clean. Apply it topically to skin imperfections, stings, bites, or splinters.
FRANKINCENSE
Frankincense is known as the king of oils and can be used for so many things. It has several benefits for the body and skin. I made up a clear skin roller bottle with frankincense that I use for any and all skin imperfections; it is even good for anti-aging.
Frankincense is a must for drawing salve! It can reduce swelling, redness and may help remove unwanted moles and skin tags.
Learn more about frankincense here.
CLOVE
Clove is a very powerful essential oil. It has immune-boosting properties, relieves skin irritations, and can keep the skin clean. Clove is a hot essential oil and should not be applied to the skin without being diluted.
BASIL
Basil essential oil is found in my anti-itching bug bite balm, and it is one of the best for bug bites. My poor husband got into a chigger nest, and believe me when I say he was covered in chigger bites. Basil was his best friend.
Crushed-up basil leaves have been used to reduce swelling and pain from bites and stings for many years. Instead of using fresh basil leaves, I use basil essential oil. It is easier and takes way less to be just as effective!
Get the essential oils for this recipe here.
WHAT CAN YOU USE DRAW SALVE FOR?
This salve is intended for external use only. It is safe to use on children and adults. If using on someone that is prone to sensitive skin, you may want to test it on the soles of the feet first and add in less essential oils.
Here are a few things the drawing salve can help with:
Splinters
Stingers
Bug bites
Ingrown toenails
Ingrown hairs
Boils
Warts
Skin tags
WHAT INGREDIENTS DO YOU USE TO MAKE A DRAW SALVE?
I will use beeswax, clay, and herb-infused olive oil in this recipe. These ingredients really add a lot of benefits to the skin, but if you are ever in a pinch, you can just use activated charcoal and essential oils.
The beeswax will be used to help hold the salve together and thicken it. I use beeswax in several of my homemade skin recipes! It has anti-inflammatory properties and can heal skin wounds. It makes a protective barrier on the skin to help keep the area clean and clear of infections.
You can use kaolin or bentonite clay, both of which are great for the skin! I am using bentonite because I already had this on hand. It is a powerful cleanser and can reduce impurities. Clay is found in many face masks and used to help with acne.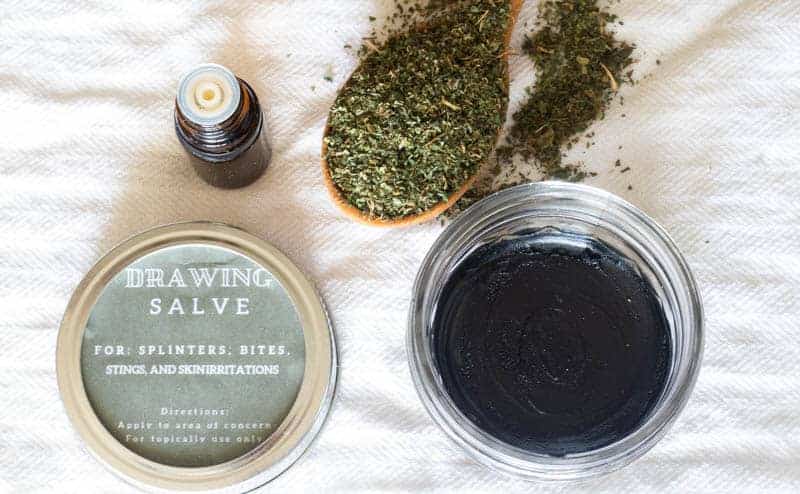 HOW TO MAKE DRAW SALVE?
The first ingredient in the drawing salve is herb-infused olive oil. This is super easy to make, or you can buy premade. To make it, all you will need is a double boiler, herbs, and olive oil.
I am using loose leaf comfrey and plantain. Take one teaspoon of each and place it in the top of a double boiler with 5 tablespoons of olive oil. Allow it to simmer for 30 minutes to an hour or until the oil is dark in color. Strain the herbs from the oil with a cheesecloth.
You will then add the herb-infused oil back into the double boiler with the other ingredients, leaving out the essential oils. Melt these ingredients together and then remove from heat. Add in essential oils and pour into storage tins.
How to Make Draw Salve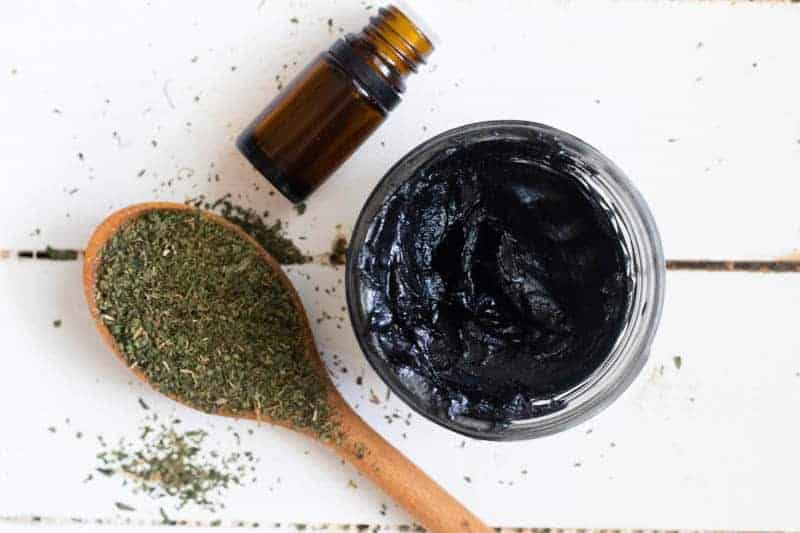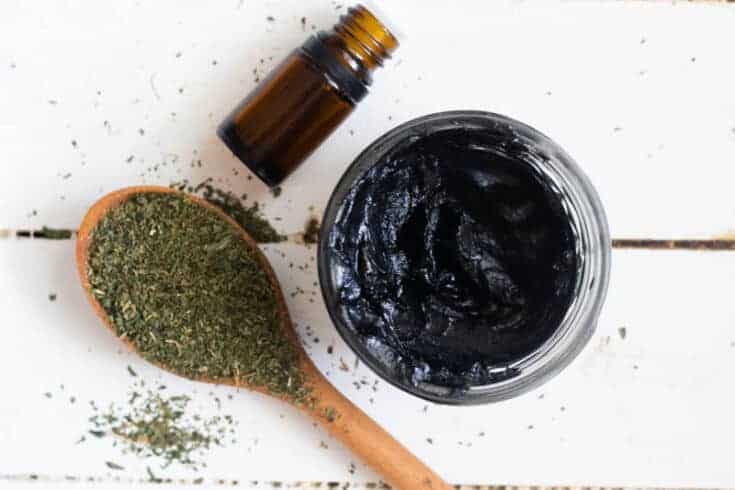 Total Time
1 hour
5 minutes
Ingredients
5 tablespoons olive oil 
1 teaspoon loose leaf comfrey 
1 teaspoon loose leaf plantain
2 tablespoon bentonite clay
2 teaspoon beeswax
1 tablespoon activated charcoal 
25 drops essential oil (I am using 5 of each: lavender, melaleuca, frankincense, clove, and basil)
Instructions
Add the olive oil and loose-leaf herbs to double boiler. Simmer for 30 minutes or until oil is dark.
Strain herbs off the oil with a cheesecloth. Discard herbs.
Place herb-infused oil back into double boiler. Add clay and beeswax. Allow all the ingredients to melt.
Remove from heat. Whisk in activated charcoal and essential oils.
Pour into storage tins.