Don't despair! Help is here.
You can finally wave goodbye to smelly workout clothes and revive tired gym t-shirts today by following this easy method. Follow along with me, and I'll take you through it step by step.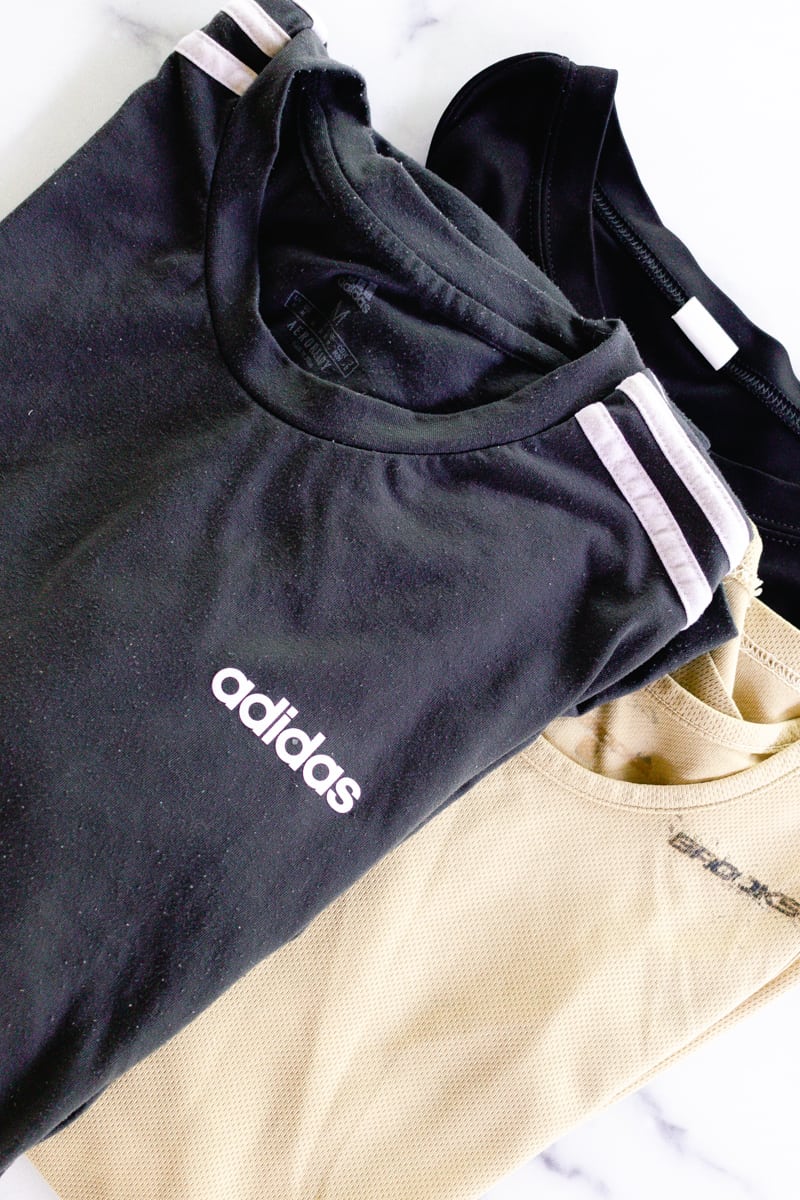 I have spent a lot of time cleaning workout clothes and running shoes. In fact, enough time to dedicate an entire article to each. But for today, we are focusing on workout clothes.
Now here's the thing about workout clothes. Naturally, as part of working out, we sweat. It's healthy – and necessary!
But – in our home, I've honestly spent a lot of time researching the best way to remove odor from workout clothes.
Those 'Dri-fit' tops and bottoms are the worst for holding onto bad smells!!
I mean, the stench of a workout t-shirt worn at the gym, even after washing the clothes, can linger on and on. Do you agree?
My workout clothes, too, sometimes harbor a funny smell, much to my despair.
So I did my research and went on a DIY mission to get some answers.
How to Get The Smell Out of Workout Clothes
For me, it's no good simply buying new workout clothes whenever they start to smell bad. After all, they are expensive!
And washing workout clothes with an average load of clothing doesn't work either (plus, it makes the rest of the load smell funny, too, if you ask me.)
So, I was excited when I found a solution.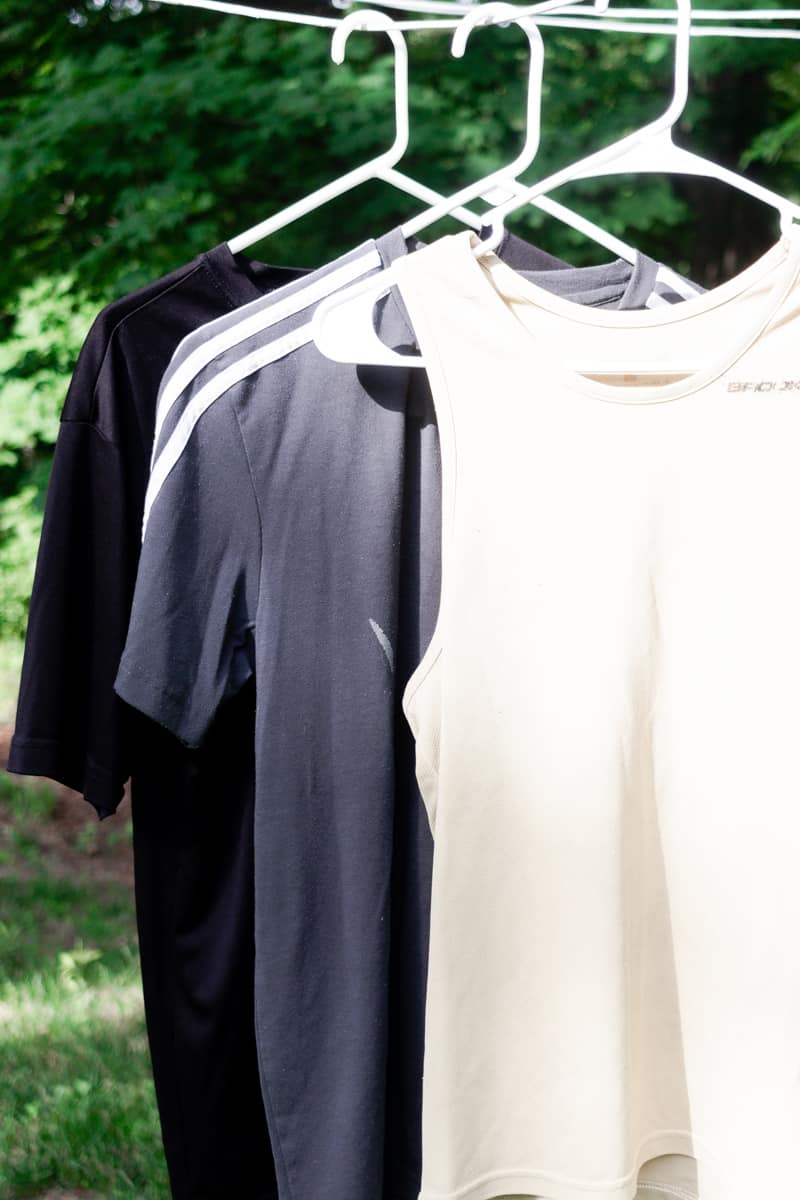 Getting rid of the lingering smells
In this post, I'll share the exact method I use for getting the sweat smell out of gym clothes.
This method of cleaning workout clothes works amazingly well on all gym wear, Dri-fit fabrics, and (good news!) other smelly clothes too.
Just follow each step in order, and you won't get it wrong. I hope it works as well for you as it does for us!
#1 Turn the clothes inside out.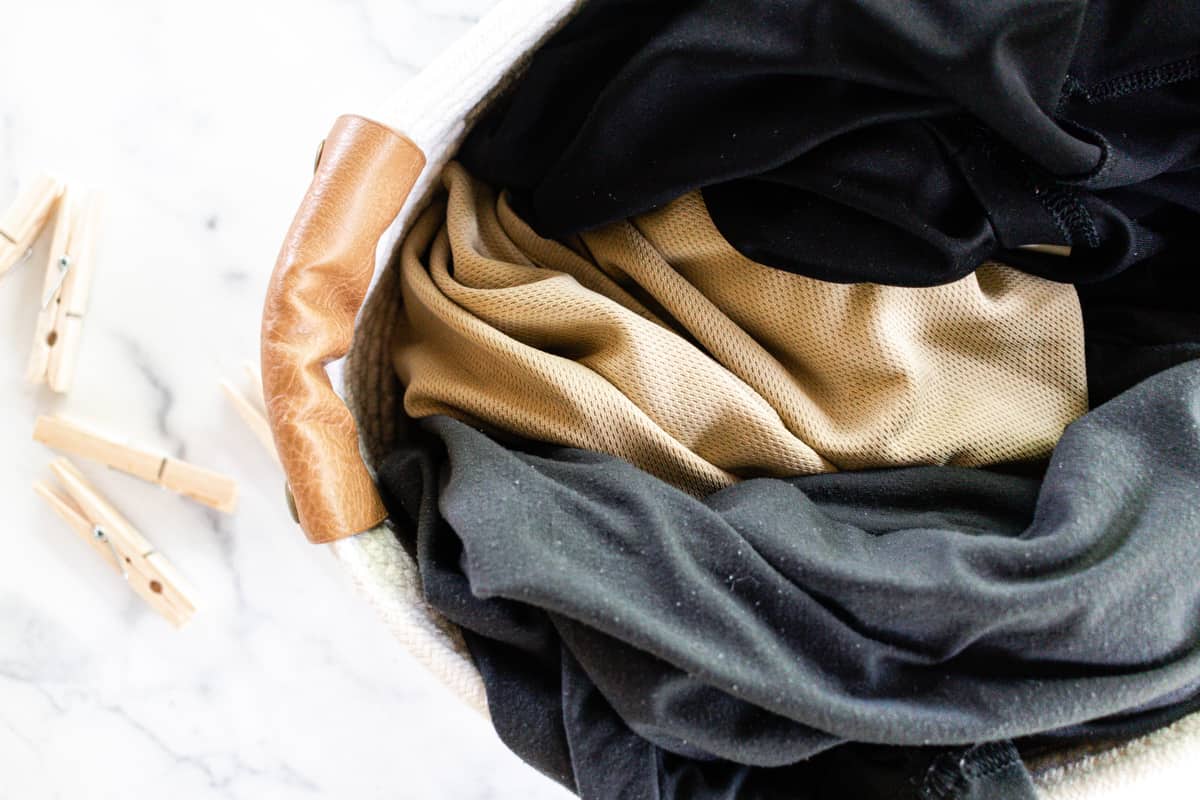 So, the first step in how to get the smell out of gym clothes is to turn them inside out. There's good reason for this – and it's basic too.
The reason being, is that when we sweat, it's the inner bit of the clothing that absorbs that sweat, therefore, the bit that gets smelly.
And let's not forget that some workout clothing materials might smell great after a day of use even, but after wearing them for five minutes the next day, they start to smell really bad, really quickly.
We've all been there! So – turning them inside out is a must.
#2 Soak in baking soda vinegar solution.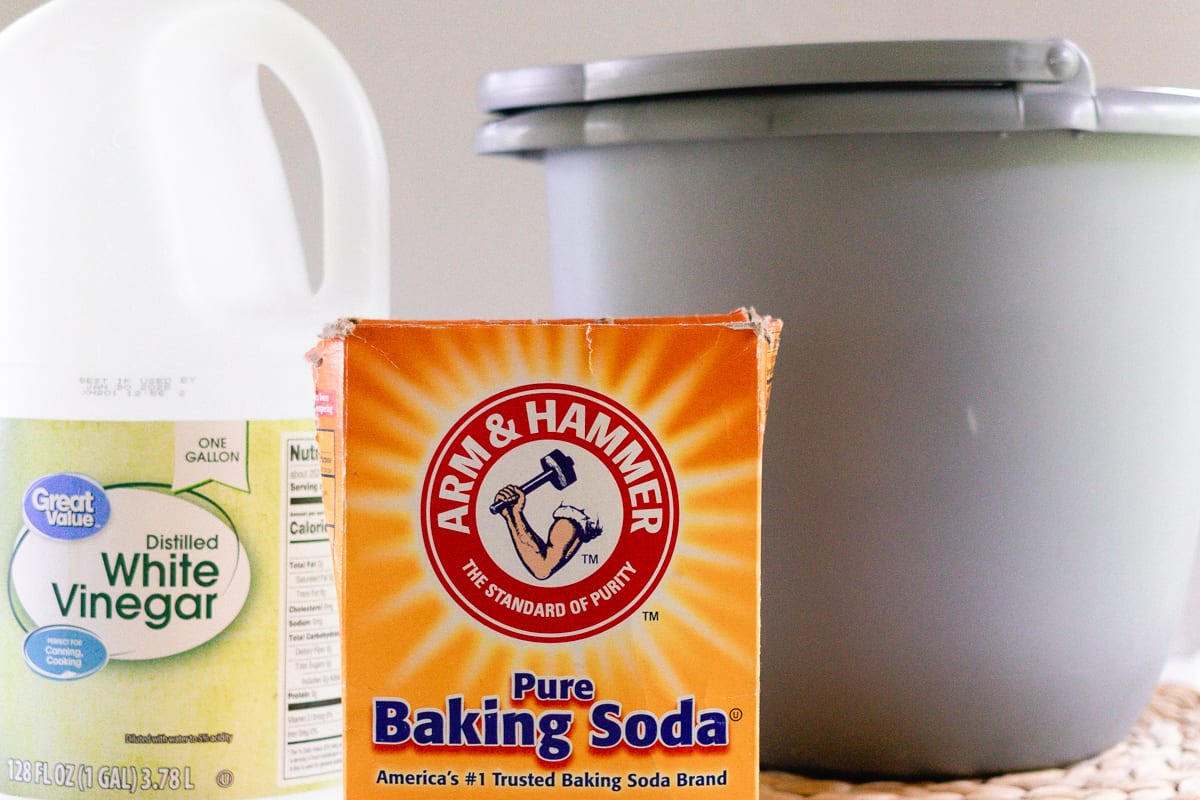 Next, the clothes need to soak.
I used a 50/50 solution of baking soda with vinegar and recommend filling a bowl with cold water and adding a cup full of both in.
You don't need a lot of water, mind you – just enough to cover the clothes as they sit in the bowl. I use about a gallon, to a gallon and a half, for one cup each of baking soda and vinegar.
Leave the clothes to soak for an hour if you can before moving on to the next step. If you can't leave them for one hour, then at least shoot for 30 minutes.
#3 Wash on cold cycle.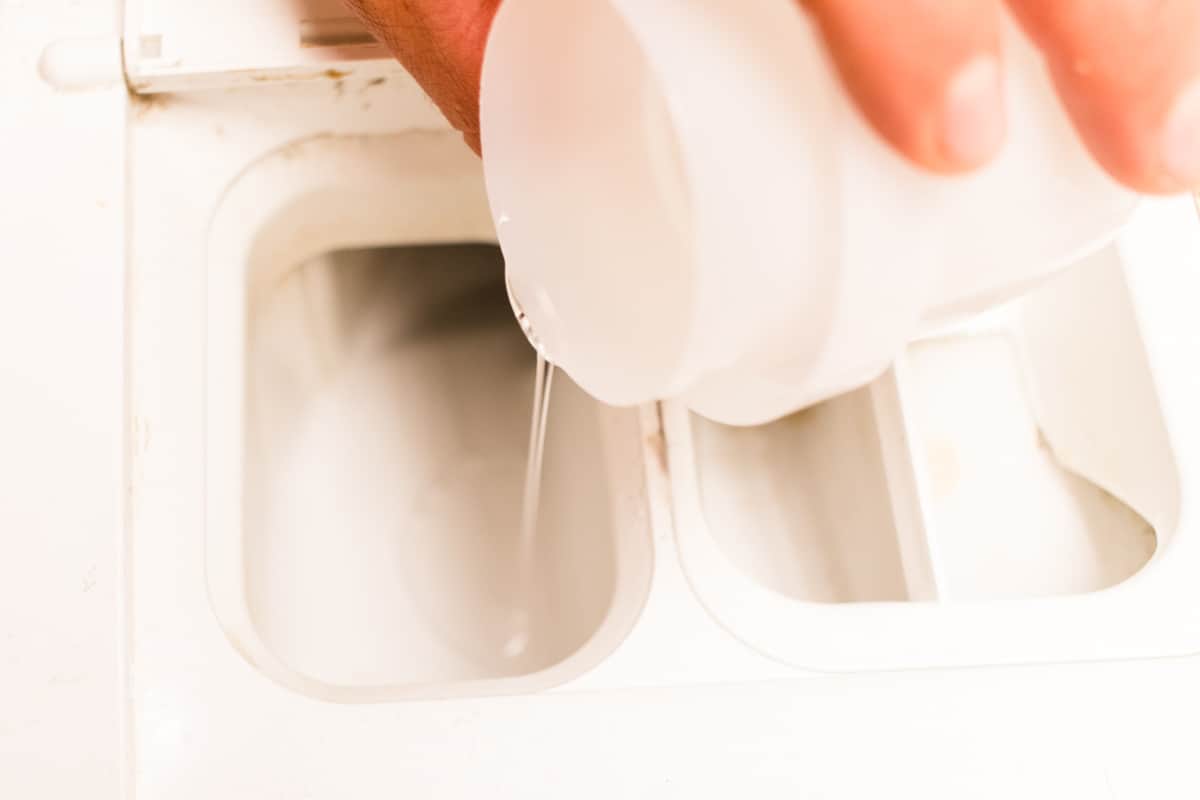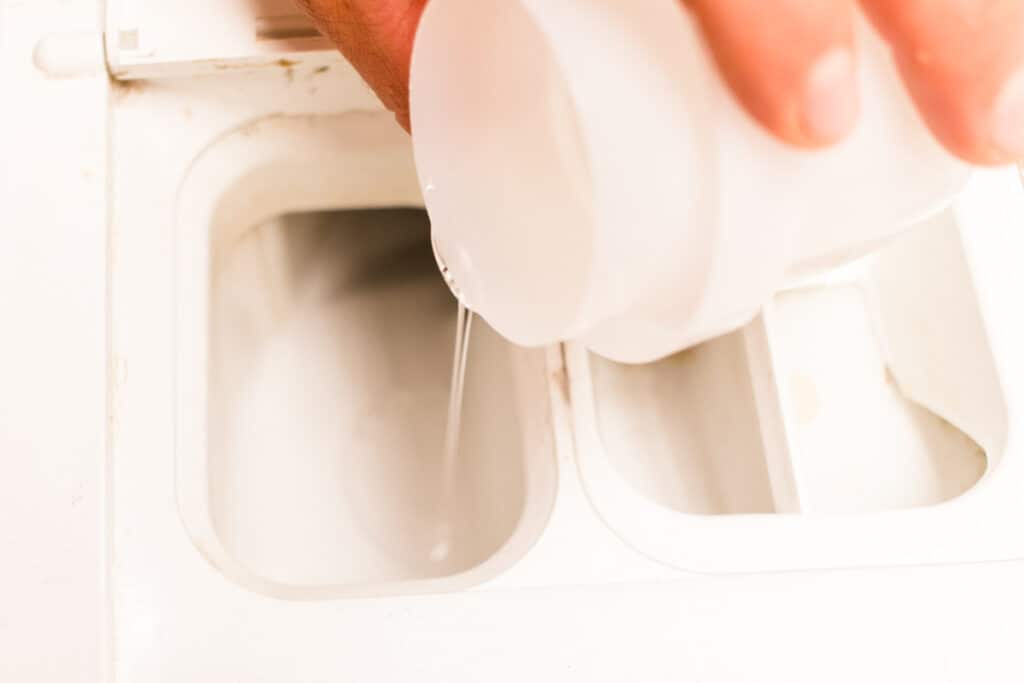 Once you've soaked the smelly workout clothes in the vinegar/baking soda solution, it's time to wash them.
Now, this part is important!
You need to wash the clothes on a cold cycle.
The reason is a cold water cycle prevents the bacteria from sweat settling in the clothing fibers.
It also happens to be more eco-friendly to wash on a cold cycle and helps maintain the shape, condition, and texture of gym clothing.
#4 Hang to dry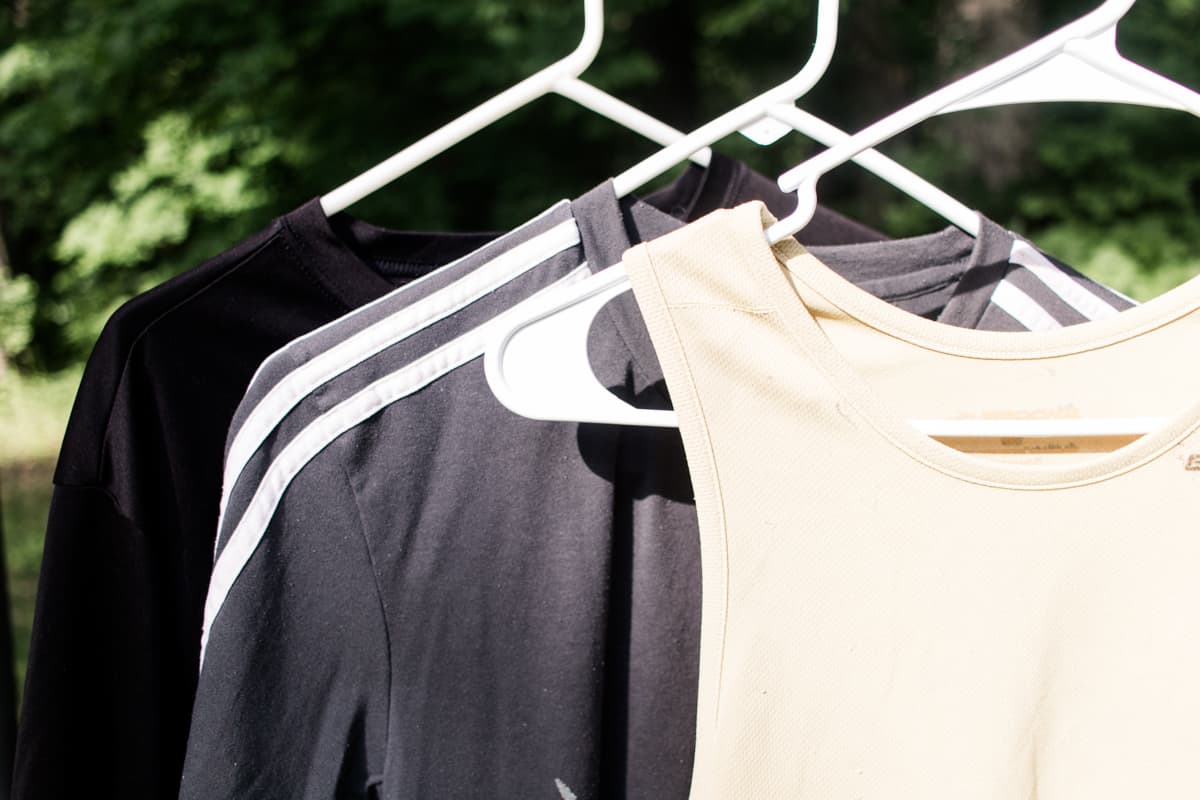 To finish, hang the gym clothing to dry, preferably outdoors on a sunny clothesline, so they dry where the air can circulate freely. This will help eliminate any lingering smell.
Drying gym clothes indoors is notorious for ending up with even smellier gym clothes the next day, in my experience.
This happens due to damp air that hasn't allowed the clothes to dry properly, so outdoor drying is a must.
Hanging gym clothes to dry naturally also helps retain the shape of the clothing as well.
I certainly don't advise drying gym clothes in a machine, as this risks shrinking them or reducing their lifespan.
If the fabric is made from polyester, or say, some of the more specialized, branded sportswear, then a tumble dryer is a real no-no unless you use it on the coolest setting.
If hanging dry is not possible, use dryer balls to keep the clothes loose while drying.
How to Wash Workout Clothes Properly
Here is some extra advice from me to make sure you really get rid of that smelly gym t-shirt, restoring it to its former glory!
Keep them separate from your regular clothes.
This might seem like a no-brainer, but the worse thing is when you spread that bad sweat smell from stinky gym clothes onto other items you own, such as your towels and other things.
So, if you can't (for whatever reason) soak gym clothes in vinegar and baking soda straight after using them, do try to keep them separate from your other dirty clothes.
You'll be glad you did!
Turn them inside out.
I've said it once, but its worth saying again! When we sweat, the material closest to our skin is what helps absorb the wetness. This is why the underarm region of gym clothes always smells the worst.
This wetness is what creates a foul odor once the odor-making bacteria move in.
So, logically, if you turn your gym clothes inside out, you not only get closer to the action of the vinegar and baking soda, but you also get a more effective wash in the machine.
Let them dry before throwing them into a hamper.
By letting your workout clothes dry first once you've had a workout, you have the best chance of wearing fresher gym clothes the next time you're active.
Most people, by habit, throw their dirty clothes straight into the hamper, but with gym clothes, this is a mistake.
As I said, your best bet is to pop smelly gym clothes straight into the soaking solution if you can – but – the second best option is to let them dry first before soaking.
The drying effect means that dampness won't set in (hopefully), thereby reducing the risk of bacteria developing.
Wash on cold cycle
A lot of people don't know that washing clothes on a hot cycle actually sets stains and smells into the clothing fibers, making it harder to remove later down the line.
So, go for the cold wash cycle every time.
This will help lift the bacteria from the fibers, meaning the clothes won't hold onto the odor (we hope.)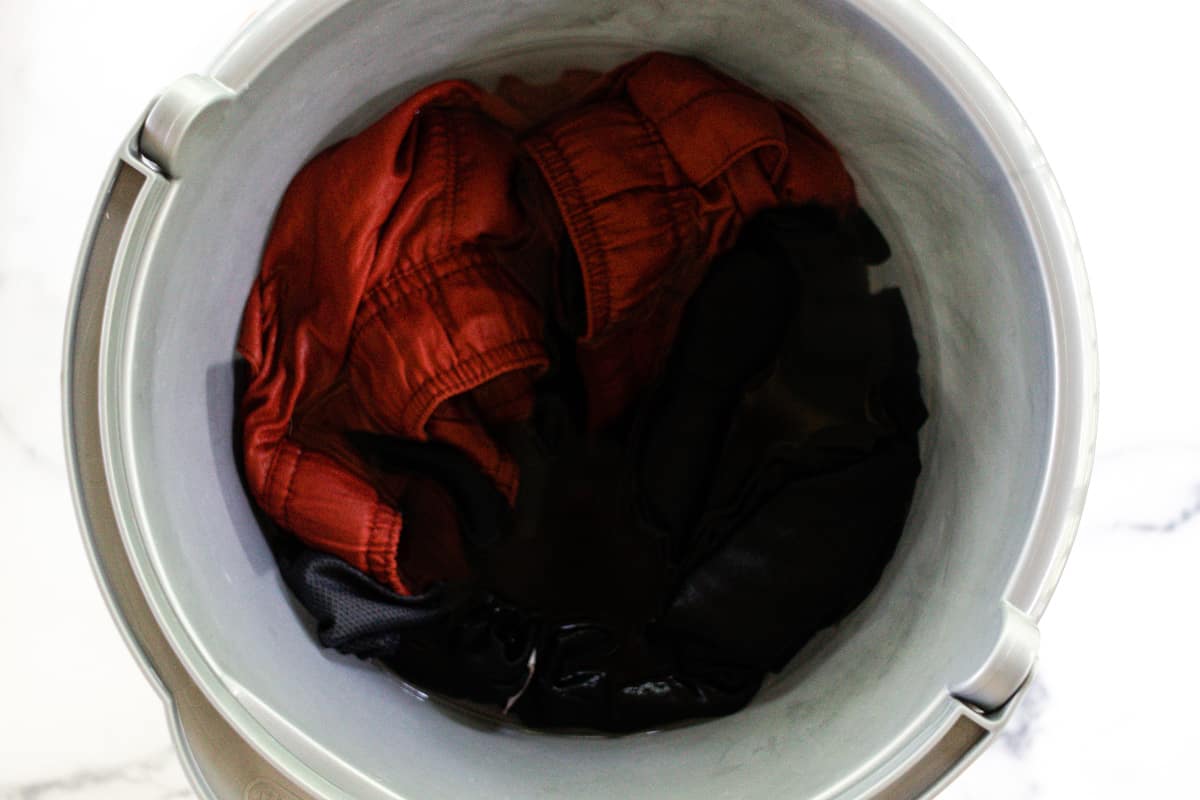 Use minimal detergent
Using more detergent than you need to might risk holding onto the odor even more. Detergent builds up if there's too much in one dose, so instead, use less.
It might sound counterintuitive, but using less detergent or a gentler unscented detergent will help erase the smell better!
Tips
Avoid using fabric softener
Much like too much detergent – fabric softener is designed to add a silky smoothing action to clothes.
Which is the worst thing for gym clothes that smell bad!
So, don't use fabric softener at all on gym clothes. Ever!
Wash separately from regular clothes
This is so you don't spread the bacteria that cause bad smells on gym clothes.
Skip the dryer – hang dry instead for better airflow
Air drying in the fresh air outdoors helps eliminate bad smells on gym clothing and leaves the clothes fresher than ever before.
Avoid washing on hot (it can damage performance fabrics)
Washing on hot cycles can risk shrinking or even damaging gym clothing. And hot cycles mean the smell will likely set in, making it harder to get rid of.
Why Do Gym Clothes Smell After Washing?
The reason gym clothing smells after washing is simply because the bacteria that causes odor hasn't been destroyed.
If some bacteria is left lingering in the clothing fibers, then no matter how much perfume or smell-reducing activity you do, the smell won't budge.
My best advice is to follow this cleaning method for smelly gym clothing as and when you need to. Repeat it if necessary until you get rid of the smell!
I hope you find this post helpful and that you end up with fresh-smelling gym clothes in the end.
If you like this style of post, you may like reading one of these next!
Reference: Nike.com, 2022, How to get rid of the smell of sweat in workout clothes, accessed June 1st, 2023, {https://www.nike.com/a/get-sweat-smell-out-of-clothes}