Say goodbye to dirty, smelly running shoes and hello to fresh, rejuvenated footwear. Read on to learn how to clean your mesh shoes like a pro!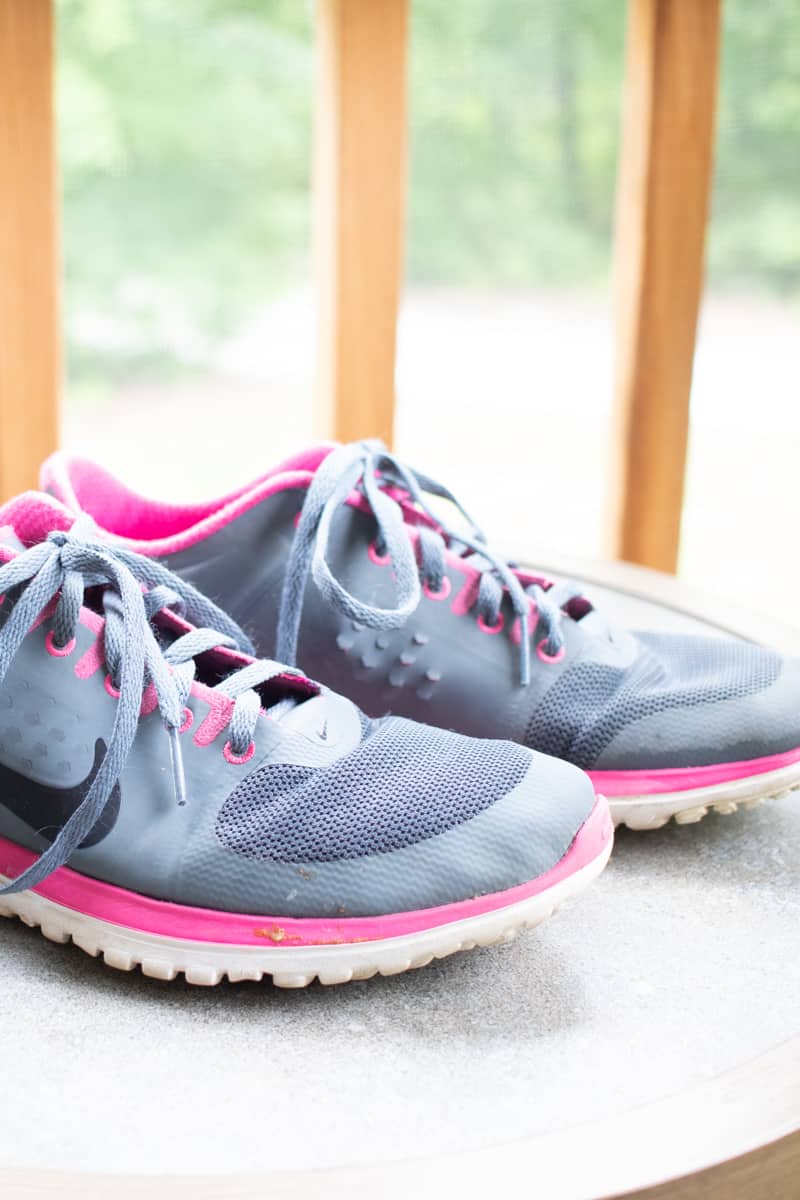 If you're into the outdoors or sports, you're likely familiar with mesh shoes. Really mesh is just the material, as they can be sneakers, trainers, and any other names that can be found worldwide.
You'll know if you've got mesh shoes by the material they're made from. The upper part which covers your foot is made from either nylon or polyester and has a see-through appearance.
They get used so much that they get dirty, smelly, and downright yucky after a while.
Yet not many people know how to clean mesh shoes properly (and quickly!). Do they go in the washing machine? Or are they hand wash only? What if the washing machine ruins them?
Who knows. Well, I do! You'll find all the answers you need here in this post.
And you'll be eager to keep your mesh shoes clean once you discover how easy the cleaning process is.
(After all, mesh shoes can be expensive, and money doesn't grow on trees..)
I'll share the exact cleaning method I use for cleaning mesh shoes. It's simple to do, and the results are astounding.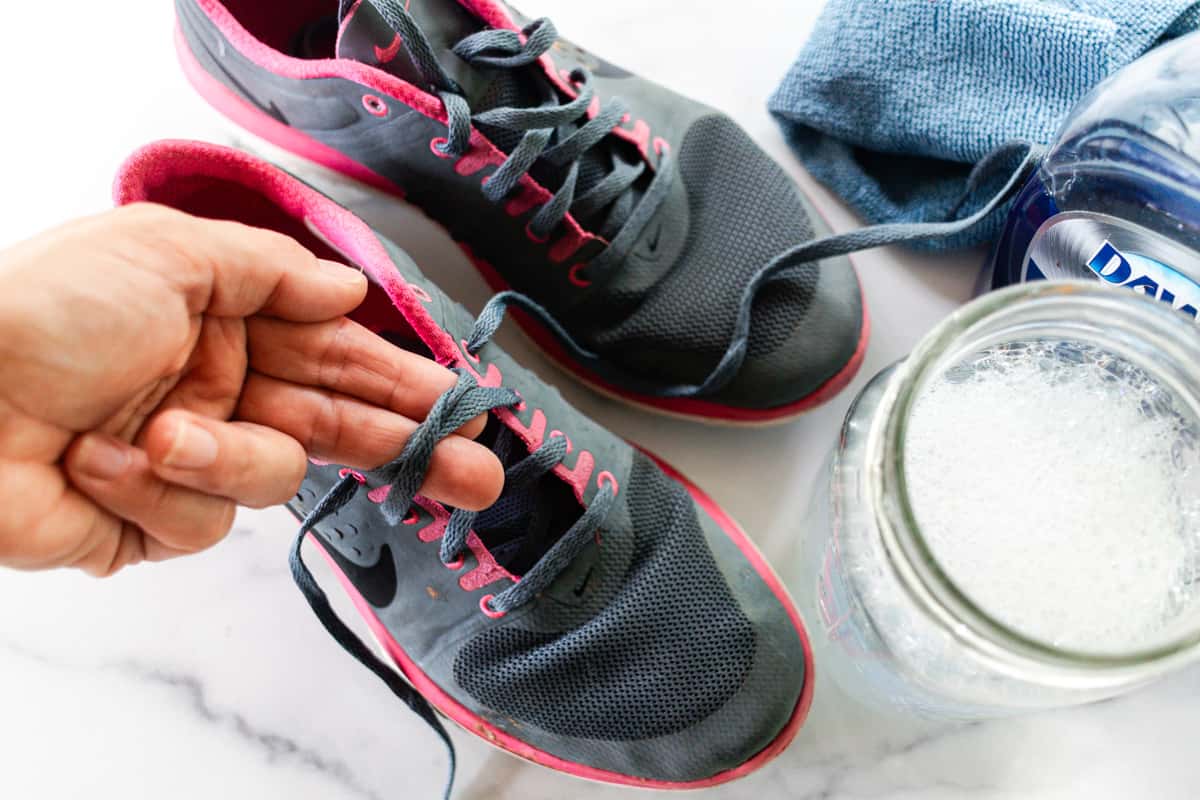 This post contains affiliate links, which means I make a small commission at no extra cost to you. Get my full disclosure here.
How to clean mesh shoes
Follow this easy step-by-step cleaning process, and you'll have clean mesh shoes ready to use as soon as they're dry.
Make a soap and water solution.
Fill a bowl with about a quart of warm water and drop in around a tablespoon of soap (liquid soap works best for this so it dissolves)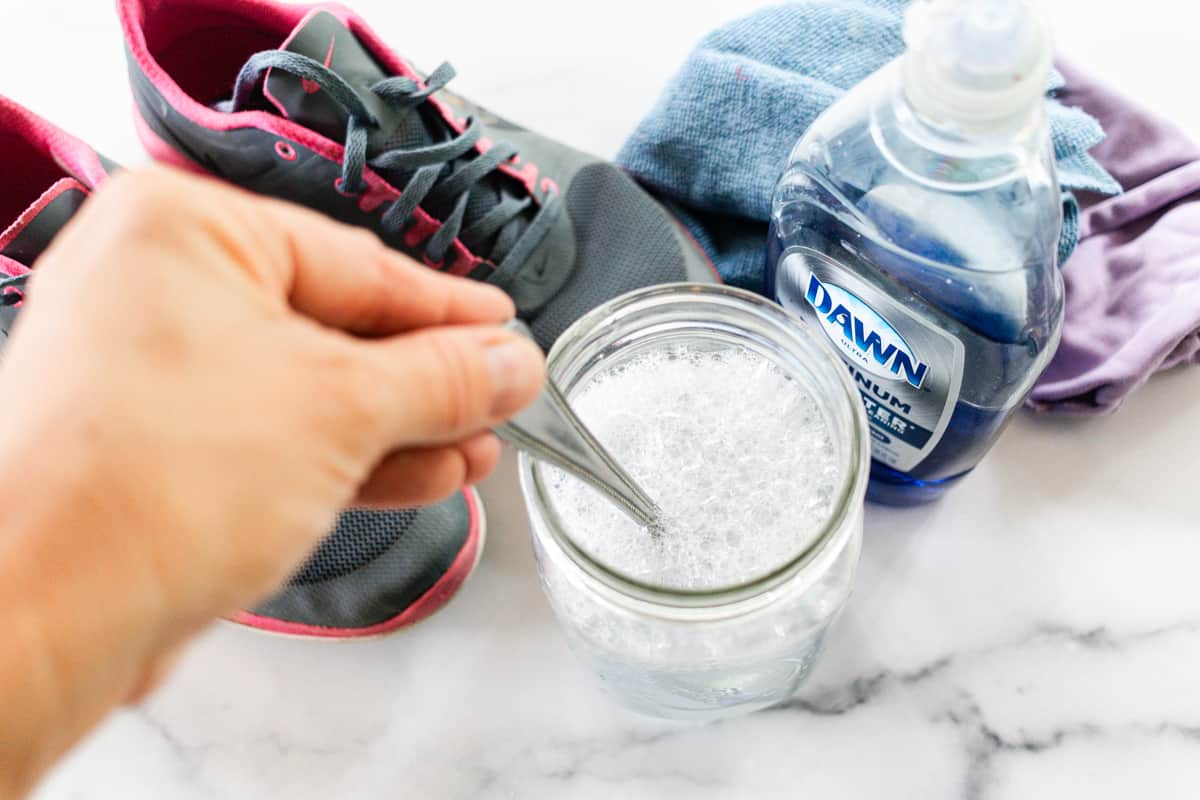 Remove shoe laces and stuff newspaper inside the shoes
The newspaper helps absorb excess water from the cleaning process, speeding up the drying process. If you don't have newspapers, you can stuff them with an old towel.
You can also soak your shoelaces in the soapy mixture to clean them or pop them in the washing machine with your load of laundry.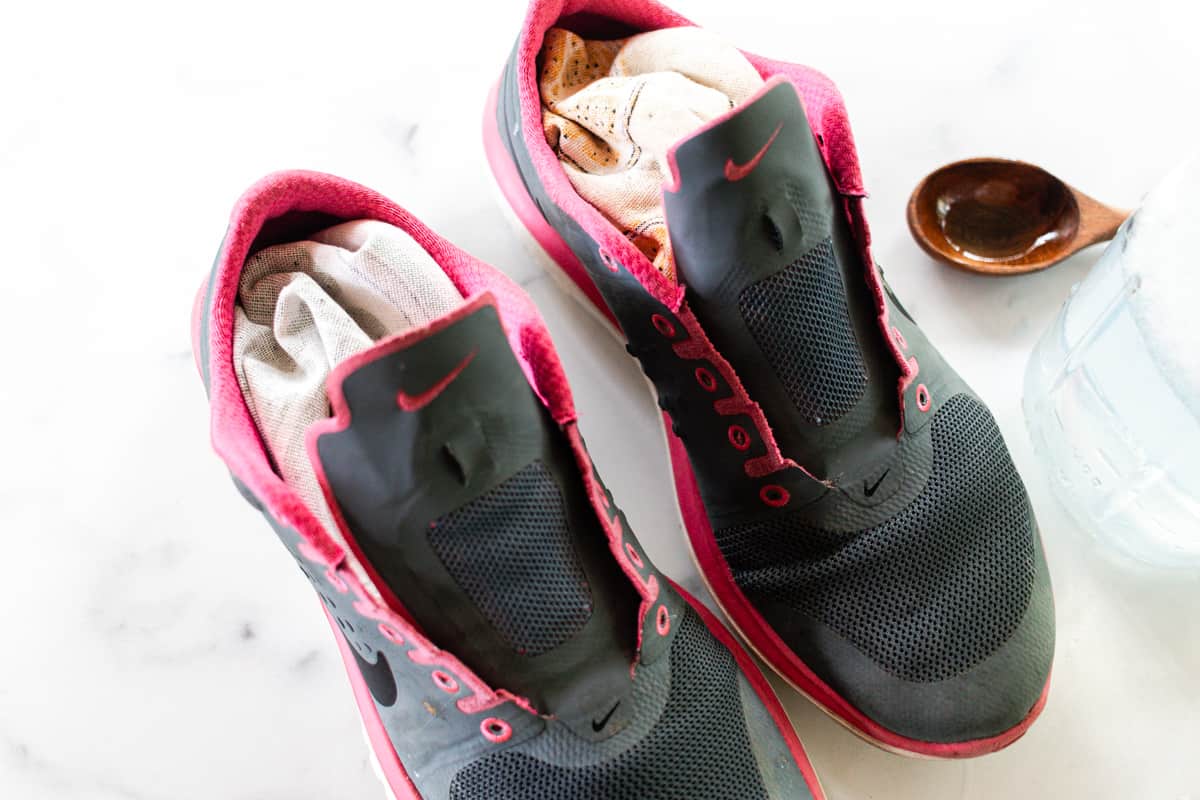 Scrub away any dirt.
You'll need a soft bristle brush for this bit. Gently scrub the mesh without being too forceful, or else you risk damaging the material.
I'll scrub any flakes of dirt loose while the shoes are still dry before washing them with soapy water.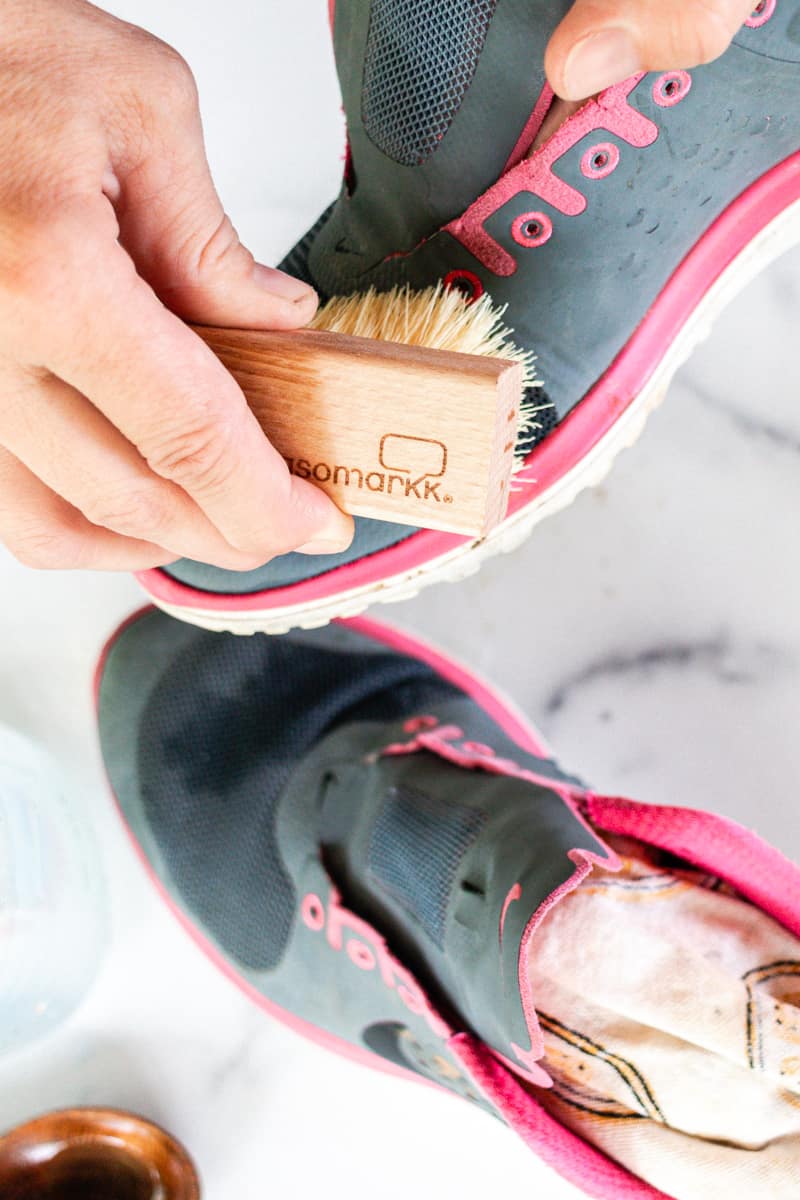 Clean with soapy water.
Wet a microfiber cloth with soapy water and wipe over the mesh. Try to keep the wiping direction the same as the mesh pattern to avoid damaging it.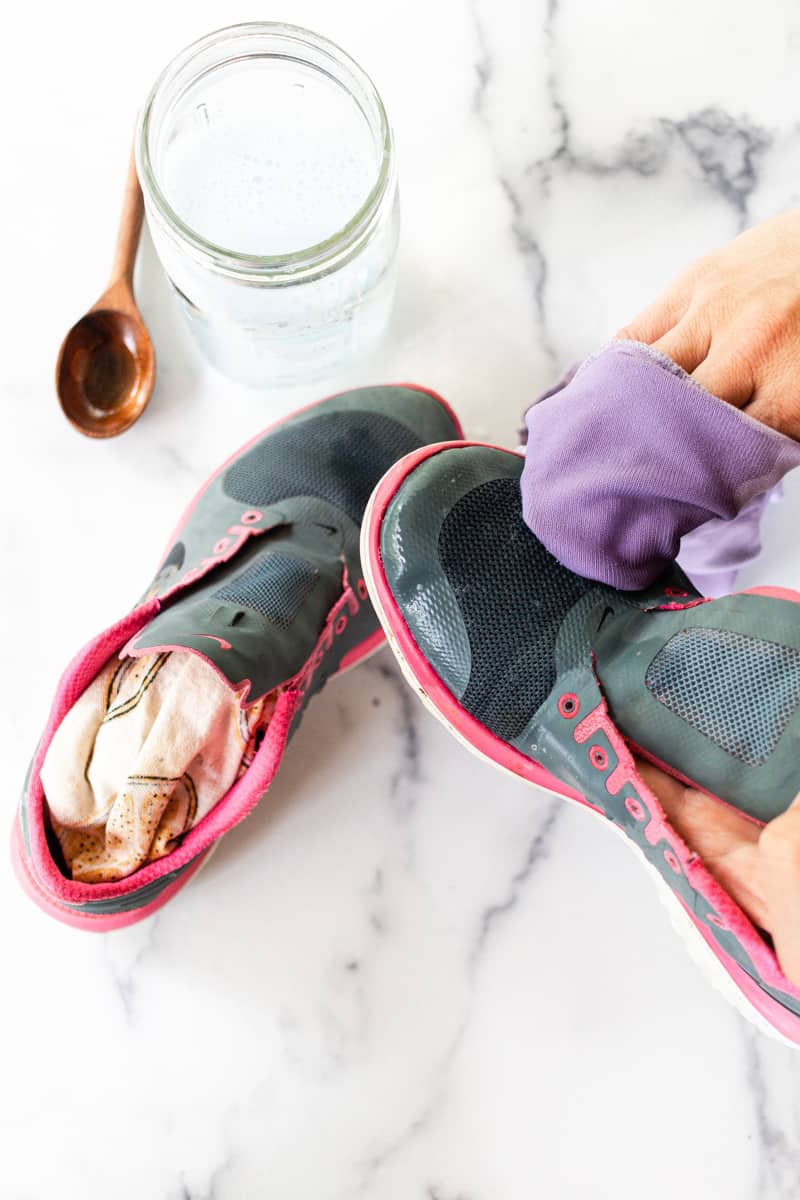 Remove soap with a damp rag.
With a damp cloth now, wipe over the mesh a few times to remove excess soap and any leftover dirt. You may need to repeat steps 4 and 5 a few times if your mesh shoes are extra dirty.
I am actually cleaning my shoes today; my husband runs dirt trails a lot, so his shoes are always in need of a good cleaning.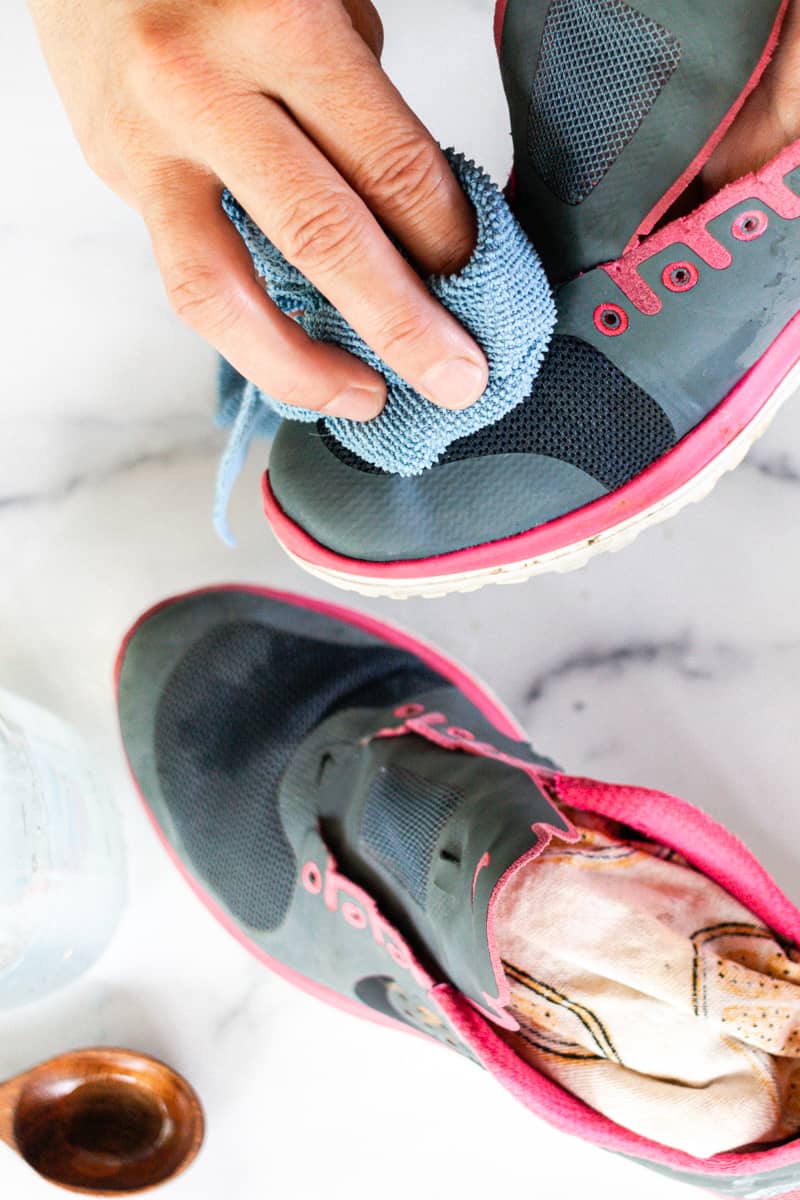 Air dry
I make sure to remove the newspapers from inside the shoes and place them on my back porch to dry. They'll dry much quicker outdoors, where there is good airflow.
If you need to put them out in direct sunlight, you could set them upside down so that they don't get sun faded. Though, you'll want to be careful so you don't deform your shoes.
It may take up to a day for the shoes to dry properly. And when they do, they'll look like new!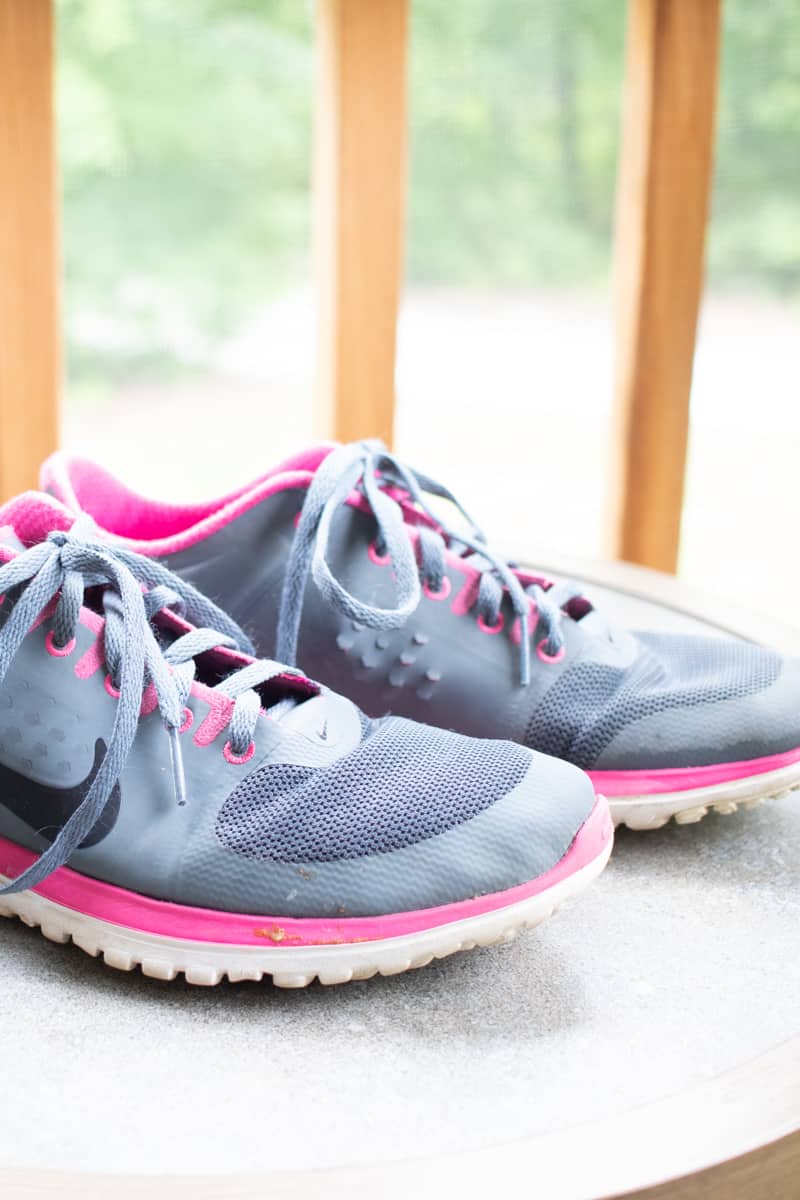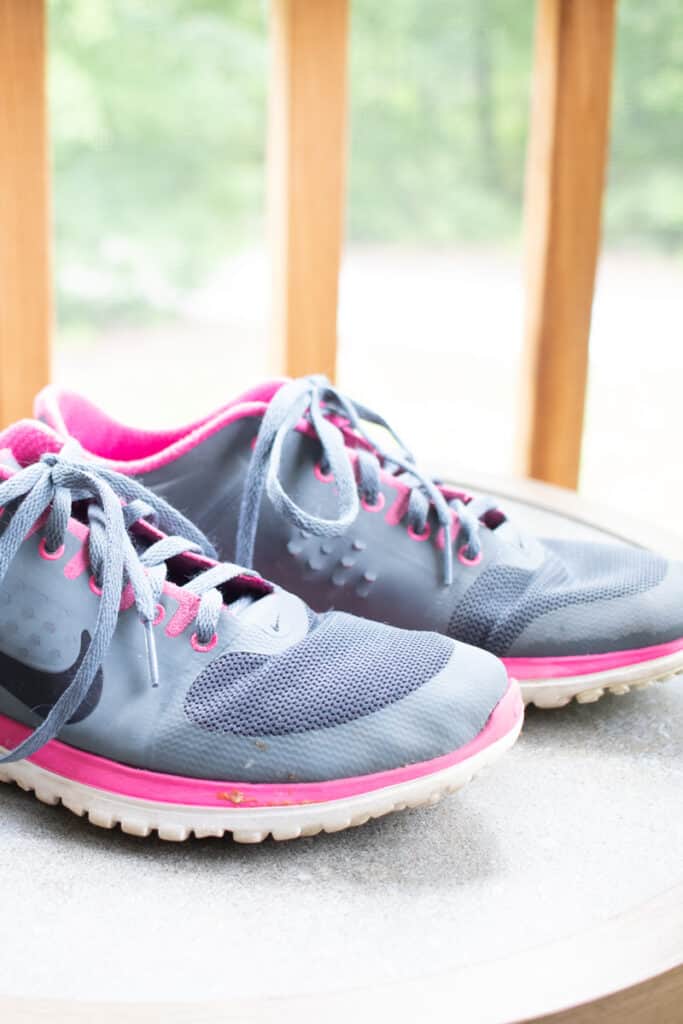 How often should you clean mesh shoes?
It's a good idea to wipe over your mesh shoes after every use, particularly if they get dirty. Keep that dry scrubbing brush handy for this.
You can also do regular 'spot cleans' if you notice mesh parts get dirty more than others. For this, I make up the soap solution and dip a microfiber cloth in to wipe the dirt away as soon as it appears.
Of course, the frequency of cleaning is up to you and depends on how often you use your mesh shoes.
My advice is, look after the mesh! Doing so means your shoes will last a long time (years in some cases!)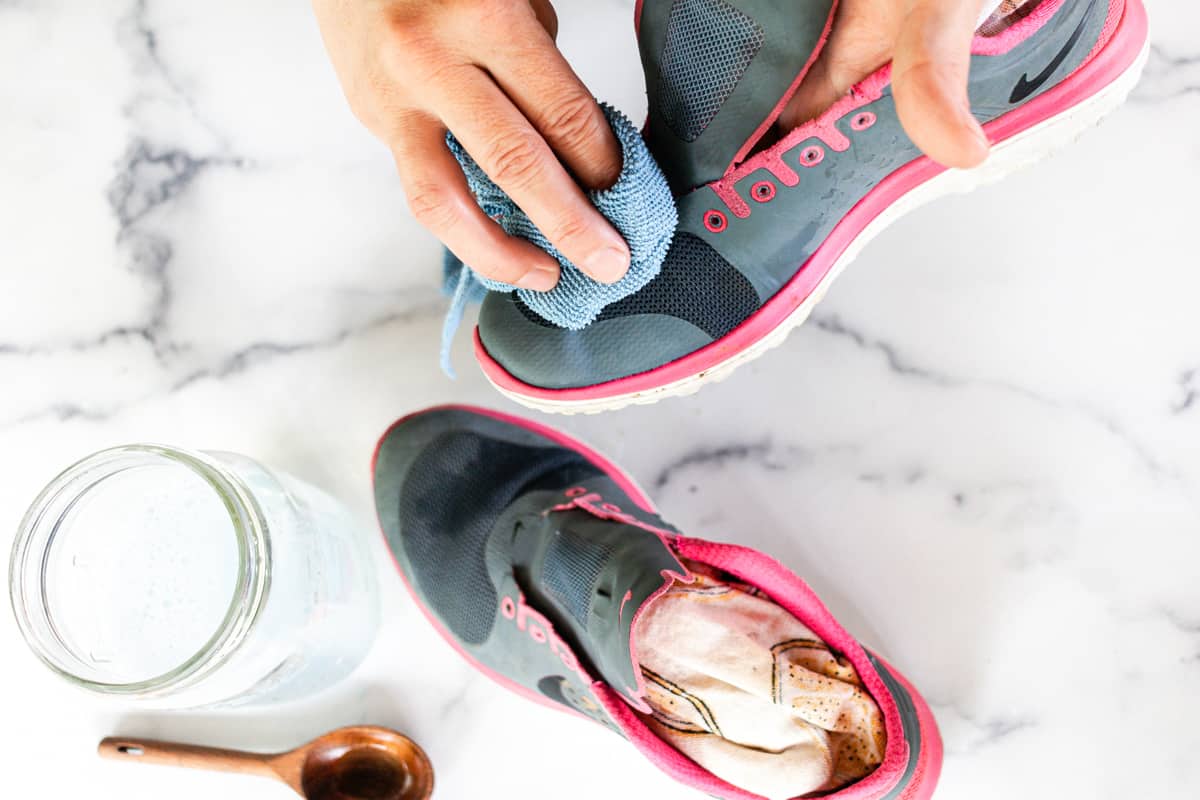 FAQs
Can I machine wash mesh shoes?
Yes, you can. Wash them in a mesh cleaning bag or pillowcase on a delicate or silk setting. If your machine has a hand wash setting, this would work too.
How do you clean mesh shoes without ruining them?
It's always safest to wash mesh shoes by hand, in my opinion, which is why I've shared the cleaning method in this post.
My best tips are to use the scrubbing brush gently and wipe in the direction of the mesh to avoid accidental rips and tears in the mesh.
How do you get dirt out of mesh shoes?
Use the dry scrubbing brush gently to remove dirt and shake it off the mesh. You could also use a dry toothbrush in the same way.
Tips
Cleaning mesh shoes can be a dirty job if mud and sand are involved, as some examples. Therefore, do this outside or use a slop sink if you have one.
You can wash the laces of the mesh shoes in the washing machine on a standard setting (tie them together so they don't get caught in the hose or, even better, use a mesh bag.)
Avoid course bristle brushes. Use softer, fine bristles to scrub off the dirt.
Nike suggests not using a washing machine for their shoes. If you have any concerns whatsoever, go through the cleaning process I describe in this post for safer (and often better!) results. 
Dry in a well-ventilated area, ideally outdoors on a dry day at least, though not in direct sunlight.
Does this post inspire you to spruce up your mesh shoes? Remember, scrub gently and air dry for best results.
If you loved this little hack for cleaning your workout shoes, you may like one of these next!
How to clean mesh shoes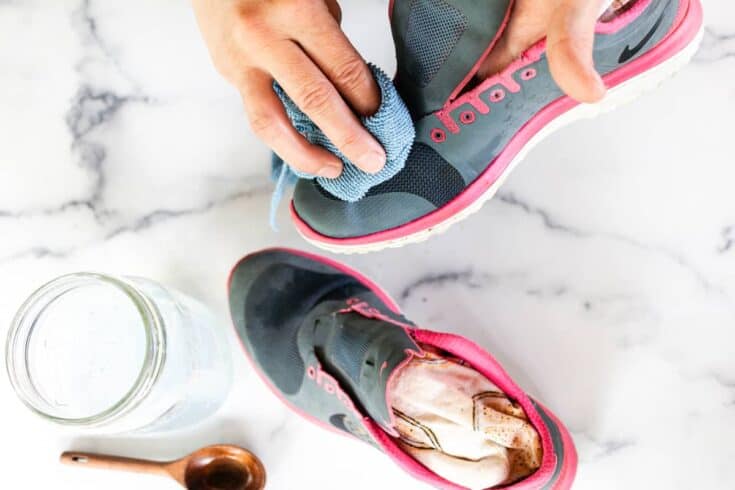 Discover effective techniques to restore your mesh shoes to their original shine. Our step-by-step guide offers expert tips and DIY solutions for tackling dirt, stains, and odors. Say goodbye to dirty shoes and hello to fresh, rejuvenated footwear!
Tools
Dish soap
Newspapers
Towel
Instructions
Mix a tablespoon of soap in a quart of warm water.
Remove shoe laces and stuff the shoes with newspapers or a towel to help keep their shape as well as absorb excess moisture.
Gently scrub dirt and foreign material loose with a scrubbing brush. Be careful not to let any bristles catch on the mesh.
Wet the microfiber cloth in soapy water and gently scrub the shoes clean. Follow the grain of the mesh to avoid damaging it.
Wash the soap off with a damp cloth or rag.
Remove the newspapers and air dry.