This homemade burn salve is the perfect DIY burn ointment for minor burns to help with the healing and keep the skin from scarring. Made with all-natural ingredients, this salve is great to have on have for life's little emergencies.
Have you ever wondered what to put on burns? Or how to heal burns quickly? This homemade burn salve is just the thing! It is made with soothing essential oils, coconut oil, and vitamin E oil to help heal and reduce signs of scarring.
As careful as we are, burns just happen sometimes. Whether it is in the kitchen or by the campfire, they hurt and continue to hurt.
I love having natural remedies on hand and this DIY burn ointment is no exception. It is cost-effective, all-natural, and really works! This burn salve is only intended for minor burns and as always, you should consult with a doctor before trying any natural remedies. I am just a mama writing off personal experiences and research.
PIN IT FOR LATER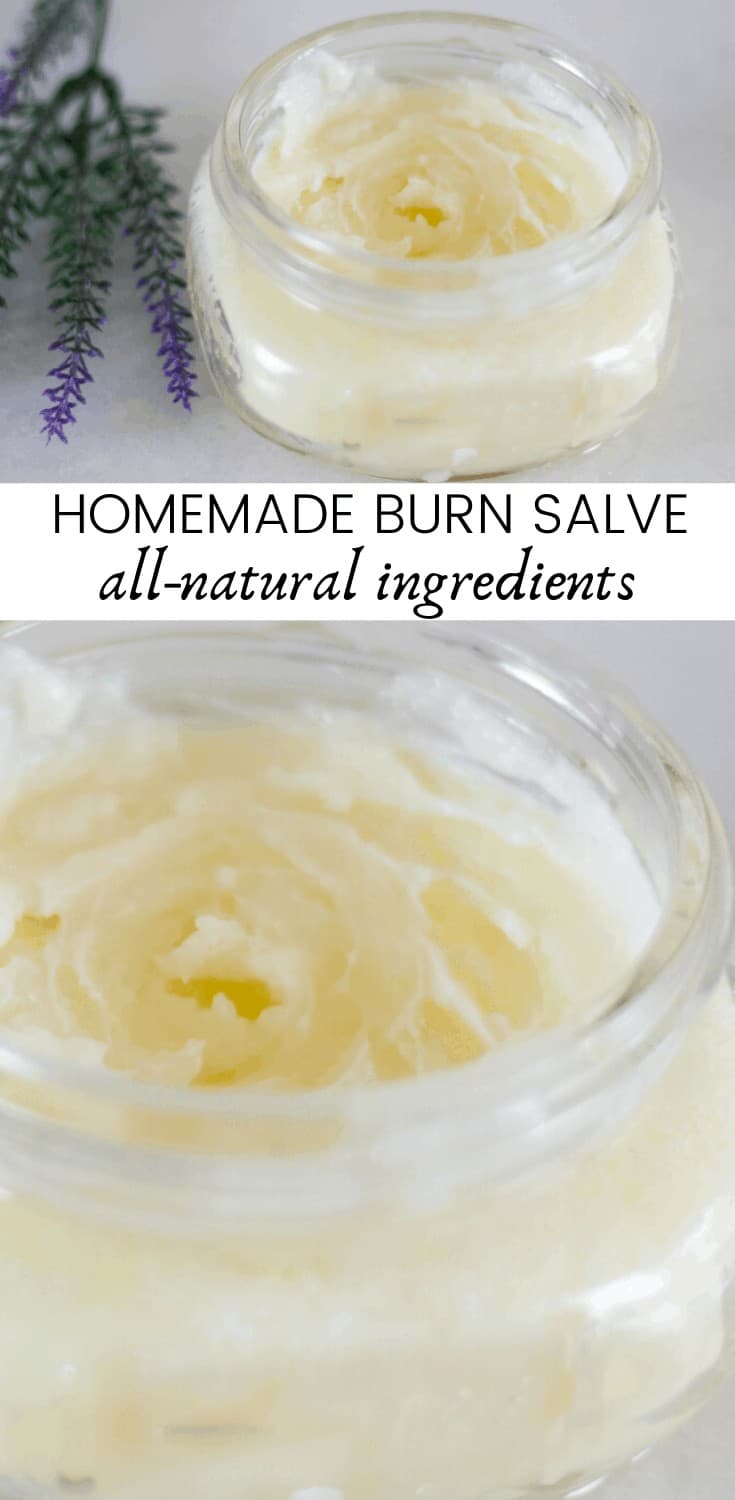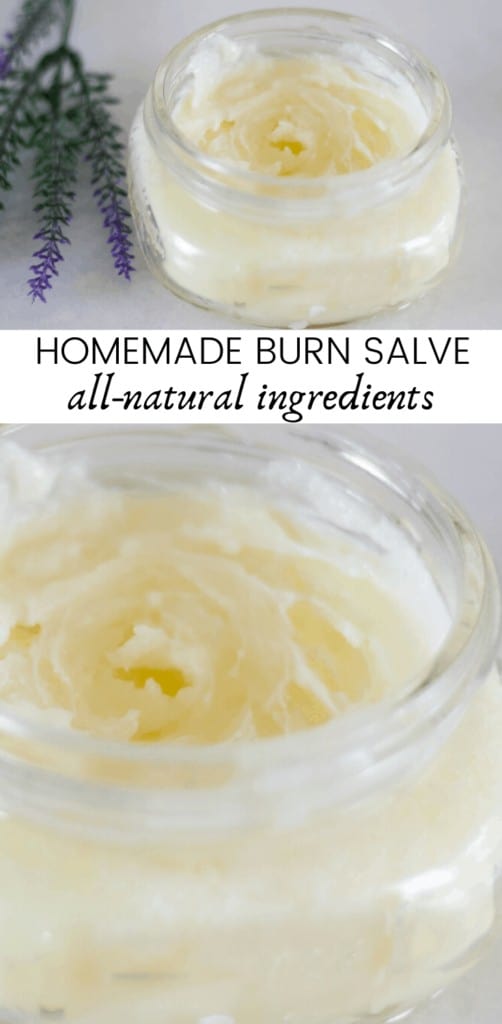 HOW TO HEAL A BURN QUICKLY?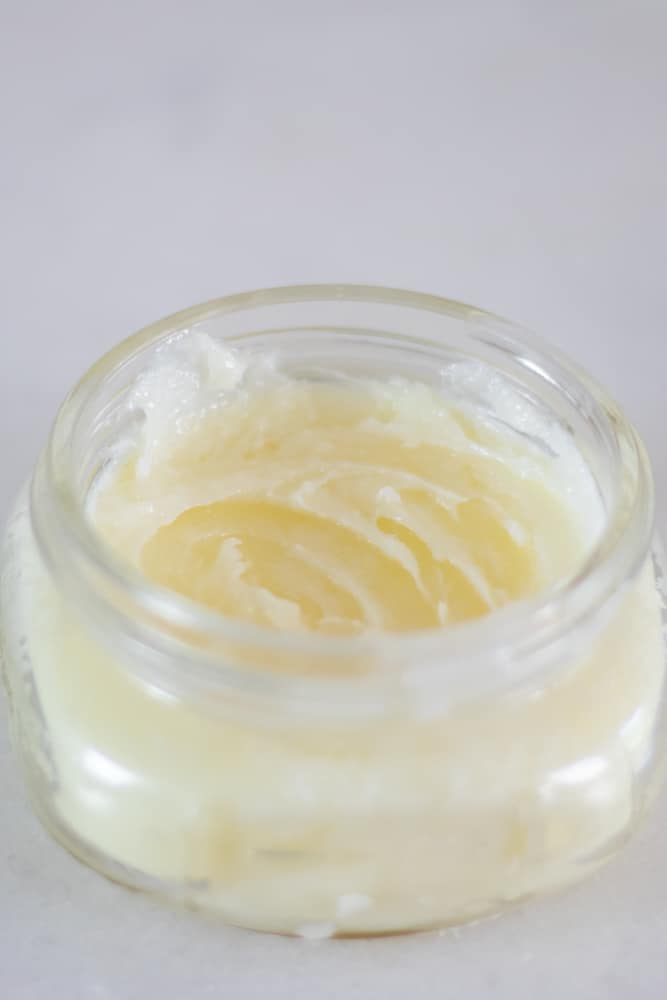 Today I am really talking about a burn that might come from a hot pan, fire, hot hair straightener, or even boiling water. I have an after sun spray and soothing after sun lotion for sunkissed skin on the blog already.
The most important thing to do to help heal a burn quickly is to stop the burn. You can do this by running cold water over the area that got burned. So let's say you burn your arm with boiling water in the kitchen. Immediately put that part of the arm under the kitchen sink and run cold water on it.
This will help to stop the flesh from burning, as well as alleviate pain. We commonly think it is a good idea to put ice straight on a burn, but it is actually recommended to use cool to cold water rather than ice.
WHAT TO PUT ON A BURN?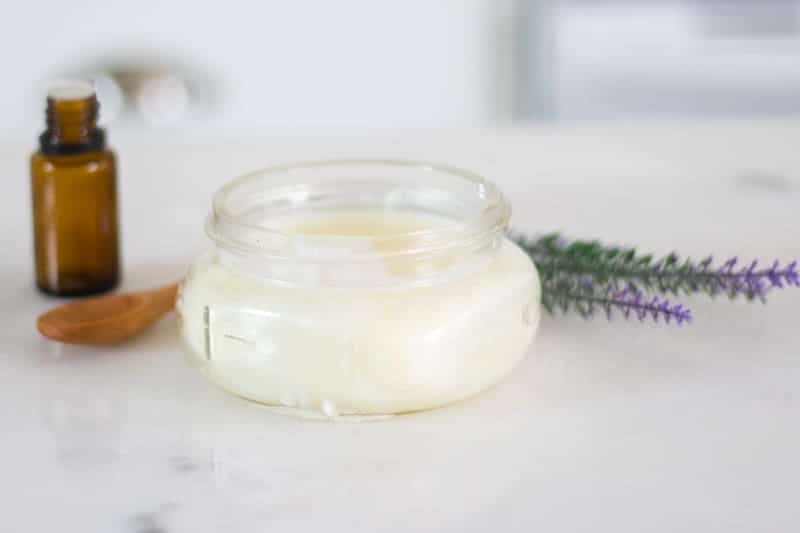 Running cool water on a burn feels so good and as soon as you take the skin that is burnt out of the cool water, you may notice it will start to hurt again. Don't rush this part! Keep it under cool water as long as possible.
You can even soak the skin, if possible, in a bowl of cool water. After the skin feels OK to remove it from the water, it is time to dress the burn.
You can apply pure aloe vera to the spot or a homemade burn salve. For the first 24 hours, it is best to leave it unwrapped. After that, it may be best to wrap the burn lightly in gauze wrap to keep the area clean.
Burns can take 2-4 weeks to fully heal depending on the severity and size.
HOMEMADE BURN SALVE RECIPE
This post contains affiliate links, which means I make a small commission at no extra cost to you. Get my full disclosure HERE.
WHAT YOU WILL NEED
INSTRUCTIONS
Melt coconut oil and beeswax in a double boiler. If you don't have a double boiler, you can make your own by placing a glass bowl in a saucepan of boiling water.
Remove from heat, pour into a storage container, and let cool slightly.
Stir in aloe vera, vitamin E oil, and lavender essential oil.
NOTES
This burn salve will last up to one year.
It is best to store in a glass container with an airtight lid out of direct sunlight.
As it sits, it will harden, this is just the coconut oil and beeswax solidifying.
It can be kept at room temperature. If stored in a hot climate, it may melt slightly, but will still work.
BURN OINTMENT: A LITTLE ON THE INGREDIENTS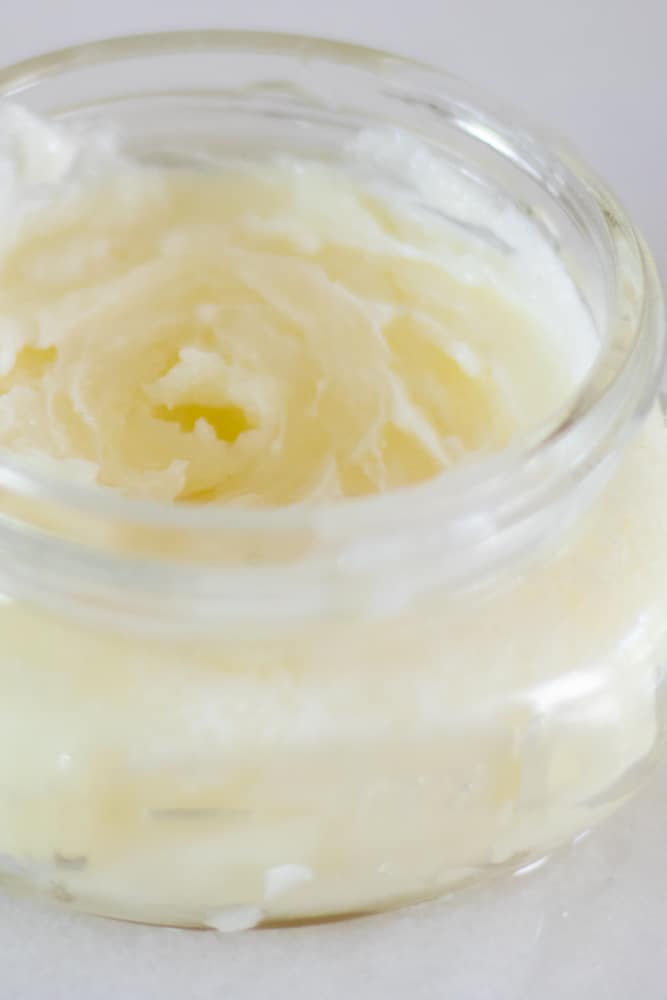 COCONUT OIL
Coconut oil can be found in almost all of my DIY skincare products. It has such wonderful benefits for the skin and works great for body butter, face moisturizer, and even shaving cream. It is very moisturizing to the skin!
Coconut oil has antibacterial properties and can help to keep the area from getting infected. It is important not to apply coconut oil to the area until after the skin stops burning to avoid trapping any heat into the area.
BEESWAX
Beeswax will help the salve to set up and become more of a solid. I use beeswax in a lot of my DIY's not just for texture, but for the benefits it has for the skin.
Similar to coconut oil, beeswax also has antibacterial properties that can help keep the burn from getting infected. Beeswax can be effective for bruises, rashes, burns, and other skin imperfections.
PURE ALOE VERA
Aloe is known for its ability to heal and soothe burns. It can help promote circulation, reduce inflammation, and keep the area clean from bacteria.
If you have an aloe plant in the house, you can cut one of the stems off and split it open to get pure aloe. Place the plant, aloe side down, on the burn. Or you can soak gauze in aloe vera juice to place on the burn. This can be effective in reducing scars.
LAVENDER ESSENTIAL OIL
Lavender essential oil is very soothing for the skin and can help with most skin imperfections. I keep a bottle of lavender essential oil in my kitchen to put on my skin if I ever touch a hot pan or splash boiling water on myself while cooking.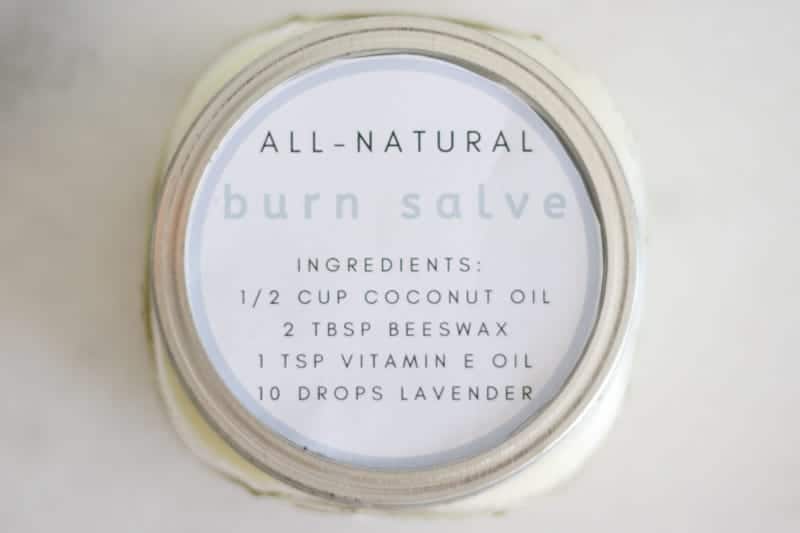 HOW TO USE HOMEMADE BURN SALVE?
Apply a generous amount to the area of concern. Be sure to apply gently as you don't want to pop any blisters that may be on the skin due to the burn.
The ointment can be applied as needed. For best results, apply at least 3 times daily for 2-4 weeks.
IN SUMMARY
If you get burned, be sure to run cold water over the area of concern to stop the burning before applying any types of creams, lotions, or oils. Once the skin has stopped burning, you can apply homemade burn salve to the area gently to avoid popping any blisters that may appear due to the burn. Keep the area uncovered for 24 hours and then it can be lightly wrapped with gauze to keep the burn clean. Apply homemade burn salve 3 times a day for 2-4 weeks for the best results.
HOMEMADE BURN SALVE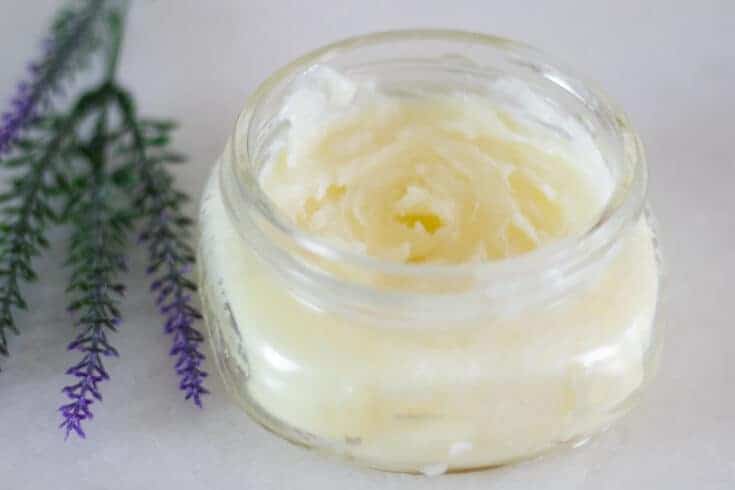 Materials
1/2 cup coconut oil
2 tablespoons beeswax 
2 tablespoons pure aloe vera gel
1 teaspoon vitamin E oil
15 drops lavender essential oil
Tools
Double boiler or saucepan and glass bowl
Instructions
Melt coconut oil and beeswax in a double boiler. If you don't have a double boiler, you can make your own by placing a glass bowl in a saucepan of boiling water.
Remove from heat, pour into a storage container, and let cool slightly.
Stir in aloe vera, vitamin E oil, and lavender essential oil.