Learn which essential oils are best for your child's tummy discomfort—diluting essential oils for kids.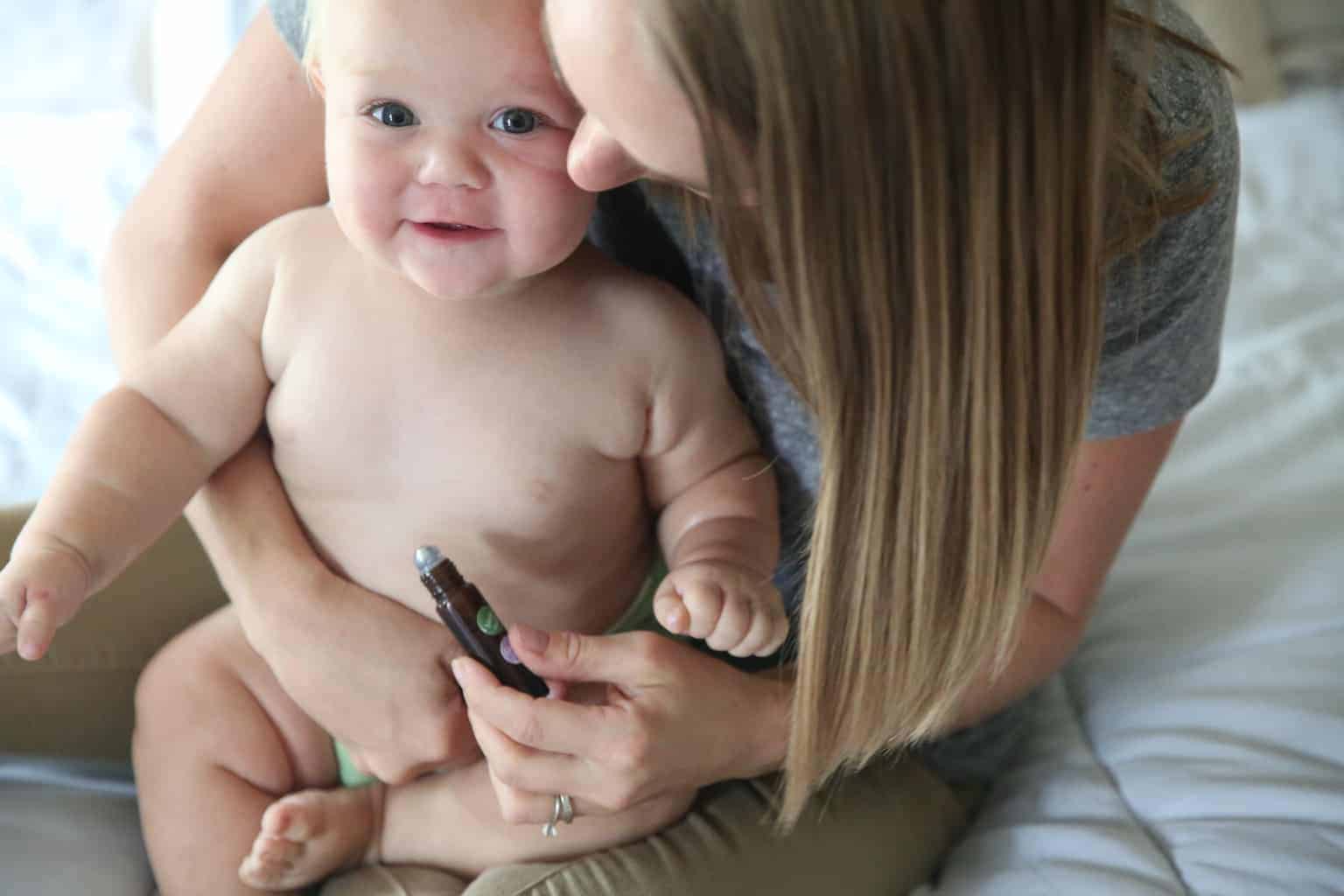 Unfortunately, sickness, bumps, and bruises are part of the whole parenting thing. If you have youngsters, you know how awful it can be to have a sick baby or hurt child.
I love having natural remedies on hand to help calm my babies. Whether they aren't feeling their best or are just having a bad day, they sure do come in handy.
Young children can have sensitive stomachs and experience stomach discomfort often; I know this is a common complaint in my home. Bring in…the tummy tamer roller bottle!
ESSENTIAL OILS FOR LITTLE TUMMIES ROLLER BOTTLE
How to make a roller bottle for little tummies
Ingredients
5 drops peppermint essential oil
4 drops ginger essential oil
3 drops fennel essential oil
2 drops frankincense essential oil
1 drop lemon essential oil
Fractionated coconut oil
Instructions
Add essential oils to a 10mL, amber-colored glass roller bottle.
Top the roller bottle off with a carrier oil; my favorite one is fractionated coconut oil. Learn more about carrier oils here.
Shake the roller bottle, and it is ready for use.
How to use your roller bottle
Before– You can use this blend on your child before they complain of tummy discomfort. If your child is eating something that you know bothers their stomach or eating unhealthy, you can roll this on the stomach.
During– The essential oils in this blend can help with digestion. Therefore, rolling this on the child's stomachs during meals can be helpful for bloating, cramps, and digesting food properly.
After– Apply this roller bottle to your child's stomach after they eat a meal to help with digestion or after they complain of belly discomfort.
ESSENTIAL OILS FOR LITTLE TUMMIES
Peppermint
Ever heard of drinking peppermint tea or sucking on a mint when dealing with tummy pain? The same thing goes for peppermint essential oil, except it is much stronger.
Peppermint is very helpful in digestion as it has a carminative property of expelling gas from the intestines. As a result, it may relieve cramping and occasional abdominal discomfort.
Peppermint essential oil can reduce spasms in the colon, relaxes the muscles of your intestines, and can reduce bloating and gassiness. Apply peppermint diluted in a carrier oil to the stomach.
Ginger
It is not just an old wives' tale that ginger relieves stomach discomfort and nausea, though I thought it was when I was in my first trimester of pregnancy. Haha!
When your child is dealing with a tummy issue, you can grab your ginger essential oil for the rescue. Apply ginger diluted in a carrier oil to the stomach.
Ginger can be very effective at settling the stomach, getting rid of diarrhea and nausea. One early study suggested that it may be more effective at treating nausea than Dramamine!
It is also known to be the most effective remedy for motion sickness, be sure to pack the ginger on your next road trip.
Similar to peppermint, it is also a great carminative. Which means it helps to eliminate extra gas from the intestinal tract.
Fennel
For years, fennel has been used for various digestive problems, including heartburn, intestinal gas, bloating, loss of appetite, and colic in infants.
Apply fennel essential oil to the stomach when diluted in a carrier oil.
Fennel oil can be calming and soothing to many areas of the body, including the stomach. When used, it can help relax the colon.
Frankincense
Frankincense can be vital for the digestive system and help the body to properly detox and promote healthy bowel movements.
It is amazing for gut health, helps with constipation and stomach cramps.
Apply topically to the stomach to promote a healthy digestive system.
Lemon
Drinking warm tea with lemon can be very effective for the digestive system, but it's not very practical when you are out and about. Instead, use your lemon essential oil.
Lemon is good at fighting nausea and diarrhea that accompanies stomach ache.
Apply lemon essential oil to the stomach to help with tummy discomfort, inhale, or add one drop to water.
ESSENTIAL OILS FOR LITTLE TUMMIES SAFETY
Ever heard peppermint essential oil wasn't safe for children? I sure have! Being a wellness advocate, this is a common concern I get from mothers.
First off, not all essential oils are created equal, and if you aren't using high quality, pure, therapeutic-grade oils, it might not be safe. Learn more about the essential oils I use and why HERE.
The "problem" with peppermint, peppermint's main constituent is menthol, and in high doses, this can pose a problem. However, when diluted properly and used with the recommended amount per day, menthol-containing oils have an excellent safety profile.
DILUTION
Be sure to dilute all essential oils when using them on children under the age of 12. Essential oils are powerful, and a little goes a long way. When diluted properly, you can feel safe applying them to your children and they will reap the benefits.
And always check with your doctor before using essential oils on children.
DILUTION CHART FOR ROLLER BOTTLES
This chart is based on using a 10mL roller bottle.
Newborn-6 months: 1-2 drops
6 months- 2 years: 1-3 drops
2 -5 years: 2-5 drops
5-12 years: 5-10 drops
13 and up: 15-20 drops
For children under 5, you will need to use the toothpick method. Dip a toothpick into the oil bottle and then stir it into your roller bottle.
MORE NATURAL REMEDIES FOR LITTLE TUMMIES
This post contains affiliate links, which means I make a small commission at no extra cost to you. Get my full disclosure HERE.
PROBIOTICS- Probiotics can be very helpful for little digestive systems and are excellent for balancing gut flora. I think it is so important to have your child on probiotics daily. Here are the kind my kids take and love.
DIGESTIVE ENZYMES- Sometimes, tummy discomfort can be caused by food not being digested properly. Digestive enzymes help with that and can be a great supplement for your child. We use these.
BONE BROTH- Bone broth is very nourishing and amazing for the gut lining. Leaky gut syndrome can be a likely culprit to frequent tummy problems. Drinking bone broth can help cure the gut and soothe the stomach. Learn how to make bone broth HERE.