This is the best turkey soup recipe ever and will be perfect for your leftover Thanksgiving turkey. Simple instant pot turkey soup that is healthy and absolutely delicious.

Thanksgiving is one of my favorite holidays, celebrating what I am thankful for and indulging in a delicious home-cooked meal. Turkey and pumpkin pie, how can you go wrong?
I look forward to the leftover turkey for several weeks after Thanksgiving too! I always call dibs on the turkey carcass and use it to whip up a big batch of turkey soup. My family loves it; it is healthy and full of flavor.
The best turkey soup recipe has to be made with turkey bone broth, fresh vegetables, and leftover Thanksgiving turkey. It is such a comfort food and perfect for those cold fall evenings.
PIN IT FOR LATER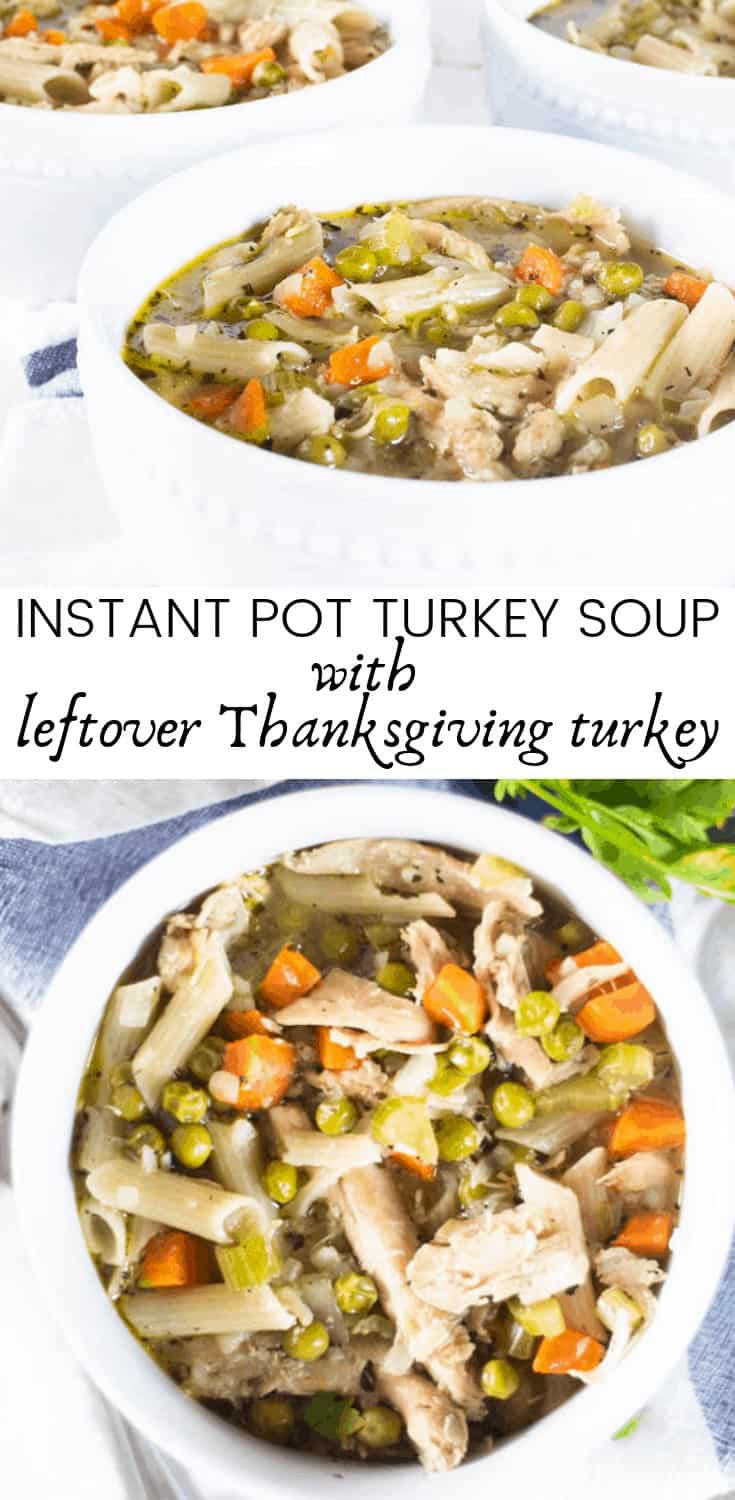 HOW TO MAKE TURKEY BONE BROTH
This post contains affiliate links, which means I make a small commission at no extra cost to you. Get my full disclosure
here
.
After you eat most of the meat off of the turkey, it is time to make bone broth. You will be surprised how much turkey you missed when you go to make the broth.
This will be the base of your recipe. You can buy broth from the store, but making your own is so much healthier and way more delicious.
HOW TO MAKE TURKEY BONE BROTH INSTRUCTIONS:
Place the turkey carcass in the instant pot. Break it apart if needed to make it fit.
Add in celery leaves, carrot peels, onion slices, and seasonings.
Fill the instant pot with water till bones are submerged.
Add a splash of apple cider vinegar.
Turn instant pot on the soup mode for 240 minutes. Once it is done, allow the steam to release naturally before removing the lid.
Strain the bones from the liquid. Now you have your turkey bone broth to make into turkey soup.
If not making soup at this time, you can store it in an airtight container.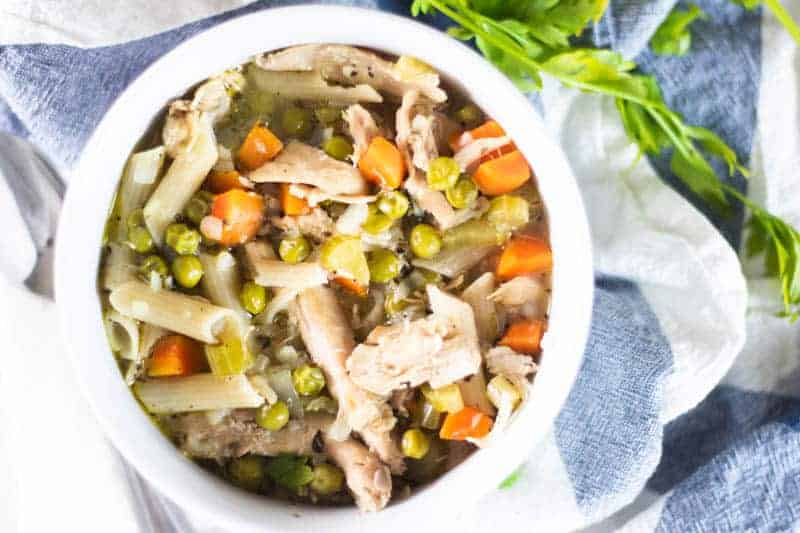 TURKEY SOUP FROM LEFTOVERS
Using the carcass to make bone broth and the leftover turkey meat makes this soup very cost-effective. You can eat a lot of meals off of one turkey, even if you have a large family like me.
After your bone broth is made, you will find that a lot of meat falls off the bones, and you can use that in your soup. Or you can add shredded turkey to make your soup even heartier.
HOW TO MAKE TURKEY SOUP IN INSTANT POT
After making the bone broth, I will simply add it right back into the instant pot to start my soup. No need to make any extra dishes!
Add in fresh vegetables, cooked turkey, seasonings, and turn the instant pot back to the soup setting. Once the vegetables are soft, I will add in a handful of gluten-free noodles and re-cook for 5 minutes just to soften the noodles.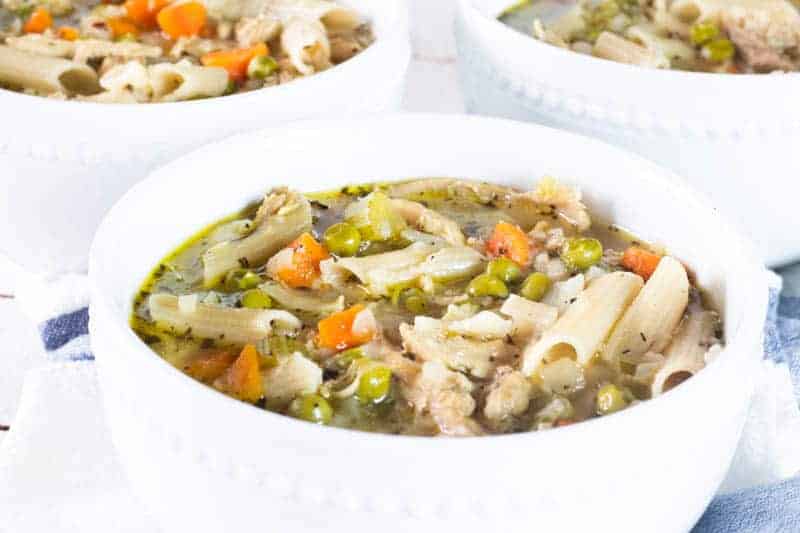 BEST TURKEY SOUP RECIPE
The best turkey soup recipe is full of noodles. If you are gluten-free, you can use brown rice or quinoa noodles. I found a brand I love at ALDI that is inexpensive and made with organic rice and quinoa. I love to add these into my soups to add texture, flavor and make them more filling.
If you are on the paleo or whole30 diet, you can leave the noodles out and add in red potatoes. This still makes a delicious turkey soup, and this is the way I make it most often.
HOW LONG WILL TURKEY SOUP LAST?
Turkey soup will last up to 5 days in the refrigerator when stored in an airtight container. You can also freeze turkey soup by putting it in a freezer-safe container with a locking lid. It will keep for 6 months in a freezer or 1 year in a deep freezer.
I love making large batches of soup and freezing them in single-size servings for lunches.
How to Make Turkey Soup in Instant Pot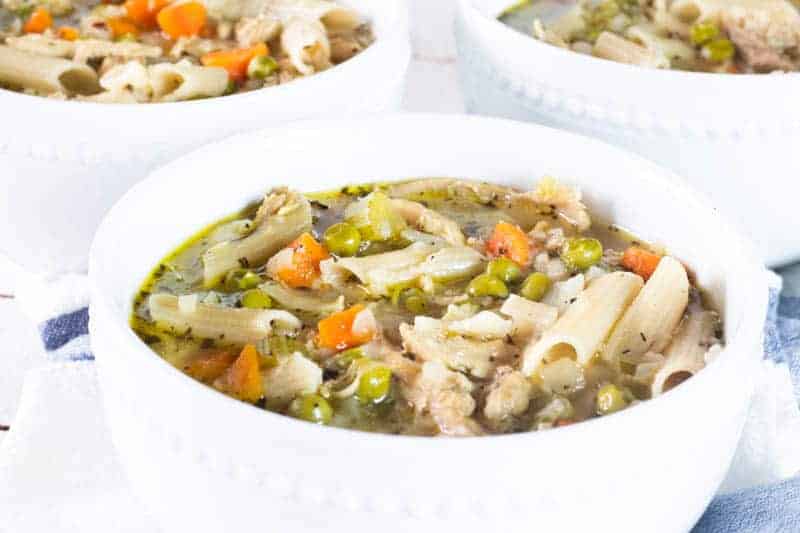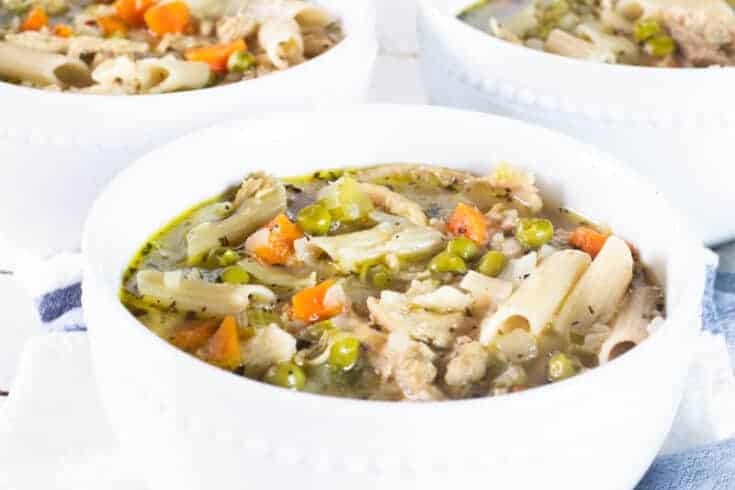 Ingredients
3 cups turkey, shredded 
1 cup carrots, diced 
3 celery stalks, diced 
1 yellow onion, diced 
4-6 garlic cloves, minced 
1 teaspoon salt
1 teaspoon pepper 
1 teaspoon dried thyme 
1 teaspoon dried oregano 
6 cups turkey bone broth 
1 cup frozen sweet peas 
1 cup frozen cauliflower rice 
1 tablespoon fresh parsley, chopped 
4-ounces gluten-free noodles
1 tablespoon avocado oil, for cooking
Instructions
Turn the instant pot on the sauté mode and let it heat up. Pour in avocado oil.
Add in carrots, celery, and onions. Cook for 3-5 minutes, and then add in minced garlic. Cook for an additional 2 minutes, stirring often.
Sprinkle with salt, pepper, thyme, and oregano.
Add in bone broth, turkey, peas, and cauliflower.
Select the soup option and cook on high pressure for 10 minutes.
Turn the valve to do a quick release and remove lid.
Set the pot back to saute mode and allow the broth to come to a boil.
Add noodles and simmer for 6-8 minutes or until noodles are hot.
Top with fresh parsley and serve.