Do you save your empty essential oil bottles or throw them away? I am going to show you practical ways to reuse empty essential oil bottles. Follow along for simple gift ideas, easy DIY projects, and ways to ensure you get every last drop of essential oil.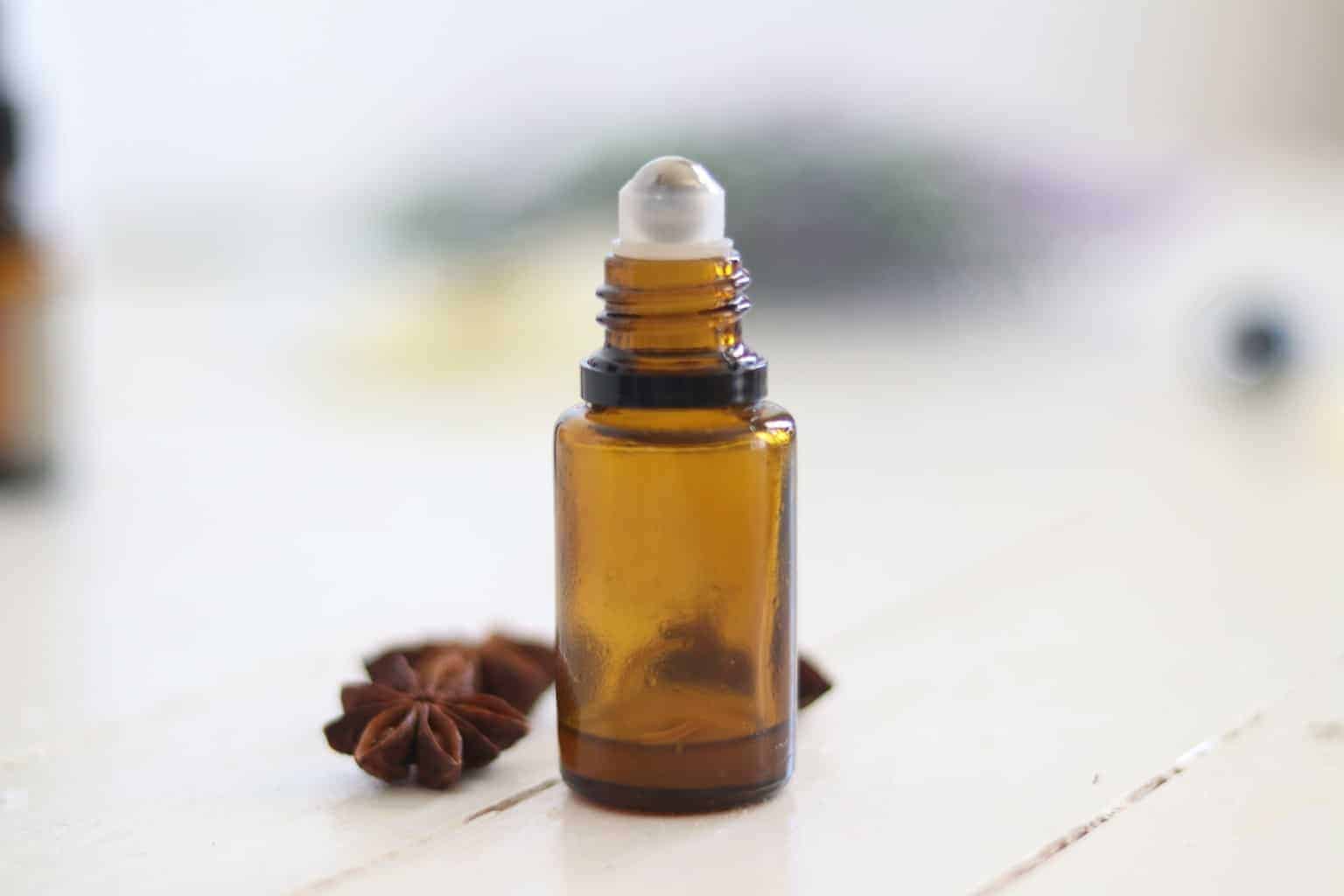 I am not much of a saver of anything. I hate clutter, and if I can't find a spot to put it, then it will most likely end up in the trash or goodwill pile. My house isn't very big, so we don't have room for things that aren't essential.
Commonly I get asked what I do with empty essential oil bottles. My response was, "I throw them away; what else would I do with them?" Why would I save an empty bottle?!
Several of my oily friends were shocked by my answer and started sending me pictures of some of the things they do with their empty bottles. Talk about cute stuff! So guess what I did? Yup, I started saving my bottles! I lined them behind my essential oil storage boxes, completely out of the way, and they didn't cause any problems.
You can get extremely crafty when it comes to reusing essential oil bottles, but I'll save that job for Pinterest. Seriously, go search it, and you will see what I mean! Instead, I am going to show you 6 practical ways to reuse your empty essential oil bottles.
This post contains affiliate links, which means I make a small commission at no extra cost to you. Get my full disclosure HERE.
6 PRACTICAL WAYS TO REUSE EMPTY ESSENTIAL OIL BOTTLES
#1 TURN IT INTO A ROLLER BOTTLE
You can buy roller bottle tops on amazon that can pop right on top of an empty essential oil 15mL bottle. You can mix your favorite essential oils in the bottle and top it with a carrier oil. Pop the roller bottle top on, and there you have it! A simple roller bottle that you can toss in your purse or car to use on the go.
Some of my favorite roller bottles to make:
Roller Bottle Blend for Seasonal Threats
Stress and Anxious Feeling Roller Bottle Recipe
Top 6 Roller Bottle Recipes for Kids
Citrus Essential Oil Roller Blends
How to Make a Roller Bottle with Dilution Chart
#2 TURN IT INTO A MINI SPRAY BOTTLE
Just like the roller bottle tops, you can also buy tiny spray easel attachments that will screw right on top of your empty bottle. You can fill this with 10-15 drops of essential oil and top it off with witch hazel to make a room spray, sanitizing spray, linen spray, or car air refresher.
ROOM SPRAY- Use 6 drops bergamot, 3 drops lime, and 2 drops ginger.
SANITIZING SPRAY- Use 3 drops of each wild orange, clove, cinnamon, rosemary, and eucalyptus.
LINEN SPRAY- Use 5-10 drops lavender and 3 drops wild orange.
CAR AIR REFRESHER- Use 3 drops of each lemon, melaleuca, and Siberian fir.
#3 MAKE A SERUM
Making a face serum is very easy. It is as simple as adding a few essential oils and carrier oil in a bottle. You can buy little dropper tops on amazon that can fit on your empty 15mL essential oil bottle to make applying even easier.
Add 5-10 drops of essential oil and top off with a carrier oil. To use your serum: Apply a few drops to the face and massage in. For best results, use twice daily.
Check out this post to find out which oils will be best for your face. Get my anti-aging face serum HERE.
#4 GET EVERY LAST DROP
If you can't stand the thought of throwing away any essential oil at all, this one is for you! Shove a cotton ball or two into your empty essential oil bottle and let it sit for a day. Any residue or leftover oil will soak into the cotton ball. You can place the cotton balls in the bottom of trashcans or inside a tennis shoe to kill the odor.
My favorite essential oils to do this with are melaleuca, peppermint, and any citrus oils.
#5 USE THE LAST FEW DROPS FOR A DIFFUSER BLEND
Stick your (almost) empty bottles upside down in a glass of water. This allows the last few drops of oil to drip out, and then use that cup of water to fill your diffuser.
Check out a few of my favorite diffuser blends:
5 Essential oil Diffuser Blends for Mood Support
Best Essential Oil Diffuser Blends for Kids
My Favorite Diffuser Blends + How to Clean a Diffuser
Essential Oil Christmas Diffuser Blends
#6 HOMEMADE ESSENTIAL OIL BATH SOAK
OK, this one is very similar to the last one, except this time we are going to "soak" the bottles in salt. My favorite is epsom salt or pink Himalayan. Take the cap off the bottle, pop the dropper top off, and place those with the empty bottle into 1/2 cup of salt. The salt will pull the oil off and out of the bottle and absorb into the salt.
Add one tablespoon of the salt to your next warm bath for a relaxing soak. I love doing this with lavender and peppermint.
Get my calming bath salts for kids recipe HERE.
DO YOU CLEAN YOUR EMPTY ESSENTIAL OIL BOTTLES BEFORE REUSING THEM?
This completely depends on what I am making. If I am making something with the previous oil in it, then no, I won't. If I am making something completely different and I don't want that oil scent lingering in the bottle, then yes, I will clean it first.
HOW TO CLEAN THE ESSENTIAL OIL BOTTLES
Fill a bowl with warm water and add a few drops of Castile soap or your favorite hand soap.
Take the lid and oil dropper off the bottle and place it all in the warm soapy water.
Allow it to soak for about 5 minutes. After it soaks, the label will easily peel off of the bottle.
When the label is off, add one drop of lemon essential oil and rub it onto the bottle to remove the sticky residue.
Place the empty bottles upside down or in a drying rack so they can completely dry.
Do you save your essential oil bottles or just toss them? If you are a saver, what have you done with yours? Share with us in the comments below!
Grab my free essential oil class to see exactly how we use essential oils in our home.
PIN IT FOR LATER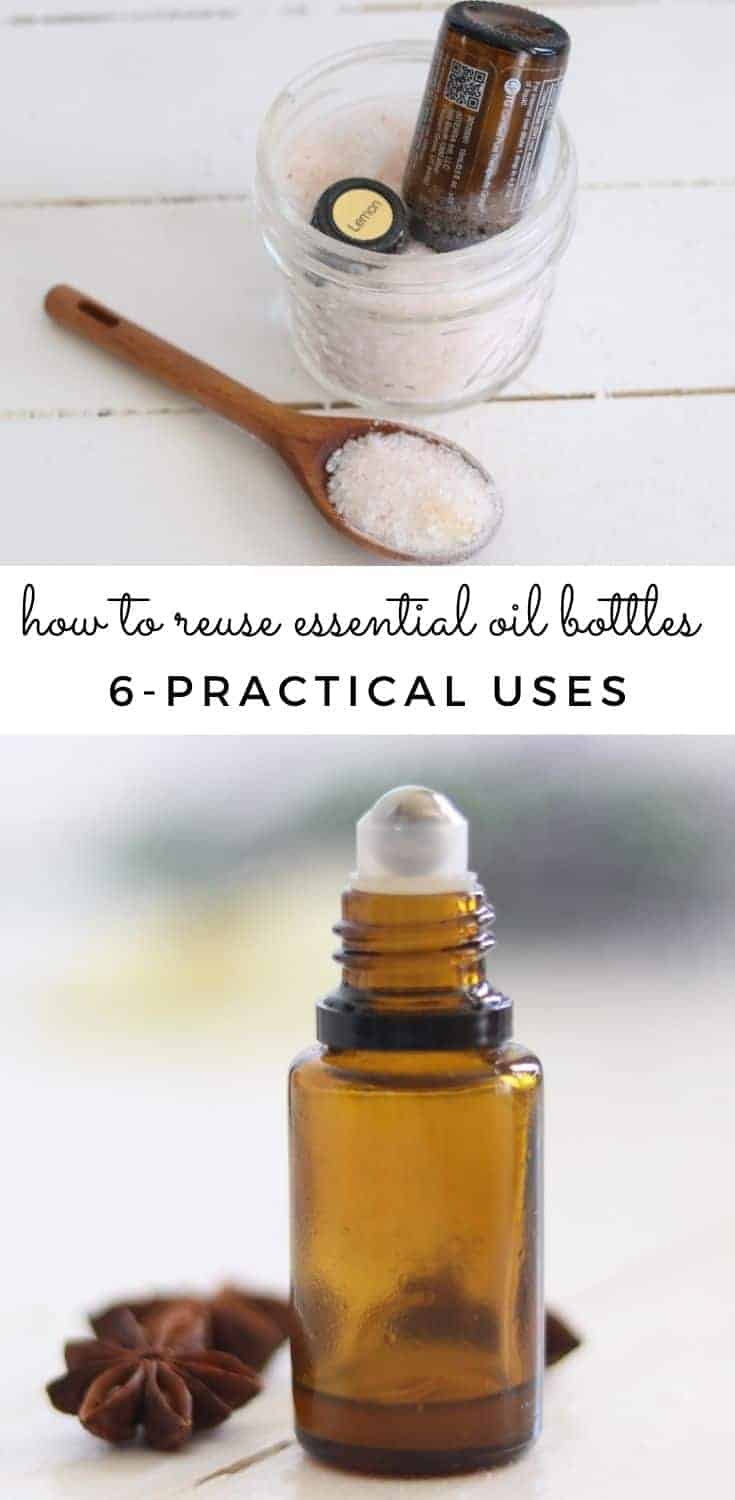 Follow along with our oily house:
Thanks for stopping by our oily house!