This homemade honey granola is super easy to make and makes the best breakfast for busy mornings. Made with gluten-free oats, raw honey, chia seeds and nuts it is very healthy and filling.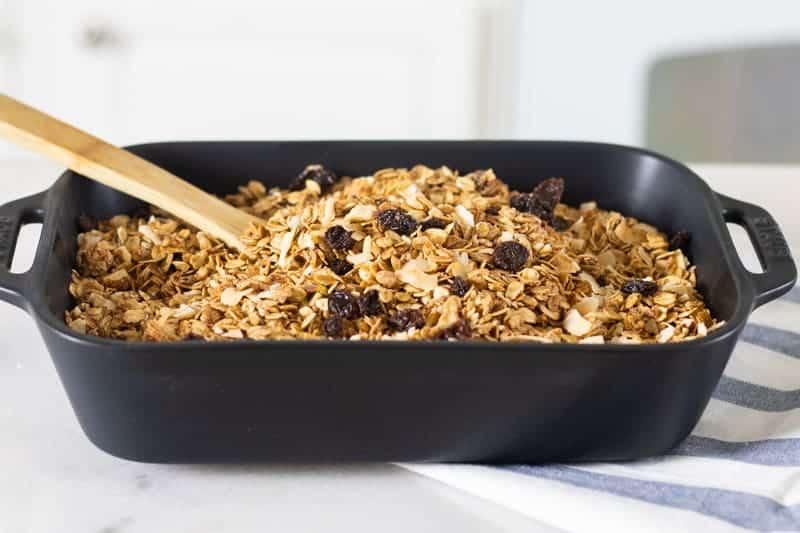 I love having homemade granola on hand for healthy make-ahead breakfasts and snacks. This honey granola recipe is naturally sweetened, grain-free, dairy-free, and vegan. During the fall, we love to make pumpkin granola; it is a similar recipe but made with real pumpkin.
My kids LOVE cereal, but I hate that cereals found in the store are loaded with preservatives, dyes, and sugars. Making your own sugar free granola is a much healthier option.
PIN IT FOR LATER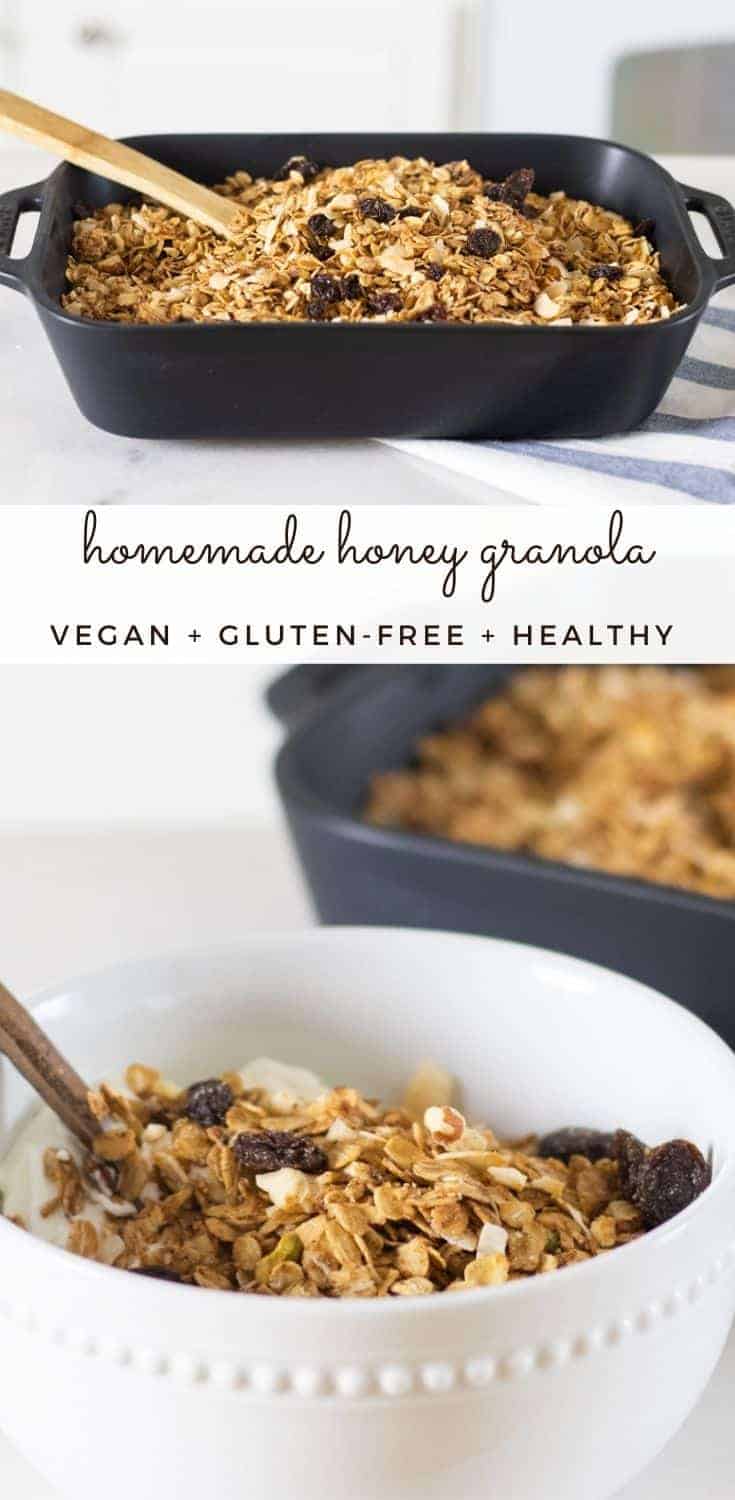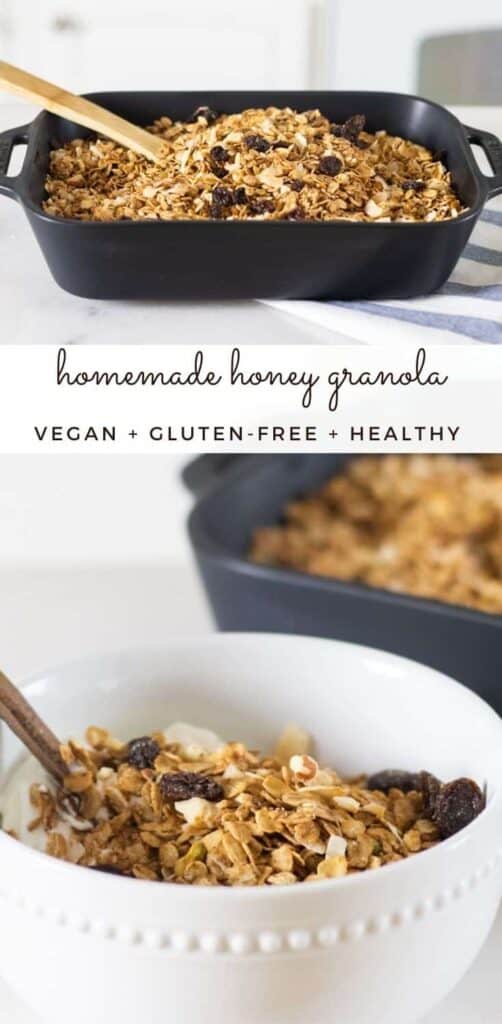 SUGAR FREE GRANOLA RECIPE
This post contains affiliate links, which means I make a small commission at no extra cost to you. Get my full disclosure HERE.
Organic oatmeal
Salt
Cinnamon
Coconut oil
Honey
Vanilla
Chopped nuts
Raisins
Coconut flakes
Chia seeds
HOW TO MAKE HONEY GRANOLA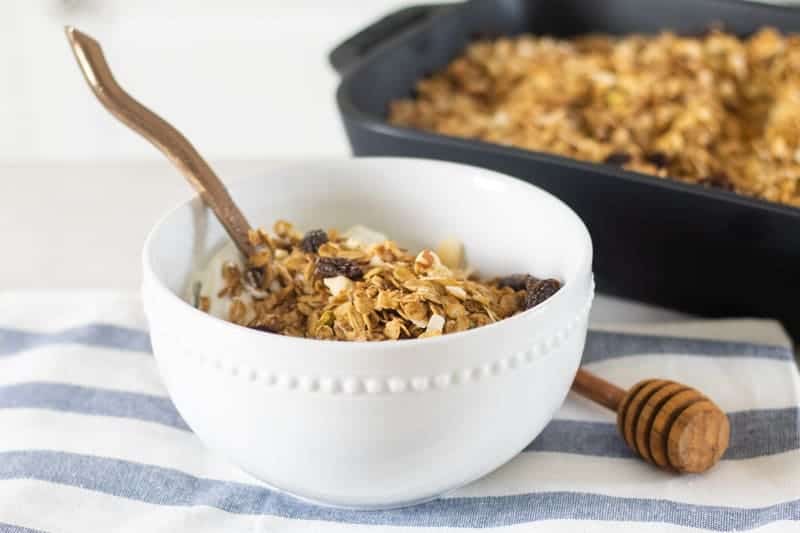 Start out by preheating the oven to 300 degrees. Prepare a 9 by 13 baking dish with a light coat of coconut oil. I am using a cast-iron dish, but if you have a glass baking dish, I would recommend it over a cookie sheet. The granola tends to stick to the cookie sheet.
Using a large mixing bowl, add all the dry ingredients (leave out the nuts, raisins and coconut for now). Then stir in the oil, honey and vanilla. Spread the granola evenly in the baking dish. Allow it to bake for about 20 minutes and stir in the chopped nuts and sprinkle the shredded coconut on top—Bake for an additional 15 minutes.
HOW TO MAKE HEALTHY GRANOLA?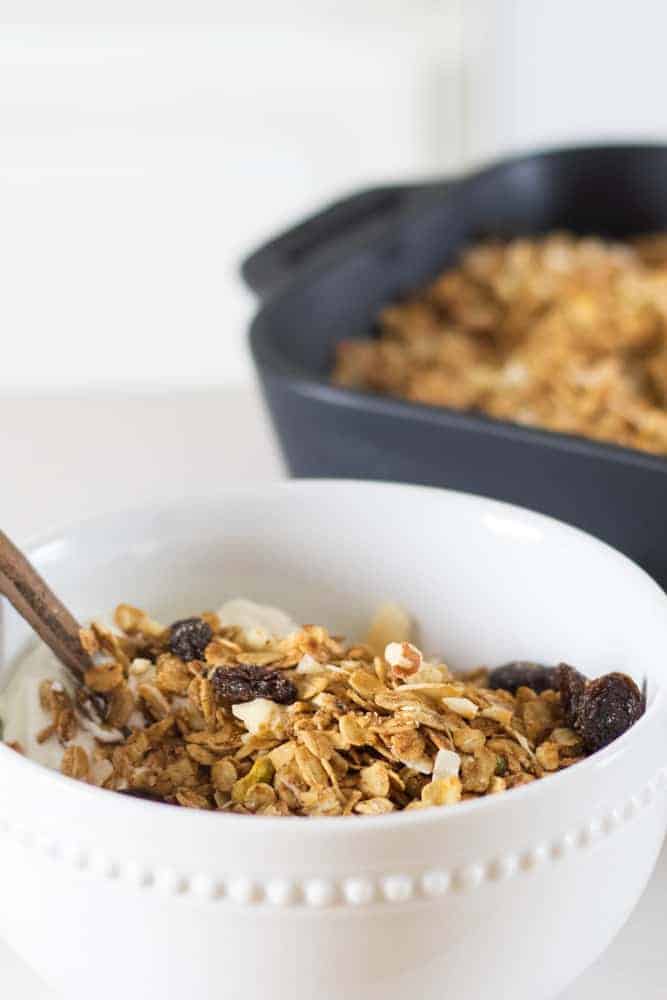 Granola can be very healthy, especially if you make it yourself. Make sugar free granola with honey or pure maple syrup, rather than white sugar.
Using coconut oil in your granola instead of canola oil will add a healthy component. Coconut oil is a great source of healthy fats, improves digestion, and can support a healthy thyroid function. It also has a high smoke point, making it a healthier option than other oils.
Adding in organic seeds, nuts, and dried fruits will make your granola taste delicious and add in nutrition. When granola is made with healthy fats, protein, and fiber, it will keep you full longer and give you a natural energy boost.
BEST WAY TO STORE HOMEMADE GRANOLA
We keep our granola in half-gallon mason jars with lids. This makes it easy to serve and makes it last the longest. It is important to allow the granola to completely cool before transferring it to the jar.
You can also store your granola in ziplock bags or any other airtight container.
HOW LONG DOES HONEY GRANOLA LAST?
If stored properly, your homemade granola can last up to one month at room temperate. You can make a large batch and freeze it too! If kept in a freezer-safe container, it will keep up to 6 months in the freezer.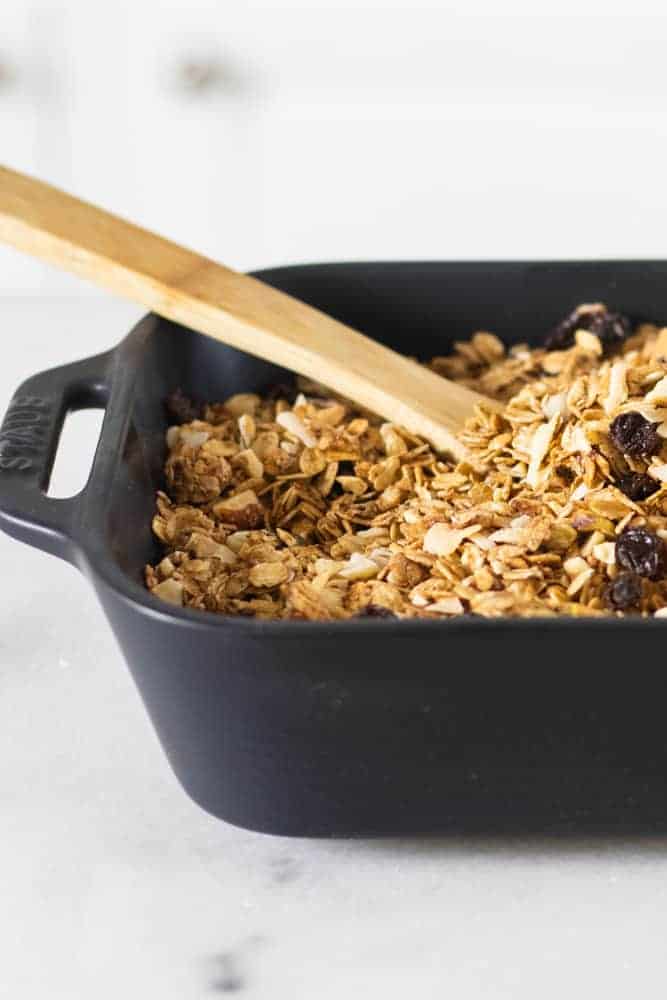 BEST TOPPINGS FOR HOMEMADE GRANOLA
Granola can be enjoyed alone or with milk or yogurt. You can top your granola with fresh fruits or nut butter. Below are some of my favorite toppings for granola cereal.
Sliced bananas
Fresh berries
Nut butter
Dried cranberries or raisins
Apple slices
Chopped nuts
Shredded coconut
TIPS FOR MAKING GRANOLA
Grease the pan before baking to avoid sticking.
Bake your granola in a low degree oven to prevent burning.
Spread the granola out in a thin layer on the baking dish so the granola will cook evenly.
Yield: 6 servings
Homemade Honey Granola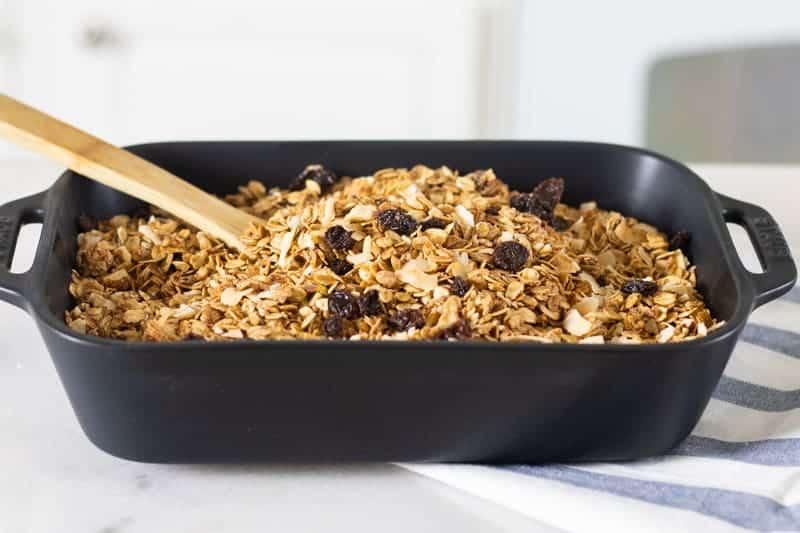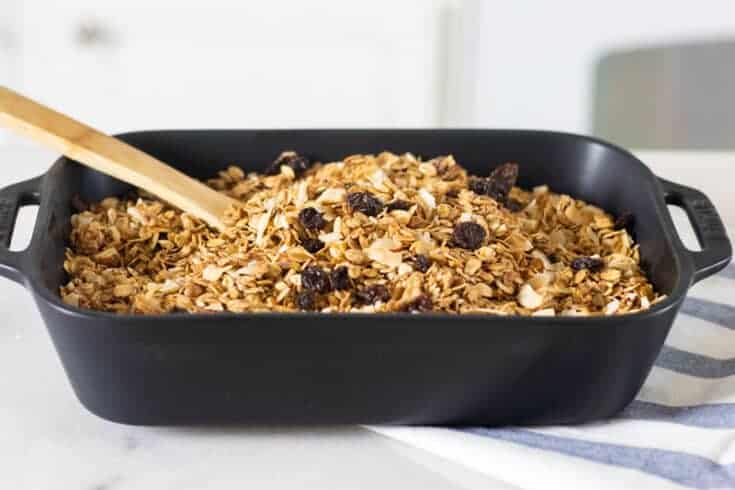 This homemade honey granola is super easy to make and is the best breakfast for busy mornings. Made with gluten-free oats, raw honey, chia seeds, and nuts, it is very healthy and filling.
Ingredients
4 cups oatmeal
1 teaspoon salt
1.5 tablespoons cinnamon
1/2 cup coconut oil
1/3 cup honey
1 tablespoon vanilla
4 tablespoons chia seeds
1/2 cup chopped nuts
1/2 cup raisins
1/4 cup coconut flakes
Instructions
Preheat oven to 300 degrees and prepare a 9 by 13 baking dish.
Combine Oatmeal, salt, cinnamon and chia seeds in a large mixing bowl.
Add in coconut oil, honey and vanilla, stir well.
Pour the granola into the prepared baking dish and spread it out in an even thin layer.
Bake for 20 minutes and then stir in nuts and sprinkle shredded coconut on top.
Bake for an additional 15 minutes or until golden brown.
Allow to cool completely, add raisins, then transfer to an airtight container for storage.
MORE HEALTHY BREAKFAST IDEAS