Learn how to make a homemade natural eye cream to reduce wrinkles, puffiness, dark circles, and tighten skin.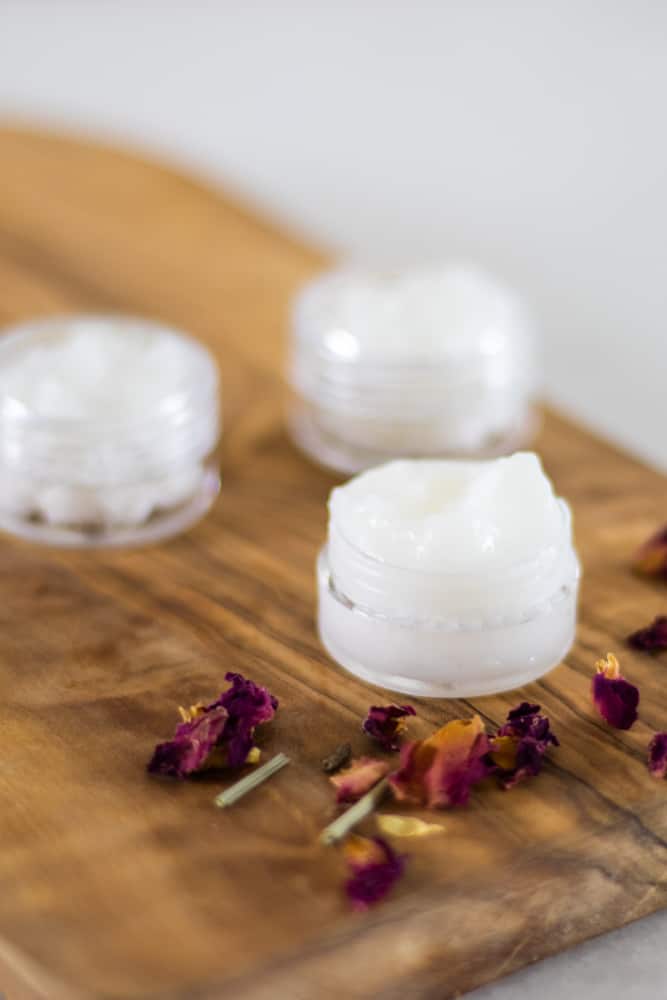 DIY eye cream works wonders when applied under the eyes to help with wrinkles, fine lines, and dark circles. It can help tighten skin and reduce puffiness; essentially, it works as an anti-aging face lotion.
As we age, our bodies produce less collagen. Along with stress and lack of sleep, we can get dark circles and puffiness under the eyes.
If you are looking for the best and easiest homemade eye cream, then this is a must-try! I strive to stay away from conventional skincare products and prefer to make my own to avoid putting toxins and chemicals on my skin.
PIN IT FOR LATER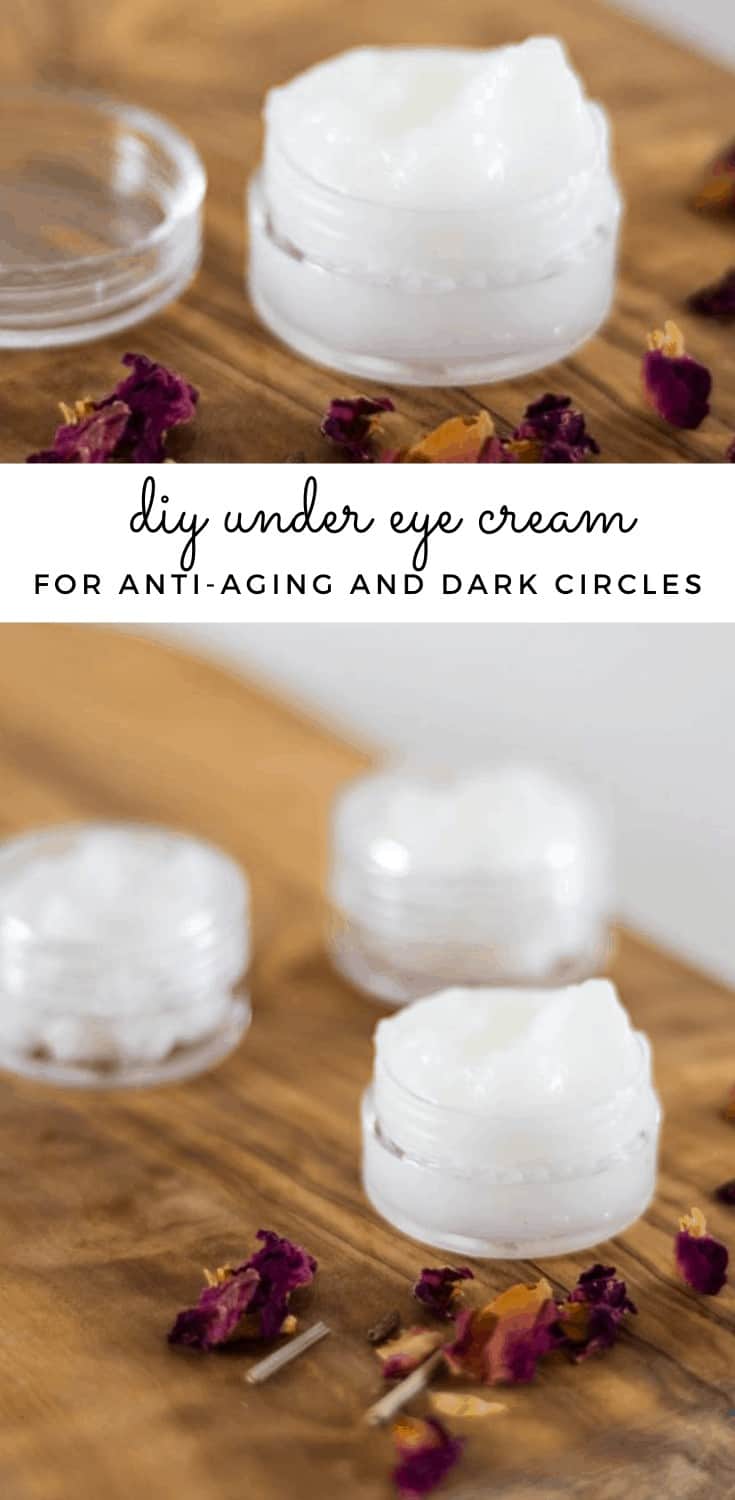 This post contains affiliate links, which means I make a small commission at no extra cost to you. Get my full disclosure HERE.
HOW TO MAKE FACIAL CREAMS
You can get as fancy or simple as you want when it comes to homemade facial creams. I have found that plain coconut oil is one of the best products to use on the face, especially under the eyes. Look for extra virgin coconut oil that is unrefined and cold-pressed for best results.
You can also use mango butter, cocoa butter, or shea butter. I use a DIY face moisturizer with shea butter and a DIY anti-aging face serum with essential oils.
Adding in essential oils will give your cream a lot of added benefits for anti-aging and can help to rejuvenate the skin. If you don't have essential oils, this cream can still be made with just 2-simple ingredients: coconut oil and vitamin E oil.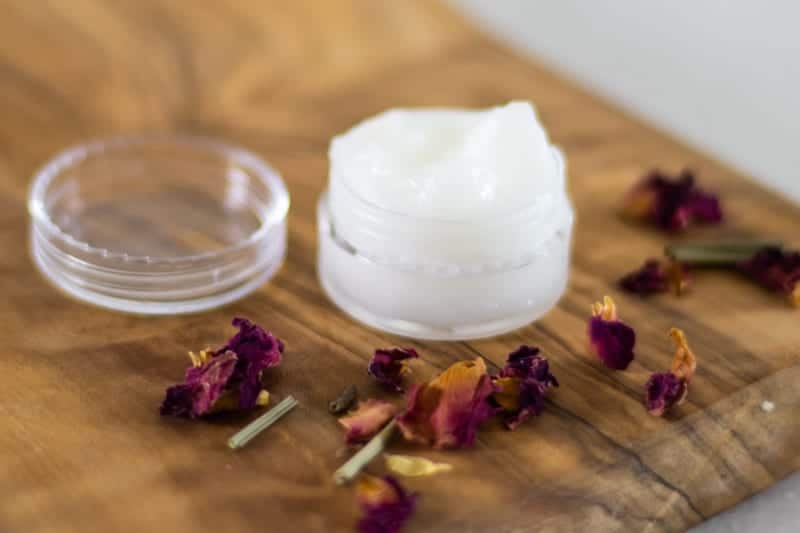 NATURAL UNDER EYE CREAM
As I said, we only need a couple of ingredients to make an under eye cream that works. The base of this recipe is going to be coconut oil. I will also be adding vitamin E oil and essential oils.
These ingredients are very moisturizing and can help to reduce wrinkles, fine lines, and dark circles. It is the perfect combination for a homemade anti-aging cream.
CAN YOU USE COCONUT OIL ON THE FACE?
Coconut oil is so amazing for the skin and it is found in almost all of my skincare products. It is great for making anti-aging lotion because when it is absorbed into the skin, it helps to keep your connective tissues strong. This can help to reduce wrinkles and fine lines, especially around the eyes.
Coconut oil is a natural antibacterial, anti-fungal, and excellent moisturizer for dry skin.
It also is very gentle and works great on the sensitive skin around the eyes and on the face.
VITAMIN E OIL FOR UNDER EYE CREAM
Vitamin E oil has great anti-aging properties. Applying a drop of vitamin E oil under the eyes can help with dark circles.
Similar to coconut oil, vitamin E oil is gentle enough for sensitive skin and is used in under-eye cream and facial toner.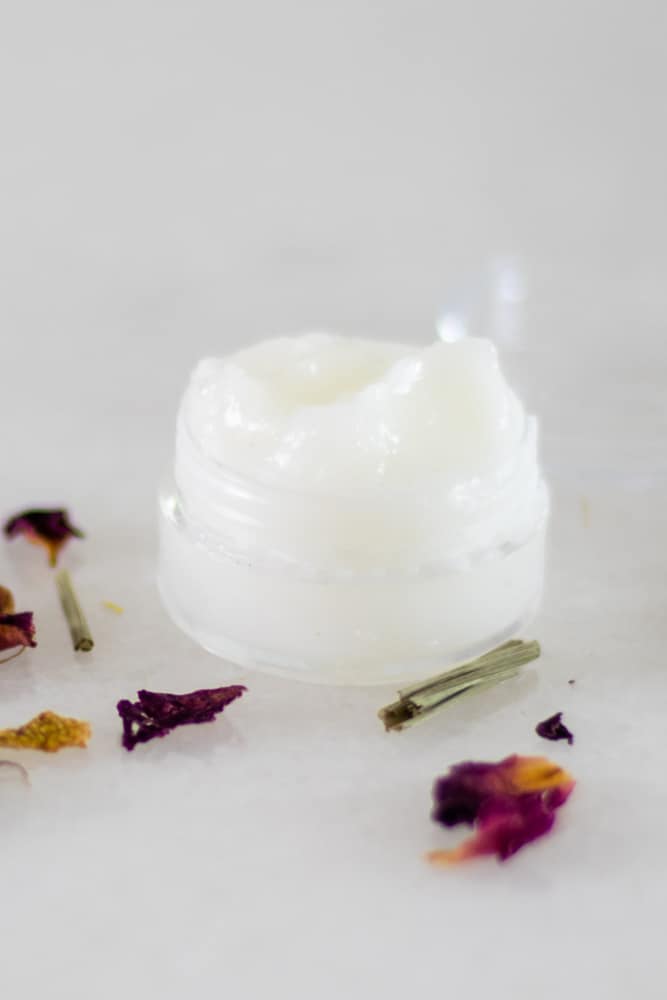 ESSENTIAL OILS FOR THE EYE
Several essential oils can be used to help with anti-aging and can be great to add to this homemade under-eye cream.
Be sure not to get essential oils into the eye. It is OK to use them under the eye as long as they are properly diluted first.
Some of the best oils for wrinkles, fine lines, and bags under the eyes are frankincense, rose, lavender, cypress, and Roman chamomile.
I like to use 2 drops of each of these essential oils in my eye cream. If you don't have them all, just use what you have. The cream will still work great with just the coconut oil and vitamin E oil!
You can make a roller bottle for anti-aging using essential oils and a carrier oil.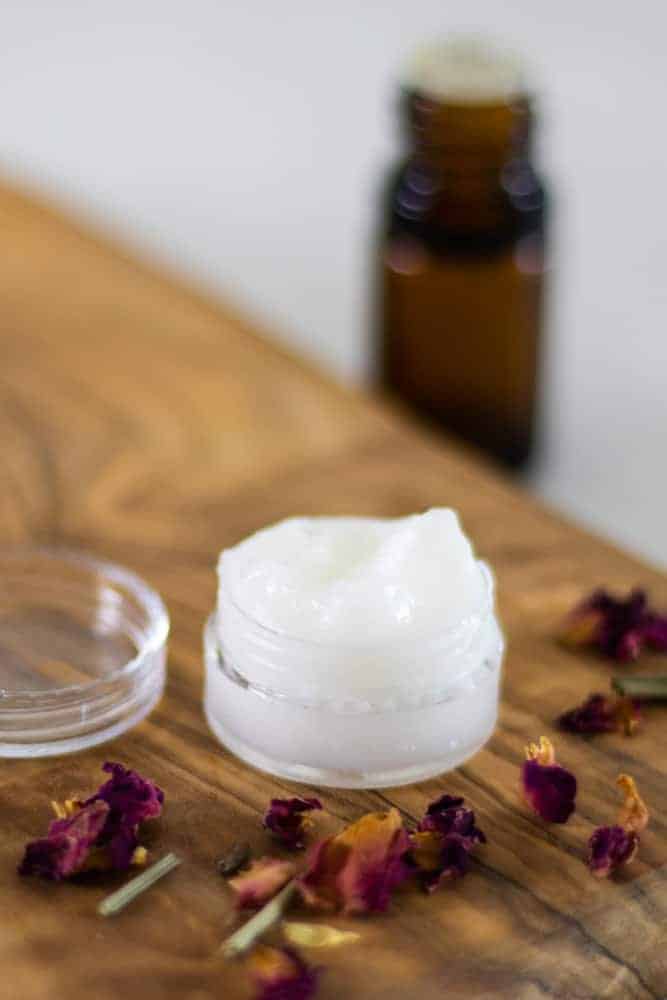 FRANKINCENSE ESSENTIAL OIL
Frankincense can reduce the appearance of age spots, skin discoloration, and sunspots. If you have uneven skin tone or dark circles under the eyes, you can use frankincense essential oil to help. It is also great for tightening the skin.
ROSE ESSENTIAL OIL
Rose essential oil is incredible for dry skin and wrinkles. Roses are high in vitamin C and encourages your body to produce more collagen. The decrease in collagen is one of the main factors for aging skin. It works well for wrinkles and fine lines around the eyes.
LAVENDER ESSENTIAL OIL
Lavender reduces the appearance of skin imperfections, and it can soothe occasional skin irritations. It is also great for blemishes, bumps, rashes, and scars. Lavender is a great oil for the face and under the eyes as it is very gentle and can be used on sensitive skin.
CYPRESS ESSENTIAL OIL
Cypress can help with blood circulation when applied topically to the skin, making it a great oil for dark circles under the eyes.
ROMAN CHAMOMILE
Roman chamomile essential oil has many benefits for the skin and one that I often use in my skincare products. I use it in my baby lotion and baby wash because it is great for sensitive skin.
It can help reduce signs of aging and help with puffiness when used under the eyes.
WHAT YOU WILL NEED TO MAKE UNDER EYE CREAM
1/8 cup coconut oil
10 drops vitamin E oil
10 drops of essential oil (choose from the list above)
Storage container (You can use a mason jar or a little container like this.)
HOW TO MAKE DIY EYE CREAM
Mix all the ingredients in a small mixing bowl.
Transfer to an airtight container for storage.
NOTES: You can store this at room temperature or in the refrigerator. Coconut oil will stay in a solid-state when it is under 76 degrees. If your house is warmer than that, you may want to store it in the refrigerator.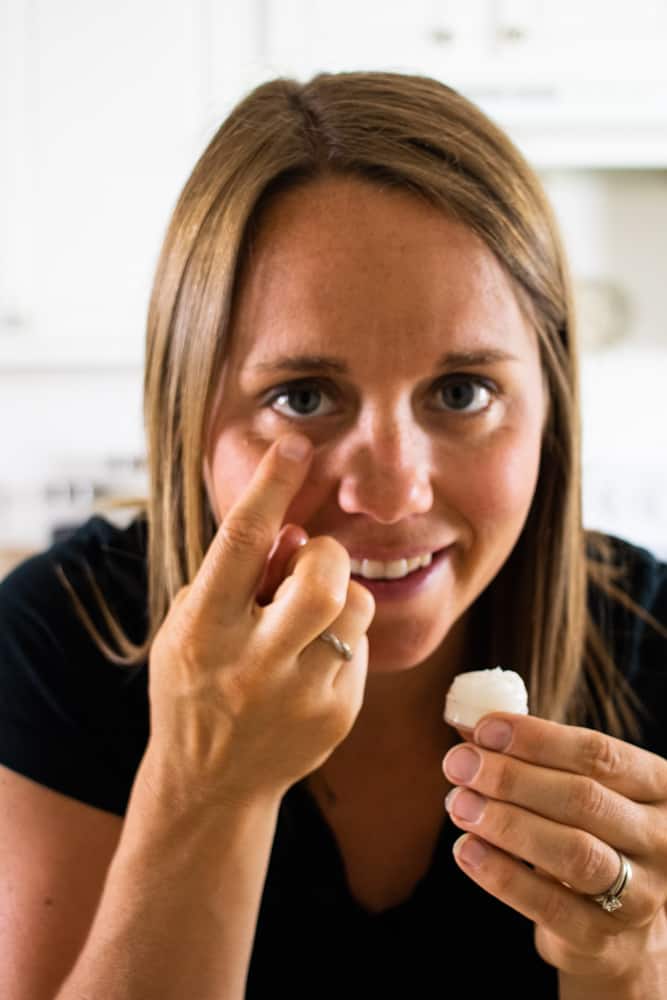 HOW TO USE UNDER EYE CREAM
Apply a small amount of cream under the eyes and massage gently into the skin. Avoid getting any of the cream in the eyes!
For best results, apply daily before bed. It is best to apply after washing the face and applying face moisturizer.
To keep the skin around my eyes looking youthful and refreshed, I have found that alternating between using this eye cream and an under eye mask works wonders.
The eye cream helps to hydrate and nourish the delicate skin, while the mask provides a tightening effect for a more youthful appearance.
Homemade Natural Eye Cream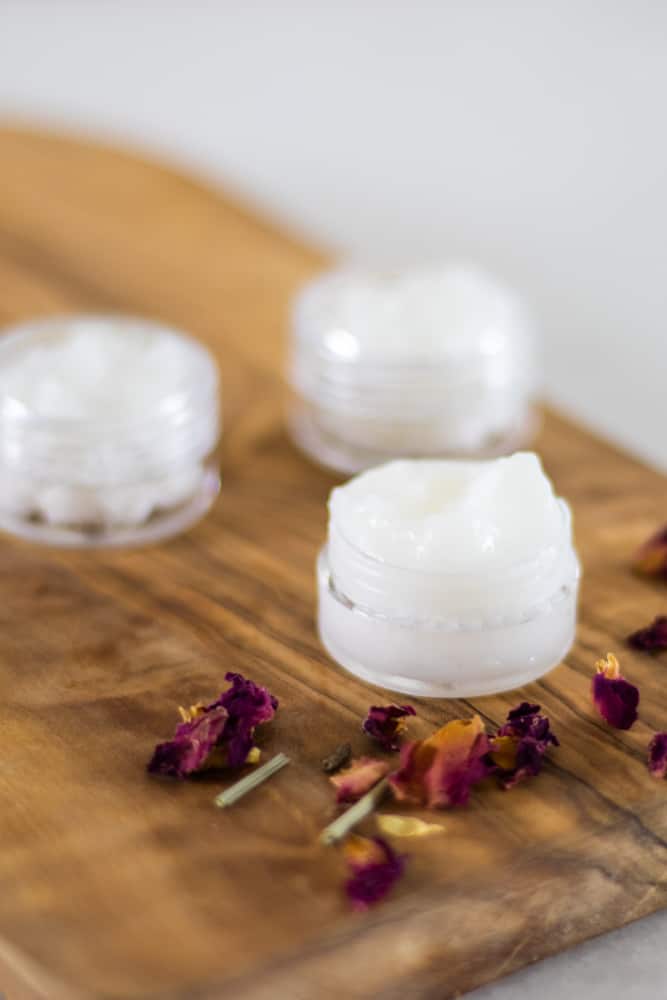 Materials
1/8 cup coconut oil
10 drops vitamin E oil
10 drops essential oils
Instructions
Mix all the ingredients in a small mixing bowl.

Transfer to an airtight container for storage