Healthy strawberry shortcake is so delicious you won't even notice that it is healthy. This real food dessert is gluten-free, refined sugar-free, soy-free, and has a dairy-free option. Made with wholesome ingredients, you can eat this strawberry shortcake guilt-free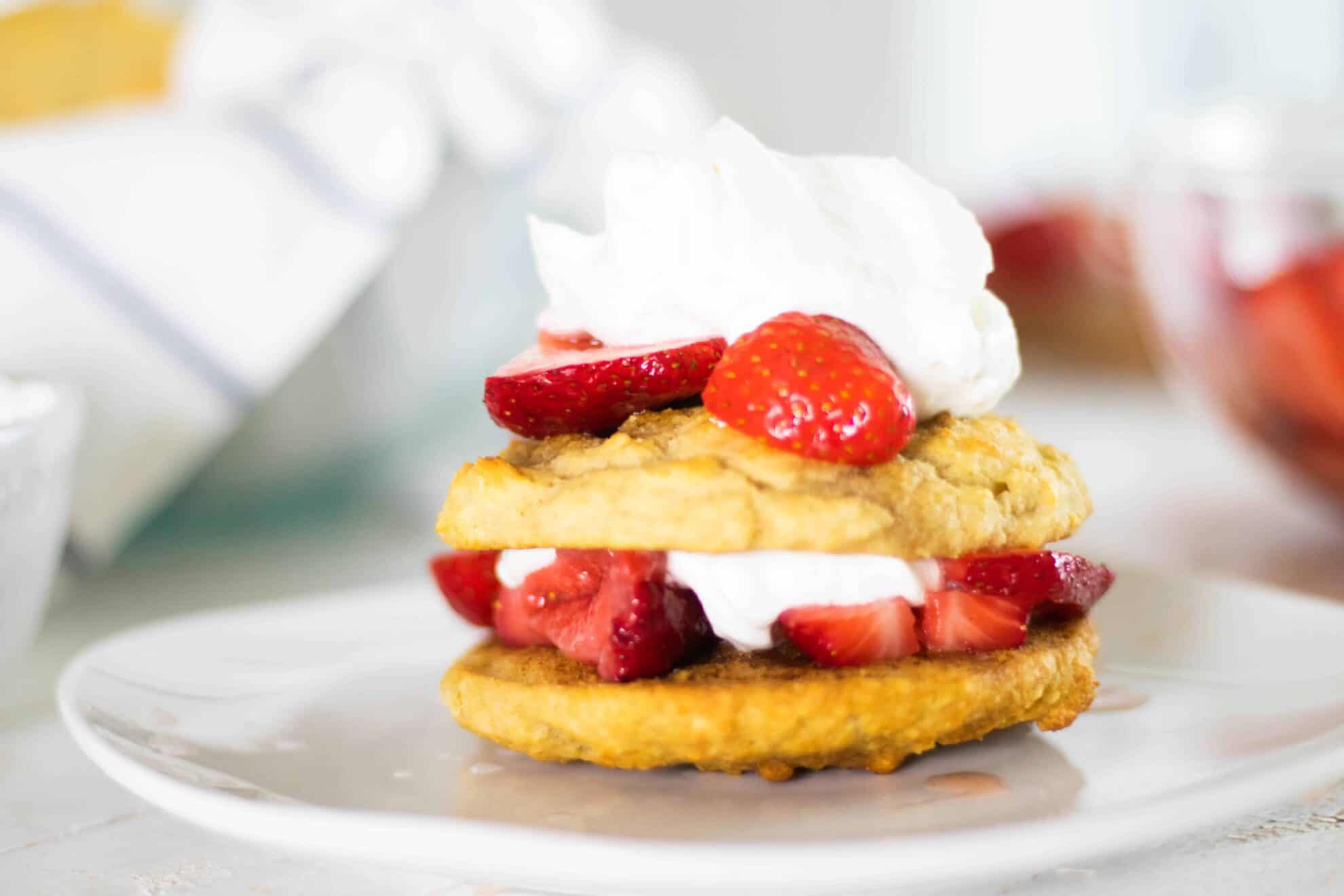 Recreating desserts is one of my favorite things to do! Not because I love to bake, but because I have a sweet tooth. I think everyone does to some extent, right? Who doesn't enjoy a little sweet treat after a savory meal? This healthy strawberry shortcake will do the trick every time!
This healthy strawberry shortcake is so simple to make and is the perfect summer treat. Though I don't make them too often, my family loves when I make a healthy dessert that we can all indulge in.
This grain-free strawberry shortcake is one of our favorites!
This post contains affiliate links, which means I make a small commission at no extra cost to you. Get my full disclosure HERE.
PIN IT FOR LATER

Want to Learn More About Essential Oils?
Take my free masterclass, where you'll learn everything you need to know about oils!
GLUTEN-FREE BAKING TIPS

Being gluten-free is becoming the norm lately. People are cutting gluten out of their diets and finding that it is making them feel better and seeing that it is fixing digestive issues.
Back in the day, wheat flour was considered a healthy food; nowadays, most people are allergic to it. The way we grow wheat, process wheat, and even eat wheat is different than it used to be and is the main culprit for the issues many of us are facing.
Gluten was an issue with my son before we did the GAPS diet, but now he can handle it fine. I still like to stick to mostly gluten-free, with the exception of sourdough. Over the years, I have dabbled in gluten-free baking, and after a lot of practice, I have a few tips to share.
#1 BEST GLUTEN FREE FLOURS
Since incorporating more gluten-free dishes in my cooking, I have tried several flours from coconut to arrowroot. I tend to use coconut flour the most because of its health benefits, flavor, and price.
COCONUT FLOUR
Be prepared to use a ton of eggs if you are baking with coconut flour. It is a dense flour, and it requires a lot of liquid to get a delicious dish. Baking with coconut flour can be tricky at first, but once you get it down, you will love it.
Coconut flour is high in fiber, protein, and healthy fats. It is free from wheat and gluten, making it a good option for anyone that has a gluten intolerance. It is low in sugar, carbohydrates and has a low score on the glycemic index.
ALMOND FLOUR
Almonds that are ground into a fine flour consistency are ideal for gluten-free baking and packed full of nutrition. This high protein flour is low carb, high in fiber, and rich in vitamins such as vitamin E. This is the almond flour I use.
I use coconut flour most often when baking paleo style, but I actually prefer almond flour for cakes and cookies. It makes a much fluffier bake good than coconut flour does.
#2 SUBSTITUTING WHEAT FLOUR FOR GLUTEN-FREE FLOURS
Substituting a grain-free flour for wheat flour in a recipe is tricky. It is definitely not an even swap! Because you can find so many grain-free baking recipes, it really is best to stick to a recipe that is already calling for a grain-free flour.
If you want to experiment in the kitchen, you can start with using 1/4 of what the recipe calls for when swapping wheat flour for a grain-free flour.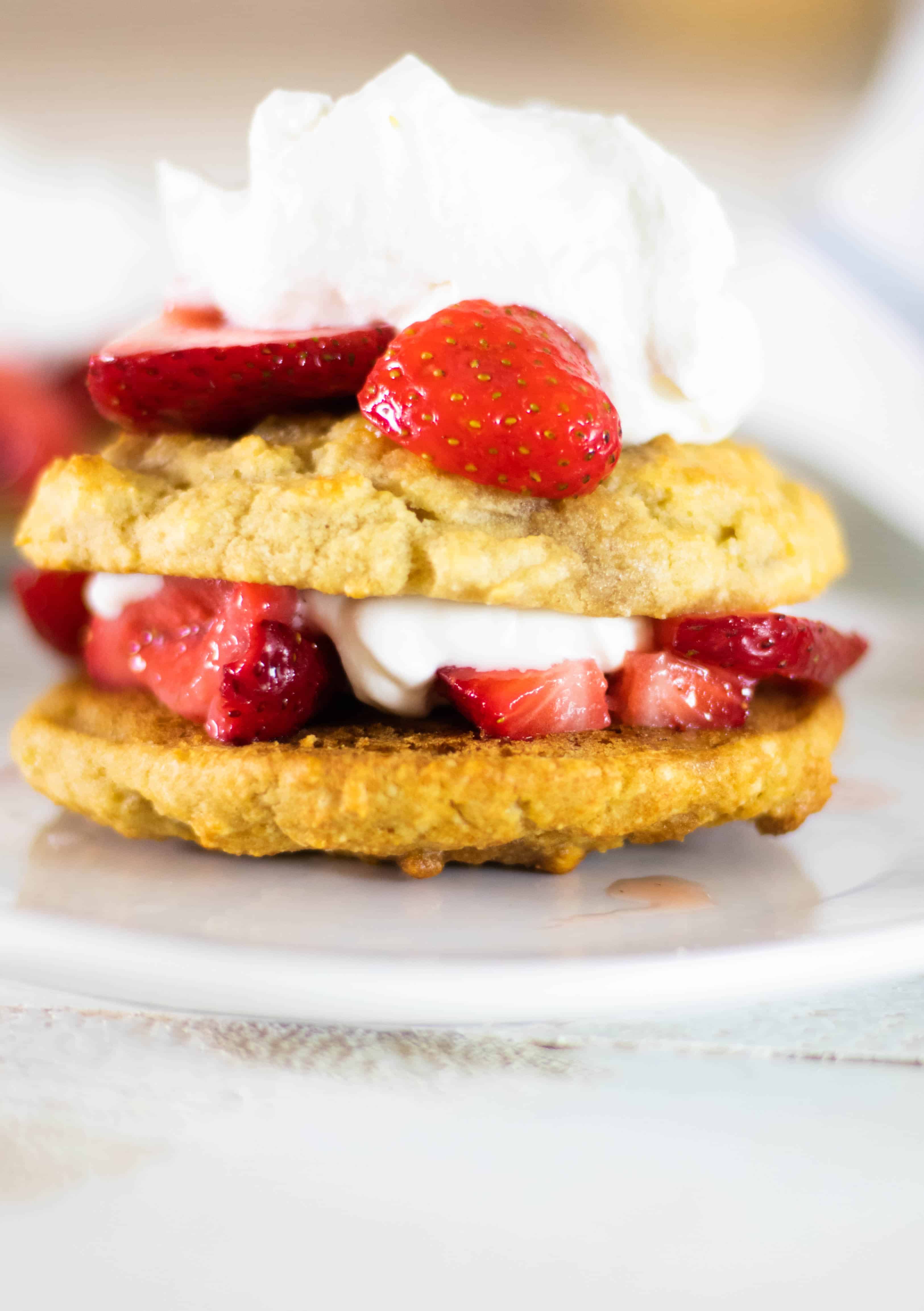 #3 ADDING EXTRA LIQUID
Coconut flour is denser than wheat flour, all-purpose flour, and almond flour. In order for it to bake properly and for your bake good to not turn out really dry is to add a lot of liquid.
The liquid usually comes from eggs, milk, water, honey, or maple syrup.
BAKING WITHOUT SUGAR
I do my best to use sugar substitutes instead of using refined sugar. Most often, I bake with honey. You can also sweeten your baking dishes with maple syrup, stevia, ripe bananas, or coconut sugar.
You can typically swap equal parts when swapping refined sugar for honey, coconut sugar, and maple syrup. I don't bake with stevia often, but I know that it is very concentrated, and a little goes a long way. One teaspoon of liquid stevia can give the same amount of sweetness as one cup of sugar.
SHOULD I USE ORGANIC STRAWBERRIES?

Of course, strawberries are the main part of this healthy summer dessert. To actually make it healthy, it is important that you are using organic strawberries. According to the environmental working group, strawberries should always be bought organically as they are on the dirty dozen list.
If you can't find organic strawberries or if they are completely out of the budget, consider using this all-natural produce wash.
HOW TO MAKE HEALTHY STRAWBERRY SHORTCAKE

This is a three-part recipe, but don't let that overwhelm you! Two of the parts are so easy they shouldn't even count as a part. 😉
FOR THE SHORTCAKE
First, you will make your gluten-free shortcake. For this recipe, I am combining a few of my favorite grain-free flours to make a delicious, light, and fluffy shortcake. You will need almond flour, coconut flour, and tapioca flour.
They will be sweetened with honey. In the recipe, I call for grass-fed butter, but if you are dairy-free, you can easily substitute the butter for ghee or coconut oil.
FOR THE STRAWBERRIES
You can simply cut the strawberries in slices and put them on the shortcake, or you can sweeten them first. This is totally optional but highly recommended!
I like to add a tablespoon of honey to my sliced strawberries and allow them to sit for a few minutes to let them make a little juice. Pouring the honey strawberry juice over the shortcake adds so much flavor and makes them the perfect texture.
FOR THE WHIPPED TOPPING
Have you ever made your own whipped cream? It is so simple and really fun, in my opinion! All you need is heavy whipping cream; I use the cream off my raw milk and a mixer.
For this recipe, I added a little honey and vanilla before whipping it for extra flavor.
If you think of it, place your beaters in the fridge a few hours before making the whipped cream. Having cold beaters will help in the whipped cream process!
Our Favorite Sweet Treats
Healthy Strawberry Shortcake | Real Food Desserts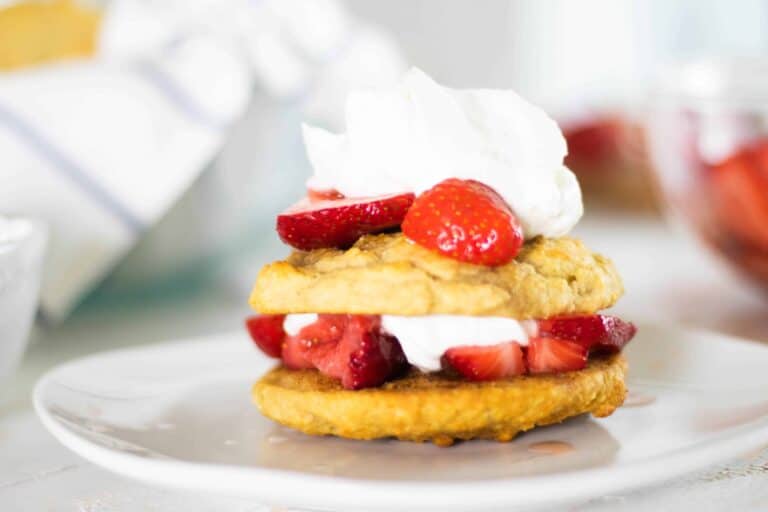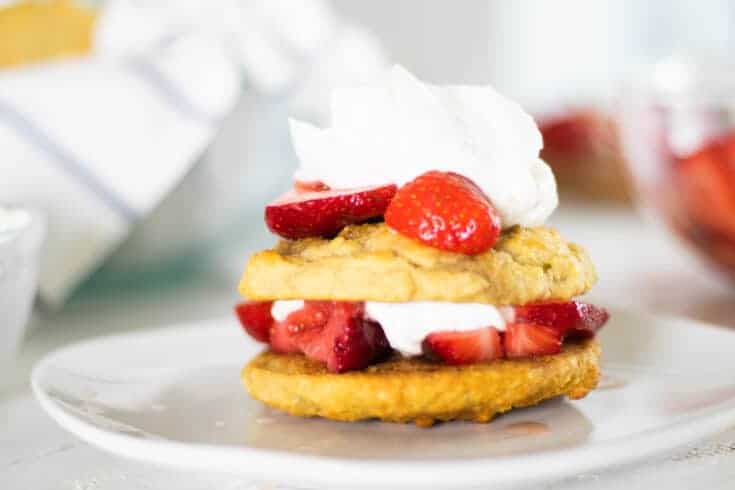 This real food dessert is gluten-free, refined sugar-free, soy free, and has a dairy free option. Made with wholesome ingredients you can eat this strawberry shortcake guilt free.
Additional Time
5 minutes
Ingredients
SHORTCAKES
1 cup almond flour
2/3 cup tapioca flour
1/2 cup coconut flour
2 tsp baking powder
1 tsp baking soda
1/4 tsp salt
1 tbsp honey
5 tbsp butter
1/2 cup milk
1 tsp lemon juice
2 eggs
STRAWBERRIES
2 pounds strawberries
1/4 cup honey
WHIPPED TOPPING
1 cup heavy whipping cream or cream from raw milk
1 tbsp honey
1 tsp vanilla
Instructions
SHORTCAKE
Preheat the oven to 400 degrees.
Add all the dry ingredients to a large mixing bowl and mix well.
Cut the butter into small pieces and add it to the dry ingredients. Push it into the flours with two forks or a pastry cutter until it is well incorporated.
Add all the wet ingredients to a small bowl and whisk them together.
Pour the wet ingredients into the dry ingredients and mix until well combined.
Allow the mixture to sit for a few minutes so the flour can absorb the liquid.
Form about 1/4 cup of the dough into biscuit shapes and place on a parchment paper-lined baking dish. You can use a 1/4 cup measuring cup or your hands to do this. To keep the dough from sticking coat your measuring cup or hands in flour.
Bake for 12 minutes or until a toothpick comes out clean.
STRAWBERRIES
While the shortcake is baking slice the strawberries and set them in a bowl.
Drizzle the honey over the strawberries and stir.
WHIPPED TOPPING
Add all the ingredients to a large mixing bowl.
Mix with a hand mixer until stiff peaks form. This will take several minutes.
Notes
Slice the biscuit in half and pour the sweeten strawberries in the middle and a scoop of whipped topping.
Put the top of the biscuit back on and add more strawberries and whipped topping.
Enjoy!