Easy and delicious whole 30 healthy snack ideas. Kid-friendly healthy snacks for on the go.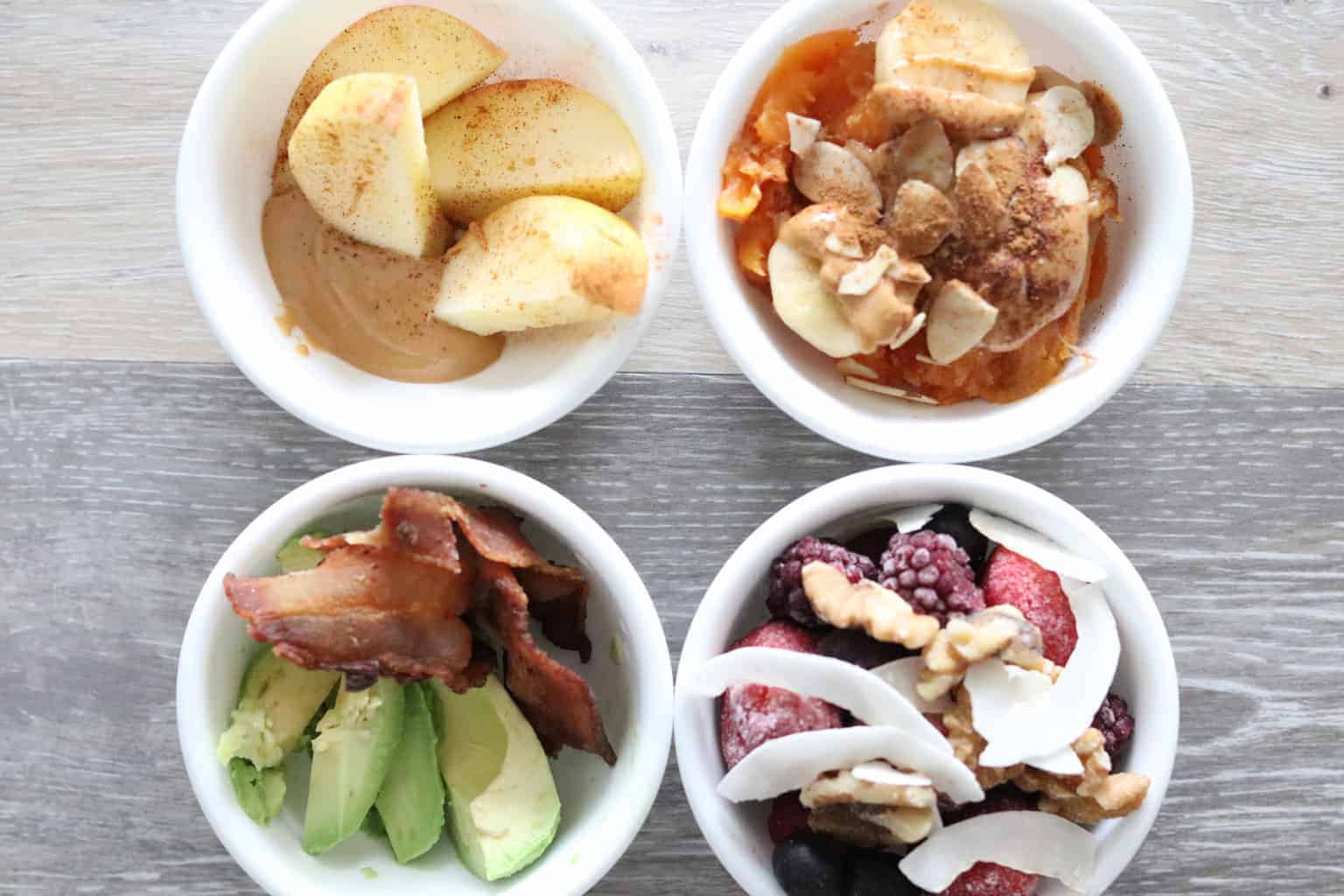 Grab my free whole 30 ebook to get a full week meal plan and a complete grocery list!
With a house full of growing kids, a nursing mom, and a hard-working dad, we require a lot of snacks. So for the month of January, while we are eating the whole 30 diet, I had to come up with a few snacks that would be compliant.
Most of these are simple snacks, but I wanted to compile a list because if you are anything like me, every time you think of something, you have to google it to see if it is whole 30 approved.
I hope this list gives you some fresh ideas and that you will enjoy some of these healthy snack options!
WHOLE 30 HEALTHY SNACK IDEAS
DEVILED EGGS
This post contains affiliate links, which means I make a small commission at no extra cost to you. Get my full disclosure HERE.
We have a flock of backyard chickens, so eggs are something we never run out of around here. I love to have a dozen hard boil eggs in the refrigerator for snacks. Sometimes I will get a little fancy and turn those hard-boiled eggs into deviled eggs; this is a real treat!
I found some whole 30 approved mayonnaise at our local grocery store that I used to make these taste like the real thing. My kids love these and the best part; they are packed full of protein and help to fill them up.
INGREDIENTS
6 hard boil eggs
3 tablespoons avocado mayonnaise (or you can make your own)
2 teaspoons mustard
Salt and Pepper to taste
Paprika (optional)
INSTRUCTIONS
Cut the hard-boiled eggs in half and remove the yokes.
Add the yokes, mayonnaise, mustard, salt, and pepper to a small bowl. Mash with a fork until all the ingredients are well combined.
Spoon the yolk mixture back into the egg whites and sprinkle the top with paprika.
CHICKEN WINGS
This has been our favorite snack so far, probably because we love all things hot and spicy! You can bake some chicken wings and toss them in your favorite whole 30 approved hot sauce. Serve with slices of celery. Tessemae has a whole 30 approved ranch you can buy if you want a dipping sauce to go with your wings. You can find it here.
Sometimes we will fry these instead of baking, and they taste like they are straight from a restaurant. I fry in 100% coconut oil to avoid consuming over-processed, GMO, hydrogenated oils.
APPLES AND ALMOND BUTTER
I was happy to see that almond and cashew butter were on the list for the whole 30 approved foods. Peanuts are not approved because they are in the legume family, but almonds and cashews are a go! Slice up an apple and serve it with a scoop of almond butter. This makes for a delicious, filling, and simple snack.
You can also cut up celery or carrots to dip in the nut butter for an alternative.
LOADED SWEET POTATO
Sweet potatoes contain fewer carbs than regular potatoes, they are higher in vitamin A, and they are a good source of fiber and potassium. They are delicious baked, smashed, or in a pancake. This snack is simple and delicious.
Bake one sweet potato, remove the peel and place it in a bowl. Lightly smash it with a fork and top it with slices of bananas, a scoop of almond butter, and sprinkle it with cinnamon. Enjoy!
BLTA WRAP
While brainstorming the whole 30 approved food lists, my husband came up with this idea! This one could easily be turned into a lunch or dinner idea if you added a few sides to it.
INGREDIENTS
1 large romaine lettuce leaf
2 slices of whole 30 approved bacon
tomato slices
avocado slices
whole 30 avocado mayonnaise (find it here)
INSTRUCTIONS
Layout the piece of romaine lettuce and spread some avocado mayonnaise on it.
Layer bacon, avocado slices, and tomato slices on the lettuce.
FRUIT, MIXED NUTS, AND COCONUT
This is going to be more of an idea than a specific recipe. Because most nuts are whole 30 approved, you can make a fruit salad topped with mixed nuts, raisins, and coconut shreds. You can sprinkle this with cinnamon and/or ginger to add flavor. Add a drop of lemon or lime essential oil for added health benefits and more flavor.
LARA BARS
If you are out and about or looking for a premade whole 30 approved snack, then Lara Bars are the winner. There are several different flavors of Lara Bars, and not all are compliant. Lara Bars are a fruit and nut bar made with just a few ingredients. Be sure to pick a bar that doesn't have peanuts in it.
Here is a list of flavors that are whole 30 approved: apple pie, banana bread, carrot cake, cashew cookie, cherry pie, chocolate coconut chew, coconut cream pie, key lime pie, lemon, pecan pie, and pumpkin.
You can find Lara Bars at most grocery stores or on amazon.
Please share your whole 30 snack ideas with me in the comments below! I love trying new things and always looking for more ideas.
PIN IT FOR LATER
Follow along with our oily house:
Thanks for stopping by our oily house!