Make your very own whole30 breakfast casserole with this simple recipe. Plus, a grain-free whole30 oatmeal and many more healthy breakfast ideas.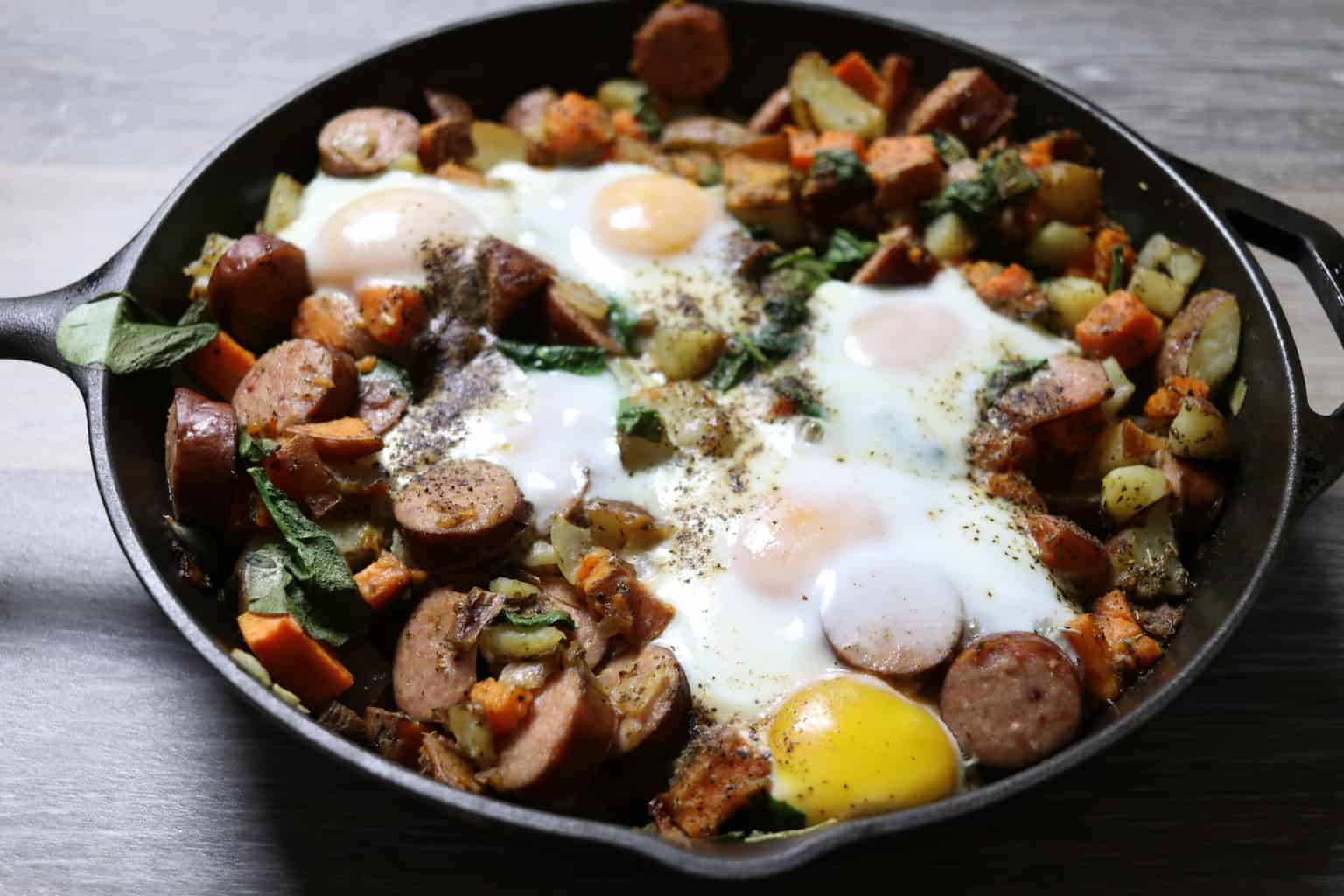 Grab my whole 30 ebook for a full week menu plan and complete grocery list.
When I thought about making a blog post about whole30 breakfast ideas, I wasn't sure what I was going to put in it. Breakfast can be pretty boring, especially when you aren't eating grains or dairy. However, after some pondering and being on the whole30 for almost a month, I have some fun ideas for you.
Don't get me wrong, most mornings, you will see fried eggs, avocados, and sauerkraut on my plate, but if you have access to whole foods-type stores, you can jazz it up! I am going to share my favorite whole30 approved breakfast casserole, along with a few other ideas to help you have an easy and healthy breakfast.
WHOLE 30 HEALTHY BREAKFAST IDEAS
BREAKFAST CASSEROLE RECIPE
INGREDIENTS
12 eggs
1/2 cup liquid (you can use bone broth, water, or coconut milk)
1 pound whole 30 compliant ground breakfast sausage (or make your own, recipe below)
1 onion, diced
6 ounces mushrooms, chopped
1 zucchini, diced
1 red pepper, diced
2 large handfuls of spinach
1 teaspoon salt
1/2 teaspoon pepper
1 tablespoon of coconut oil for cooking
INSTRUCTIONS
Preheat oven to 350 degrees.
Brown breakfast sausage in a cast-iron skillet over medium heat. As it is cooking, dice up the vegetables.
Once the meat is browned, remove it from the pan.
Add in the coconut oil. Once it is melted, you can sauté the vegetables.
Throw in the handfuls of spinach and stir until well combined. Turn heat to low and let simmer for 2-3 minutes to allow spinach to wilt.
In a separate bowl, add the eggs, liquid of choice, salt, and pepper. Whisk together until everything is well combined.
Pour the egg mixture over the meat and veggies. Transfer cast-iron skillet to the preheated oven. Bake 45 minutes or until the eggs are set.
HOMEMADE SAUSAGE- Brown one pound of meat (you can use beef, turkey, or pork). Stir in 1 teaspoon black pepper, 1 tablespoon Italian seasonings, 1 teaspoon garlic powder, 1 teaspoon onion powder, and 2 teaspoons salt.
OTHER VARIATIONS
You can use this same recipe and switch out the vegetables and meat to make a different style of casserole. Try substituting the sausage for whole 30 approved bacon. Add in diced tomatoes and fresh basil. Get creative and have fun with this!
These casseroles are perfect for making at the beginning of the week, and then you can just warm it up in the morning before rushing out the door for work or school. Unless your family is like mine and eats this all in one sitting!!
FRIED EGGS, AVOCADOS, AND BACON
A simple yet delicious whole30 breakfast recipe.
To make the best-fried eggs: Heat a cast-iron skillet over medium heat, sprinkle some water on the skillet to make sure it sizzles before adding the eggs. Crack the eggs on the skillet and sprinkle with salt and pepper. Flip the eggs after 2 minutes. If you are like me, remove the skillet from the heat at this time to allow it to cook slightly. I like my eggs over easy!
Serve with sliced avocados, bacon, and fresh fruit. I also love sauerkraut with this!
WHOLE 30 GRAIN FREE "OATMEAL"
INGREDIENTS
1/4 cup finely chopped mixed nuts (I use cashews, almonds, and pecans.)
2 tablespoons coconut flour
2 dates, pitted and diced
1 tablespoon chia seeds
2 tablespoon unsweetened coconut flakes
1 teaspoon cinnamon (or 1 drop cinnamon essential oil)
1/8 teaspoon salt
1 cup dairy-free, unsweetened milk (I use coconut milk.)
OPTIONAL TOPPINGS:
cashew butter or almond butter
sliced berries
sliced bananas
chopped apples
coconut shreds
INSTRUCTIONS
Mix the nuts, coconut flour, dates, chia seeds, coconut, cinnamon, and salt in a bowl.
Heat the milk over low to medium heat until warm. Pour the milk over the dry ingredients and stir. As it sits, it will thicken up.
Top with desired toppings. Chopped apples are our favorite!
POLISH SAUSAGE SWEET POTATO HASH
INGREDIENTS
1 package of whole 30 approved polish sausage
6 eggs
2 sweet potatoes, cubed
4 small red potatoes, cubed
1 onion, diced
2 handfuls of spinach
salt and pepper
3 tablespoons of coconut oil, for cooking
INSTRUCTIONS
Heat a cast-iron skillet over medium heat and add coconut oil.
Add sweet potatoes and red potatoes. Let cook for 5 minutes and then flip. Add in the onions at this time.
While the potatoes and onions are cooking, chop the polish sausage into small pieces.
Add in sausage and cover the skillet with a lid.
Continue to cook until all the potatoes are soft. Add 2 large handfuls of spinach.
Crack 6 eggs on top, salt, and pepper to taste, and then bake in a preheated oven for 10 minutes or until the eggs are set.
You can find sugar-free, whole 30 approved polish sausage at most health food stores. We served this breakfast with slices of avocado and sauerkraut.
VEGETABLE OMELET WITH HASH BROWNS
INGREDIENTS
4 eggs, whisked
1 small diced onion
1/4 cup diced green pepper
1/8 cup diced mushrooms
Salt and pepper
Coconut oil for cooking
INSTRUCTIONS
Heat coconut oil in a small skillet, add vegetables, and let them sauté.
While vegetables are cooking, whisk the eggs in a small bowl. Add salt and pepper and stir well.
Remove vegetables from the skillet and add the egg mixture.
Allow the eggs to cook for about 2-3 minutes or until they are set, and pour vegetables on one-half of the eggs.
Gently flip the side without vegetables on top of the other side. Flip the omelet over and allow to cook until eggs are done.
Serve with hash browns, sauerkraut, and fruit salad.
FOR THE HASH BROWNS- Dice up red potatoes and toss them in melted coconut oil and salt. Spread them onto a baking dish and bake in a 400-degree oven until soft and browned.
OTHER WHOLE 30 BREAKFAST IDEAS
Last week I shared a few snack ideas, and one of them was a loaded sweet potato. This snack would also work great for an easy, healthy whole 30 breakfast.
Avocado, breakfast sausage, and eggs are a great whole 30 breakfast that is loaded with protein and vitamins.
Apples, carrots, and celery slices dipped in almond butter. Sprinkle with cinnamon and raisins.
Hard-boiled eggs served with fresh fruit.
Sautéed vegetables and scrambled eggs
What are your go-to healthy breakfast meals? Share your favorites in the comments below!
PIN IT FOR LATER
Follow along with our oily house:
Thanks for stopping by our oily house!