Enjoy our favorite essential oil infused popsicles for a healthy summer treat. They are sure to be a hit for the entire family.

Summertime is a sweet time for my family and I am enjoying every second of it, even when it's super hot! I never disliked winter so much until I had kids and was cooped up in the house for weeks on end. Summer means swimming, BBQ, family get-togethers, and splash pads. We love being outside but prefer to be poolside (the kiddie pool counts) with a popsicle in our hands.
This summer, it has become a tradition to make homemade popsicles in the morning and eat them after nap time. My kids have conveniently added this to our daily routine. 😉 I don't mind because they are healthy and it keeps them happy…win-win!
Most days, we throw a handful of fruit in the blender with some water and then freeze it. Sometimes, when I am really lazy, I just freeze organic apple juice. Other times we get a little fancier and add in some essential oils for added health benefits and flavor.
I am excited to share some of our tried and true favorite popsicle recipes with you!
Essential Oil Infused Popsicles Video
STORE BOUGHT POPS
I prefer to make my own because store-bought popsicles typically contain high fructose corn syrup, sugar, food coloring, and artificial flavors. All things I like to avoid if possible and here is why:
High Fructose Corn Syrup- This stuff is found in almost all processed foods and sugary drinks because it is sweeter than sugar and cheaper. It is highly processed and, you guessed it, not good for our bodies. You should try to avoid HFCS as much as possible because it contains dangerous contaminants and chemicals.
Sugar- Sugar is very addictive and can wreak havoc in our bodies. It weakens the immune system making you much more acceptable to sicknesses and infections. When you consume high doses of sugar, you are at risk for heart disease, high blood pressure, obesity, and liver toxicity.
Food Coloring- Food dyes are artificial chemicals added to foods to change their color. Did you know that several other countries have banned red40 food dye?! Research shows that it can cause hyperactivity in children and contains p-Cresidine, which is a carcinogen. When certain dyes were tested on mice, they caused tumors in the liver and immune system.
Artificial Flavors- Artificial Flavoring is known to cause many problems within the body, including damage to the nervous system, dizziness, chest pain, tension, fatigue, allergies, brain damage, seizures, and nausea. Some popular flavors have been linked to cancer as well.
HOMEMADE HEALTHY POPSICLES
Like my healthy suckers, homemade healthy popsicles can be a very healthy yet delicious treat! You can even make your popsicles healthy and hearty enough to count as a meal. You will totally get the "mom of the year" award for letting the kids eat popsicles for breakfast.
Get creative with your pops by adding in exotic fruit or those vegetables your kids won't touch. I love adding a handful of spinach to my popsicles and the kids don't even notice.
Use kefir or yogurt to add in extra protein and probiotics. If you have access to farm-fresh eggs, you can even add in some egg yokes to make them more filling. Y'all, the possibilities are endless!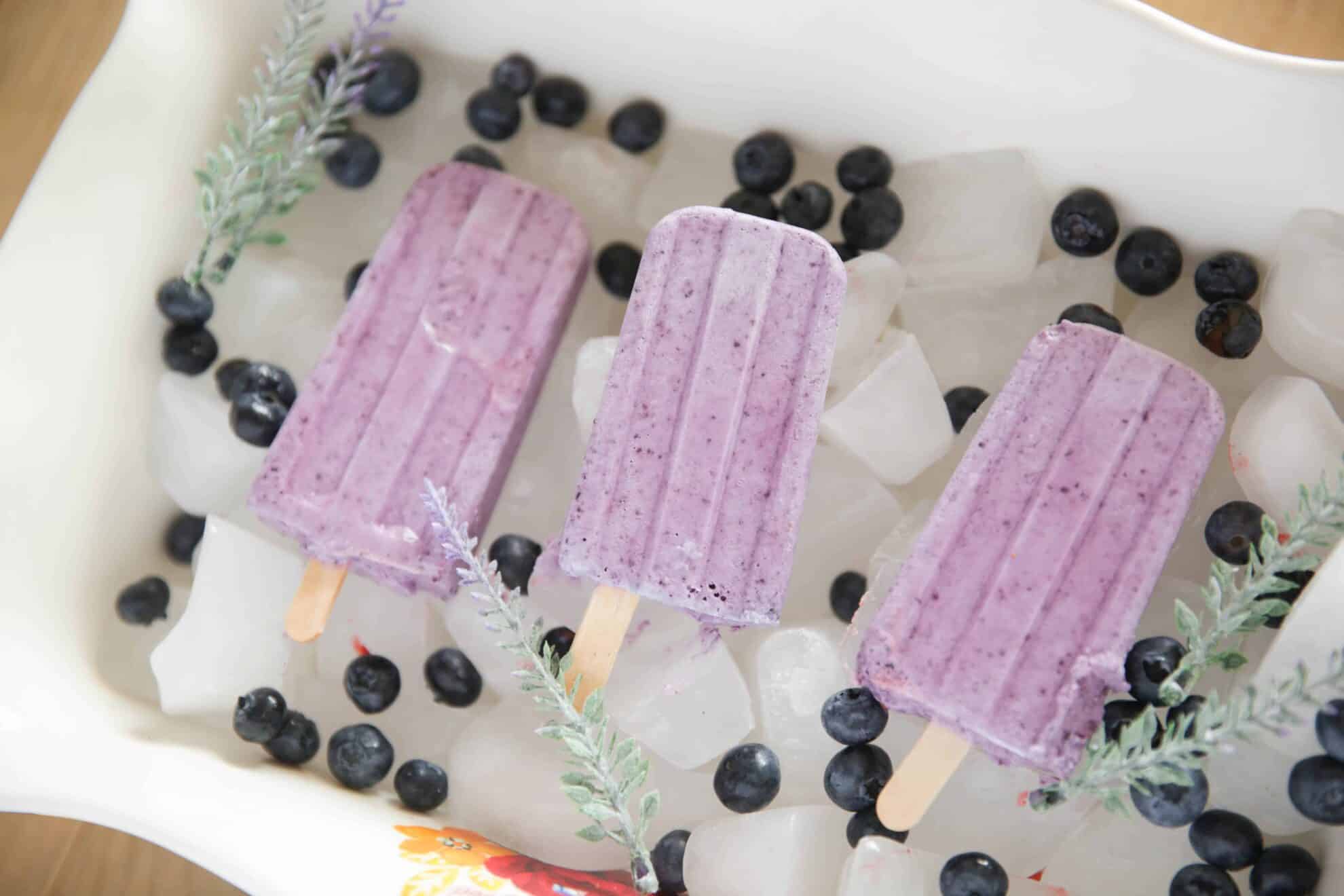 THE KEY TO A GOOD HOMEMADE FRUIT POPSICLE
This post contains affiliate links, which means I make a small commission at no extra cost to you. Get my full disclosure HERE.
MOLD- You can find so many different molds for your popsicles. Distributors have gotten pretty fancy when it comes to your popsicle mold's shape, design, color, and material. You can find stainless steel, silicone, or plastic molds. Some even got clever enough to add straws on the bottom to sip up the melted juice. I love these popsicle molds!
BASE- This can vary depending on preference. The base is the liquid used in the popsicle. You can use water, juice, coconut milk, kefir, or yogurt for the base. The milk products make for a much creamier popsicle. Adding yogurt and kefir adds protein and probiotics for a healthy, gut-friendly pop.
FRUIT- I love using fresh fruit from the garden or fruit that we picked from local fruit trees. It's peach season here in Missouri and we have gallons of peaches cut and frozen for future smoothies and popsicles. You can use frozen or fresh fruit. Raspberries, strawberries, blueberries, cranberries, and bananas are some of our favorites! A little tip, buy a lot of bananas when they go on sale, let them sit on the counter until they are very ripe, peel, break in half, and freeze in a gallon size zip lock bag. The riper the banana, the sweeter. Where we live, bananas are much cheaper than berries, so I like to use them to be more cost-efficient.
SWEETENER- This is optional because the fruit already adds a naturally sweet flavor, but if you like your popsicles sweeter, keep reading. 🙂 My favorite natural sweetener is honey; you can also use coconut sugar, stevia, or pure maple syrup.
FREEZE TIME- This is crucial! My kids have a hard time waiting, but it just won't work if they aren't completely frozen. Four to six hours is usually enough time; freeze them overnight for best results. Once the popsicles are fully frozen, just run the mold under warm water, and the popsicle will pop out much easier.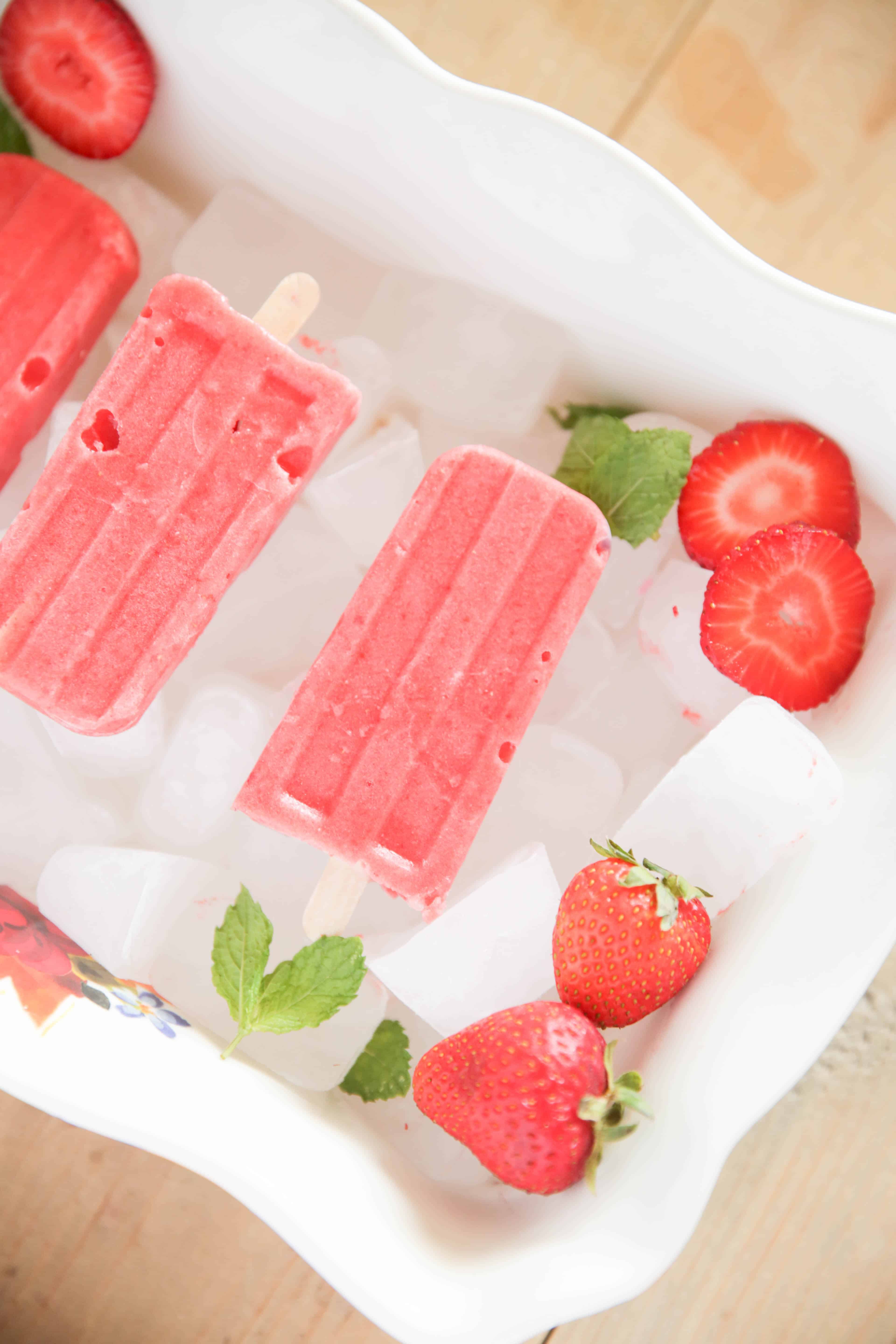 This post contains affiliate links, which means I make a small commission at no extra cost to you. Get my full disclosure HERE.
POPSICLE RECIPES
Cherry Lime Popsicle
1/2 cup yogurt
2 cups pitted cherries
1 cup water
1 tablespoon honey
2 drops lime essential oil
Lemon Berry Yogurt Popsicle
1 cup yogurt
2/3 cup berries
1 tablespoon honey
1-3 drops lemon essential oil
Coconut Lavender Popsicles
1 cup coconut milk
2/3 cup frozen blueberries
1 tablespoon honey
1-3 drops lavender essential oil
Strawberry Mint Popsicles
3 cups strawberries
1 lemon, zested
1/4 cup lemon juice (I used the juice from the zested lemon)
1/4 cup honey
1-2 drops peppermint essential oil
If you choose to add essential oils to the popsicles, make sure that they are pure and safe for internal use.
HOW TO MAKE POPSICLES
Place all ingredients in the blender and blend until well combined
Pour mixture into popsicle molds and freeze for 4-6 hours.
Try these recipes out and let me know what you think. If you make homemade popsicles, share your favorite recipes with me in the comments below.
PIN IT FOR LATER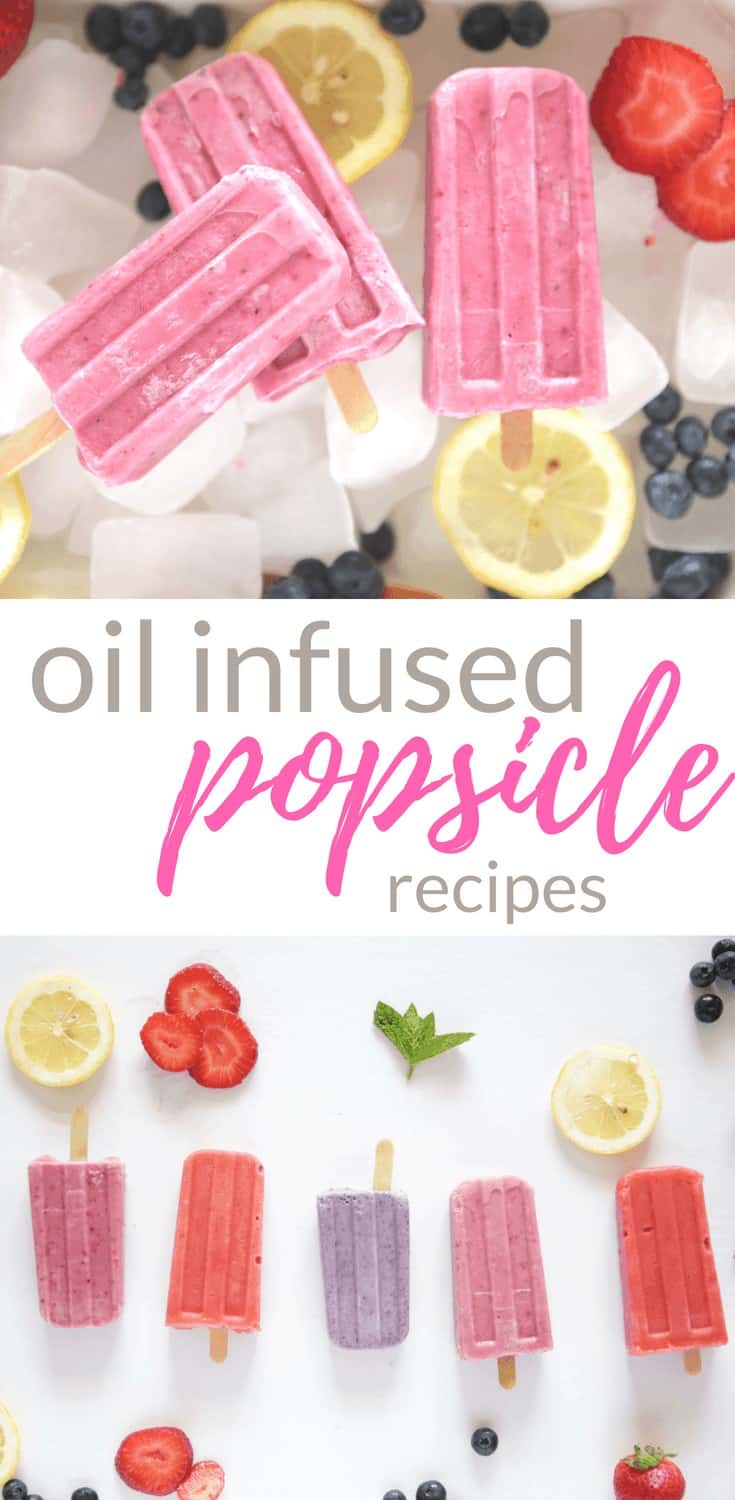 MORE HEALTHY DESSERTS TO TRY