Unlock the Secrets of Radiant Skin the natural way! Discover the incredible benefits of honey-infused soap right here in this post.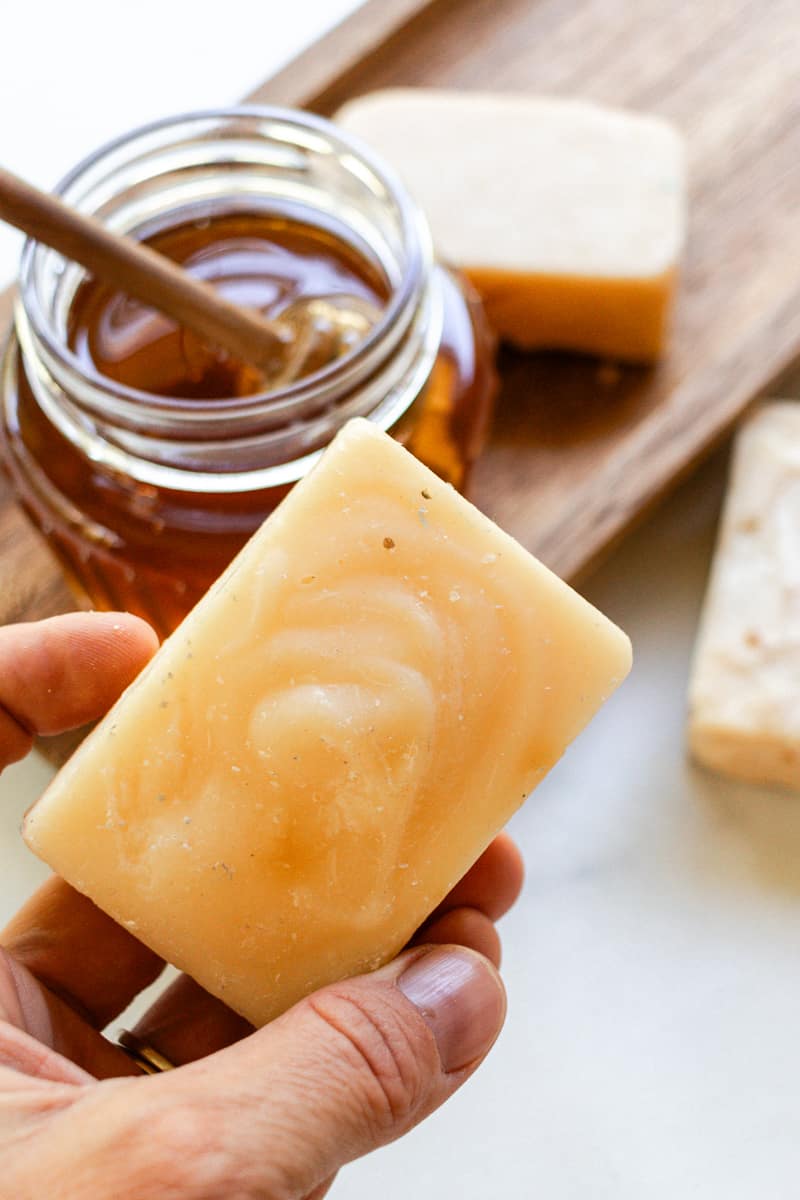 Honey is a hugely popular ingredient to add to skincare products. You'll find it in face masks, shampoos, conditioners, body creams, and skin lotions alike.
Yet, honey in soap is one of my favorite ways to use honey – aside from spreading it on toast or sweetening my afternoon tea!
In this post, you'll find heaps of information on honey soap benefits that'll inspire you to add some of that glorious sticky stuff to your next soap batch!
Let's dive in!
What is honey soap?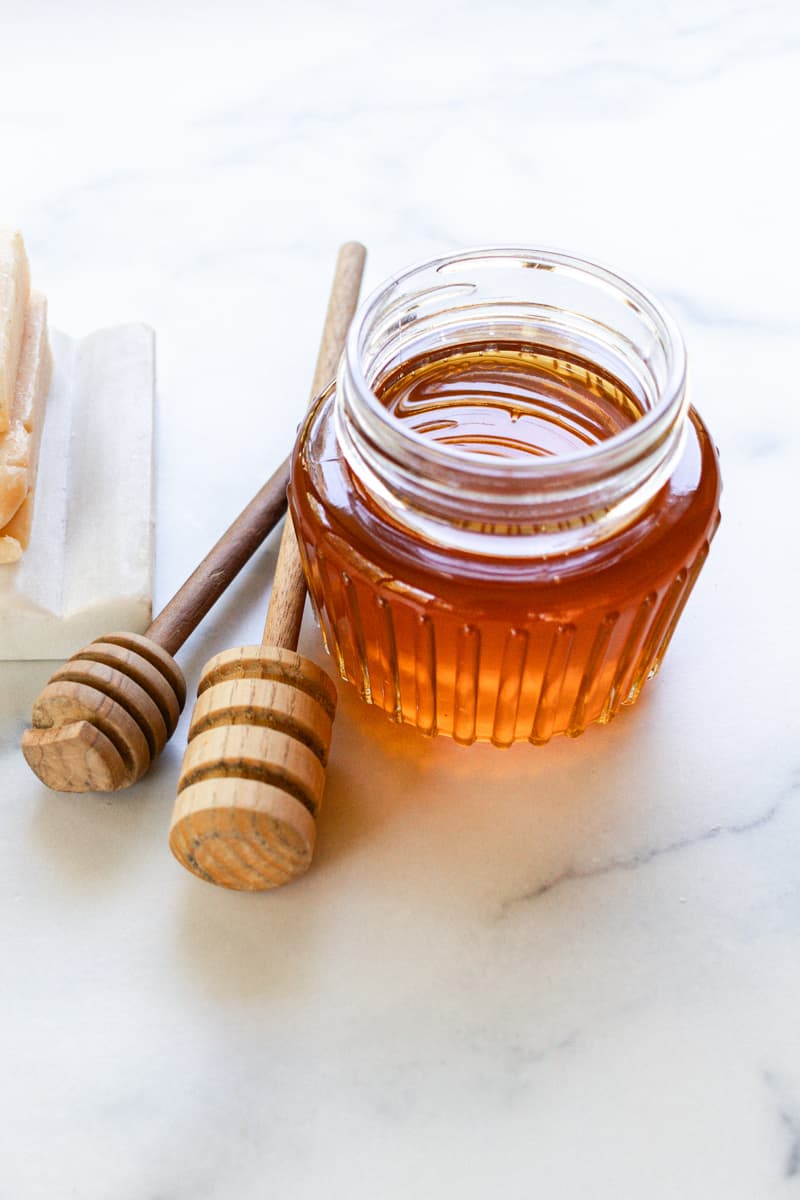 Honey soap simply means any soap made with honey.
It doesn't matter which soap-making method is used, whether it's a cold or hot process – only if honey is added into the mixture would it become a 'honey soap.'
Honey is added for various reasons and is famous as an ingredient in soap bars. It's worth saying that honey can be added to pretty much every DIY skincare product for its benefits.
Why not consider making a body cream with honey, too?
Or read on to learn about the benefits of honey in soap making.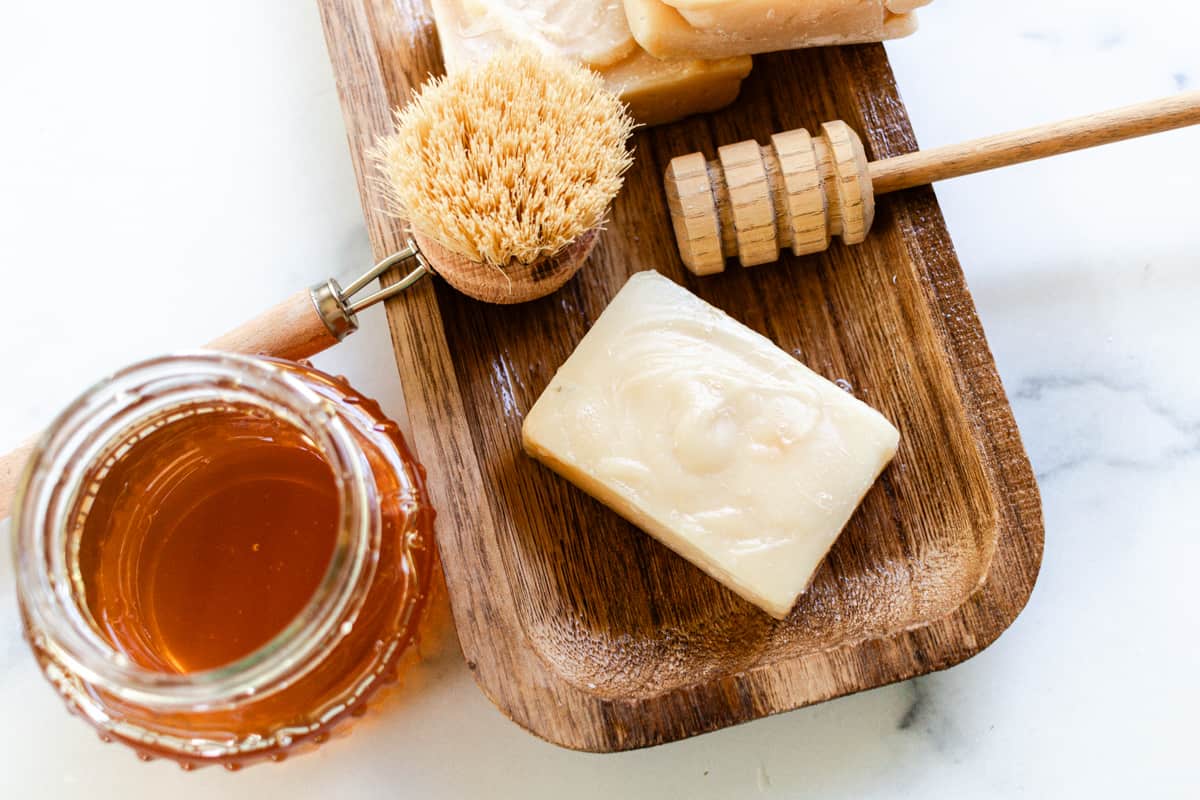 Honey Soap Benefits
Moisturizing:
Did you know?
Honey is a natural humectant, which means it holds moisture in and attracts it, too, making honey an excellent moisturizer for the skin.
After using honey soap, the skin feels moisturized and cleansed, which I often find quite surprising since most soaps dry out my skin.
I personally like to have a honey soap bar handy whenever I come in from the garden (or some other challenging activities I've been doing with my hands.)
Honey soap will only ever care for your skin – meaning it won't strip the skin of its natural oils, which is why I love it so much as an ingredient in soap making.
Talking of which, this is my favorite soap recipe made with honey! Make sure you check it out.
Natural protection:
Alongside its moisturizing properties, honey is an effective barrier to the elements, whether you're facing snow, wind, or sun.
It helps the skin retain moisture, preventing dryness and flaky skin.
I find honey soap incomparable to anything else during winter, especially for dry hands, which get so raw and red from freezing weather.
Antioxidants:
Honey is packed with antioxidants that prevent early aging and long-term damage to the skin.
The reason antioxidants are so incredible (making honey incredible, too!) is that they fight free radicals, which are unstable molecules that cause harm to the skin, as well as other health concerns.
Healing:
Did your Grandma smear neat honey over your grazed knees as a child? (Just me?!?)
The reason is scientifically valid in truth – because honey is a natural antimicrobial and anti-bacterial, making it suitable for treating minor cuts and grazes.
Honey is also believed to speed up healing while soothing minor skin complaints such as burns, acne, or eczema patches.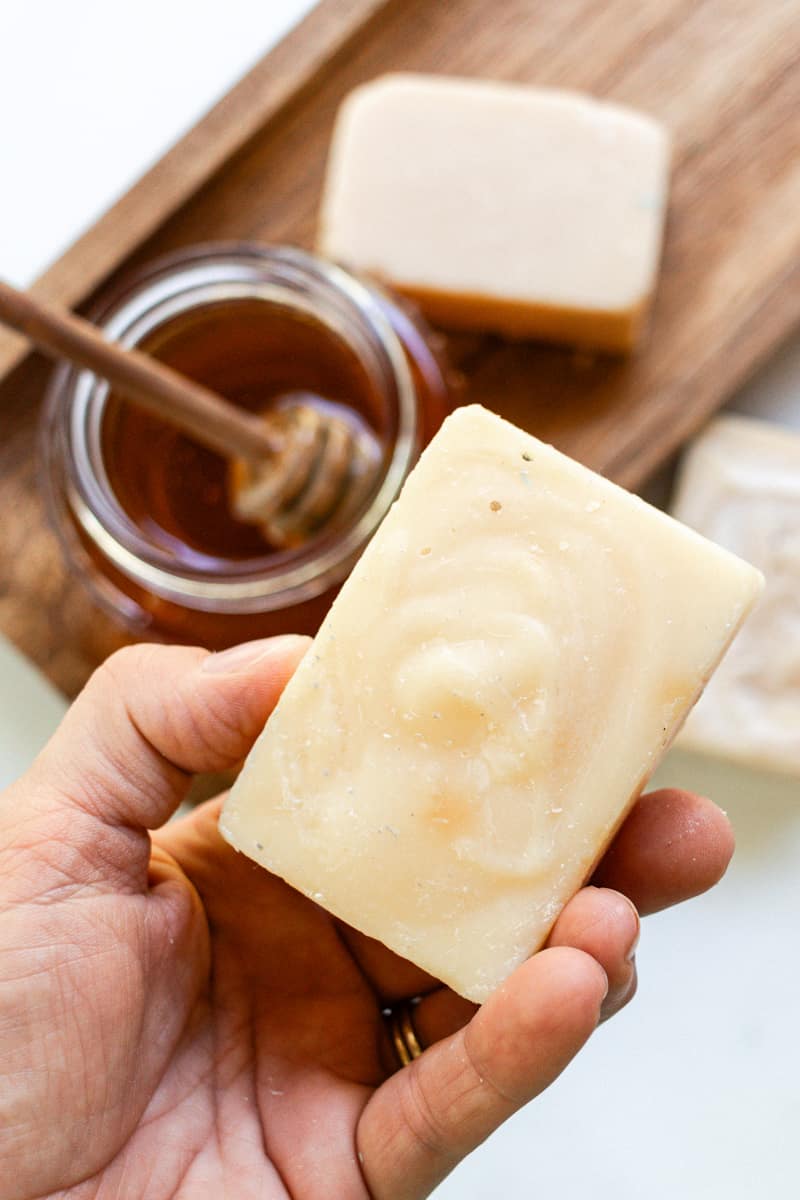 Exfoliating:
Making soap with honey often results in an exfoliating soap bar – depending on the consistency of honey you use in the recipe.
Honey crystallizes over time, and these crystals can offer a subtle exfoliating effect that is lovely for the skin.
It's not harsh or abrasive, but it for sure helps reveal fresher-looking, vibrant skin!
Anti Aging:
Back to those fantastic antioxidants in honey! They help encourage a youthful appearance by fighting off age-causing free radicals and toxins.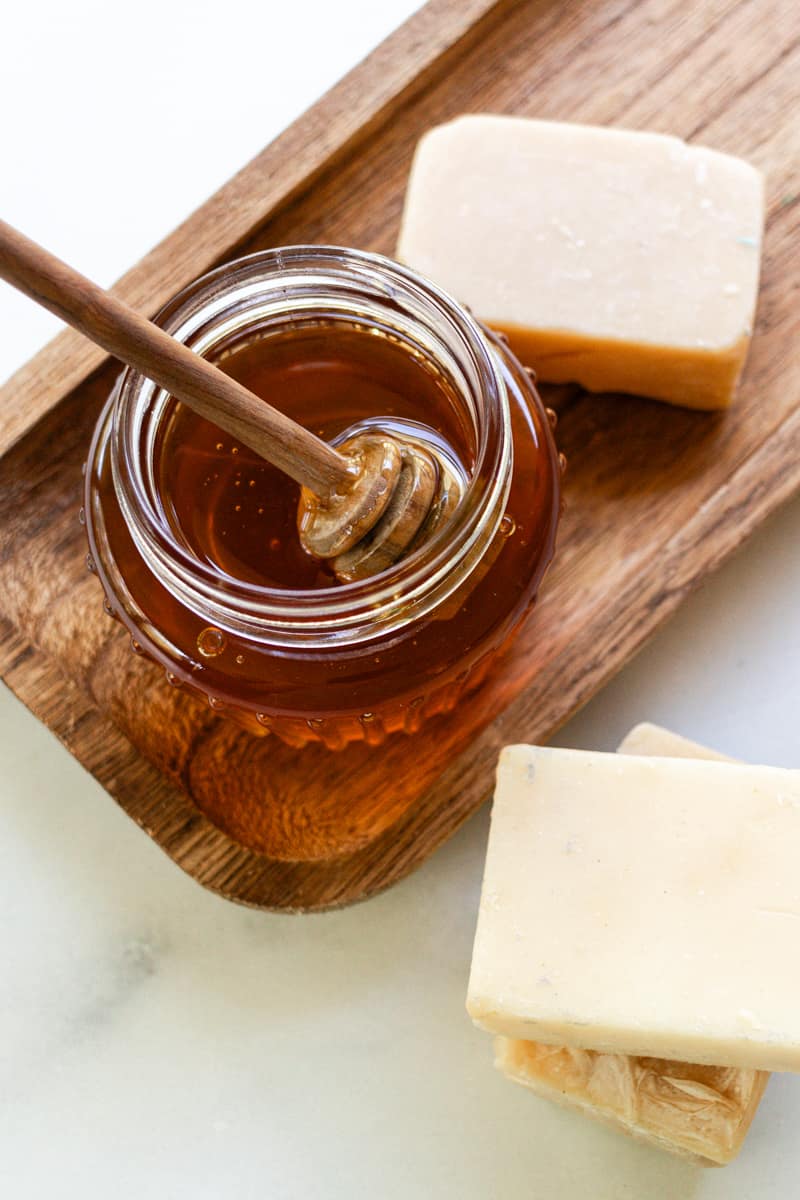 Gentle cleansing action:
Honey in soap-making just makes sense, simply because honey makes for a great cleansing and cleaning agent.
It's gentle on the skin and won't strip away the natural oils it contains, but equally, it's effective against dirt and germs.
Brightening effect:
Over time, honey smoothes the skin's appearance with its natural brightening effects.
This makes honey popular for sensitive and troublesome skin, helping clear the complexion and balancing out skin tone.
Honey also acts as an anti-inflammatory, contributing to the brightening effects on the skin.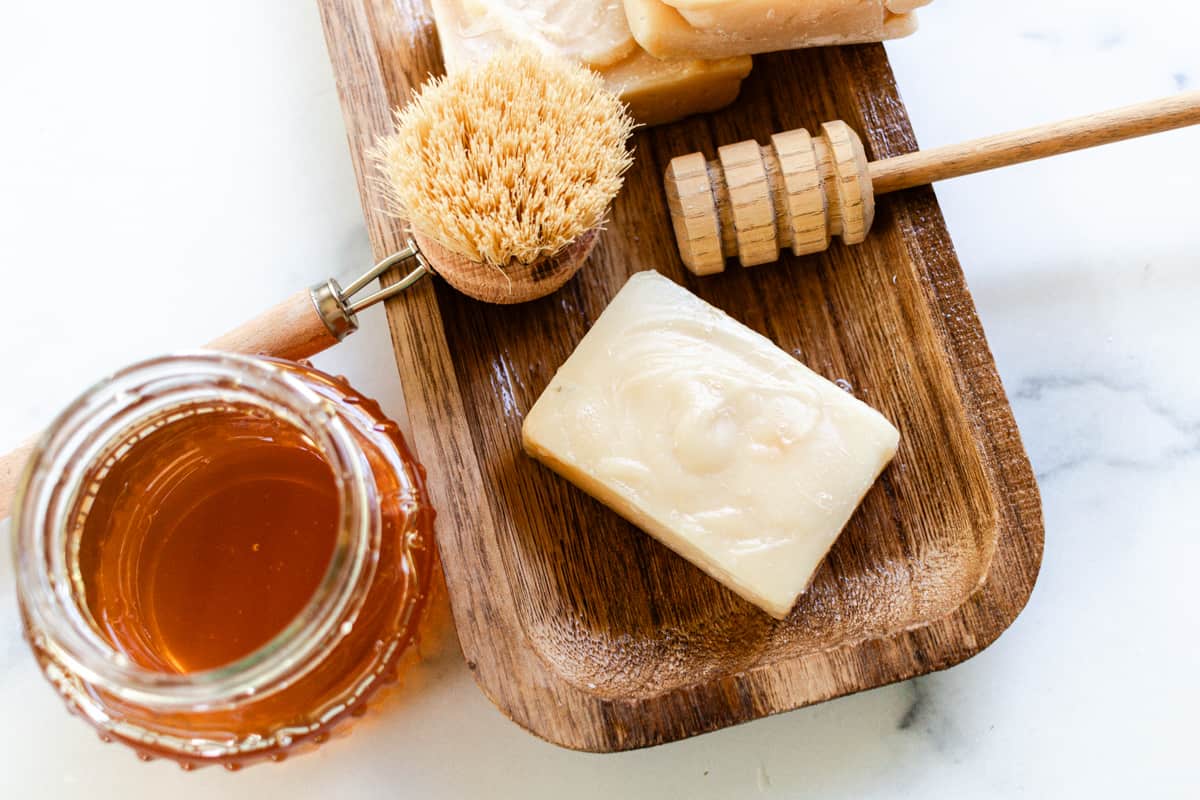 It's 100% natural:
This is what makes honey such a wonder product – the fact that it comes straight from nature! It contains no harsh chemicals, toxins, or synthetic materials, making it suitable for every skin type.
I avoid putting synthetic materials on my skin at all costs, simply because there are so many natural alternatives, honey being one of them!
Look for local honey, or at least look for ethically sourced honey.
FAQs:
Is honey soap good for the skin?
Yes, it is.
On the whole, honey soap is up there with the most moisturizing soaps of all time. Making it suitable even for sensitive skin types!
Is honey soap good for eczema?
It may be good, depending on the severity of the eczema and how your skin responds to it upon application.
While honey is not a replacement for medical treatment, some studies reveal that honey may help reduce eczema and encourage the skin to heal faster.
Does honey soap brighten skin?
Numerous studies show that honey can brighten the skin by reducing dark circles and age-related spots, which contribute to an uneven complexion.
It's not proven in everyone, and it depends on the length of time honey is used and the frequency of usage.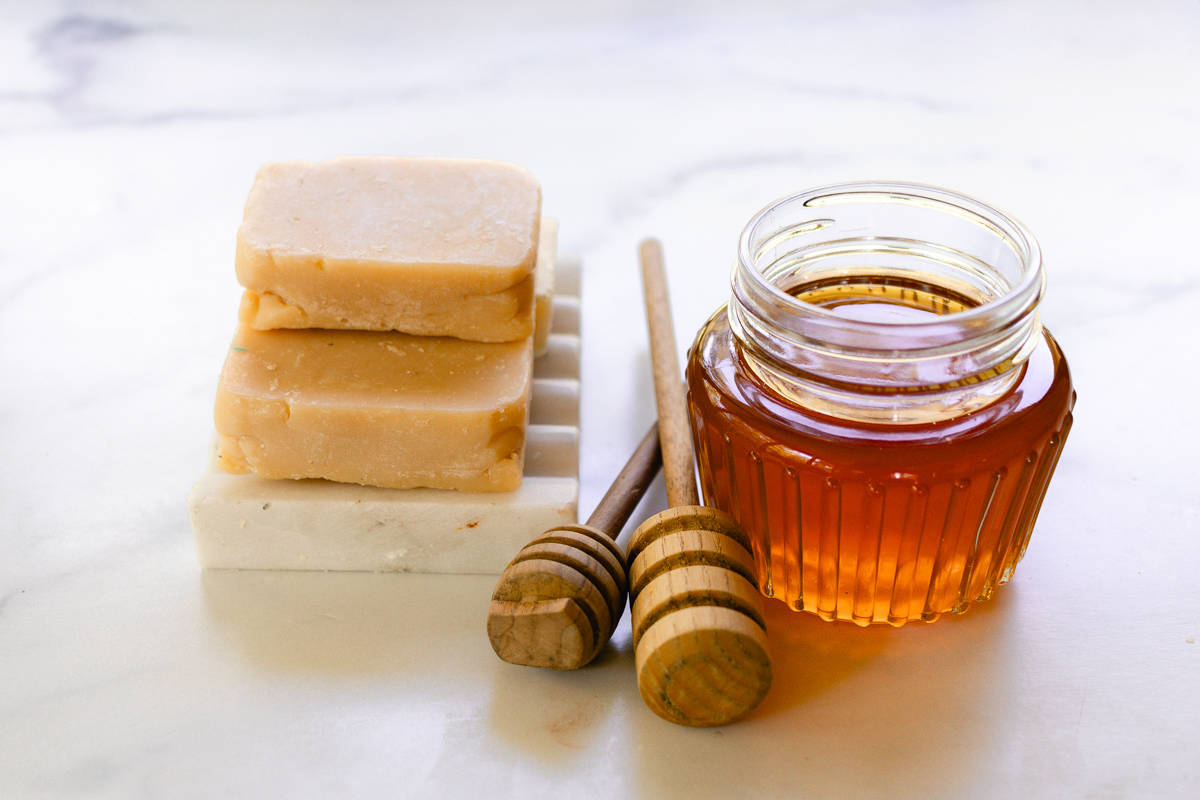 Summary:
Honey and honey soap have tremendous benefits for the skin, as you can see for yourself through reading this post.
The great thing is that honey is 100% natural and easily tolerated by most skin types, so why not try it yourself?
I make several soap recipes with honey that you can make at home. Have fun with it! And share in the comments how it works for you!
What to read next.