THIS HOMEMADE PEACH CRISP MADE WITH TANGERINE, AND CINNAMON ESSENTIAL OIL IS HEALTHY AND LOADED WITH DELICIOUS FLAVOR.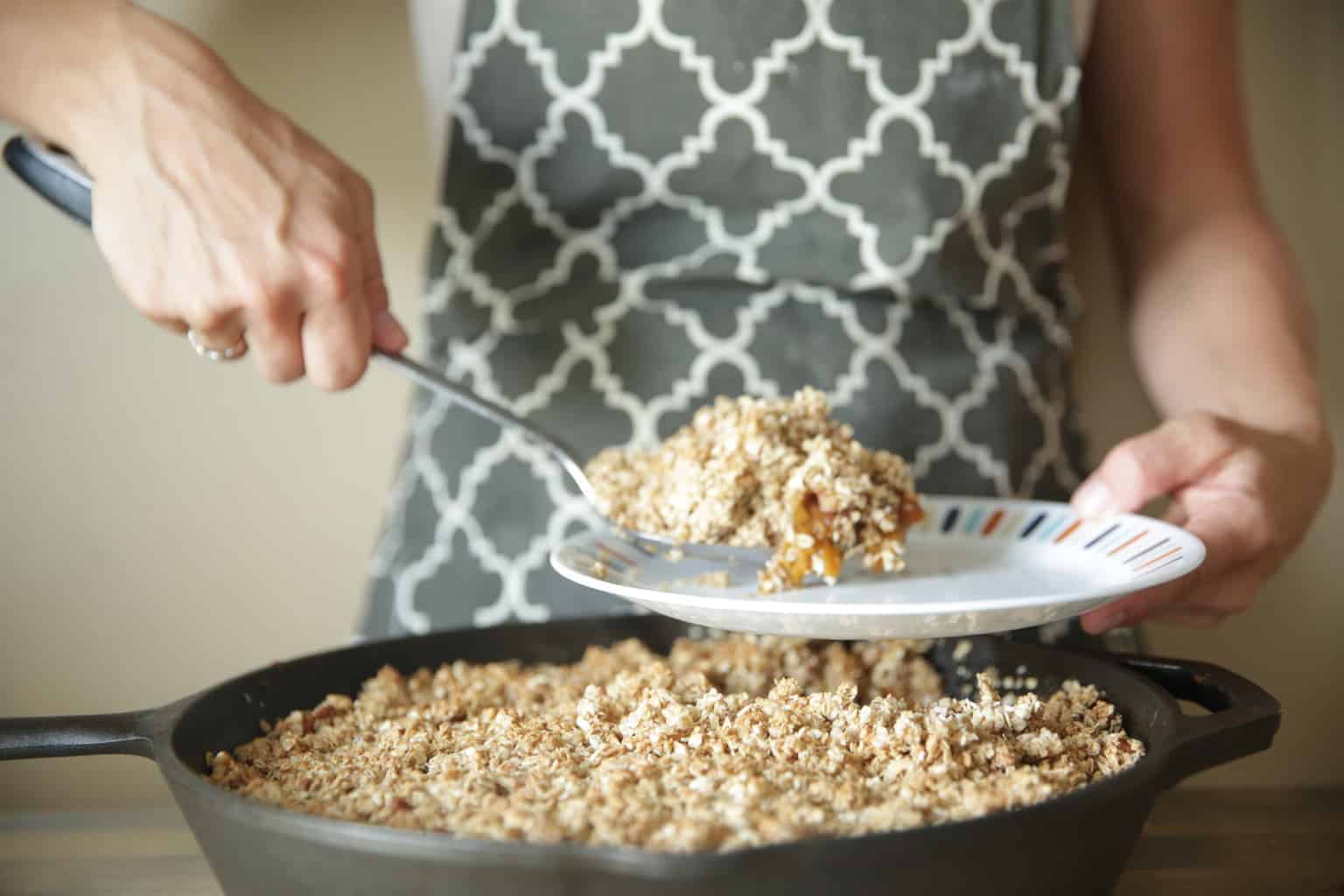 I like to feed my kids healthy, with a few exceptions for birthday parties and vacations. Eating healthy doesn't mean we eat disgusting food or that we don't eat dessert. In fact, we eat wholesome meals loaded with nutrition that are delicious, and we get our fair share of sweets. This homemade peach crisp made with tangerine and cinnamon essential oils makes a perfect dessert or snack.
Believe it or not, I took the kids peach picking at our local post office; perks of living in a small town! Because nothing is better than fresh fruit straight from the tree, we got carried away. It's always fun to harvest the fruit, but getting home with bags and bags of peaches can be quite overwhelming.
The kids indulged in peaches, and I decided to make a peach crisp. To boost the flavor, I ran to my essential oils and came back with tangerine and cinnamon. The ending dish was amazing, and I am excited to share the recipe with you.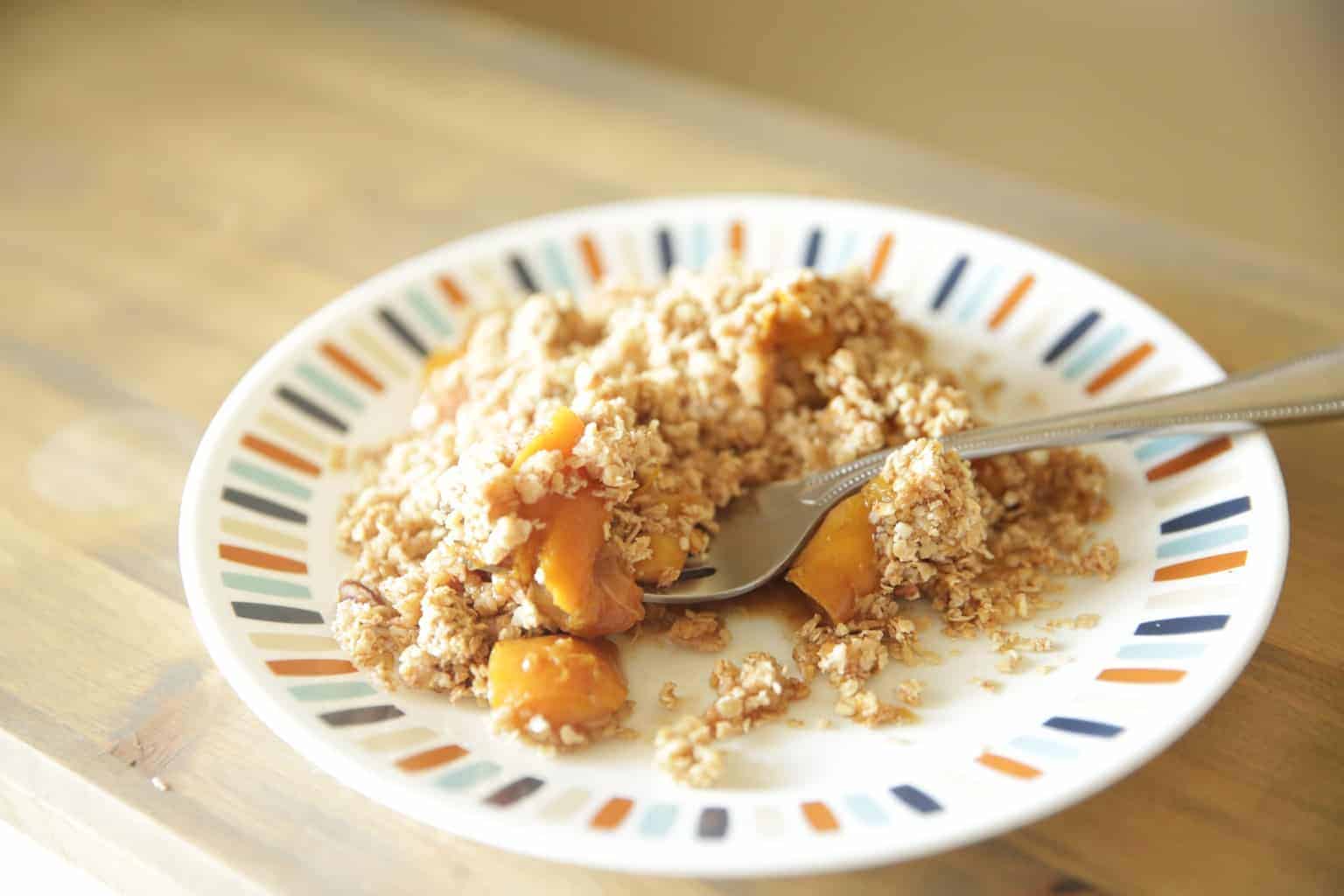 HOMEMADE PEACH CRISP MADE WITH TANGERINE AND CINNAMON ESSENTIAL OIL VIDEO
PERFECT SUMMER DESSERT
School is back in session, but it's still August, and I'm in full-blown summer mode. I love the cooler weather fall brings, but I dread winter, so I am not rushing summer to end. You can still find us swimming in the creek and running through the sprinkler. Fresh peach crisp with a scoop of vanilla ice-cream screams summer to me, and we will enjoy this until pumpkin season. Our other favorite summer dessert is my oil-infused popsicles. You better believe I'll be sharing our favorite oily fall treats soon!
PRESERVING PEACHES THE EASY WAY
When I said we got carried away, I meant it. And when I said it was overwhelming to come home with bags of peaches, I really meant it! No way could we eat all these peaches before they went bad, so I had to find an easy, quick way to preserve them.
Peach jelly sweetened with honey would have been amazing, but I didn't have that kind of time, and I wanted to get the job done.
First, I peeled all the peaches. To peel peaches: Boil water on the stove in a large saucepan and soak peaches in the boiling water for 20 seconds. Immediately, put the peaches in an ice bath to cool. Take them out of the cold water and the peel will come off easily. I did about 10 peaches at a time.
Second, I sliced the peaches and put them in a freezer-safe ziplock bag. You can freeze the peaches on a cookie sheet before putting them in a bag so they don't stick together as much, but I skipped this step. By not overflowing the bags, they will lay flat in the freezer and prevent them from sticking together as bad. I fill my bags half full, squeeze the air out and seal it shut.
Third, I freeze the peaches. Once they are frozen, they are great for smoothies or throwing a handful into oatmeal. You can use frozen peaches in this recipe and other peach recipes too!
HOMEMADE PEACH CRISP
FILLING
2 tablespoons butter or coconut oil if dairy-free
4 cups peeled sliced peaches
1 drop cinnamon essential oil
2 drops tangerine essential oil
2 tablespoons honey
1 tablespoon arrowroot powder
TOPPING
4 cups of organic oatmeal
1/2 honey
1/2 melted coconut oil
1/2 chopped pecans
1 drop cinnamon essential oil
dash of salt
HOMEMADE PEACH CRISP MADE WITH TANGERINE AND CINNAMON ESSENTIAL OIL INSTRUCTIONS
FILLING
Preheat a cast-iron skillet over medium heat, then add butter.
Once butter is melted, add peaches.
Add cinnamon and tangerine essential oil, honey, and arrowroot powder.
Stir well and simmer on the stove until hot and bubbly.
While the peach mixture is simmering, add oatmeal, honey, coconut oil, pecans, cinnamon essential oil, and salt to a large mixing bowl and stir until well incorporated.
Pour the topping over the peach mixture and spread it out evenly.
Bake at 300 degrees for 20-25 minutes or until topping is golden brown.
Serve plain or with a scoop of vanilla ice-cream. It makes a delicious sweet dessert or snack.
HOW TO COOK IN A CAST-IRON SKILLET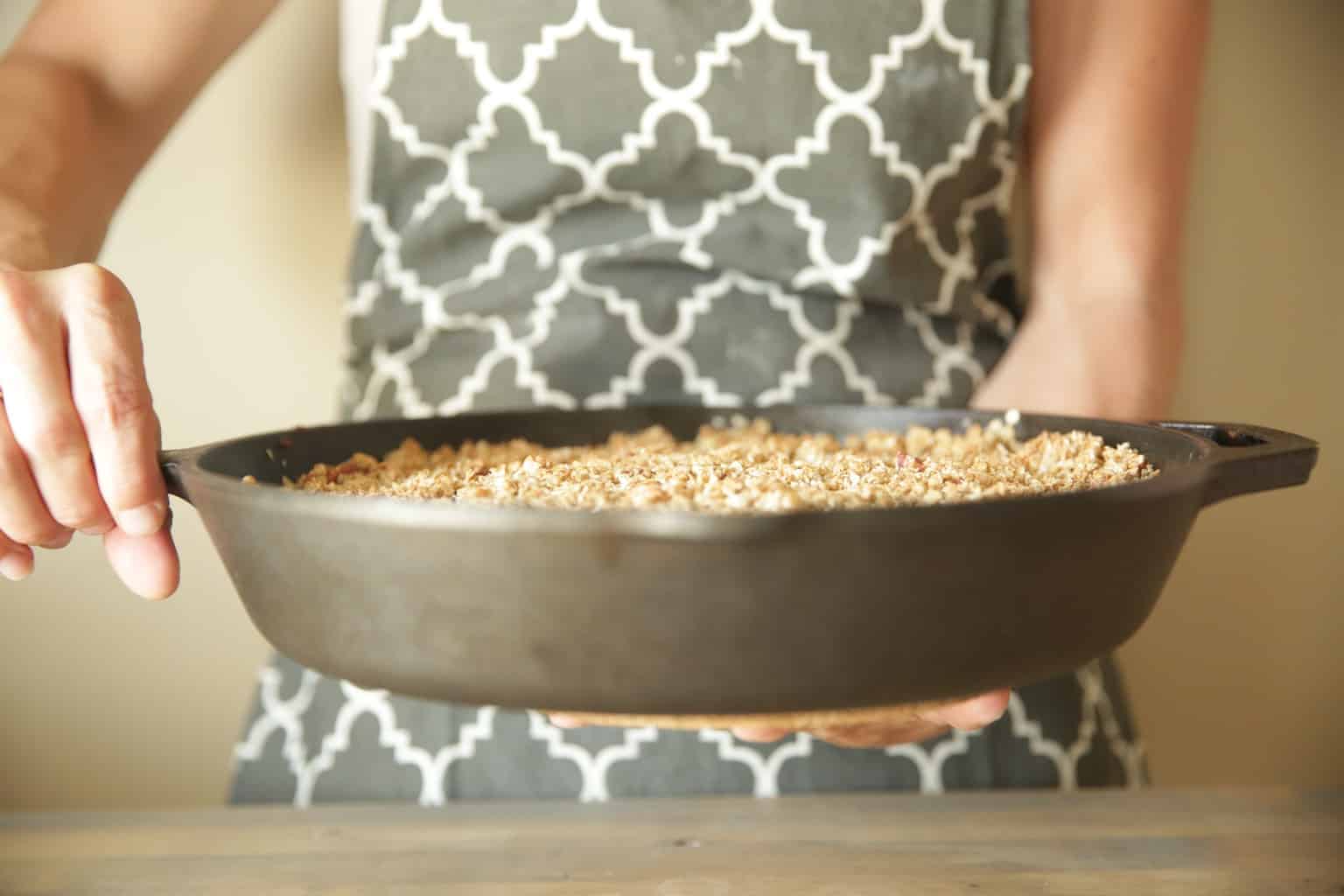 Cast-iron is my favorite cookware and I use it for almost all my dishes. They are old fashion but a kitchen must-have in my opinion. It's heavy-duty, non-stick, and it distributes heat evenly. Knowing that non-stick cookware was unhealthy when I first got married, I had all stainless steel, with the exception of one non-stick skillet for pancakes and eggs. I was able to throw that non-stick skillet out and replace it with cast iron.
The key to cooking with cast iron is preheating a well-seasoned skillet. Seasoning your skillet is simple. Rub it down with coconut oil and bake upside down at 375 degrees for one hour. Put a pan under your skillet to catch the oil drippings and let the skillet cool in the oven before removing it.
Before putting food in your skillet, make sure it's piping hot. I test it by dropping some water on it, and if it sizzles, I know it's ready for use. By doing this, your cast iron skillet will be non-stick and a breeze to clean.
COOKING WITH ESSENTIAL OIL
Essential oils are loaded with therapeutic benefits and flavor. Adding them to a dish or dessert can create delicious flavor and added health benefits. Remember the potency and how concentrated essential oils are when cooking with them.
1-2 drops are all you need, and in some cases, that is even too much. If you need less than a drop, consider using the "toothpick method." Stick a toothpick into your oil bottle to absorb some oil on the toothpick and then swirl that around in your dish to flavor it without using a full drop.
PIN IT FOR LATER
Follow along with our oily house: