Do you struggle to get your child to eat healthy, try new things, or even eat at all? Keep reading for 10 tips to get picky kids to eat healthy and to make your mealtimes easier.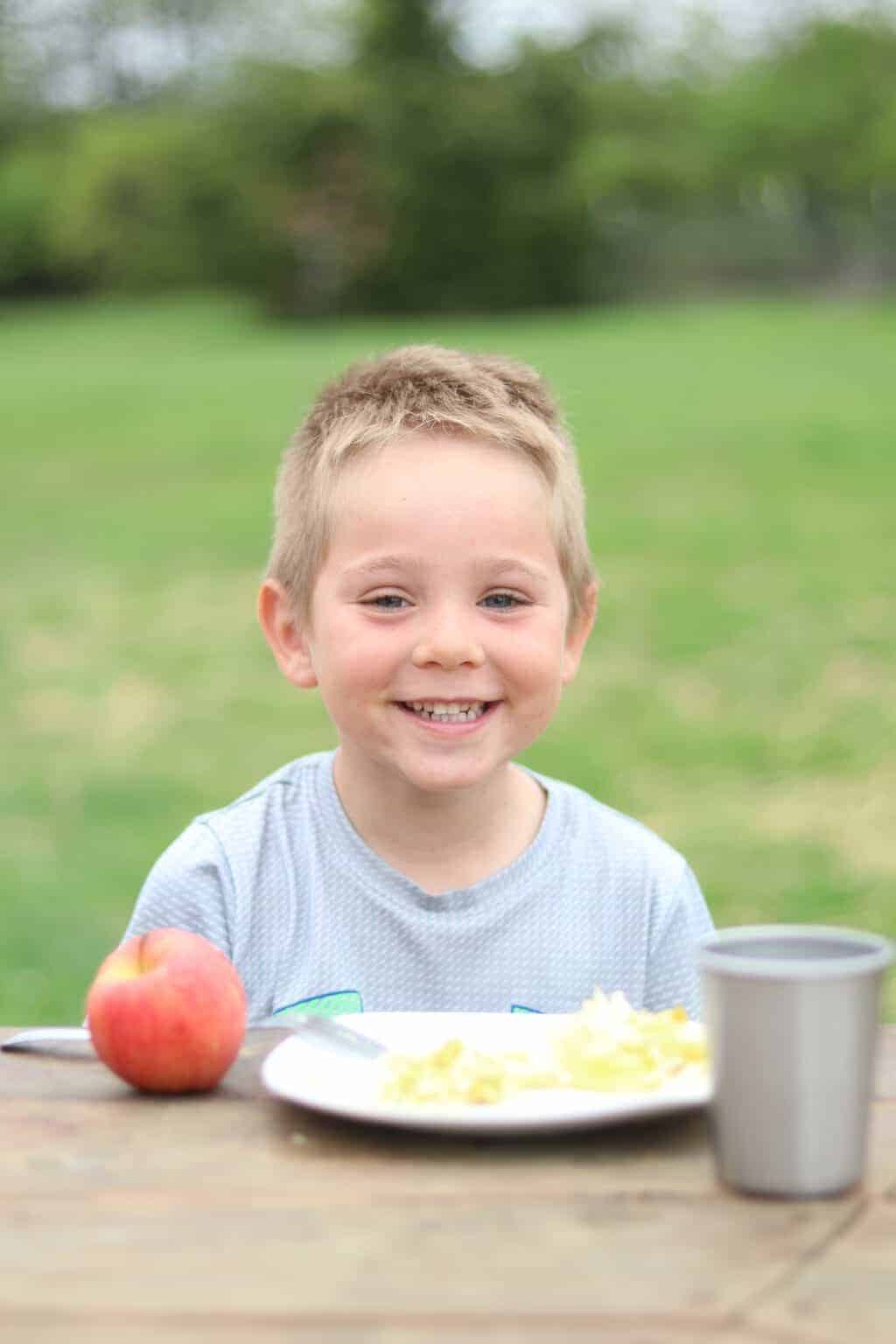 I am by no means an expert at parenting. In fact, most of the time, I feel very inadequate. After being a mom for 6 years, there is one thing I figured out for sure: BEING A MOM IS HARD! They throw me for a curve almost daily; as soon as I think I figured something out, it changes.
I used to be a nanny and had an in-home daycare before I had kids of my own, so I have been around a lot of kids. Mealtimes seem to be a major struggle for so many parents and kids. If you know my kids, you know this is one area we do NOT struggle with.
My kids will eat anything I put in front of them and a lot of it. When my oldest son was two, he requested steak and peas for his birthday dinner. One time I took my daughter to a drive-thru (it was her first time), and when I asked her what she wanted, she said, "Pot roast!" They ask for sauerkraut for breakfast, and they eat vegetables at every meal. Maybe I just got lucky?! Or maybe it is something I did?
Today, I want to share my 10 tips to get picky kids to eat healthy!
10 TIPS TO GET PICKY KIDS TO EAT HEALTHY
#1 DON'T MAKE THEM A SEPARATE MEAL
This is my number one tip! At mealtimes, my kids get whatever I make. I don't cater to my kids, this may sound mean, but it is really important. If you give them the option of having a "kid-friendly" meal that they enjoy more than the healthy meal you prepared, they are not going to eat it.
Life is too busy to make two meals anyway! Make a healthy meal and serve it. If they don't eat it, then save it for later. Don't offer anything else at this point. Let them get hungrier, and when they ask for something, offer them the same plate that they didn't eat earlier.
#2 BE A GOOD ROLE MODEL
If mommy and daddy aren't eating the vegetables, neither will they. Everyone needs to sit down together and eat the same thing. I have heard so many moms complain that the reason they can't cook healthy meals is that their husband is so picky, and in return, the child is picky.
#3 DON'T MAKE A HUGE DEAL ABOUT THE MEAL
It can make it worse if you talk the meal up and tell them how good it is going to be. The more you talk about the meal, the worse it can be for the child. Just serve the meal and talk about the child's day. Sometimes overthinking it can make it harder for the child.
This post contains affiliate links, which means I make a small commission at no extra cost to you. Get my full disclosure HERE.
#4 SERVE MEALS WITH HEALTHY DIPS
All kids love sauces and dips, well, at least all the ones I have fed do! You can make homemade dips or buy healthy ones from the store. Offering a dip can help your picky eater to eat things they have never eaten before.
Try serving BBQ sauce or ketchup with meat and a healthy ranch with veggies. I will list (and link) some of our favorite healthy dressings below.
Homemade Honey Mustard (This dip is my kid's favorite! They love it with everything, especially chicken.)
Homemade Ranch or Tessemae's Ranch
#5 LET THE KIDS GET IN ON THE COOKING
Bring the kids into the kitchen and let them help. I have noticed that kids are more likely to eat something if they helped prepare it. Let them stir and pour the ingredients into the bowl. Let them help set the table; my daughter loves to do this!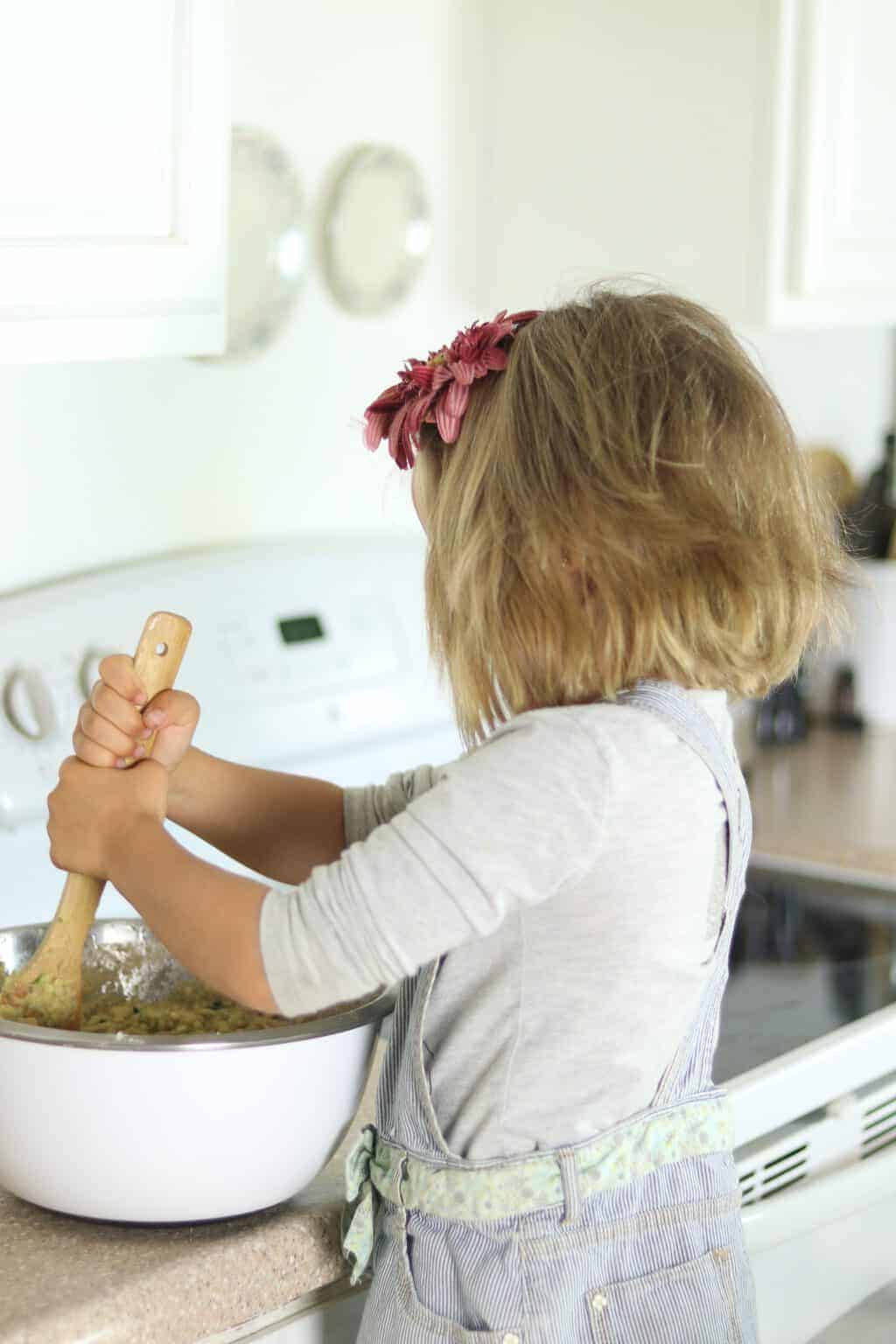 #6 OFFER AN INCENTIVE
Yes, I am talking about a bribe! Of course, this isn't the best solution, but the goal is to do this in a way that they don't notice they are being bribed.
If I have a meal planned that I know my kids don't love, this is usually soup; I offer a dessert if they finish. Dessert usually consists of applesauce, a piece of fruit, or healthy brownies. As we sit down to dinner, I tell them that if they finish their bowl of soup, they can have a piece of fruit.
#7 SERVE SMALLER PORTIONS
If you serve your child a huge plate of something they don't love, they may feel overwhelmed. Instead, offer small portions so it looks more manageable to the child.
If you are serving something, you know your child loves, then give them more of that and less of the thing you want them to try. They can always get more if they end up liking it.
#8 DON'T DO SNACKS
If you know you are making something for dinner that your child isn't going to love, then they need to be extra hungry. Unless they are actually hungry, they won't be as willing to try. So often, kids will try to fill up on snacks and not eat much of anything at mealtimes. If they know a snack is coming, they may not eat, knowing they can get full later.
If you have young children or active kids that need snacks, offer healthy ones. Here are a few of our favorite snacks:
Avocado with salt- I just cut the avocado in half, sprinkle with salt, and let them eat it right out of the peel.
Almonds and raisins
Apple and peanut butter
Fruit
Applesauce
Find more snack ideas HERE.
#9 MAKE FOOD FUN
Cut the veggies and fruit into cute shapes.
Give your child several different pieces of fruit and vegetables that are different colors. Let them make a design with them.
One of my kid's favorite snacks is ants on the log. They love to help make these, and they really love to eat them—spread peanut butter or almond butter on a piece of celery and top with raisins.
#10 DISGUISE VEGETABLES
I put this one last because it is the last resort. I rather not have to disguise vegetables and just want my kids to eat them. If your child refuses, then you can try some of these tricks.
Add a handful of spinach to a fruit smoothie. Check out some of our favorite smoothies HERE.
You can add shredded zucchini to almost anything! During the summer months, when I have lots of zucchini, my family eats zucchini everything! You can even add it to meatloaf, and it makes it moist and delicious. No one even noticed I added it.
I love to buy cauliflower rice to add to soups, stews, and stir-fries. You can easily add it to mashed potatoes too!
IN CONCLUSION
Try to make mealtime fun! Let the kids get involved and help to make the meal. Offer fun shapes, colors, and dips to make the plate look more exciting. Don't overdo it; offer small amounts of new foods, and talk about other things than foods when you sit down for dinner.
I hope these tips will make your mealtime less stressful! Share your thoughts and ideas in the comments below!
PIN IT FOR LATER