Looking for a natural solution for healthy hair and glowing skin without breaking the bank? Soap nuts are your answer! Read about the benefits of soap nuts right here in this post.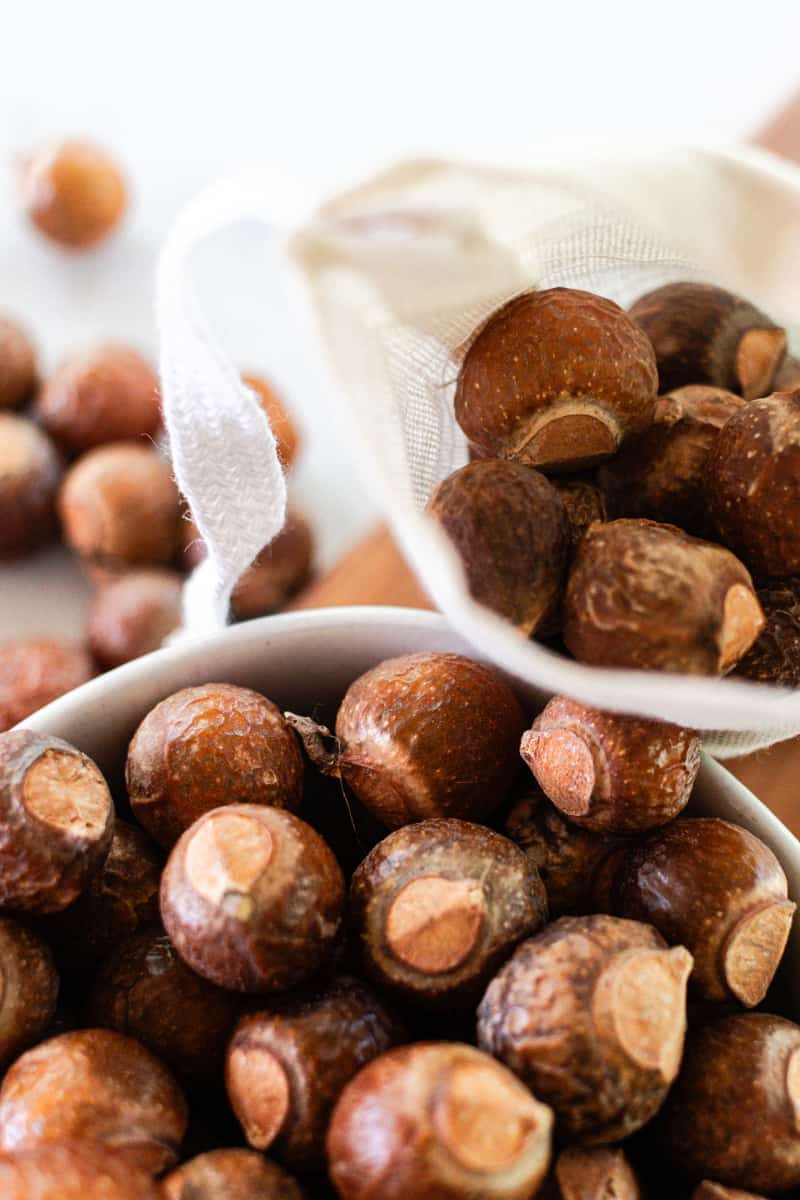 Soap nuts are one of my favorite things right now. There's just no limit to how they can be used!
From laundry detergents to haircare, jewelry cleaning, and skincare – soap nuts have been around for centuries… and they're here to stay.
Not only are soap nuts totally free of nasty artificial chemicals, but they also deliver numerous health benefits, such as promoting scalp health, stimulating hair growth, and gentle skin cleansing and exfoliation.
In this post, you can explore the various benefits of soap nuts for hair and skin. Enjoy!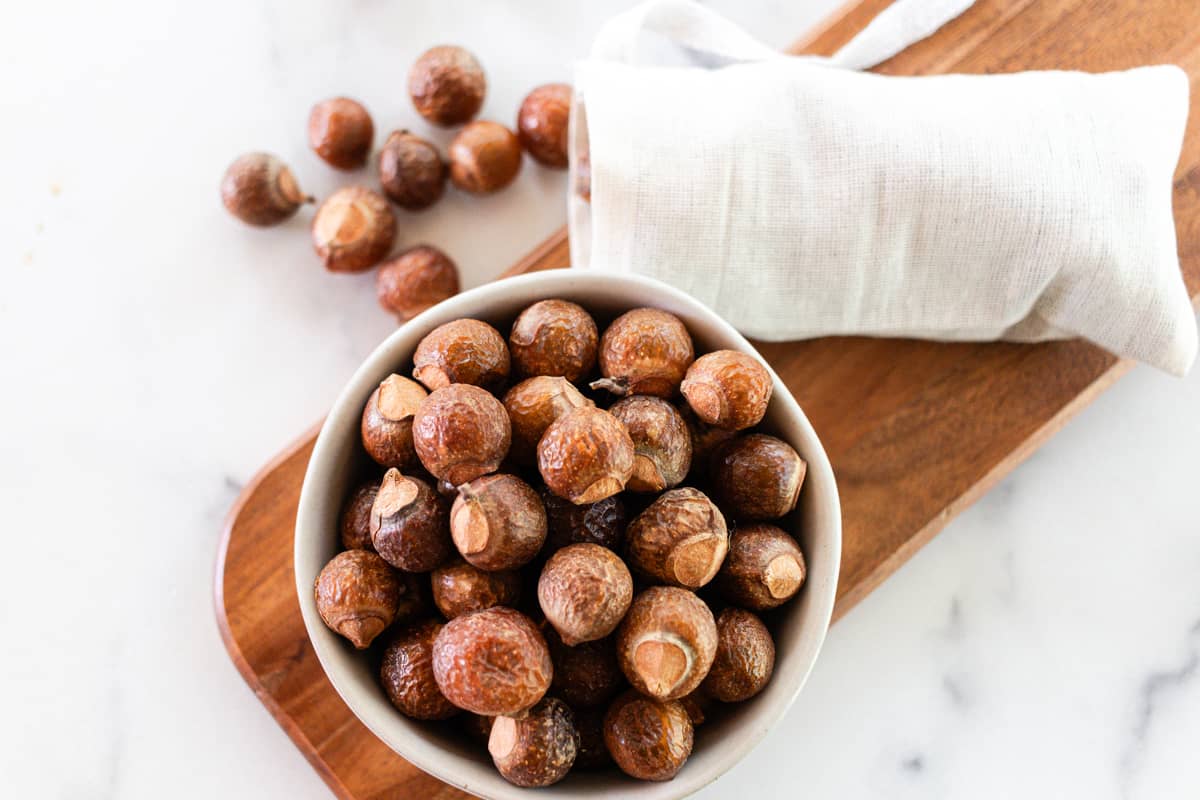 What is a soap nut?
Soap nuts are a natural form of non-edible dried fruit coming from the Sapindus tree, native to some countries, including India and Nepal. They've been popular in Ayurvedic cleaning methods for centuries.
When placed in water, soap nuts produce a mild lather due to a natural compound called Saponin.
Saponin is a surfactant that removes dirt and particles from clothes – and can also be used in skincare and haircare.
Essentially, soap nuts are a traditional cleaning agent with great benefits for the environment too, being 100% biodegradable and non-toxic.
The great news is aside from laundry use; soap nuts can be used for many different things, saving time and money.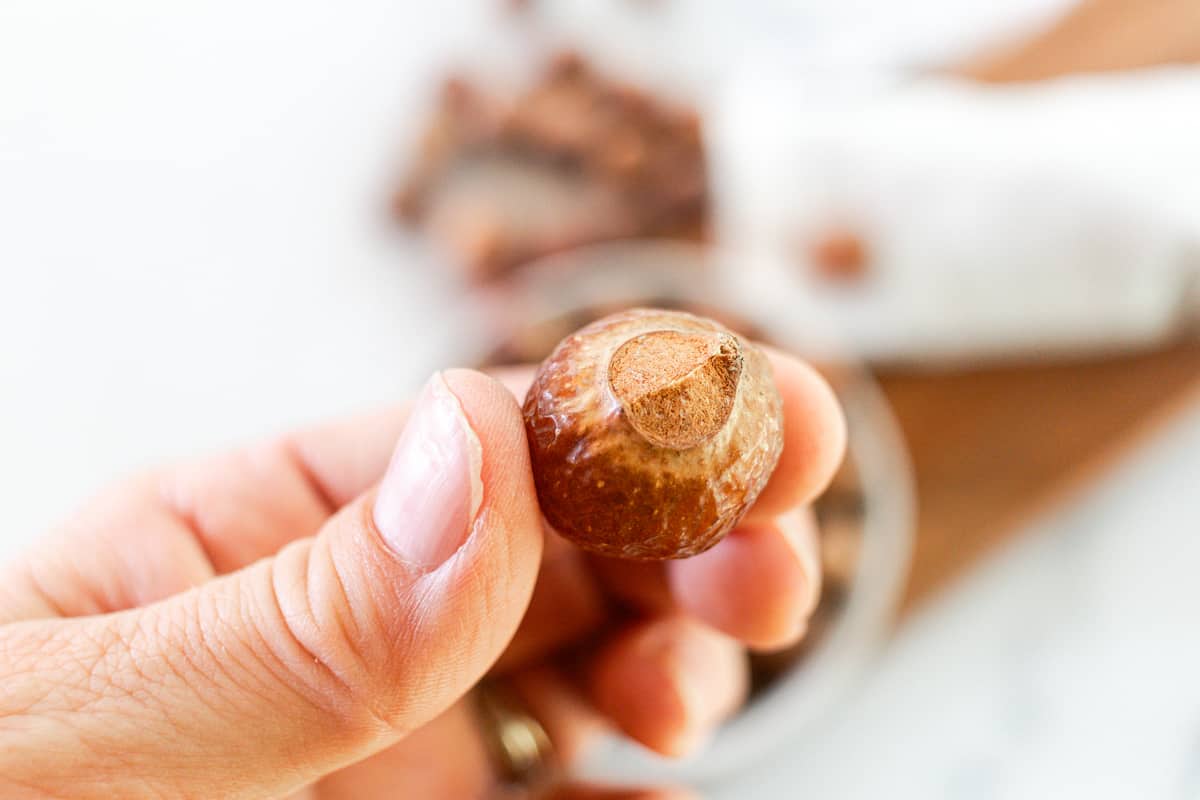 This post contains affiliate links, which means I make a small commission at no extra cost to you. Get my full disclosure here.
Benefits of soap nuts for hair
Soap nuts are a natural way to address various hair and skin care needs.
They offer a cleansing action by default from the suds that build up when in contact with water.
Meaning they're great for encouraging healthier scalp skin and, some believe, stimulating hair growth too.
Their slightly abrasive texture makes for excellent exfoliating properties – useful to help remove dandruff flakes from the hair and reduce dry skin on the scalp too.
Another huge benefit is the cleansing ability of soap nuts.
They work great if you've got hard water buildup in your hair or your hair feels heavy and lackluster.
Oh, and let's not forget about the moisturizing qualities of soap nuts.
They really help decrease frizz and reduce dry ends by adding natural moisture back into the hair with every wash!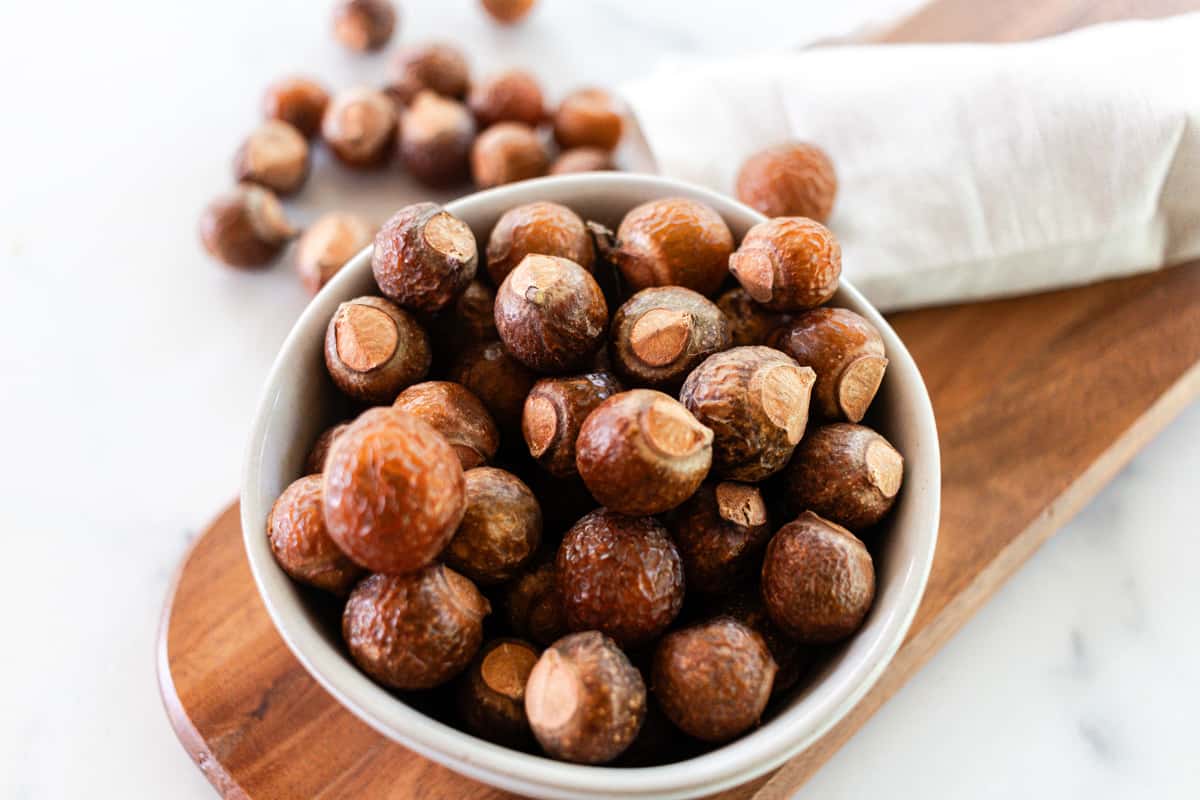 Benefits of soap nuts for skin
The best thing to me about soap nuts for the skin is that they gently exfoliate, removing dead skin cells to reveal brighter, cleaner skin underneath.
They're fantastic for oily and sensitive skin types; they're 100% natural, making them less likely to trigger a skin upset.
They're hypoallergenic, meaning minimal allergy risk, which is excellent for sensitive skin types.
So too, are soap nuts renowned for balancing out skin tone, helping decrease the appearance of age-related spots or redness, and giving skin that flawless look we all love.
Also, soap nuts are great for acne-prone skin due to naturally occurring antibacterial and antifungal properties.
They can cleanse the skin, too, and could easily replace some of the more expensive cleansers you can buy.
The Saponin in soap nuts is a cleansing agent that removes impurities without drying the skin.
Another benefit is that soap nuts condition the skin. Therefore, go ahead and cleanse your skin or use soap nuts as an exfoliator. By doing so, you'll improve your skin's condition simultaneously.
Not only do they work great, but they're environmentally friendly too.
I think soap nuts don't cost too much money either; a little goes a long way, so a bag of soap nuts or soap nut powder will last and last.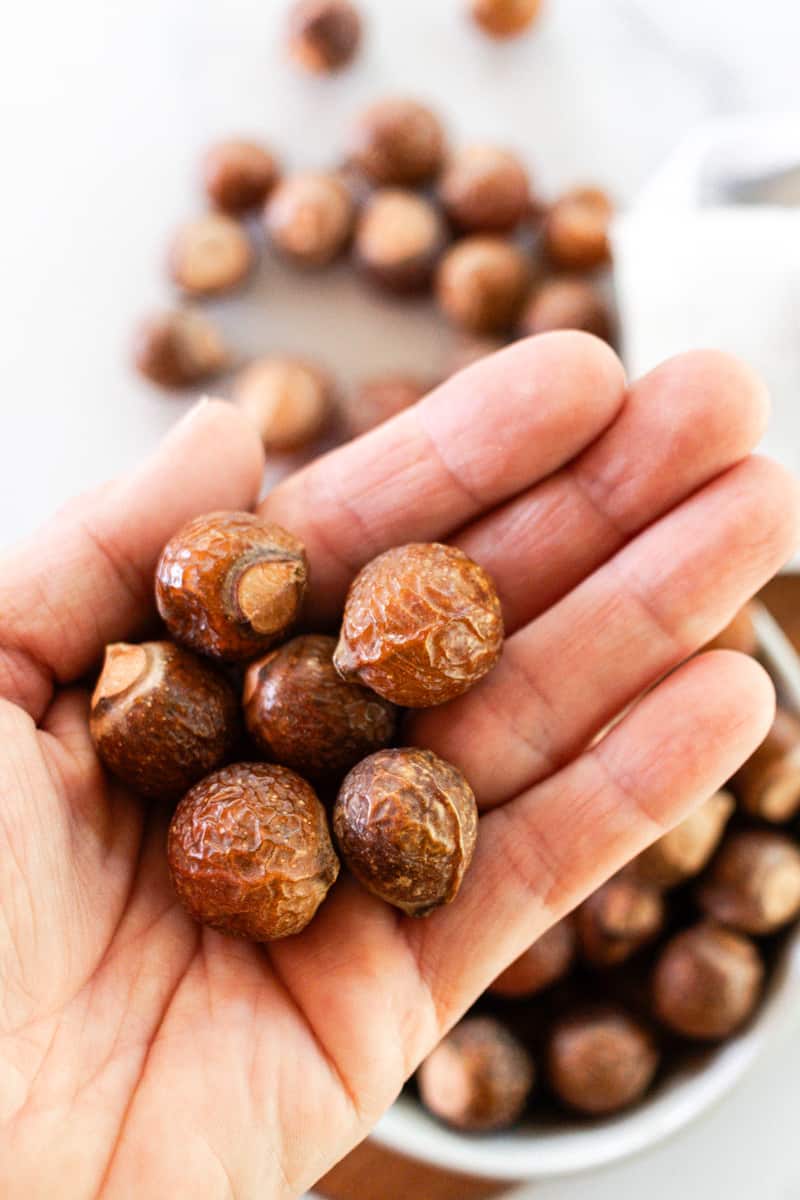 How to use soap nuts
By using soap nuts to replace conventional chemical-laden products, you'll not only improve the health of your skin and hair, but you'll be doing so sustainably.
Here are some ideas for how to use soap nuts in your beauty and home routine:
Hair shampoo: If you're using whole soap nuts, you need to grind them into a powder first. You can then mix a little soap nut powder with water to make a paste and apply it to wet hair before rinsing.
Laundry detergent: Check out my recipe for making and using soap nut laundry detergent here.
Face Cleanser: Mix soap nut powder again with some warm water and apply directly onto your face in circular motions. Then rinse and pat dry.
Where to buy soap nuts
Soap nuts are widely available online. I'm sure depending on where you live, you may find them in your local stores; however, where I live, the only option is purchasing them online.
I personally purchased these whole soap nuts here and this soap nut powder.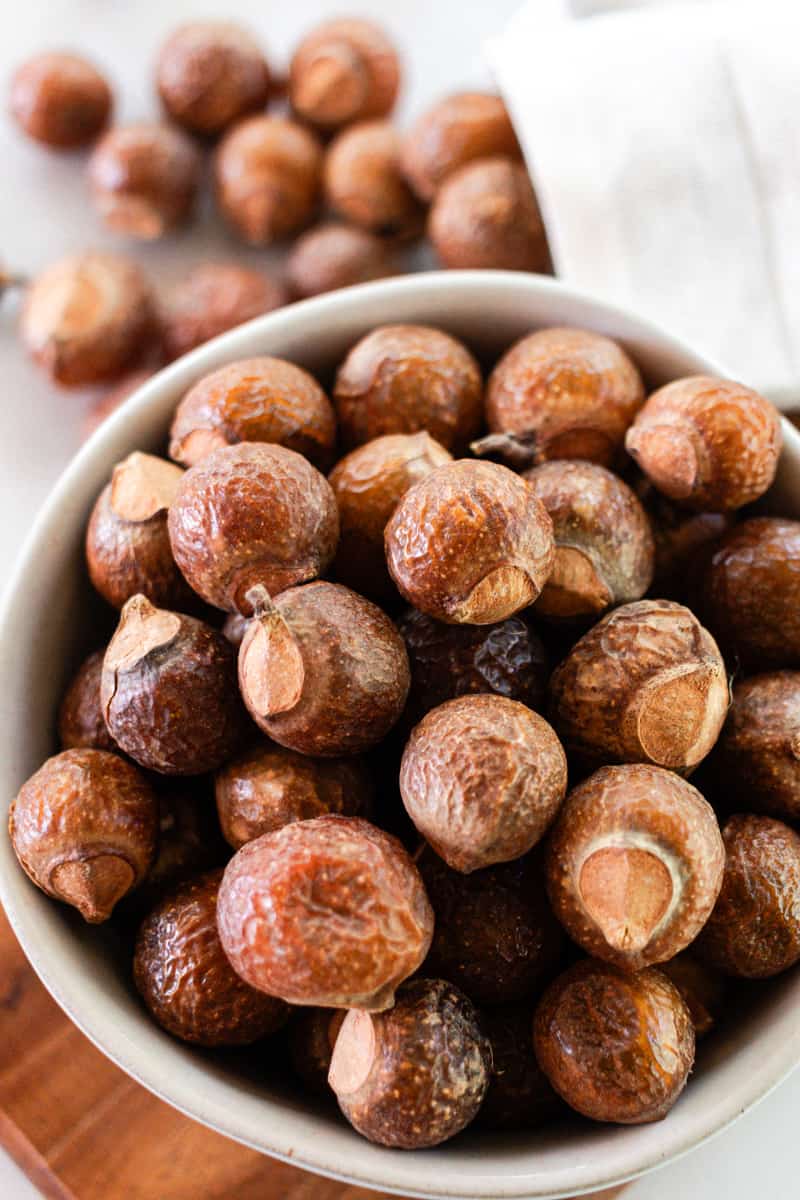 FAQs
How often can I use soap nuts?
The answer depends on what you're using soap nuts on. Say you're using them for dry or sensitive skin. It's best to limit using soap nuts to a maximum of once or twice a week.
For oily skin, you can use them up to three times a week.
As for hair care, if you have normal hair, it's best to use soap nuts once every two weeks; for oily hair, you can use them once a week.
My understanding is if you use soap nuts every day, their effectiveness wears off somewhat, which is why I don't advocate for this.
Are there any side effects?
Not that I'm aware of. Unlike traditional detergents and cosmetics that contain harsh chemicals, soap nuts are gentle and usually non-irritating.
But! As with any product, do a patch test first before using it all over your body.
How should I store soap nuts?
Soap nut shells should be stored in an airtight container in a cool, dry place away from sunlight and moisture. A dry cabinet is perfect.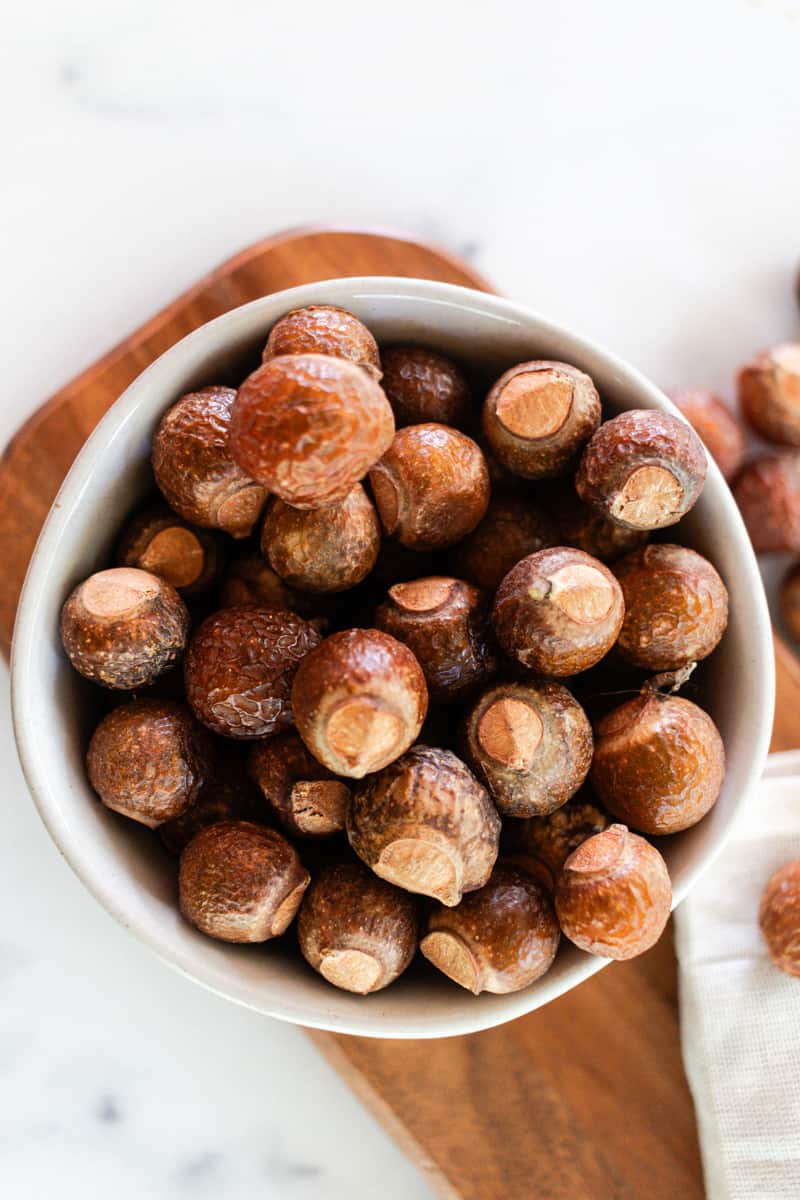 What is the shelf life of soap nut shells?
If stored correctly, the shelf life of soap nut shells is around one year from purchase.
I hope you enjoyed this post about soap nuts! If you have any comments, please drop them down below in the comments section.
Here are some great reads to move on to next: