Easy, quick, and cost-effective, this method for a homemade makeup brush cleaner works wonders. You'll never need to buy new makeup brushes again!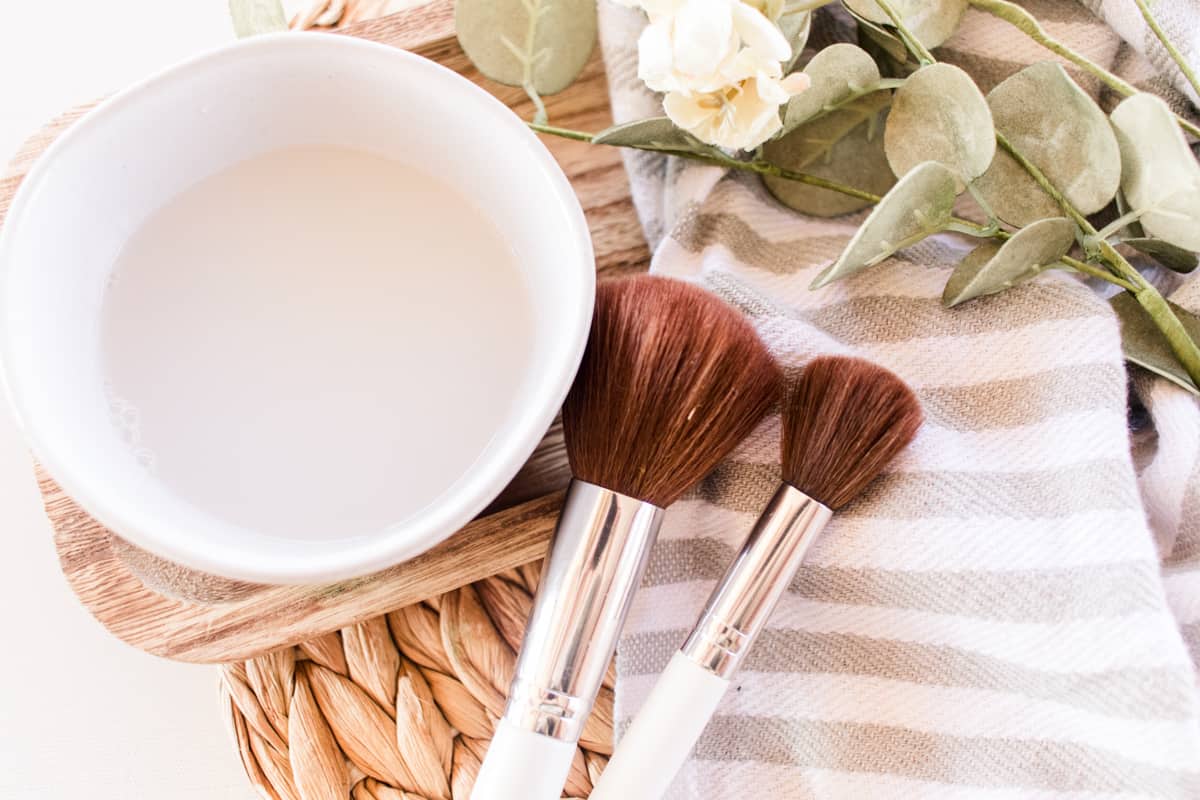 It's one of those essential tasks on every woman's to-do list that always gets pushed to the back of the pile.
Enter: Cleaning makeup brushes! It needs doing – but we rarely do it often enough!
I'm embarrassed to admit that I don't clean mine that frequently. Though, to be true to me – they don't get much usage either.
Still, it's better to be safe than sorry regarding hygiene. So – makeup brush cleaning it is!
This homemade makeup brush cleaner is a great way to spruce up brushes that haven't been cared for in a while.
Think along the lines of eyeshadow brushes, lip brushes, or blush brushes that sit for ages in dark cabinet drawers or dressing tables gathering dust.
You know the ones. All clogged up with debris and dried makeup (yuck.)
Eventually, they'll be so stiff that they become unusable and would usually get tossed out. Yet all you need to do is give them a clean!
Discover my homemade makeup brush cleaner recipe in this post. It contains just two ingredients and takes zero time to make.
You'll have clean makeup brushes ready to use in a flash!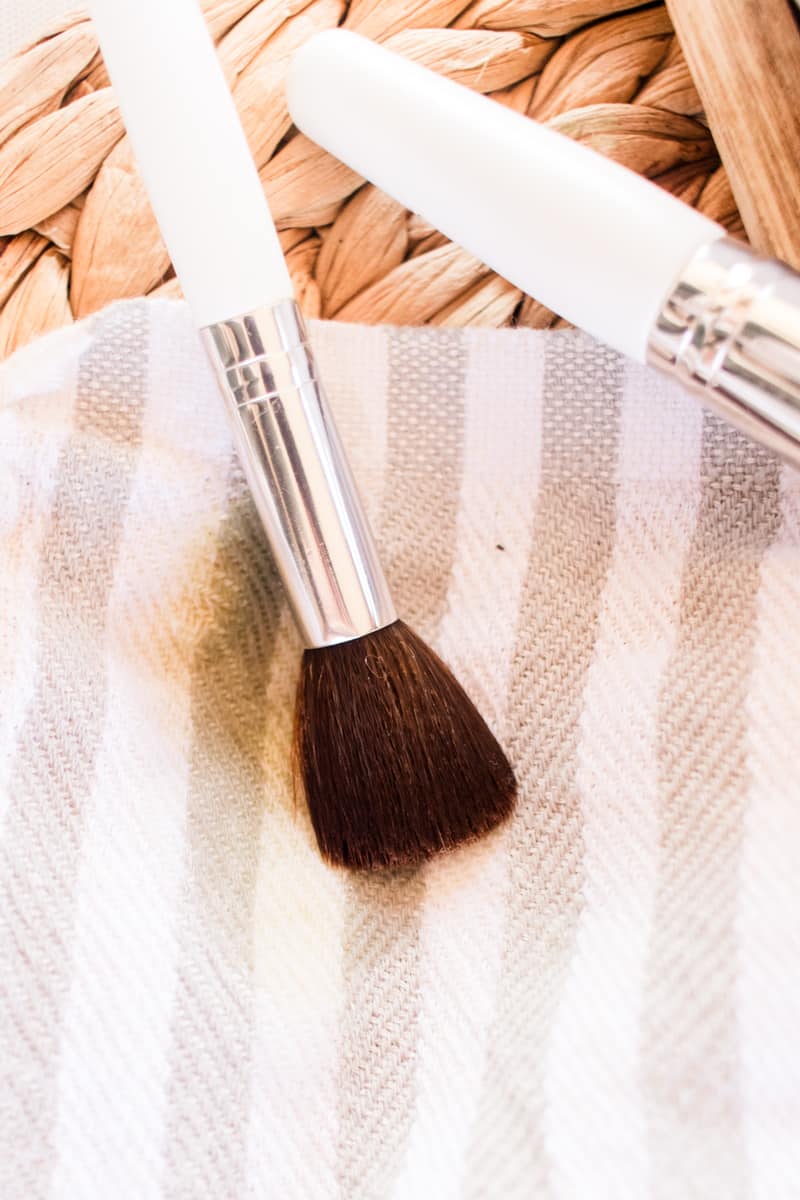 What is makeup brush cleaner?
A homemade makeup brush cleaner is designed for gentle yet effective cleaning of makeup brushes.
It's an easy, no-fuss method that saves time and money and simplifies your life.
Containing only natural ingredients, a homemade makeup brush cleaner is far kinder to your home environment and less abrasive to makeup tools than a conventional store-bought solution.
Using a makeup brush cleaner DIY version will save money and help keep makeup brushes looking and working at their best.
This works twofold. You use your makeup brushes on your skin to apply makeup – and any cleaning product would risk rubbing onto the skin as a result when applying makeup.
With this homemade makeup brush cleaner recipe, you don't need to worry about that whatsoever.
It's suitable even for sensitive skin. So it shouldn't cause outbreaks like many other cleaners can do.
Why you will love this recipe
It's kinder to your makeup brushes (and therefore your skin!) A homemade makeup brush cleaner will enhance the lifetime of makeup brushes while not irritating your skin when applying makeup. Win-win!
It's affordable to make and use. You only need one ingredient to make this recipe, so you'll save money vs. buying a store-bought makeup cleaner.
It's customizable. You can go for an unscented makeup brush cleaner or add some essential oils to bring on some fragrance. You choose!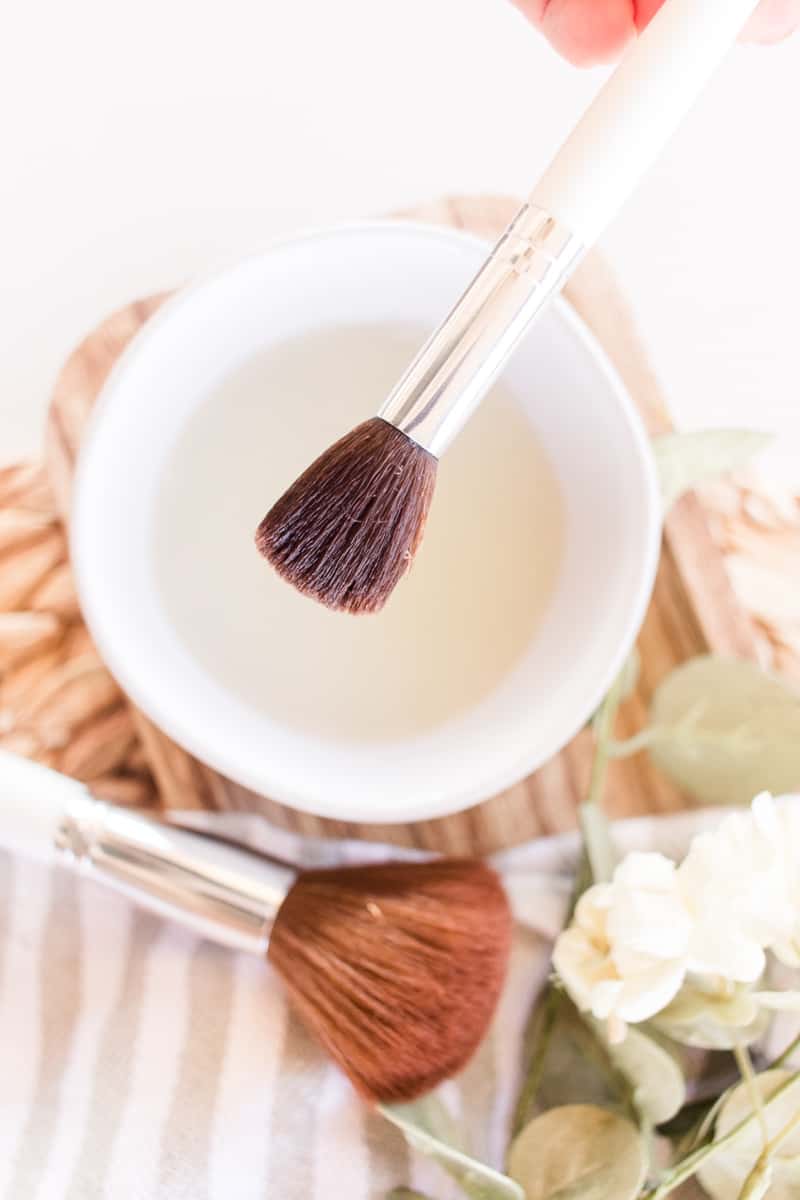 A few key ingredients
I love DIY recipes! They use fewer ingredients and are much kinder to your skin and the environment.
This recipe only needs castile soap and water. Have a towel nearby to dry your makeup brushes afterward, but that's it. Nothing more is required!
Castile soap is a natural, vegetable-based soap with zero harsh chemicals and doesn't contain any synthetic materials.
It's been used for centuries and is famous for being an alternative to manufactured soaps.
Many people love castile soap because it's gentler to use on the skin than synthetic soaps and causes fewer allergies.
It has a moisture-boosting and cleansing soap base, making it perfect for use as an all-over body wash.
Most castile soaps are made from biodegradable materials such as olive or coconut oil. Meaning, good news for your body and the environment!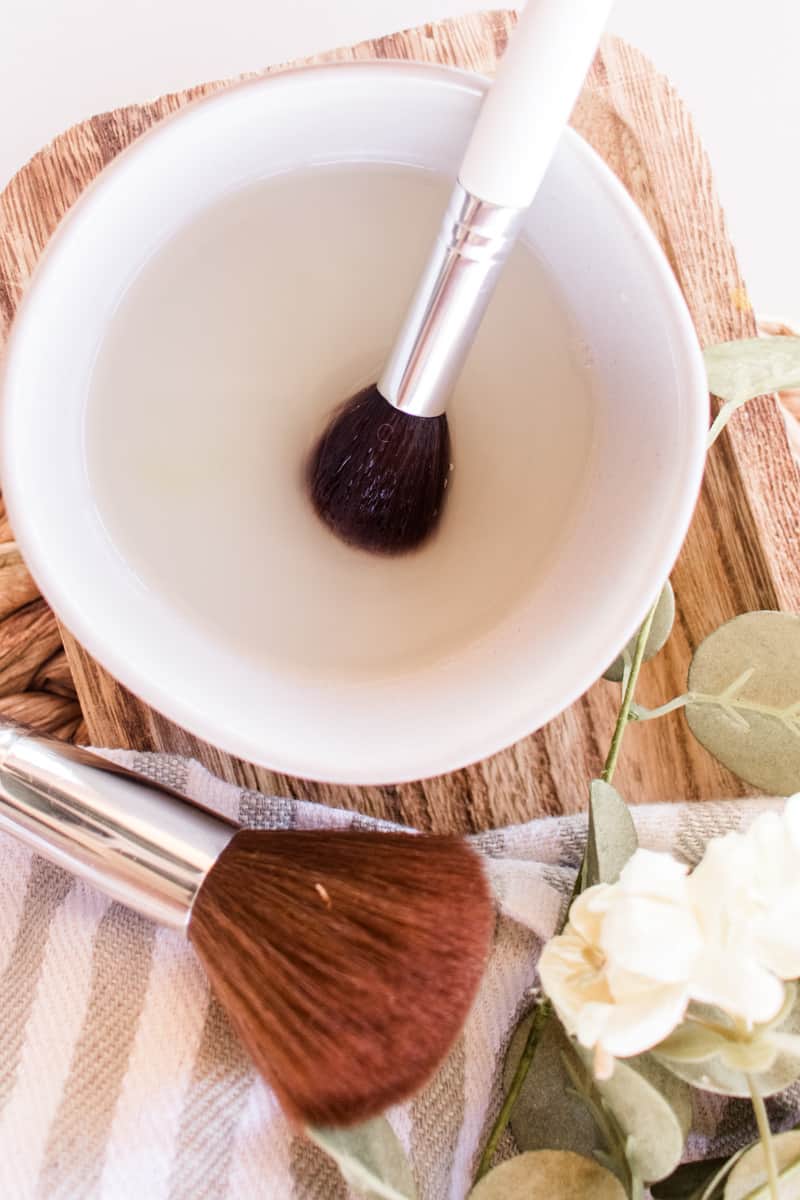 This post may contain affiliate links, which means I make a small commission at no extra cost to you. Get my full disclosure here.
how to make homemade makeup brush cleaner
For this recipe, you'll need
Warm water
Castile Soap (scented or unscented, as you prefer)
Towel
Instructions:
Combine a teaspoon of soap with 1/4 cup of water in a small bowl (warm water works best)
Swirl the brush tip in the soap while pressing on the sides of the bowl until the makeup debris comes off, then rinse under cool water.
Repeat step 2 until the water runs clear.
Pat dry bristles. Ensure they still keep their shape and place them on a towel to dry.
In my experience, leaving makeup brushes to dry for at least 12 hours is worthwhile (have you ever tried applying makeup with a wet brush? Gross!)
How often should you clean makeup brushes?
I recommend cleaning makeup brushes once a week.
This is so they stay fresh and work better for you, plus you avoid passing unnecessary bacteria onto your skin.
Makeup brushes are notorious for harboring dirt and grime. So giving them the cleaning they and your skin deserve is a none negotiable!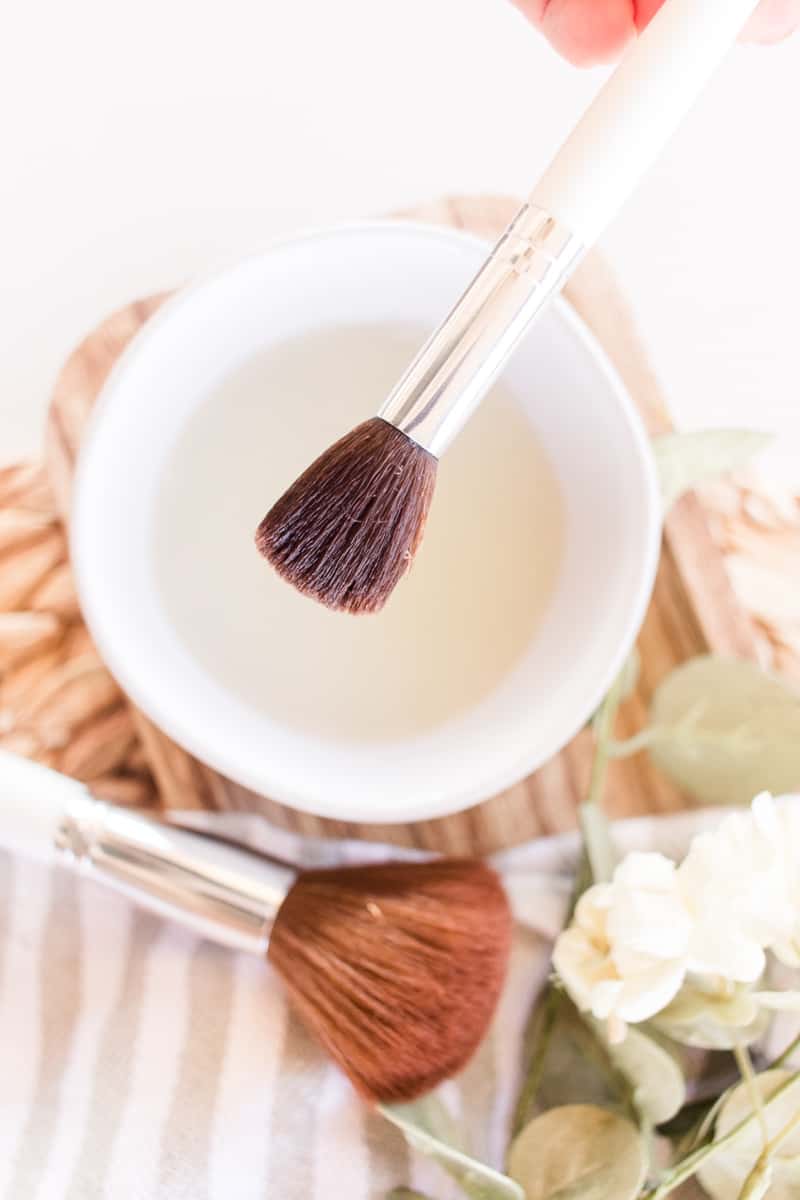 tips/FAQs
My biggest tip is to keep the bases of your makeup brushes out of the water when cleaning them with castile soap.
Whether you use wooden or plastic-stemmed brushes, they will certainly last longer if the base is kept dry during cleaning, meaning only the bristles are washed with soap.
Try, if you can, to get into a habit of cleaning makeup brushes once a week. This will really help your brushes last that much longer and prevent your skin from being irritated by crusty makeup debris.
If you wear makeup daily, you'll notice a big difference in how your makeup feels when applied with clean brushes.
You'll also see how cleaning them keeps your makeup routine fresh and hygienic.
Lastly, this is a one-time use cleaning solution – so once you've cleaned your brushes, throw it out.
You'll need to make a new batch the next time around, but that's the beauty of castile soap. A bottle lasts a long time!
how long do makeup brushes last
There is no clear answer to how long makeup brushes last, but you can definitely help them last longer by cleaning them regularly and looking after them.
My best advice is if you have kids – keep your makeup brushes away from them! Little fingers love to pull out the bristles or, worse, pop them in their mouths.
Saying that, I have some makeup brushes which are years old and still going strong!
If you enjoyed this post, let me know by leaving a comment below. I'd love to hear from you!
If you are looking for more bath and beauty recipes, check out one of these posts next.
Yield: one solution
Makeup Brush Cleaner Recipe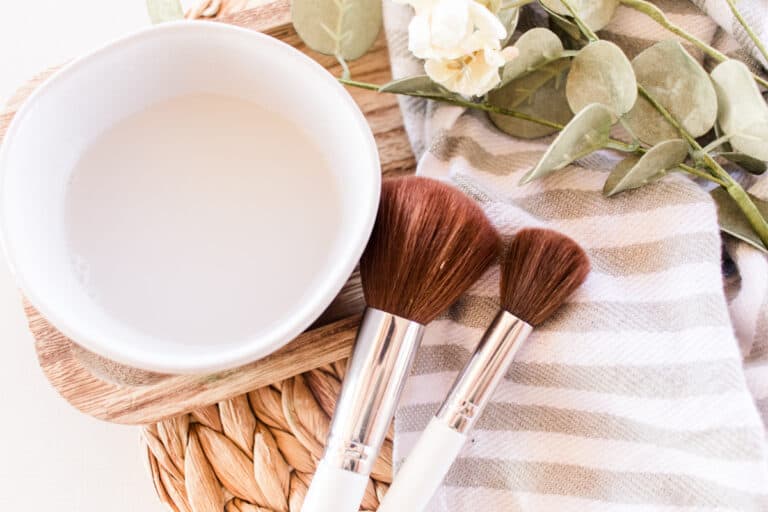 Enjoy cleaner makeup brushes with this simple cleaning method. It works great!
Instructions
Combine a teaspoon of soap with 1/4 cup of water in a small bowl (warm water works best)
Swirl the brush tip in the soap while pressing on the sides of the bowl until the makeup debris comes off, then rinse under cool water.
Repeat step 2 until the water runs clear.
Pat dry bristles, making sure they still keep their shape and place them on a towel to dry.
In my experience, leaving makeup brushes to dry for at least 12 hours is worthwhile (have you ever tried applying makeup with a wet brush? It's grim!)