Come along to see what I buy at the grocery store for our large family grocery haul. Can I really make one month of healthy meals after one trip to the grocery store? See what we buy for our paleo meal plan.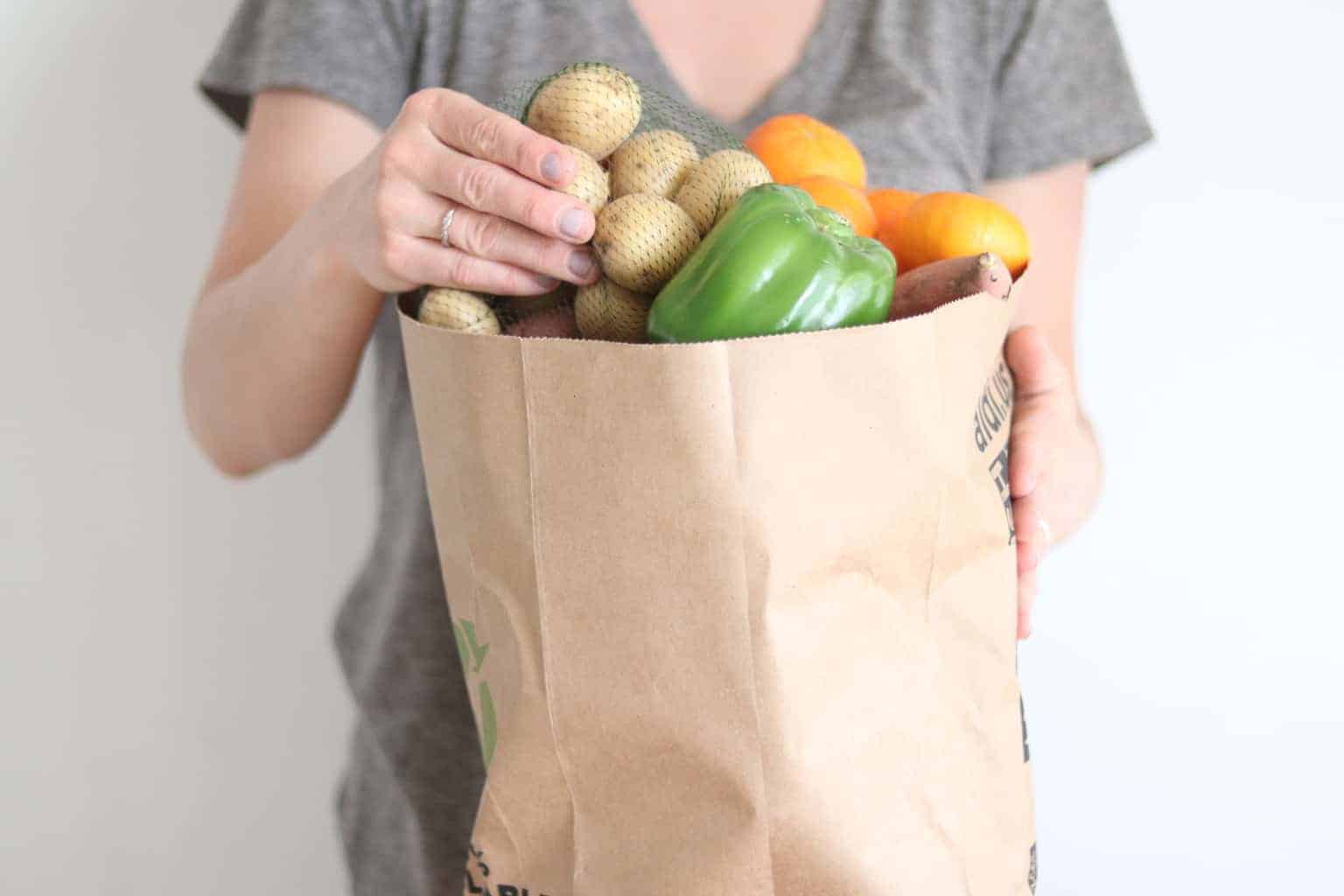 WHAT KIND OF THINGS DO I BUY AT THE GROCERY STORE?
I like to buy most of my groceries from local farmers or grow them myself in my backyard. During the winter and early spring (It is almost planting time!), I have to buy a lot more at the store.
PRODUCE
The main thing I buy from the grocery store is produce. Every year I plant a vegetable garden, and it does well. However, I never plant enough to make it through until the following spring. I don't think I'll be planting more this year to try! With the kids, animals, and life in general, gardening can be put on the back burner. I will definitely be planting, but I don't think we are ready to live off the land fully!
On a normal grocery trip, I buy lots of organic frozen vegetables, sweet potatoes, whole carrots, celery, butternut squash, organic potatoes, peppers, and onions.
I also buy a good amount of fruit. The kids are always looking for a snack, so I like to keep fresh fruit on hand for that. I refer to the clean 15 and dirty dozen list to decide what needs to be bought organic. Get all my tips for buying organic foods on a budget.
AVOCADOS
We buy a ton of avocados! Like, 50 at a time a lot. Most people think I am crazy and wonder how I can eat them all before they go bad. We do eat them really quickly, but avocados also preserve well.
If you buy rock-solid hard avocados and put them in the refrigerator, they won't ripen. I just take a few out at a time and place them on my counter. They ripen quickly at room temperature. As soon as we are running low on ripe avocados, I just set a few out.
I serve avocados with everything! It is the best side dish and filler for every meal. I jokingly say (though it is true) that avocados are my fast food.
MEAT
We have a local, grass-fed cattle farmer that we get our beef from. It is a great price, and I can buy it in bulk. My sister and I usually split half of a cow, and it is enough meat to fill the deep freezer. I love having a freezer full of healthy meats.
We get all the cuts: steaks, roasts, ribs, round steaks, and even the organs and bones. I haven't quite figured out what to do with all the organs other than the liver, and my family isn't too fond of it. We do use the bones for homemade beef bone broth.
I buy organic whole chickens from the local grocery store, and again, I like to stock up! I really hate going to the grocery store with 4 kids, so the less I have to go, the better! It is nothing for me to buy 10 whole chickens in one trip to the grocery store, believe me, it definitely won't go to waste.
DAIRY
Similar to the meat, we have a local dairy farmer; when I say local, I mean right up the road! It is the best! I always thought it would be fun to have a dairy cow, but having it right up the road is the next best thing, maybe even better. No work required, yet we still get fresh, local, raw milk.
We usually visit the dairy farm once a week. My husband will use the cream off the top of the milk for his coffee. I make one gallon into yogurt.
Thankfully, we also live really close to an Amish community that sells butter. Again, I buy in bulk when I visit them! Usually, I will take all the butter they have made and split it with my sister. I store it in the freezer and defrost it as needed.
ODDS AND INS
You know all the random things you get from the grocery store? Things like avocado oil, apple cider vinegar, chips, and pasta sauce.
I mainly use coconut oil in the kitchen, which is another thing I buy in bulk from the Amish community. I like to keep avocado oil or olive oil on hand for salad dressings, homemade mayo, or things that I don't want the coconut flavor in.
We don't buy many processed or snack foods really. However, every once in a while, I will buy vegetable chips from Aldi. They are root vegetables baked with oil and salt. Other than the harmful oils that I mostly avoid, they aren't too bad of a snack, and my kids love them.
I like to keep canned tomatoes on hand for soups and stews. Once we run out of tomatoes from the garden, I start buying organic canned tomatoes.
EGGS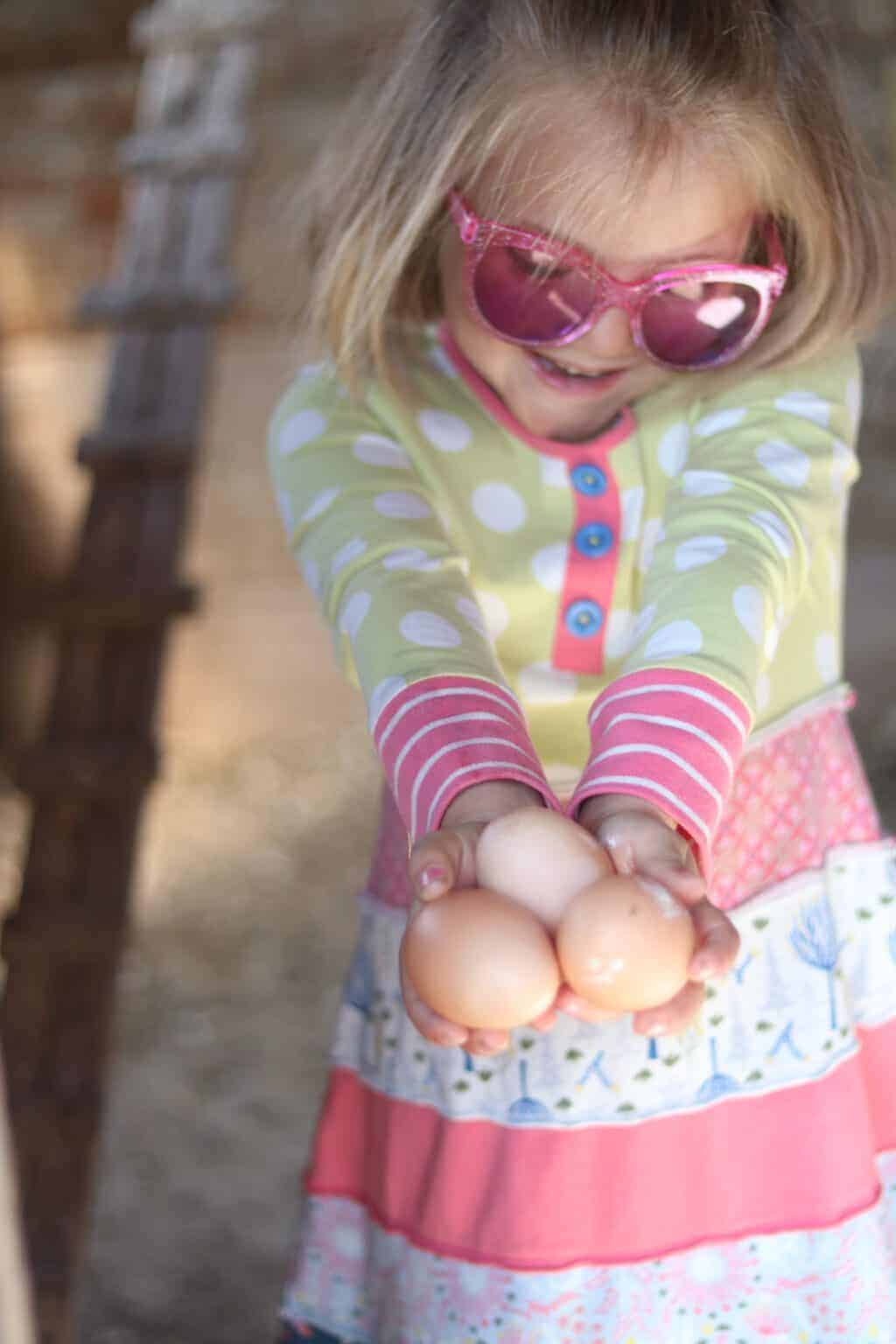 We have a flock of backyard chickens and get almost all of our eggs from them. I say "almost" because this past winter, I did have to buy a few dozen from the store.
During the colder months, hens don't lay as well, mainly because of the short days and less light. We also had some older hens that aren't laying as well as they use to. Last month, we added 10 new chicks to our flock, so next winter, we should be good to go!
DO I REALLY ONLY SHOP ONCE A MONTH?
Yes, pretty much. It isn't like I have a set date or anything, but it is about once a month. Every so often, I have to run in for a thing or two for a recipe or a blog post. But I always do buy in major bulk to make it where I don't have to do a big grocery haul more than once a month!
If you have the room to store it and if you have a deep freezer, why not?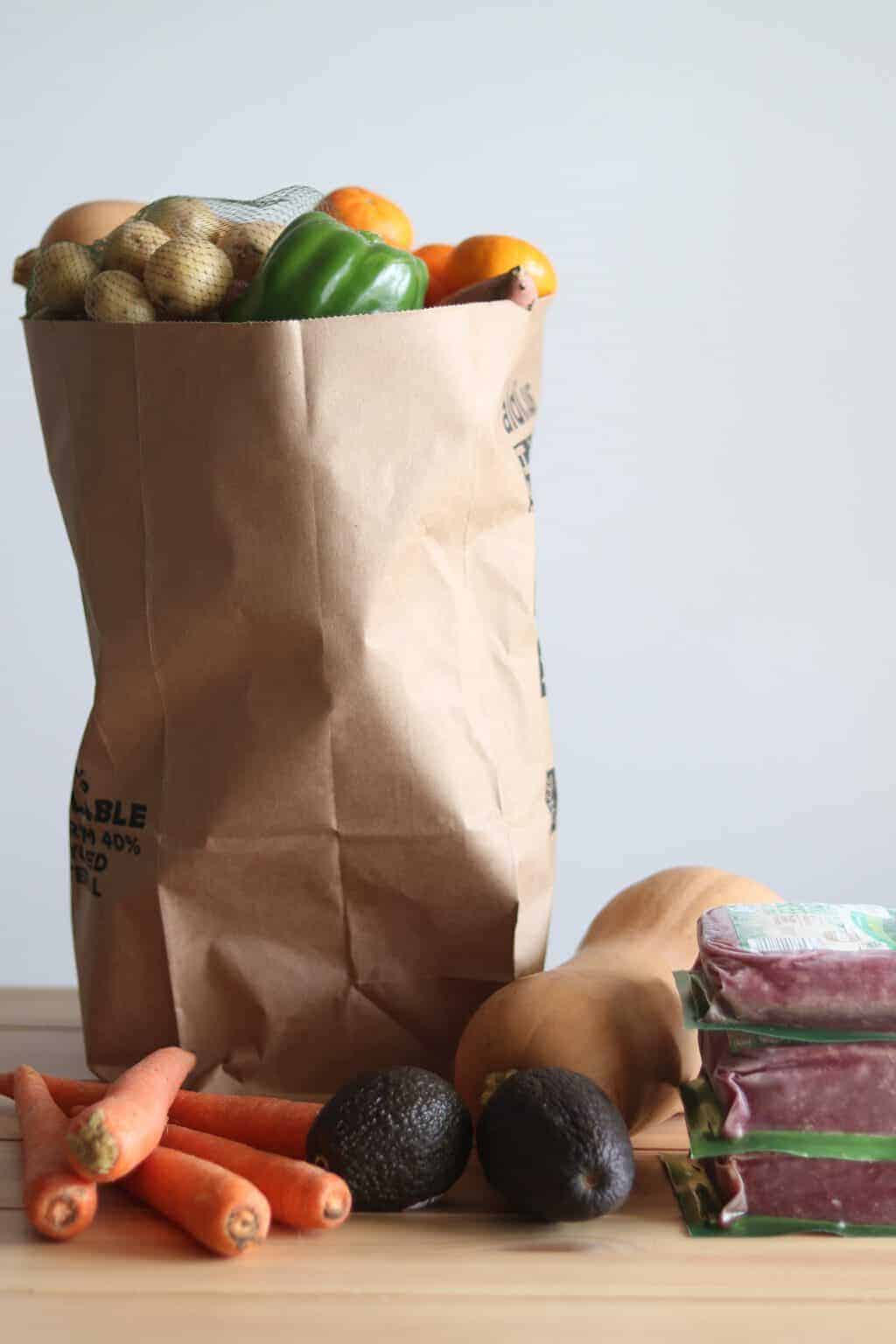 DO I BUY ANY FOOD RELATED ITEMS ON AMAZON?
Oh, yes, definitely! I have a few staple items that I get shipped straight to my door — things like coconut flour, almond flour, coconut sugar, coconut milk, and coconut aminos. Apparently, we like coconut! I didn't even notice that almost everything I bought online was in the coconut family until I typed that.
We do a lot of gluten-free and dairy-free baking around here. I found that those specialty items are cheaper on Amazon than at the grocery store.
MY FAVORITE THINGS TO BUY FOR OUR PANTRY ON AMAZON…
This post contains affiliate links, which means I make a small commission at no extra cost to you. Get my full disclosure HERE.
Shop my affiliate links:
ARE YOU A HEALTH FOODIE? CHECK OUT A FEW OF MY FAVORITE HEALTHY RECIPES
Paleo Chicken Strip and Dipping Sauce
What We Eat in a Week- Whole 30 Dinners
PIN IT FOR LATER