Are essential oils safe for pets? Let's discuss the do's and don'ts about using essential oils on your pets.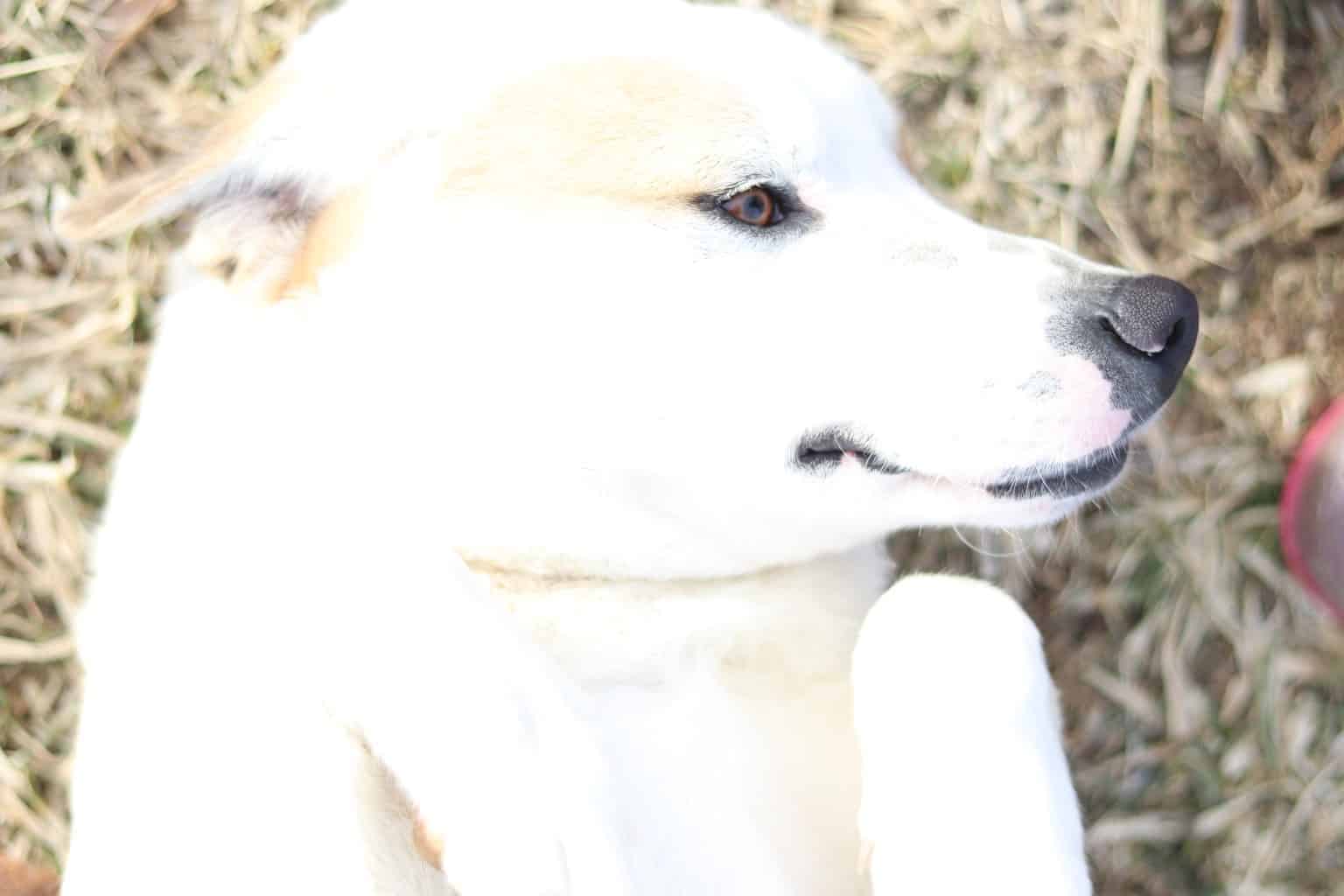 This blog post was a long time coming, and I would have saved myself some time if I would have written it sooner. Readers are always asking if essential oils are safe for pets. Don't get me wrong; I appreciate the questions and suggestions. I am here for you and want to write what you want to read!
If you search this topic on google, you will get an array of answers that are all over the board. Today, I am going to share my thoughts and research on the subject.
We live on a 3-acre lot in a small neighborhood. We have 2 puppies and 15 chickens. I had turned to essential oils when we had sick chicks and when our dogs were covered in ticks during the summertime. Though I don't use oils on them often, I am glad I have them when I need them! When I went outside to grab a few pictures of the pups for this post, I found out that they were scared of my camera. Ha! I am not sure why but they wouldn't come near me and had their tails in between their legs. It was quite comical!
ARE ESSENTIAL OILS SAFE FOR PETS?
Yes and no! First, we have to remember that not all essential oils are created equal. If you have been hanging around here for a while, you know where I am going with this.
Here is the thing, the FDA does not regulate essential oils so, you can't really trust the labels. You actually have to do your own research and really dig deep into how your oil is sourced and the testing it goes through. Many oils you find at local stores and on amazon can be fake, diluted with water, or have added fillers and contaminates. You can learn more about why I choose DoTERRA here.
If you are using high-quality essential oils free of added fillers and contaminants, then YES essential oils can be used safely on your pets. But there are a few things to know before doing so!
HOW TO USE ESSENTIAL OILS SAFELY FOR PETS?
This post contains affiliate links, which means I make a small commission at no extra cost to you. Get my full disclosure HERE.
You can use essential oils topically, aromatically, and internally with your pet if using the safety guidelines listed below. It is not recommended to use essential oils on puppies or kittens under 10 weeks of age.
TOPICAL USE
If you follow the safety tips listed below, you can use essential oils topically on your pets.
ALWAYS DILUTE
Essential oils are very powerful, potent, and concentrated. When using essential oils topically on your pets, always dilute. In fact, animals can't metabolize essential oils as fast as we can, so we need to dilute them even further for our furry friends.
AVOID EYES, NOSE, EARS, AND GENITAL AREA
You should never apply essential oils near or in the animal's eye. Or in the animal's ears, nose, or genital area. You can apply diluted essential oil on the outside of the ear; in fact, that is a great place to apply it when trying to calm your pet. Just be sure to avoid getting the essential oil in the ears.
HOW TO APPLY
DOWN THE SPINE- Apply diluted essential oil along the animal's spine and massage into the fur.
ON THE EARS- Apply diluted essential oil on the outside of the ears or behind the ears.
ON THE PAWS- Just like humans apply essential oils to the bottom of the feet, you can apply essential oils to your pet's paw.
AREA OF CONCERN- If your pet has a skin issue or cut you are trying to cleanse or purify, you can apply essential oils diluted directly to the spot.
AROMATIC USE
Remember that most of your pets, especially dogs, have a more sensitive sense of smell. Let your pet be the judge; they will let you know if they like the scent or not. Just like humans, they can prefer certain aromas over others. You can experiment with different oils and see how they react and benefit from them.
DIFFUSERS- Most essential oils are safe to diffuse in your home while your pets are around. However, your pets may not prefer some of your stronger scented oils.
DIRECTLY- Humans can benefit from inhaling an essential oil straight out of a bottle or out of the palm of their hands; pets can not. They should not inhale essential oils without being diluted in a diffuser or carrier oil first.
COLLARS OR BED- Another great way to use essential oils aromatically for your pets is by dropping an essential oil on their collar or their bed.
INTERNAL USE
This method should only be used if recommended or okayed by your vet. Also, remember that you can only ingest essential oils that are of high quality and free of contaminants. I talk more about that here. If you feel comfortable with this method, it is recommended only to use one drop of essential oil per use.
WET FOOD- Add one drop of essential oil to a cup of wet dog food.
VEGGIE CAPSULE- You can add a drop of essential oil to a veggie capsule and place the capsule in the dog food bowl.
WATER- It is recommended to use one drop of essential oil to two cups of drinking water.
ESSENTIAL OIL RECIPES FOR PETS
PET SHAMPOO
INGREDIENTS
INSTRUCTIONS
Add all of the ingredients into a small mixing bowl, stir until well combined.
Pour into an airtight container for storage. I keep mine in a glass mason jar.
Apply 1 tablespoon down the pet's spine and massage into the fur. You may use more on a larger pet if needed.
After lathering your pet, you can rinse them off with water.
FLEA AND TICK SPRAY
INGREDIENTS
INSTRUCTIONS
Mix all the ingredients together in a glass spray bottle, shake well.
You can spray this directly on the pet's fur, be sure to avoid getting in the eyes and ears. OR you can spray your pet's collar with the solution.
PET CALMING SPRAY
INGREDIENTS
INSTRUCTIONS
Drop the essential oils into an 8-ounce glass spray bottle and fill the rest of the bottle with water.
Shake well before each use.
ESSENTIAL OILS TO AVOID
Here is a list of oils that may not be safe to use on your pets:
Anise
Camphor
Cinnamon
Clove
Juniper Berry
Melaleuca (Avoid using melaleuca on cats!)
Oregano
Wintergreen
These are essential oils with strong scents that your pets might not enjoy. Listen to your pet and see how they respond.
Have you ever used essential oils on your pets? Share your experiences in the comments below!
PIN IT FOR LATER
Follow along with our oily house:
Thanks for stopping by our oily house!