This 30-day clean eating meal plan will make eating healthy easier than ever! You will find this clean eating guide includes one month of healthy breakfasts, lunch, dinner, and snack recipes. Plus, kitchen essentials and a grocery checklist for the entire month.
Get your 30-day clean eating meal plan with over 100 recipes, a one-month meal plan, and a complete grocery list HERE.
Sometimes the idea of eating healthy can seem overwhelming. It is hard to know where to start or what to buy. This 30-day clean eating guide will take all the guesswork out! It will be all you need to reset your body with nourishing foods for an entire month.
I share 30 days worth of recipes, including breakfast, lunch, dinner, and even snacks. All the recipes are gluten-free, dairy-free, sugar-free, and dye-free. Absolutely no processed foods here!
I also included a complete grocery checklist to make this even easier for you. I am rooting for you!
PIN IT FOR LATER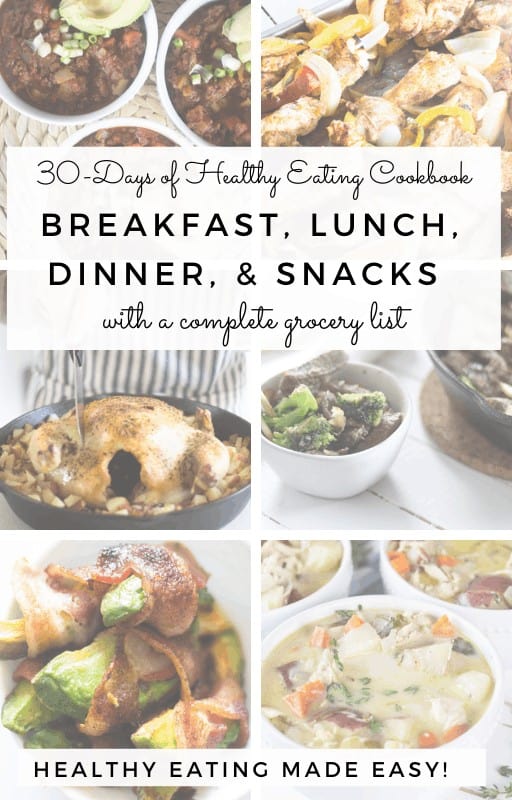 30-DAY CLEAN EATING MEAL PLAN
Eating healthy doesn't mean you have to compromise flavor. Oftentimes my husband says eating at home is more delicious than going out. I take this as a full-blown compliment.
You won't find me scamping on spices or herbs. Healthy foods like onions, garlic, and fresh cilantro are so delicious and will bring your dish to the next level.
Eating healthy also doesn't mean you have to be starving all the time. In fact, the first thing you will want to do when you start this meal plan is to stop counting calories. This simple meal plan is designed to make you feel full, satisfied, and healthy. More on this later.
HEALTHY BREAKFAST IDEAS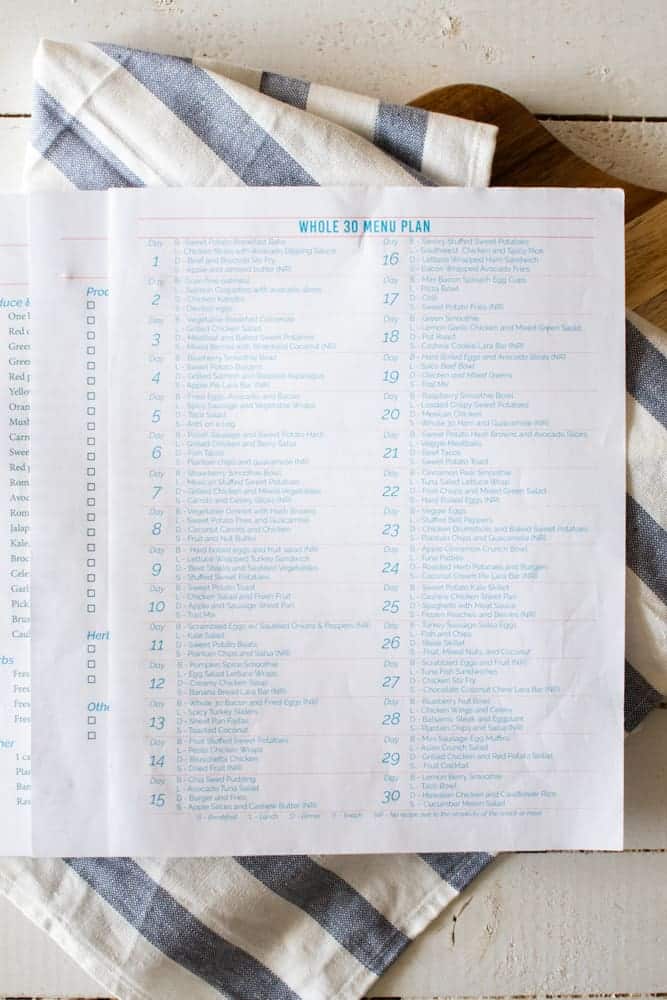 With a large flock of backyard chickens, most of our mornings consist of eggs. Fried, scrambled, hard-boiled, poached, or, if I am being fancy, omelets. But eggs can get boring after a while, or at least my kids think so!
Other than eggs, most common breakfast foods are loaded with carbs, sugars, and grains. AKA breakfast cereal, bagels, toast, pop tarts, etc. But breakfast can still be delicious and healthy, just what you need to start the day off right.
After experimenting with different recipes and ingredients, I came up with 30 healthy breakfast ideas that aren't just eggs! I share a grain-free "oatmeal," several breakfast casseroles, smoothie bowls, and more.
HEALTHY LUNCH IDEAS
Lunches look different depending on if my husband is home or not. He doesn't care, but for some reason, when he is here, I feel more inclined to make a "real" lunch. Either way, I like to make something healthy that everyone can enjoy.
In the lunch portion of the meal plan, you will find grain-free sandwiches, sustainable salads, turkey sliders, sweet potato burgers, and more.
Just like the breakfasts, you will find that all of the lunch recipes are gluten-free, dairy-free, sugar-free, and nothing is processed. I shared healthy lunch recipes that can be packed and meal prepped for those that work outside the home.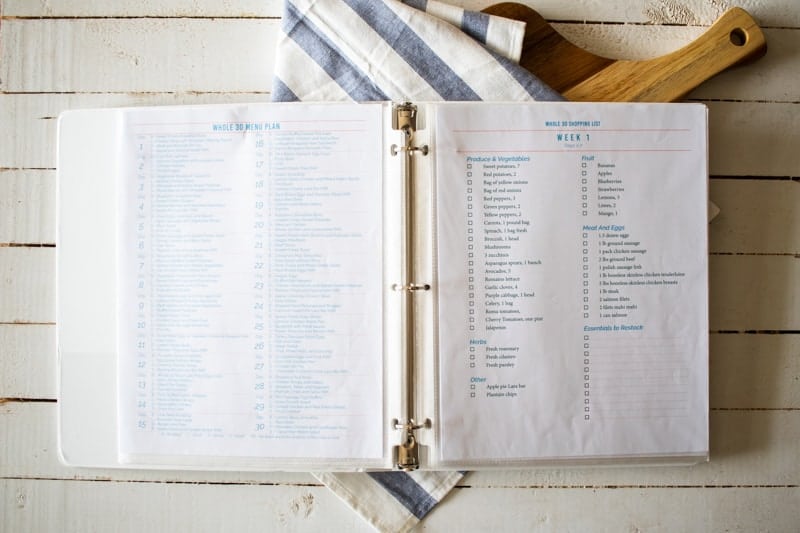 HEALTHY DINNER IDEAS
Most nights, you will find me in the kitchen, making "from scratch" meals. The only exceptions are special events, date nights, or when we are at my parent's house for dinner. Then you will find my mom in the kitchen cooking from scratch. I guess you can say I get it honest.
Making homecooked meals is delicious and always a healthier option. I like to make dinners that are full of vegetables and as organic as possible. Buying organic food on a budget is possible even if you have a large family as I do.
In the dinner portion of this meal plan, you will find 100% whole food recipes that are easy to make any night of the week. I am a busy mom, just like you, and I can't spend all my time in the kitchen. These recipes are designed for your wellness and your sanity. Several of the dinner recipes can be made in one pot, saving you dishes and time.
HEALTHY SNACK IDEAS
OK, so who has the kid that is always hungry? Or maybe that is you? Hey, I get it! I have 4 little eating machines, a hard-working husband, and I am a nursing mama of an almost 2-year-old. We can go through some food in this house.
The second I get done cleaning up one meal, someone is already saying they are hungry again. Having healthy snacks on hand is so important. In between meals is the prime time to "cheat" on your clean eating diet. But if you are stocked with homemade or even store-bought healthy snacks, the temptations won't be there.
In the snack portion of this menu plan, I share how to make the best fruit salads, toasted coconut, avocado fries, and more. I also share several healthy store-bought options too.
Get your 30-day clean eating meal plan with over 100 recipes, a whole one-month meal plan, and a complete grocery list HERE.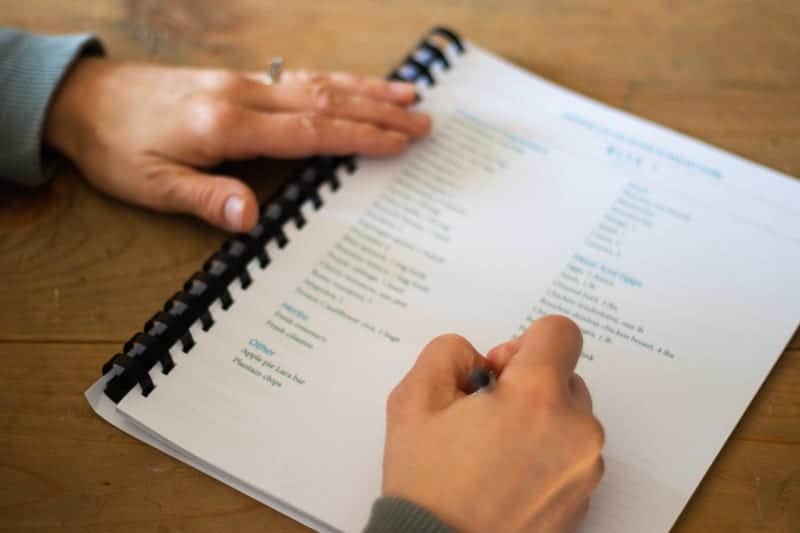 CLEAN EATING KITCHEN ESSENTIALS
There are several ingredients you will want to have on hand before you start your 30-days of healthy eating. In the grocery list section of the printable, I made a large list of all these things.
I list the healthy oils and fats you will need, spices, nuts, gluten-free baking supplies, and more. Getting the kitchen essentials will make cooking healthy even easier.
HOW CAN I START EATING HEALTHY?
It is always a good idea to stock the kitchen with healthy foods and get rid of all the unhealthy foods before starting a clean eating challenge. Get all those tempting foods out of the house!
Have a plan! I know you are busy, and you won't have time to search Pinterest every single night for dinner ideas or every time you want a snack. That is why I made you an easy-to-follow meal plan with all the recipes you need to eat clean for the entire month.
Print your copy, put it in a 3-ring binder, and keep it handy. Use the grocery checklist to get the ingredients you need each week.
Plan to eat in as much as possible to avoid temptations at a restaurant. If you work outside the home, be prepared to meal prep, and pack healthy lunches and snacks while you are away from the house.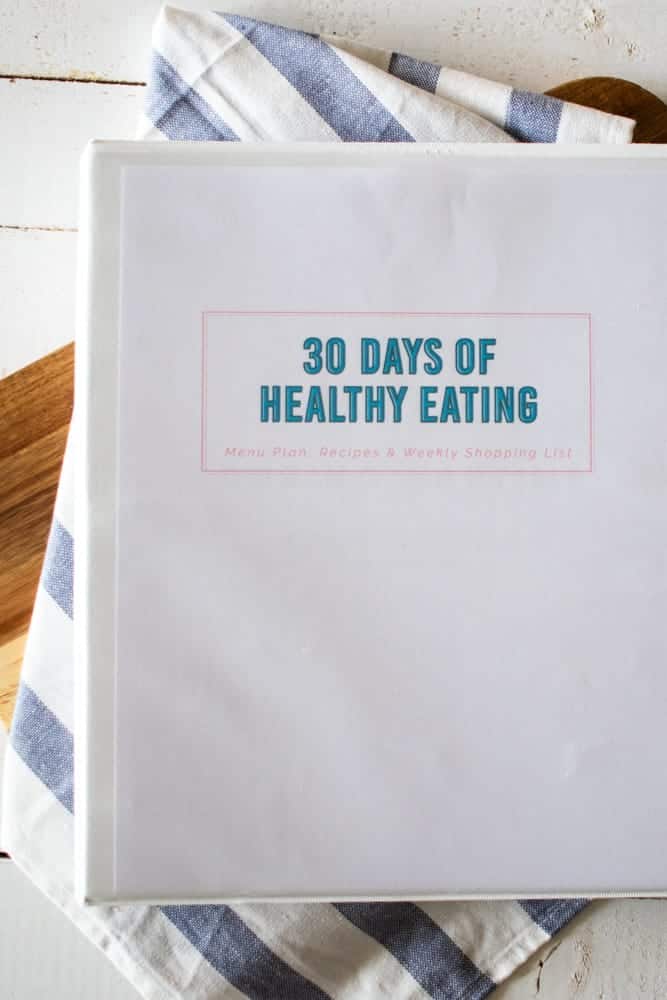 IF I EAT CLEAN WILL I LOSE WEIGHT?
YES! If you eat healthy, nourishing foods that your body needs, your body will naturally lose weight. So often, people can experience weight problems due to an unhealthy gut, not necessarily from overeating.
Your gut is known as the brain of the immune system and can control so many things. Eating a clean diet can restore a leaky gut, help with digestion, chronic fatigue, and so many other things relating to losing weight.
The body is truly amazing, and when you feed it what it needs, you will see results. Not just losing weight but overall wellness.