Making your own all-natural vapor rub is easy and effective. Follow this simple recipe to learn how to make and how to use this homemade vapor rub.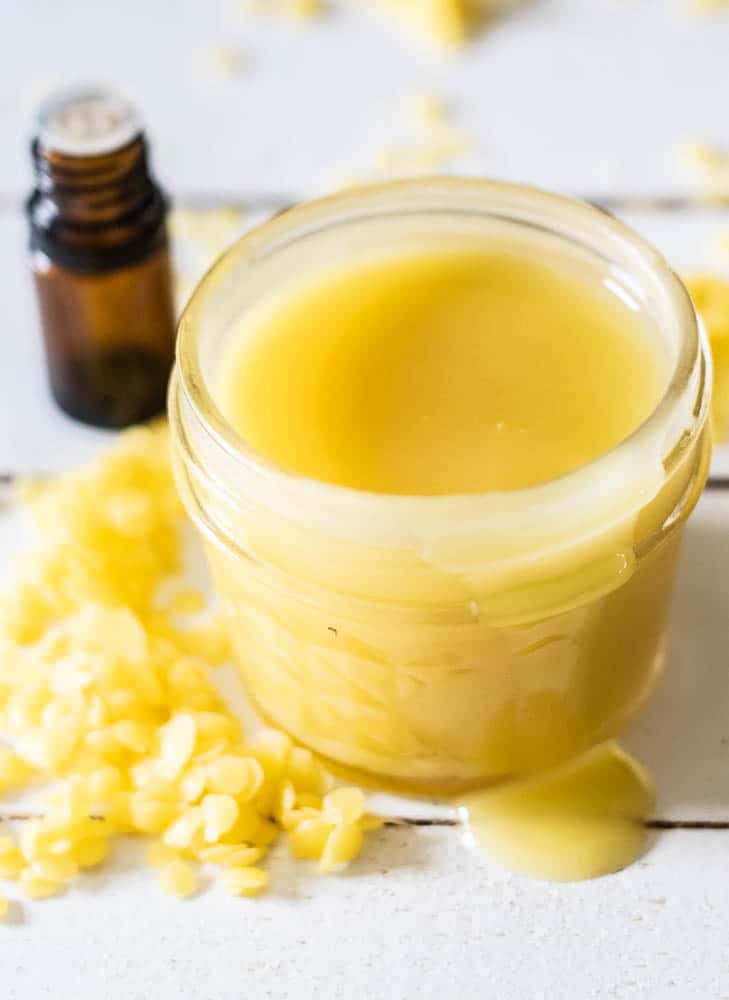 I have several memories of my mom and my babysitter (I had the same sitter from 6 weeks until I went to school!) rubbing gooey stuff that had a strong scent all over my feet and then covering it up with socks. It wasn't until much later in my life that I found out that stuff had a name, vics vapor rub!
As soon as my little one had her first cough, I remembered the VICS! When I went to the store to buy it, I wasn't overly impressed with the ingredients. It has petrolatum in it, which is one of those things I try to avoid. What can I use instead of vics vapor rub? Could I make my own?
I found a few recipes online, but of course, I didn't have everything I needed. So in true Laura fashion, I mixed and matched recipes and came up with something that would do with what I had on hand. And guess what? It worked!
I have added a few more children to the mix since then, and I can't even count how many times I had to mix up this concoction.
PIN IT FOR LATER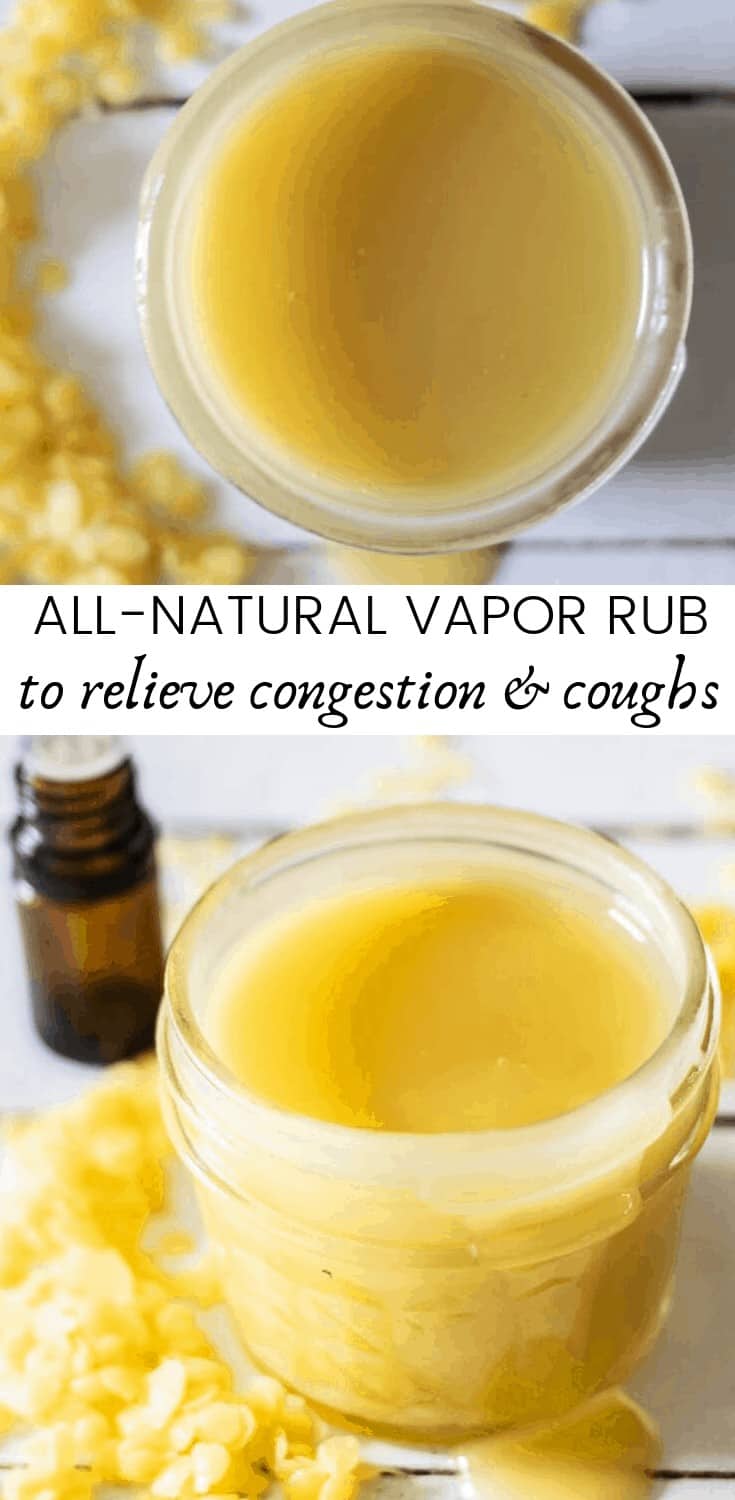 ALL-NATURAL VAPOR RUB
Let's first discuss why homemade! Vapor rubs are usually made with essential oils or a fragrance that smells similar to essential oil. Essential oils are not created equally, and I am pretty picky when it comes to the kind I use in my home.
Unfortunately, the FDA doesn't have any regulations on essential oils, so you have to be very careful about where you are getting your oils from. I have heard and seen so many horror stories, rashes, and reactions from people using what they thought were pure essential oils.
I would prefer to use my own essential oils that I have researched like crazy and find to be pure before putting any synthetics on my children.
Store-bought vapor rubs are made for adults, children, and babies. I like to make my own, so I can adjust the amount of essential oils according to age to make sure it is safe.
And like I mentioned before, vapor rub from the store almost always is made with petrolatum and PAHs. The environmental working group gives this ingredient a bad score saying it can cause cancer, developmental and reproductive toxicity, and immunotoxicity.
HOW TO USE HOMEMADE VAPOR RUB
Have you ever wondered why we put vapor rub on our feet when we are coughing? The largest pores are on the soles of the feet, making it easy for the body to absorb oils there. The bottom of the feet is also the least sensitive skin on the body, making it a great place to apply essential oils and new skin products.
All-natural vapor rub can be used on the bottom of the feet, the chest, and down the spine. Applying the vapor rub to the chest can help break up mucus and promote clear, healthy breathing.
When applying the homemade vapor rub on a baby, it is always good to apply it in an area they can't reach with their hands to avoid getting the essential oils in their eyes or mouths. Applying it down the spine is a great place for that and can help support the body.
BEST ESSENTIAL OILS FOR RESPIRATORY SUPPORT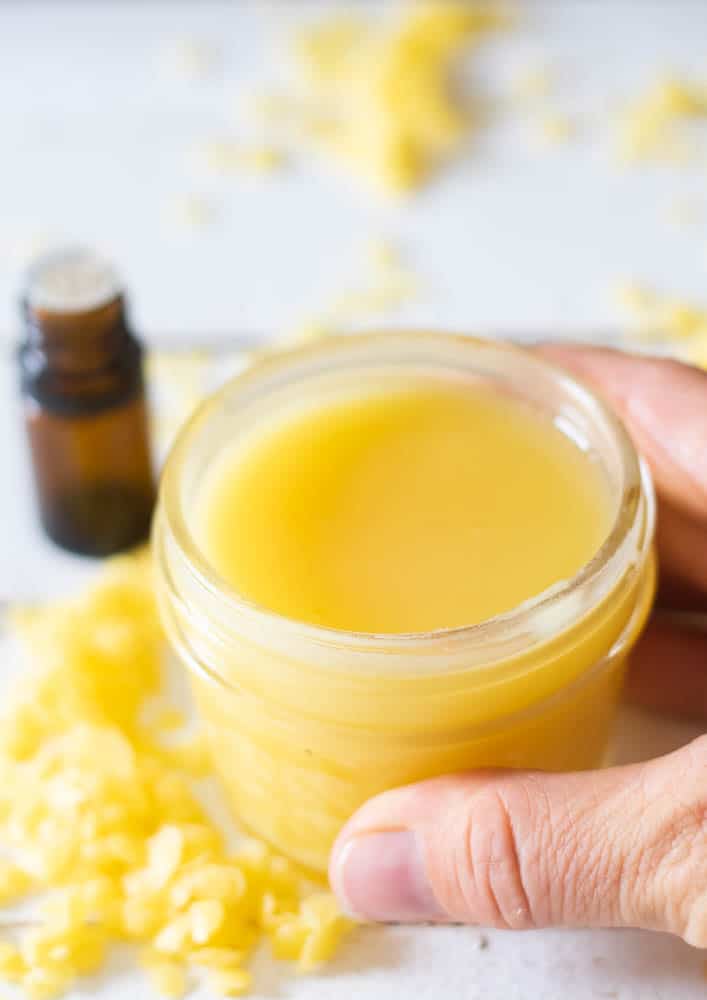 This post contains affiliate links, which means I make a small commission at no extra cost to you. Get my full disclosure here.
HOW TO MAKE VAPOR RUB
Making your vapor rub can be as easy or complicated as you want! If you are going to make a larger batch for the fall and winter season, I would suggest using the recipe below.
It calls for coconut oil, cocoa butter, beeswax, and essential oils. You can use any carrier oil if you don't have coconut oil on hand.
If you don't have all these ingredients on hand and need to whip up something fast, you can simply use coconut oil to dilute the essential oils before rubbing them on. Believe me, in a pinch. I have done this several times! Think overnight with a baby!
The recipe calls for a double boiler. If you don't have one, you can easily make one by placing a glass bowl over a pot of boiling water.
DILUTING ESSENTIAL OILS FOR HOMEMADE VAPOR RUB
This recipe will make about 6 ounces of vapor rub. Follow the chart below to know how many essential oils to add to your recipe.
Adults: 30-40 drops of essential oils
Children 13 and under: 15-20 drops essential oils
Babies under 1: 8-10 drops of essential oils
All-Natural Vapor Rub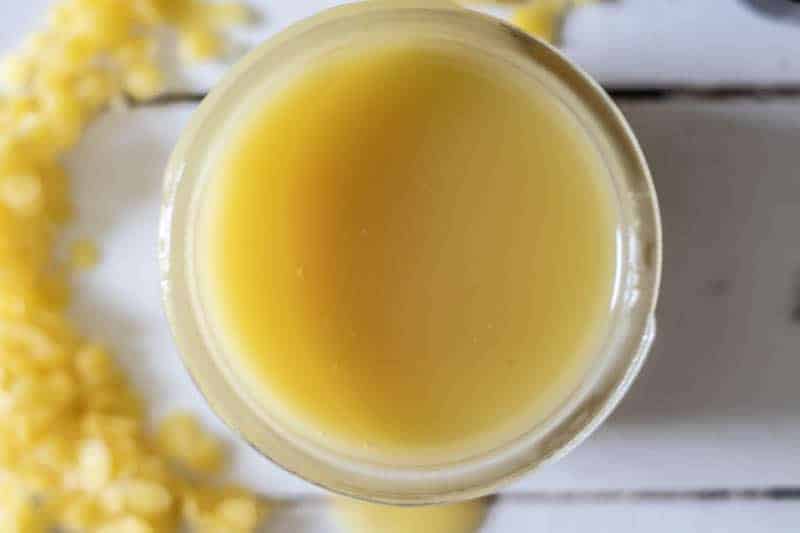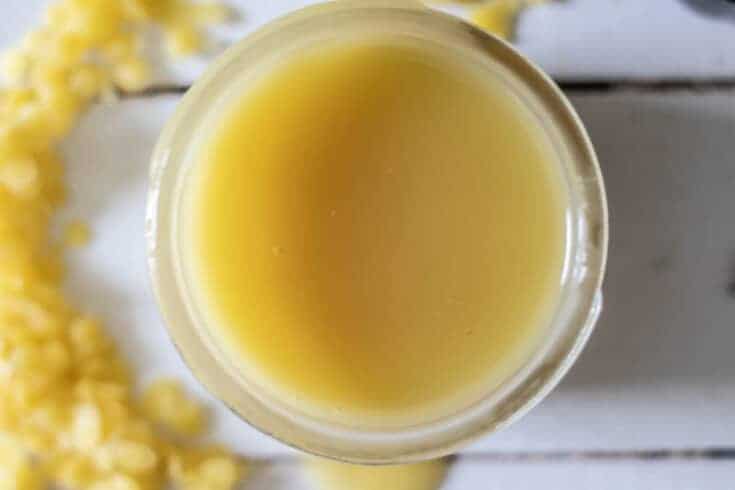 Making your own all-natural vapor rub is easy and effective. Follow this simple recipe to learn how to make vapor rub.
Ingredients
1/4 cup coconut oil
1/4 cup cocoa butter
2 tablespoons beeswax 
10 drops eucalyptus essential oil
10 drops peppermint essential oil
10 drops lemon essential oil 
10 drops clove essential oil
Instructions
Place all the ingredients, except the essential oils, in a double boiler.
Remove from the heat once everything is melted.
Allow to cool slightly and then add in essential oils.
Store in a glass airtight container.
Notes
If making this recipe for children under 13 use 5 drops of each essential oil. If making for a baby under the age of 1 only use 2 drops of each essential oil.