Learn natural remedies for a healthy skin tone, natural glow and to protect against anti-aging.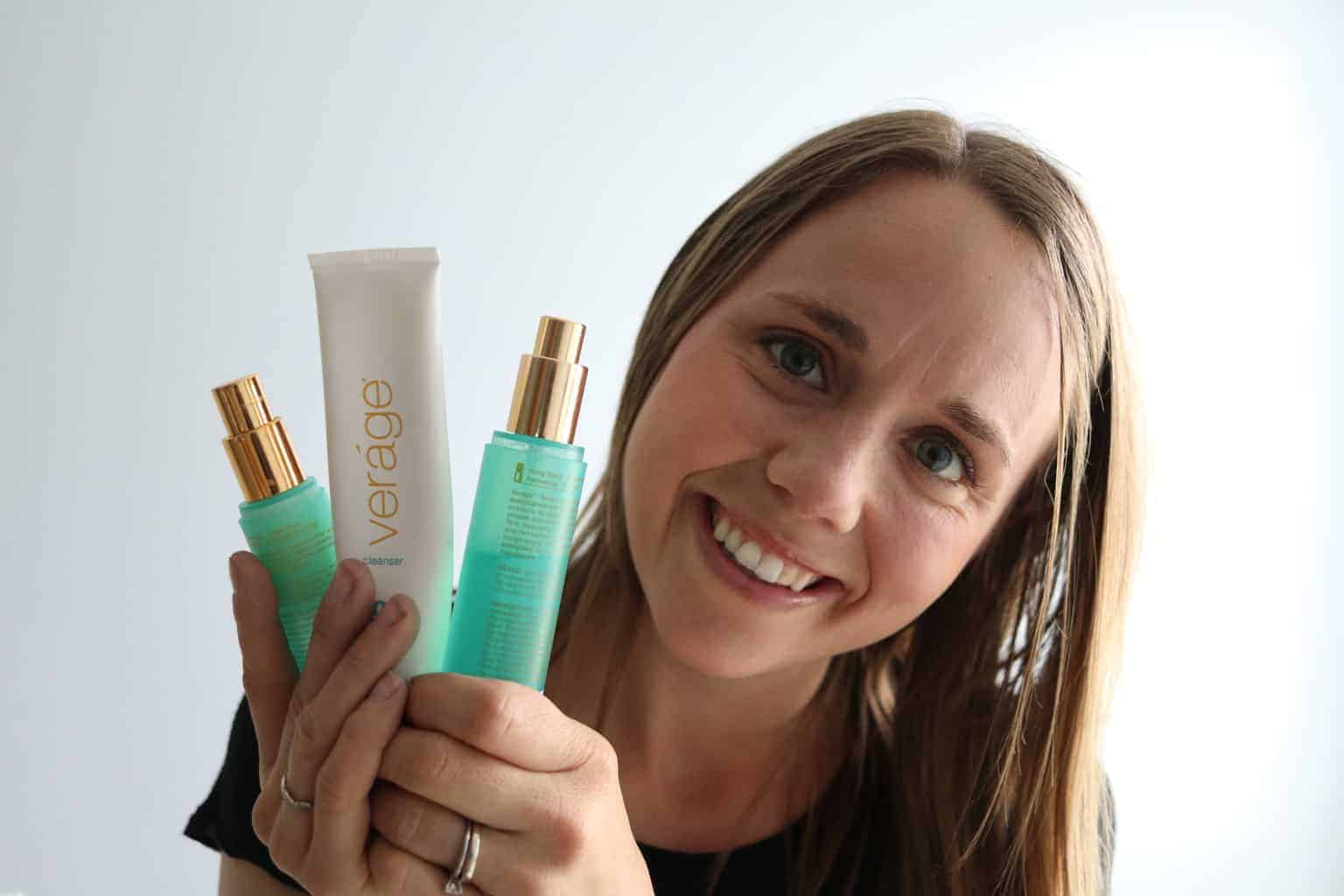 I am a low-maintenance gal, and up until this past year, I wouldn't really have a skincare routine to share. However, I am in my 30's now and decided it was probably about time to stop skipping over all the things that say "anti-aging."
As you all know, I love to make my own products and pretty much make everything in my house. I have made my own face wash, moisturizers, deodorant, and even makeup. The makeup thing didn't really work out; I could not master the waterproofing/running part. Maybe I will try again sometime.
About 6 months ago, I started using the DoTERRA Verage skincare line, and I am absolutely loving it! I started noticing a difference in my skin right away, and so did my husband. On top of that, I use a few essential oils. I am going to explain precisely what I do and why and believe me, it doesn't take long. Like I said earlier, I am very low maintenance when it comes to this kind of stuff.
MY NATURAL DAILY SKINCARE ROUTINE
doTERRA VERAGE SKINCARE LINE
This post contains affiliate links, which means I make a small commission at no extra cost to you. Get my full disclosure HERE.
This skincare line comes with a cleanser, toner, hydrating serum, and moisturizer. It is made with all-natural ingredients, and each product has essential oils in them. It is very moisturizing and hydrating to the skin; it can reduce fine lines, wrinkles, and skin imperfections.
You can get this natural skincare line HERE.
THE CLEANSER
After wetting my face with warm water, I use the verage cleanser. You don't need a lot; one pump will do. The cleanser has wild orange, basil, and melaleuca in it. These oils help to cleanse and purify the skin while leaving it moisturized and nourished.
I massage it into my skin and let it sit for a few minutes. Then I wash it off with warm water.
THE TONER
Following the cleanser, I use the verage toner. The toner is helpful for tightening the skin and evening out skin tone. I spray this directly onto my face and rub it in. It has ylang ylang, coriander, cypress, and palmarosa essential oil in it.
THE HYDRATING SERUM
This is my favorite product in the line. After I rub the toner in, I apply this serum to my face. It smells amazing, and it is made up of the most prized essential oils. With rose, frankincense, myrrh, Hawaiian Sandalwood, lavender, and helichrysum, this stuff is the icing on the cake.
These essential oils are known for protecting against anti-aging, helping with fine lines, wrinkles, and skin tone.
THE MOISTURIZER
After applying the hydrating serum, I finish off with the verage moisturizer. This stuff is a must-have during the winter months when my skin gets dry and itchy. I even used it on my arms a few times; I was desperate!
Again all-natural ingredients with essential oils, in here you will find several floral oils making this moisturizer smell amazing.
YARROW | POM
After I finish using all 4 of the products in the verage line, I rub my face in blueberry oil. Really it is yarrow pom essential oil, but my kids call it blueberry oil. Yarrow pom is bright blue, and yes, you will look like a smurf for a few minutes. Don't worry; it will rub in!
This stuff is amazing! It is a newer essential oil, and my skin already looks and feels better since adding it to my daily routine.
A FEW BENEFITS OF YARROW | POM
The pom stands from pomegranate seed oil. This oil is known to restore skin.
Promotes smooth and youthful-looking skin.
Reduces fine lines, wrinkles, and skin imperfections.
When used topically and internally it can promote the production of collagen and elasticity.
Great for age spots and skin tone.
Other than skin, yarrow pom is also good for calming the mind; it is full of antioxidants and can benefit the cells. Taking yarrow pom internally and using it topically twice a day will benefit your skin and overall wellness.

ANTI-AGING ROLLER BOTTLE
As part of my skincare routine, I like to apply my anti-aging roller bottle to my face. Paying close attention to the skin close to my eyes to help with crow's feet. Like all essential oils, you don't want to get them in your eyes, so be careful.
Ideally, at the end of my skincare routine, I would roll this on my face. I don't always remember to do this, so what I do is keep this roller in my make-up bag and in my diaper bag. If I have it handy, I will remember to roll it on when I see it. Something is better than nothing, right?
MUD MASK
I have a mud mask that I really love. It is also made by doTERRA. It isn't something I do daily, but rather weekly or bi-weekly. My daughter likes to do it with me, so we turn it into a little girls' night. It is infused with myrrh, juniper berry, and grapefruit.
When used, it helps to detoxify the skin, soothes the skin, and reduces the appearance of pores.
Because of its detoxifying properties, I like to apply it to my armpits once a month, let it sit for 5 minutes, and then wash it off in the shower. This is a great way to help the body detoxify.
FRACTIONATED COCONUT OIL
Fractionated coconut oil is my go-to make-up remover. It works amazing, even for mascara. Simply dab a little under the eye, rub in, and wipe it off. You can use it on your whole face if you need to remove make-up in other areas.
CHECK OUT THESE POSTS FOR MORE NATURAL SOLUTIONS FOR HEALTHY SKIN
DIY Face Wash for all Skin Types
PIN IT FOR LATER