It doesn't take much to make a natural wood floor cleaner! With only two ingredients, you can make a homemade wood floor cleaner that shines.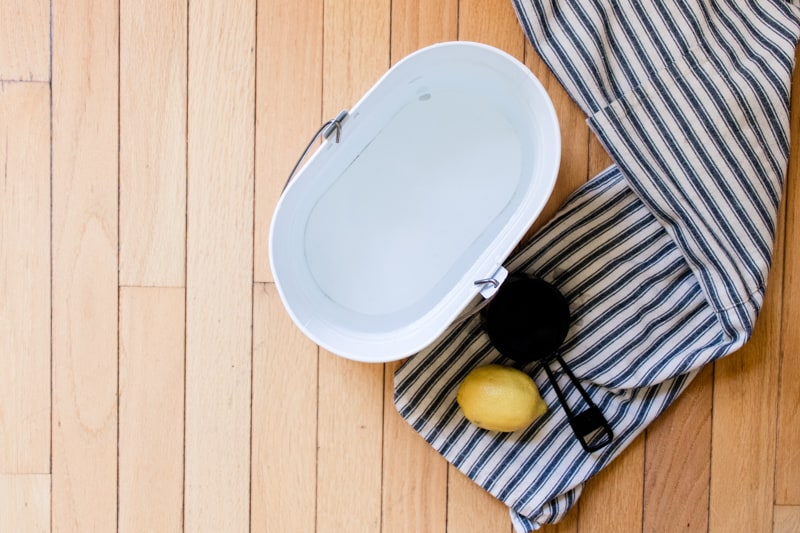 Not only is it better for your budget and environmentally friendlier than store-bought cleaners, but it's great for your health too. And you'll be impressed with the results!
Avoiding harsh chemicals and toxic smells is perfect if you have children or pets, or if you suffer from allergies.
Cleaning hardwood floors naturally with standard household supplies such as vinegar or black tea is easy too, when you follow the right instructions.
In this post, I'll share two options for a hardwood floor cleaner DIY that you can make from scratch – one containing vinegar and the other black tea.
Both are safe for hardwood floors and use a no-rinse formula – meaning they save you time and money and, most importantly, clean really well!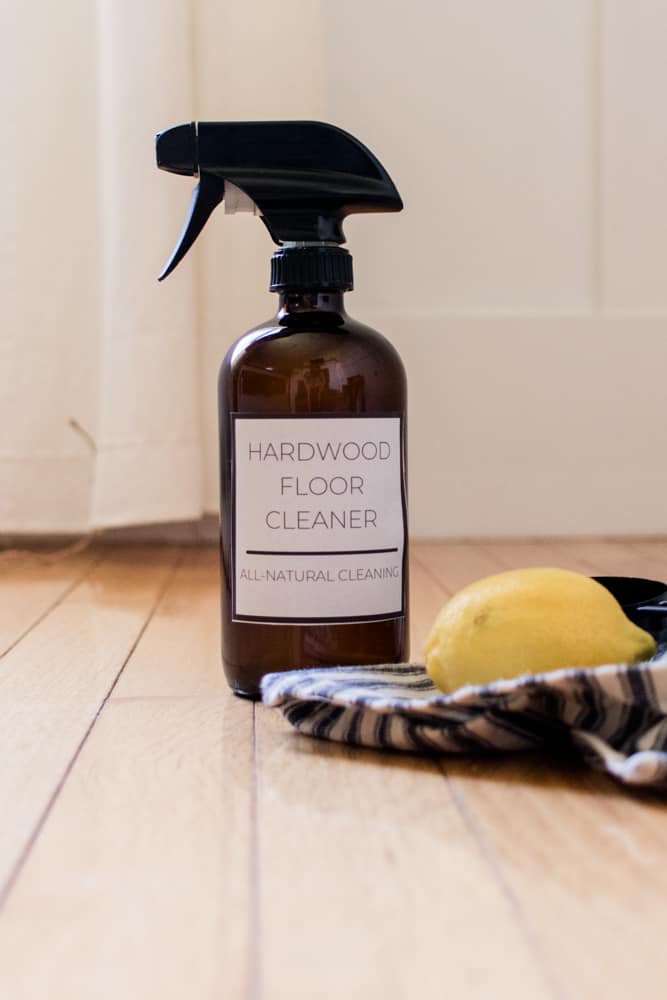 Is vinegar safe for hardwood floors?
Yes! It's very safe when you use it correctly.
In fact, vinegar is a wonderful all-around cleaner, glass cleaner and undoubtedly your grandparents and generations before them would've used vinegar around their homes.
Vinegar is toxin-free, meaning it doesn't give off harsh chemicals.
It's acidic in nature, meaning it removes the most stubborn dirt and stains.
But! It's important to always follow the instructions for the correct quantities of vinegar, or else you chance your home leaving a lingering vinegar odor if you use too much.
Plus, there is the risk of vinegar spoiling your floor if you do add too much to the cleaning mixture.
Overuse or overly concentrated vinegar solution will eventually wear down the hardwood floor finish leaving you with a dull finish-the exact opposite of what we want.
So please follow the correct quantities and instructions, as I'll explain below in the recipe.
How often should you mop wood floors?
This is a great question, and there's really no strict answer. It entirely depends on how much use the floor gets and how dirty it is.
I personally dry mop/sweep most days as my floors have a lot of feet on them. I save a wet mop for maybe once or twice a month only as that's all it needs.
In between mops, I make sure I wipe up those inevitable spills to avoid damaging my floors and prevent slips and trips.
To quickly clean dried food or smudges, use this wood floor cleaning solution and a soft sponge over the area, gently wiping with the grain until the spot is cleaned.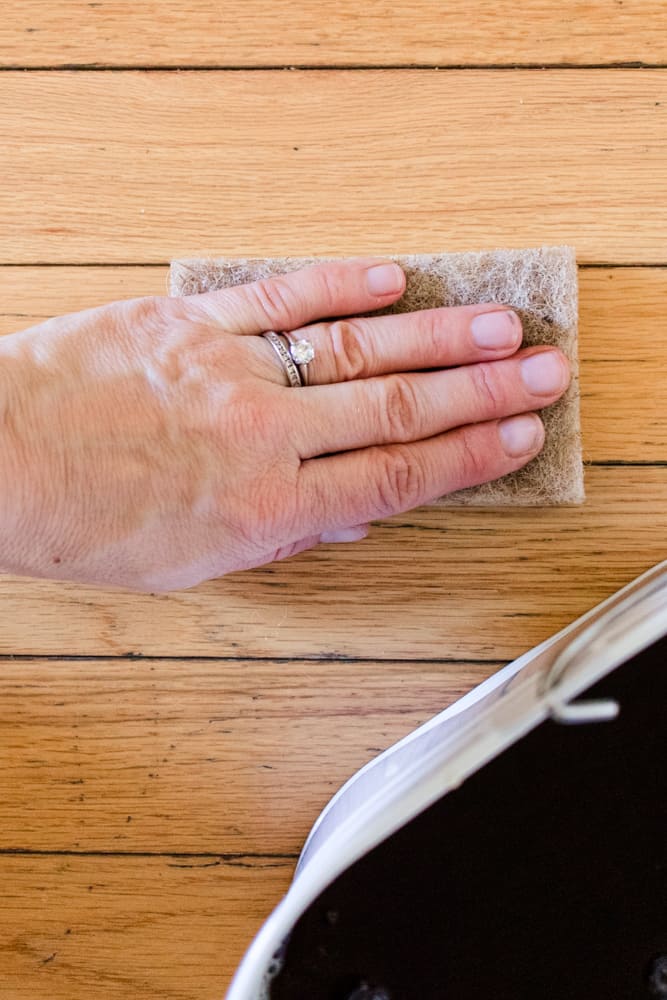 How to make wood floors shine naturally
We all want shiny floors, right!?
You'll be excited to know that in addition to its cleaning properties, vinegar helps with creating shine, although an even better shine maker is olive oil.
Seriously! Olive oil is fantastic when you add a tiny amount to your homemade wood floor cleaning solution. You only need a few drops, as it goes a long way.
First, to get shiny floors, you need to vacuum well and make sure you wring out the mop before using it. Too much liquid can leave smears and risk damage to wood flooring.
Always wipe up spills straight away too. And my best tip is to make sure you mop following the wood grain direction.
Several mops over the same area should bring out the natural wood shine nicely.
Cleaning wood floors with tea
Using black tea is a good alternative if, for whatever reason, you don't like the idea of a hardwood floor cleaner with vinegar.
Tea is acidic like vinegar but has a lower PH, so as a whole, it is a gentler product.
It's still great for its natural cleaning properties and will mop away dirt and grime nicely, leaving a clean floor as desired.
What should you not put on a wood floor – how to protect hardwood floors from damage
The main concern with any form of natural wood floor cleaner is moisture. Not wringing out the mop enough or not wiping up spills risk real damage to wood floors.
Also, make sure you use soft bristles on your vacuum; otherwise, there's a risk of scratching the wood.
And it goes without saying that you shouldn't use harsh chemicals on wood floors. Instead, natural, gentle, homemade wood floor cleaner is the way to go! Try my recipes below.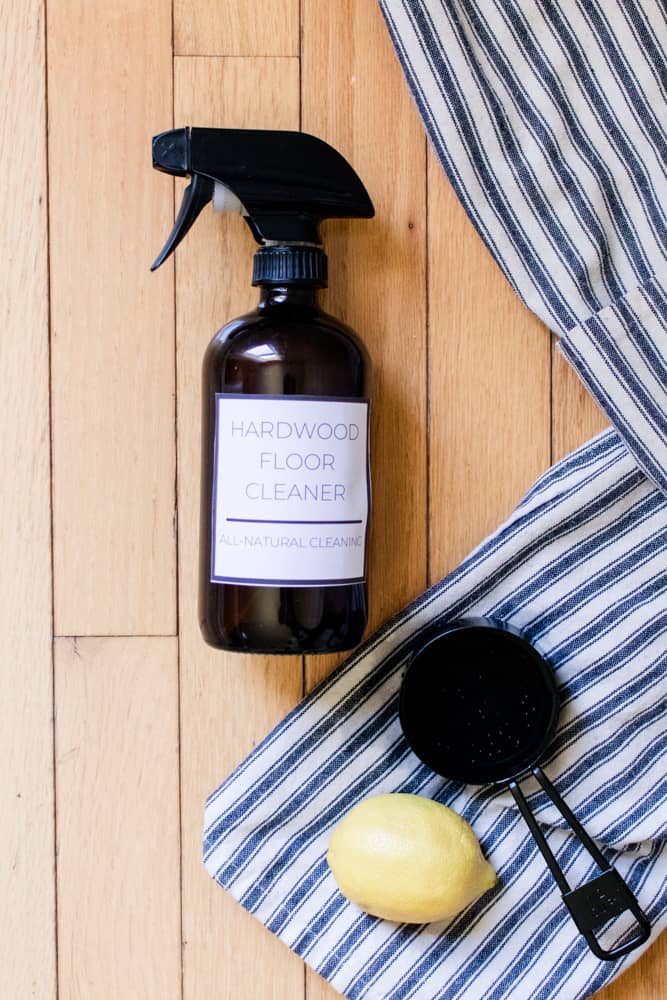 This post contains affiliate links, which means I make a small commission at no extra cost to you. Get my full disclosure HERE.
Hardwood Floor Cleaners
With vinegar recipe
Ingredients
1/2 gallon of warm water
1/4 cup white vinegar
5 drops of lemon essential oil
1 tsp of olive oil (optional)
Instructions
Combine all the ingredients in a mop bucket. Stir well to make sure everything is combined. Place mop in the solution, ring out extra liquid well, and mop the floor, making sure to follow the direction of the grain.
Alternatively, add the ingredients to a spray bottle, shake well, then gently mist the floor and mop like normal.
With black tea recipe
Ingredients
1/2 gallon of water
6 black tea bags
1 tsp of olive oil (optional)
Instructions
Bring water to a boil.
Remove from heat and add the tea bags. Allow to steep for at least 10 minutes.
Remove the tea bags from the water and allow the water to cool before adding the olive oil if using. Stir well and transfer to a mop bucket or spray bottle for application.
Once cooled, it's ready to use!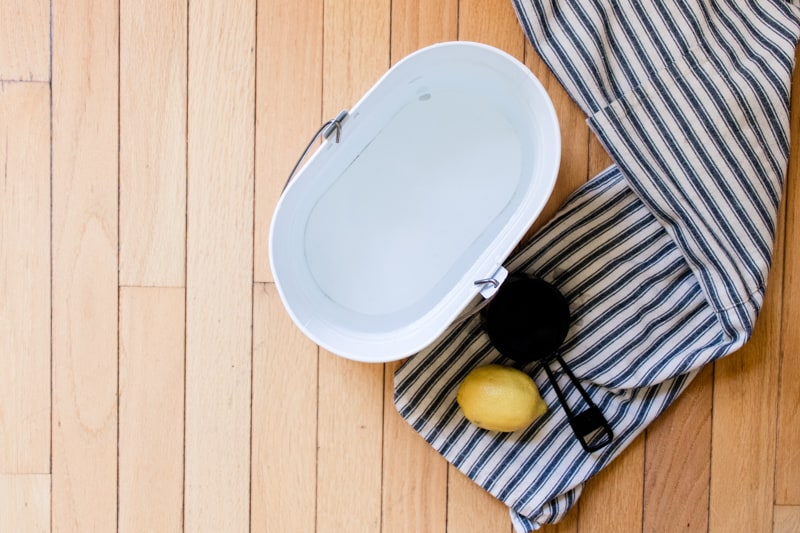 How to use the floor cleaner
Sweep or vacuum the floor first to remove dirt and debris.
Place a mop into the bucket and ring out well. Mop the floor following the direction of the grain. If using a spray bottle, lightly mist the floor and then mop like normal.
This recipe works great for all wood floors. If you have laminate, use this laminate cleaner/shiner.
Tips for using homemade wood floor cleaning solutions
I highly recommend you test a small area of floor first when using a homemade natural wood floor cleaner.
Ensure that you like the results of the test before attempting to clean the whole floor. And practice wringing out the mop really well, so there's less risk of moisture damage.
This is especially important! You never want to get your hardwood floors soaked. You're looking for a slightly damp mop only.
I hope you like these two recipes for homemade wood floor cleaners. Let me know what you think in the comment section below! And for more great cleaning DIYs, check out some of my popular ones below!
Yield: 1 Solution
Homemade Wood Floor Cleaner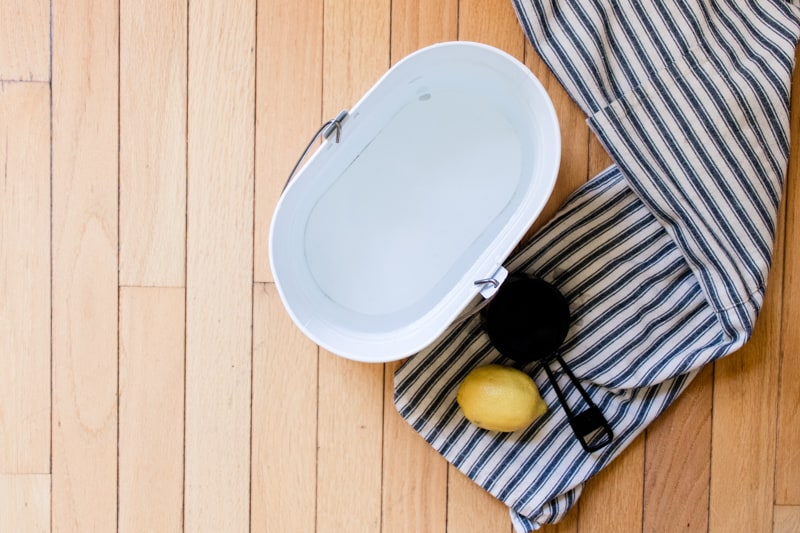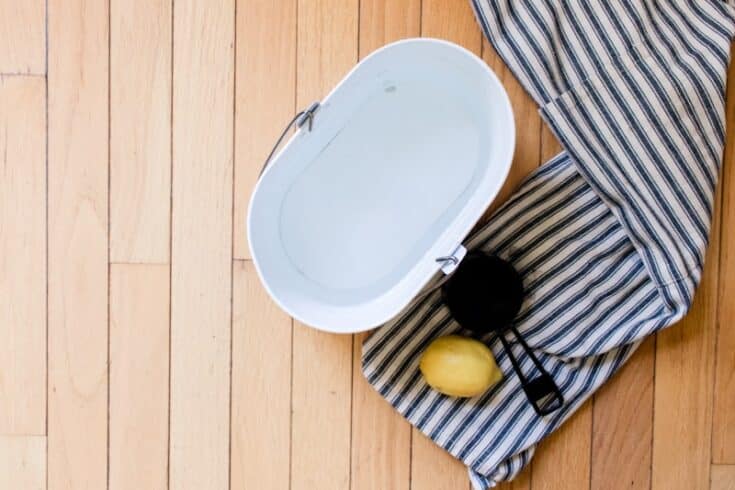 Homemade wood floor cleaner is easy to make, uses just two ingredients, and contains no harmful chemicals!
Materials
Vinegar Floor Cleaner
1/2 gallon of warm water
1/4 cup of white vinegar
1 tsp of olive oil (optional)
Black Tea Floor Cleaner
1/2 gallon of warm water
1 tsp of olive oil (optional)
Tools
Instructions
For the Vinegar Cleaner
Combine all ingredients in a mop bucket and stir well.
Place mop into the solution, wring out extra well, and mop the floor in the direction of the grain.
Alternatively, add ingredients to the spray bottle, lightly mist the floor, and then mop like normal.
For the Black Tea Cleaner
Bring water to a boil, remove from heat and add tea bags to steep for at least 10 minutes.
Remove and discard tea bags, allow to cool, then stir in the olive oil if using.
Transfer to a mop bucket or spray bottle and mop in the direction of the grain.