Being a stay home mom is rewarding and exhausting all at the same time. Join us on a typical day in our life with 4 young kids, backyard chickens, puppies, and homeschool.
I love being a stay-at-home mom! I also love blogging, making youtube videos, and educating others on essential oils. When I first decided to pursue the doTERRA business and blogging, I wasn't sure how I would fit it all in.
I knew that being a mom was my number one job, and I wanted it to stay that way. The idea of doing both felt very overwhelming, so much so that I put it off for a year. Now that I am a year in, I have a schedule that makes my days very manageable, and I have never been happier!
I love having an outlet that is mine. Today, I am going to show you what a typical day looks like for me.
This post may contain affiliate links, which means I make a small commission at no extra cost to you. Get my full disclosure HERE.
OUR DAILY SCHEDULE
Now, of course, this is very flexible and more of a template. Every day with kids is a bit different.
I TRY to wake up around 6 every morning to get a little blog work in before the kids wake up. William still sleeps with me, so sneaking out sometimes doesn't work out.
7:00 WAKE UP
7 am is a typical wake-up time for my kids. My husband works at 7, so he is gone by the time they get up. After everyone wakes up, we crawl back into my bed. All of my kids like their cuddles, and this time is a must for them. This is my favorite part of the day!
8:00 BREAKFAST
I start breakfast around 8ish. Breakfast usually consists of eggs with sautéed veggies, butternut squash pancakes, oatmeal, or sourdough pancakes. Today we had sourdough pancakes and eggs, by request from the littles.
I have had a sourdough starter off and on since I got married. While my son was on the GAPS diet for a couple of years, sourdough was out. Thankfully, my sister never stopped with sourdough, and when we were ready to reintroduce it, she gave me some more starter.
8:30 MORNING CHORES
I clean up breakfast, make beds, start laundry, and get myself and the baby dressed for the day. My other three kids dress themselves.
After the house is cleaned up, we head outside to take care of the animals. The kids are in charge of letting the chickens out of the coop, checking the puppies' food and water, and taking care of the bunny.
9:00 PLAYTIME/ SCHOOL TIME
If Will woke up early, he would take a morning nap at this time; a lot of mornings, he skips this nap. Now that the weather is nice, we do most of our playtime and morning school outside.
While the boys play in the backyard, I will sit with Caroline at the picnic table and work on school. Caroline has officially finished all her kindergarten workbooks. Today, we reviewed letters and worked on sounds to prep for reading next year.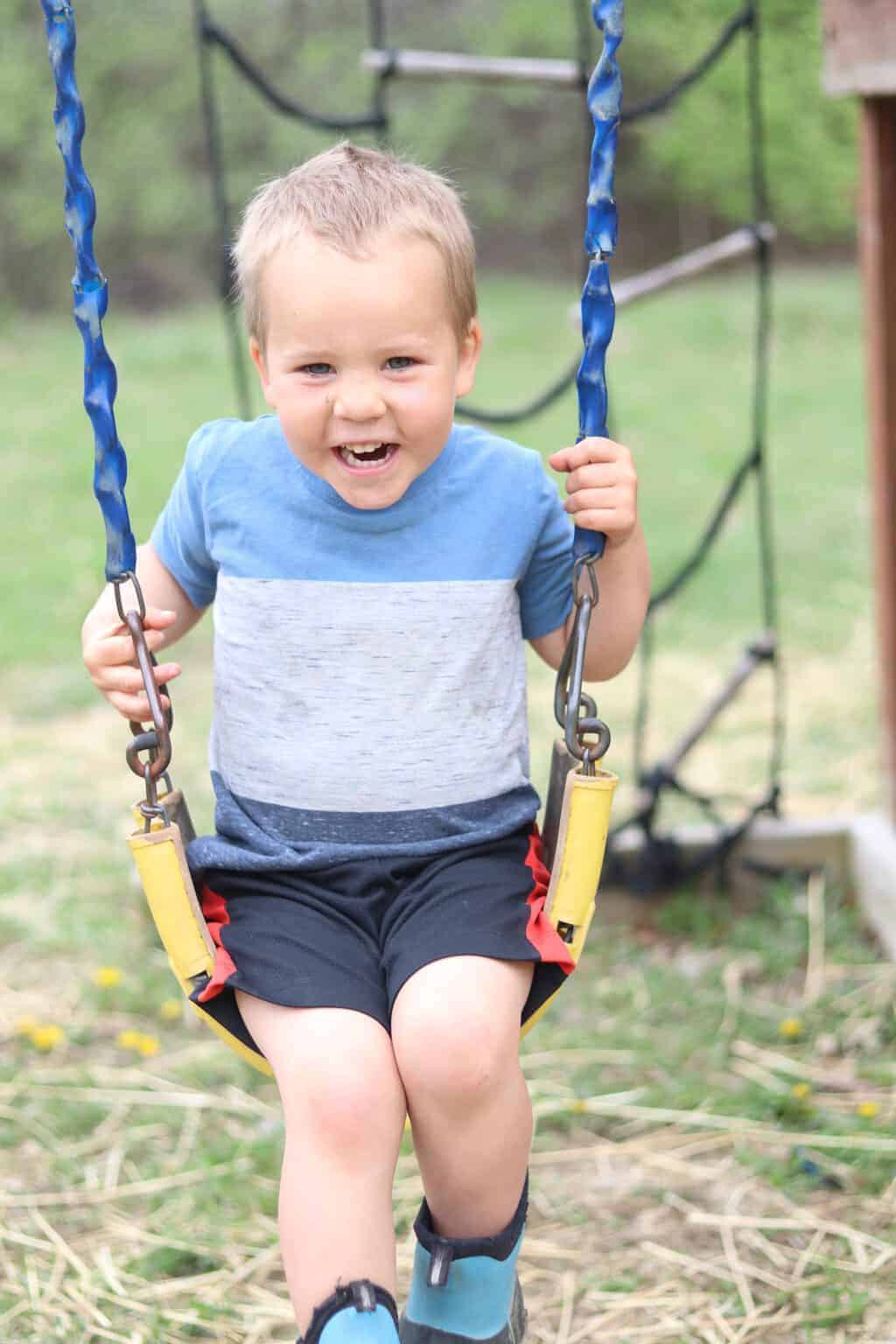 12:00 LUNCH
It is time to start making lunch. I leave the back door open and let the kids continue to play on the back patio. Today, we had sweet potato fries and guacamole. I stick to simple lunches!
I also prepped dinner at this time because I had made bone broth in the instant pot the night before, and it was done. I cut vegetables and picked the chicken off the bones to make a big pot of chicken vegetable soup.
1:00 NAP TIME
I only have two nappers these days, but everyone has a rest time. Caroline plays in her room, works on handwriting, practices piano, listens to audiobooks, or does a craft. Sam sits in the living room with a few toys and listens to audiobooks. They are currently listening to "Little House on the Prairie" and "Boxcar Children."
William and Maxwell both nap for about two hours.
During this time, I work on my blog or doTERRA. Today, I worked on editing a couple of videos that I recorded the day before.
I always record videos during nap time, and I typically do 3 at a time. On the days I am recording videos, Sam will go into Caroline's room, so the house is quiet (or as quiet as possible) for recording.
3:00 PLAYTIME
After naps, we usually head back outside. Somedays we will go to the park at this time. Today, we just stayed home.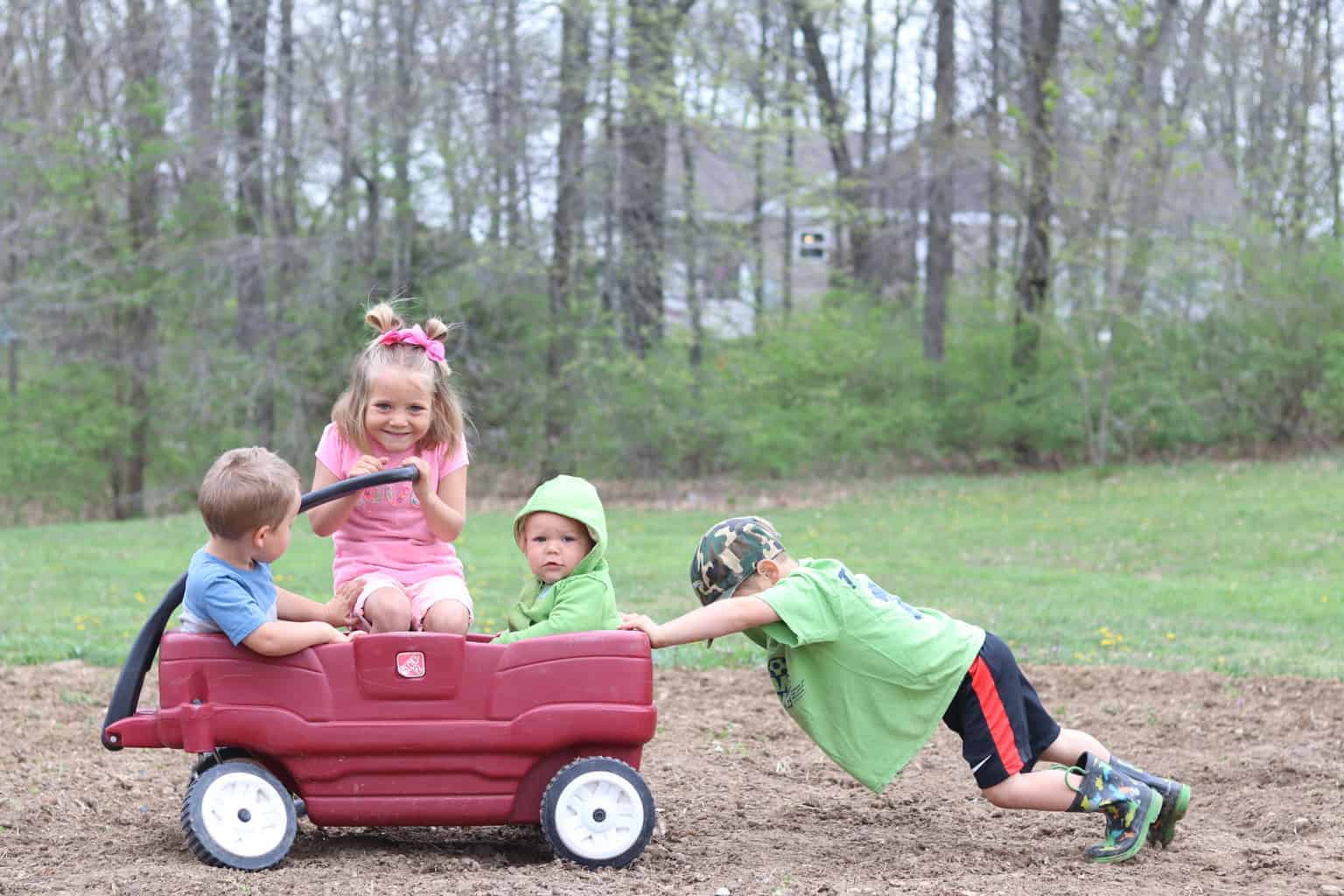 4:00 DADDY IS HOME!
This is the highlight of the kids' day! The kids help Nathan with taking care of the chickens and puppies. If I didn't prep dinner earlier in the day, I will head in to start dinner.
Today, I made a big pot of vegetable and chicken soup while I was making lunch, so I just stayed outside with the family.
5:00 DINNER
During the spring, summer, and any warm days in the fall, you will find us eating dinner outside on the picnic table. It really cuts down on the mess in the kitchen, which I love! Eating dinner as a family is something I hope we never stop doing. I know this will get harder as the kids grow and start doing more activities, but for now, this is something we do every night.
6:15 BIBLE STUDY AT CHURCH
On Wednesday nights, our church has Bible studies for all ages. I take the big kids to their class, and Nathan stays home with the younger two. While the kids are in their class, I usually go to the women's Bible study.
Tonight, I went grocery shopping while I had no kids. I love shopping alone! Watch my grocery haul video!
7:30 HEADING BACK HOME
Our usual bedtime is 7 pm for all the kids, but on Wednesday nights, it is a little later. When we get home, Nathan already has Max and Will in bed, and the big kids go right to bed when we get home.
8:00
After the kids are in bed, Nathan and I hang out for a couple of hours before he goes to bed. After he goes to bed, this is when I get in the bulk of my work. I love working late at night when everyone else is sleeping. Tonight, I worked on editing videos and writing this blog post.
MIDNIGHT
I head off to bed. Most nights, the time I go to bed depends on when William wakes up for the first time. It is usually around midnight. He then nurses back to sleep and usually stays in my bed for the night.
I am looking forward to the day that William starts sleeping through the night, but I am not rushing it. I love having him in my room.
If you like this sort of content, let me know in the comments below!
Check out my daily essential oil routine with my kids post.
PIN IT FOR LATER