Common skin irritants such as eczema can be annoying, irritating, and a nightmare to get rid of. Having a homemade eczema salve using natural ingredients is a must to relieve the itch and reduce the appearance of skin blemishes.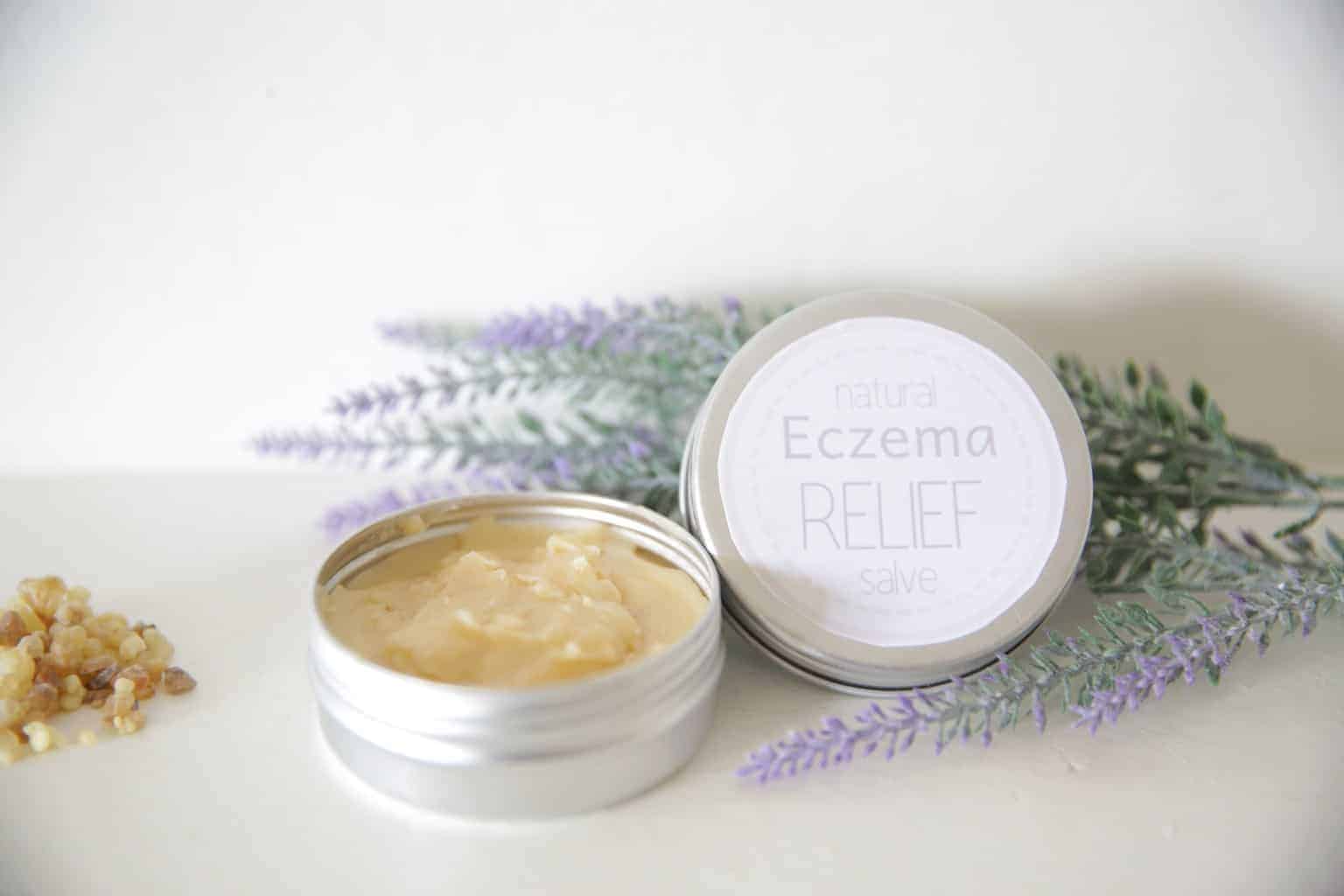 Eczema is a rash that appears on the skin. Typically it shows up on the limbs, such as on the elbows, behind the knees, or hands. But it can appear anywhere on the skin. The irritant appears on the skin as a way for the body to tell you, "something is wrong."
Common eczema triggers
The cause of eczema is often difficult to pinpoint since it can be caused by many external irritants such as detergents, soaps, pollen, viruses, and changes in temperature. However, not limiting the cause of eczema just to external irritants, it can also stem from internal issues with the gut, food intolerances, stress, digestive issues, and hormone imbalances.
Needless to say, pinpointing the root cause can be quite difficult. This homemade eczema salve works well at soothing irritated skin and can reduce the appearance of eczema.
What does eczema look like
Eczema appears in the form of small red, rash-like bumps but also can look like small patches of dry, "scaly" skin. It is often itchy and it can come and go, making it hard to determine the cause.
My son had eczema for a good year before we pinpointed his "trigger," which was dairy. He was allergic to casein, the protein in milk.
After two years of a complete diet change, digestive enzymes, probiotics, and essential oils for digestive health and allergies, his eczema disappeared completely.
During that time, the rash would come and go, but it always came back. When it would flare up, I would use this homemade eczema salve with essential oils to reduce the appearance of the rash, soothe the skin, relieve the itch and discomfort.
Because there is always an underlying cause for eczema, this salve is only meant to ease the irritation and to help lessen the appearance of the rash.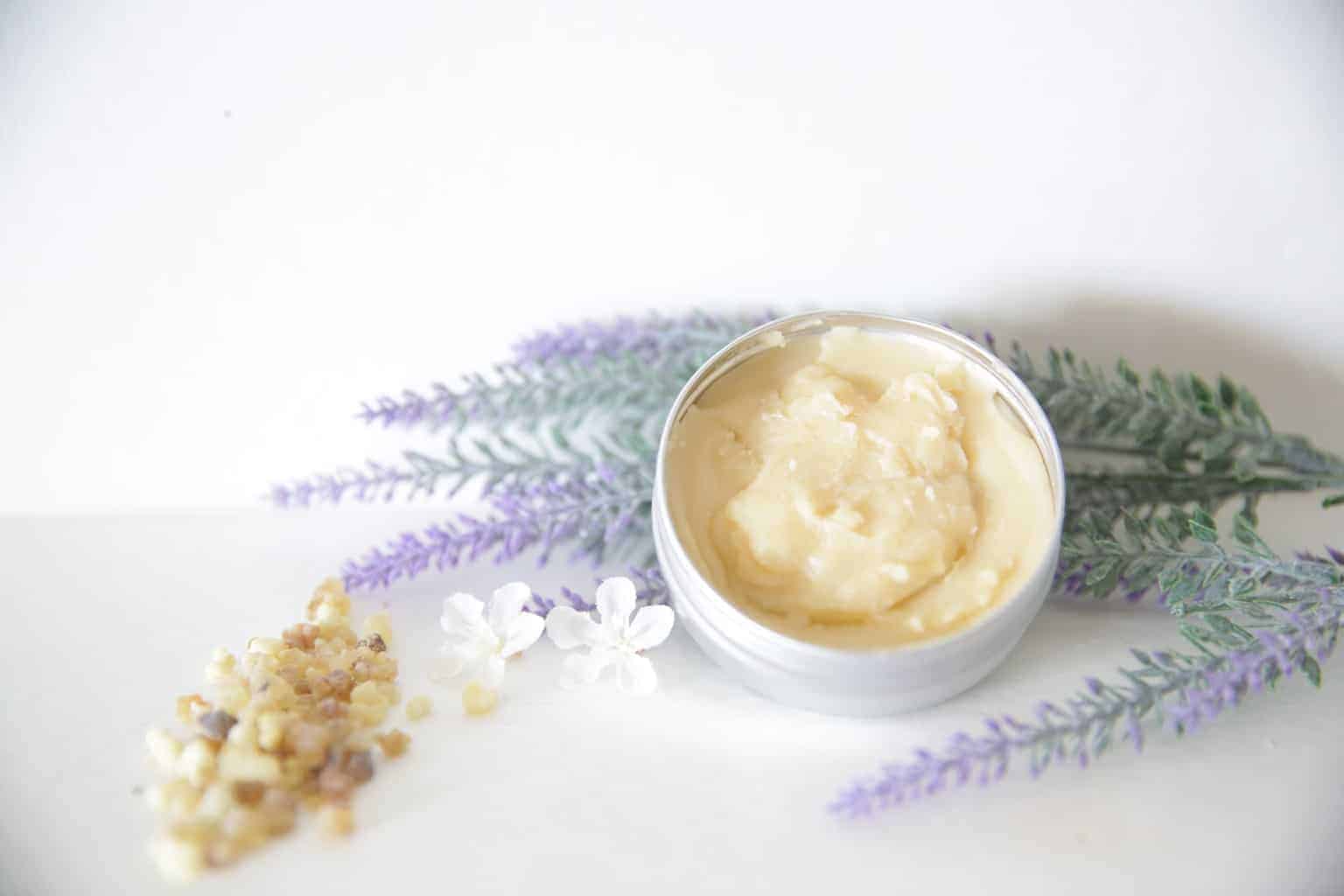 You can use this salve for soothing and moisturizing dry, flakey or itchy skin due to skin irritations. If eczema is the cause, the GAPS diet or the elimination diet might be worth trying out to help pinpoint the root cause. However, be sure to check with your doctor first.
How to get rid of skin irritations
The GAPS diet and elimination diet are both two great options to help with eczema. The GAPS diet focuses heavily on eating foods that are easy to digest and ideal for gut health. Read more on that HERE.
The elimination diet, on the other hand, is a great way to pinpoint allergies. The idea of the elimination diet is to cut out high allergen foods to determine what foods are bothering you.
It can be challenging because certain foods, like dairy, can stay in the system for a month. Talk with your doctor to see what they recommend. Read more on the elimination diet HERE.
What is eczema cream?
Eczema salve has a "balm-like" texture, sort of like a firm, non-greasy cream. This eczema salve recipe is made of shea butter, coconut oil, beeswax, honey and essential oils.
Shea Butter for Eczema
Shea butter is the fat that comes from the nuts of an African shea tree. When applied topically to the skin, shea butter will hydrate dry skin and add a protective barrier that can ward off environmental threats.
Shea butter can soften and smooth skin. It can also reduce swelling that may occur when having a flare-up. Shea butter can be applied to the area of concern to reduce skin irritations.
It is very rare to have an allergic reaction to shea butter; however, if you experience inflammation or irritation, be sure to stop using shea butter right away.
Coconut Oil for Eczema
Coconut oil can be used to reduce almost all skin imperfections. It is an effective moisturizer, reduces inflammation, and soothes irritations.
Coconut oil has antibacterial and antiviral properties. It can help to keep skin clean and purified.
Coconut can be very effective for red rashes, swelling, and itchiness. For best results, apply coconut oil to the area of concern 3 times daily.
Beeswax for Eczema
Beeswax has amazing benefits for the skin and has been used on skin irritations for many, many years. Similar to shea butter, the beeswax will create a protective layer on the skin when applied.
Beeswax is antibacterial, great for sensitive skin, and can help skin stay hydrated. If possible, it is best to find local beeswax to use on skin irritations.
Honey for Eczema
Honey is most commonly used to sweeten desserts, but did you know the benefits it has for your skin and hair? I love adding honey into my skincare products and even using it for a hair mask.
Honey has microbial and anti-inflammation properties, making it effective for eczema rash. When used on the skin, honey can reduce signs of aging, promote clear skin, and soothe skin irritations.
Essential Oils for Skin
The best essential oils to use for skin irritations are lavender, frankincense, and tea tree. These 3 oils make a powerful blend for almost all skin imperfections.
For this salve recipe, I am also adding in geranium as I have found that oil to help with rashes. Geranium essential oil can promote the appearance of clear skin and soothe dry skin.
This post contains affiliate links, which means I make a small commission at no extra cost to you. Get my full disclosure HERE.
Homemade Salve Recipe
Directions:
Melt shea butter, coconut oil, and beeswax in a double boiler.
Remove from heat and allow to cool slightly.
Stir in raw honey and essential oils.
Transfer to storage tin.
Allow it to harden with the lid off.
Apply to the area of concern.
Don't forget to print off your free printable label. It can be found in the online resource library.
Similar posts
Homemade Soothing Eczema Salve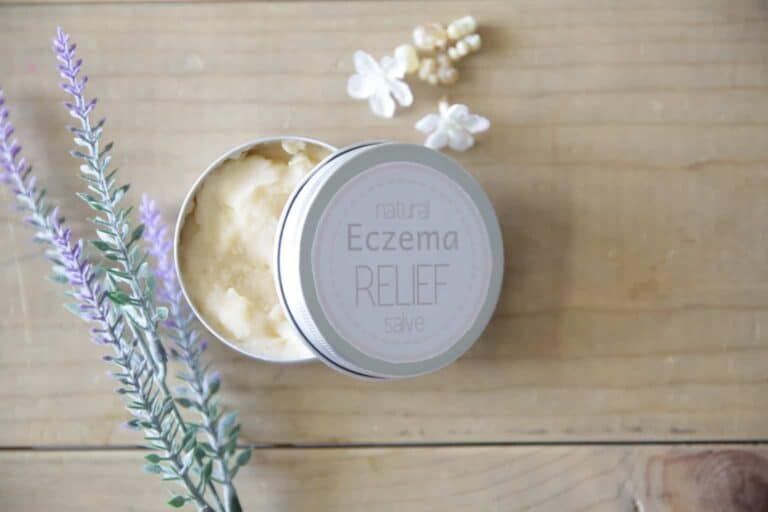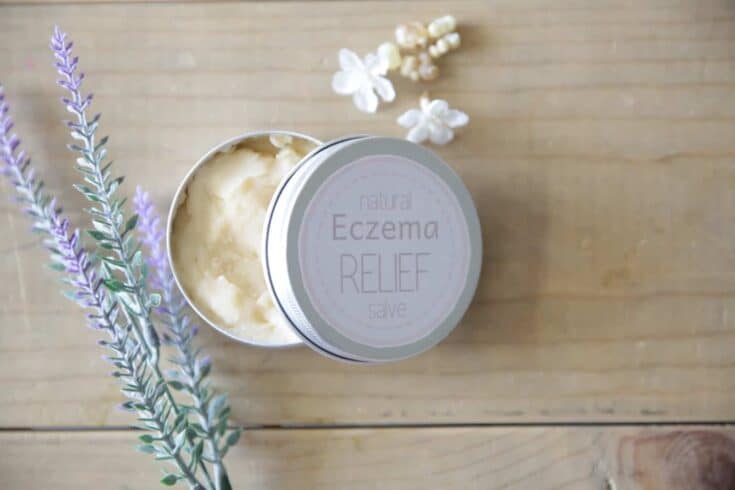 This salve is simple to make and soothes itchy skin caused by eczema and other irritating rashes.
Additional Time
20 minutes
Ingredients
1/2 cup shea butter
1/2 cup coconut oil
1/4 cup beeswax 
1 tablespoon raw honey
10 drops lavender
8 drops frankincense 
5 drops tea tree 
5 drops geranium 
Shallow Storage Tin
Instructions
Melt shea butter, coconut oil, and beeswax in a double boiler over medium heat.
Remove from heat and allow to cool slightly.
Stir in honey and essential oils.
Once ingredients are well combined, transfer the salve to metal storage tins.
Allow the salve to harden completely before securing the lid.
Apply to the area of concern.