Starting with the GAPS diet can be overwhelming at first. I will teach you how to start the GAPS diet without overcomplicating it. Plus, learn how to make the GAPS diet staple food, bone broth, in the instant pot.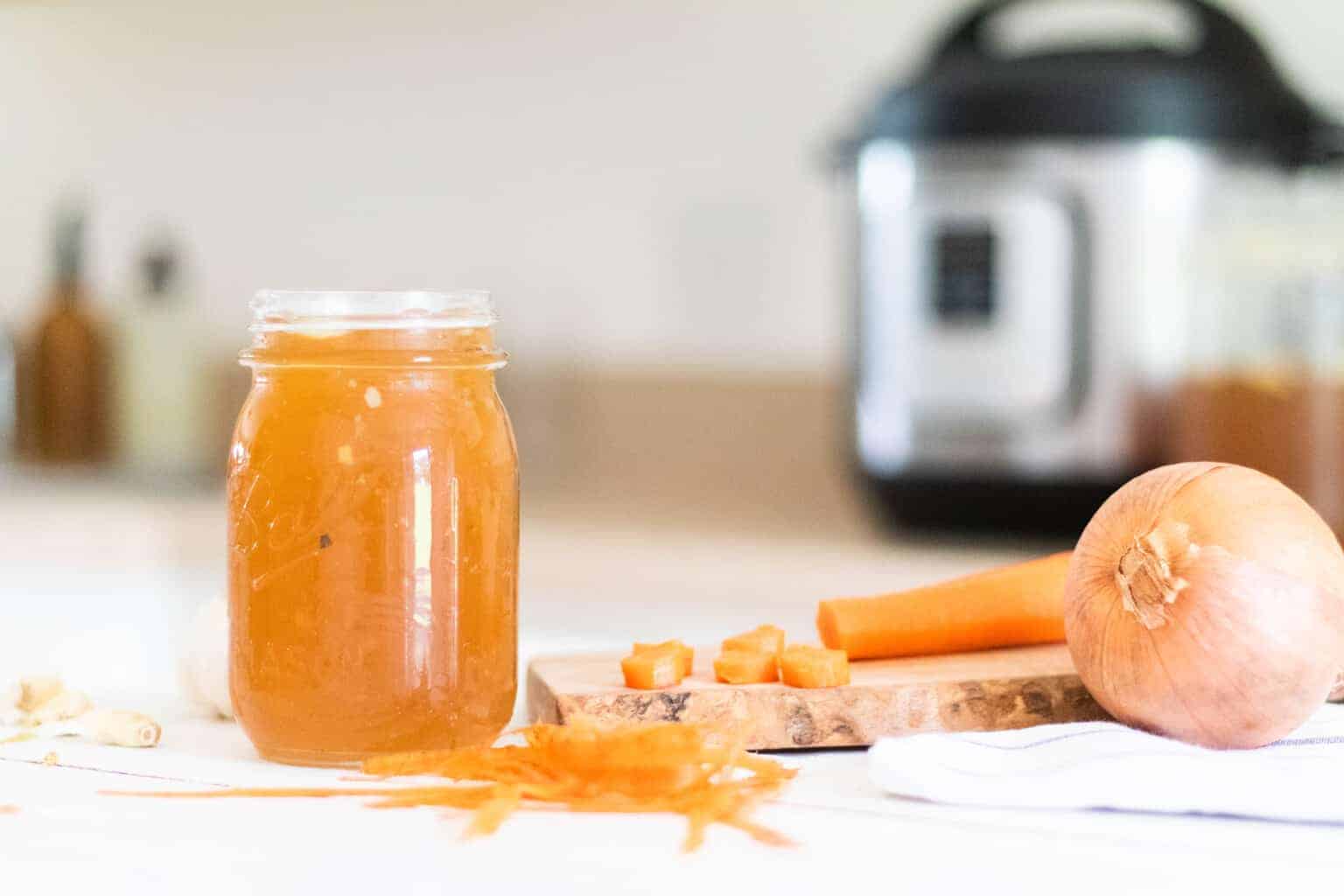 I would be lying if I said the GAPS diet was easy. Previously, I shared our experience with the GAPS diet and went into detail about why we needed it.
In short, I had a very sick baby that required a long hospital stay, IV antibiotics, and lots of steroid breathing treatments.
The results? Well, he got better from the initial scary infection, but he also had a destroyed gut and quickly developed leaky gut symptoms.
PIN IT FOR LATER

This post contains affiliate links, which means I make a small commission at no extra cost to you. Get my full disclosure HERE.
WHAT CAN CAUSE A LEAKY GUT?
A leaky gut can be caused by the overuse of antibiotics. Antibiotics are in a lot of prescriptions, as well as in many of the foods that we eat. Check for antibiotic-free labels on meats and other animal products. If you can buy from a local organic farm, that would be best!
Over-the-counter medications can also be the cause of a leaking gut. When possible, I try to use a natural approach to stay healthy and avoid medications. I know this isn't always possible. There is a time for modern medicine, but be careful not to overuse it because every synthetic drug has a side effect.
The foods we eat, the water we drink, and the air we breathe can also contribute to a leaky gut. Y'all, we live in a polluted world and can only do so much. Don't stress it, because guess what?! Stress can cause a leaky gut too! If you struggle with anxious feelings and stress, check out my natural tips to reduce them.
It is safe to say that if you are living on planet Earth, most likely you have some degree of a leaky gut.
WHAT ARE THE SYMPTOMS OF A LEAKY GUT?
My husband jokes with me because I blame everything on the gut. A kid will fall running down the hill, and he will say, "Oh, I bet that is because they have a leaky gut!" He hears me say this a lot! 😉
But all kidding aside, so many things can stem from a leaky gut. The gut is the brain of the immune system. When the gut isn't working correctly, neither is the immune system. The gut is made up of bacteria, 80% good and 20% bad, and when that balance is off, it can wreak havoc on the body.
Common symptoms include:
Fatigue
Compromised immune system
Skin issues (eczema, psoriasis, acne, skin tags, etc.)
Food Intolerances
Chronic diarrhea or constipation
Bloating
Digestive issues
Headaches
Brain fog and memory loss
Nutritional deficiencies
Joint pain
Sugar cravings
HOW CAN I FIX MY LEAKY GUT?
How to start the GAPS diet! The GAPS diet is designed to heal a leaky gut, and I have seen it in action. I have read countless testimonies and personally talked to people that have seen similar results.
The GAPS diet focuses on foods that are easily digestible and healing. Slowly it can repair a leaky gut; the keyword is slowly.
Fixing a leaking gut is 100% doable; it just won't happen overnight. Be patient with the process and watch your body heal.
HOW TO START THE GAPS DIET?
Getting started on the GAPS diet can be very overwhelming and exhaustive, but it doesn't have to be. Yes, it is very restrictive, but it is actually very simple!
My son was on the GAPS diet for two years. Reading success stories and trying new recipes is what kept me going! He was very young when we did this. I kept telling myself how much easier it would be to heal him now than later. I had complete control over what he ate, and as long as I prepared it, he would eat it.
The very first thing you should do before you start the GAPS diet is to read the GAPS book. Devour yourself in success stories. It will make starting the GAPS diet much easier if you are convinced it is going to work.
My second tip is to NOT overthink it and just get started! Only spend a week or so reading and then jump in. The more you think about it, the harder it is to get started. Plus, is it much easier once you get going!
HOW TO MAKE BONE BROTH IN THE INSTANT POT
Read this recipe, print it, pin it, or memorize it!! This will be the staple of your GAPS journey. Bone broth is amazing for gut health and loaded with nutrients and benefits.
Start buying all-in-bone meat and save them. My family couldn't eat enough meat to keep up with the amount of broth we needed, so I had to get an additional source. I found a local grass-fed beef farmer that sold soup bones. I stocked my freezer full, so I could make broth as often as needed.
TO MAKE BONE BROTH
All you need is bones and water. Adding in vegetable scraps will add flavor and nutrients but isn't required. You can also benefit by adding a splash of apple cider vinegar. The vinegar will pull more nutrients from the bone marrow, making your broth even healthier.
I made my broth on my stovetop for years before I got my instant pot, so if you don't have an instant pot, that is ok. However, the instant pot is much easier, and I like that I don't have to leave my stove on for 24 hours.
DIRECTIONS
Add the bones and any vegetable scraps to the instant pot or other large pot.
Cover the bones with filtered water. I use the Berkey water filtration.
Add 1 tablespoon of apple cider vinegar.
If using an instant pot: Set it on the soup setting for 240 minutes. When it is done, let it release pressure naturally.
If using the stove pot: Bring the water and bones to a boil, reduce heat to low, and let simmer for 24 hours.
After cooking is done, strain the bones off from the broth. Discard the bones.
HOW TO USE THE BONE BROTH?
You can drink it plain or make lots of soup. We almost always chose the soup route. Eating soup will be the main part of your GAPS diet, especially in the beginning.
WHAT FOODS CAN I EAT ON THE GAPS DIET?
In a nutshell, the GAPS diet consists of bone broth, lots of fermented vegetables, soft boiled meats, vegetables, limited fruits, and lots of healthy fats.
If you can handle dairy, you can eat 24 hours fermented kefir or yogurt.
Be sure to avoid gluten, soy, sugar, and all processed foods.
Check the GAPS diet-approved food list for more details.
MY TIPS FOR ANYONE GETTING STARTED ON THE GAPS DIET
Keep a freezer stocked with organic beef, chicken, or fish bones for broth.
Always have a batch of bone broth going, so you never run out.
Eat a lot of vegetable soups. Add in meats slowly. Some people may need to start off slow with the bone broth. If this is you, just drink a couple of tablespoons at a time until you feel you can tolerate more.
Be sure to add in healthy fats, like coconut oil, butter, lard, tallow, and cold-pressed olive oil.
Eat fermented foods with every meal. Start slow with this and gradually work your way up to 1/4 cup per day. Make this 2 ingredient sauerkraut with this simple recipe.
Listen to your body! If something isn't working with you, eliminate it or try it in smaller portions.
Keep a food diary to see which foods are affecting you. This was crucial with my son and pinpointing that he had an issue with dairy.
Have you ever done the GAPS diet? If so, share with me the results in the comments!
Bone Broth in the Instant Pot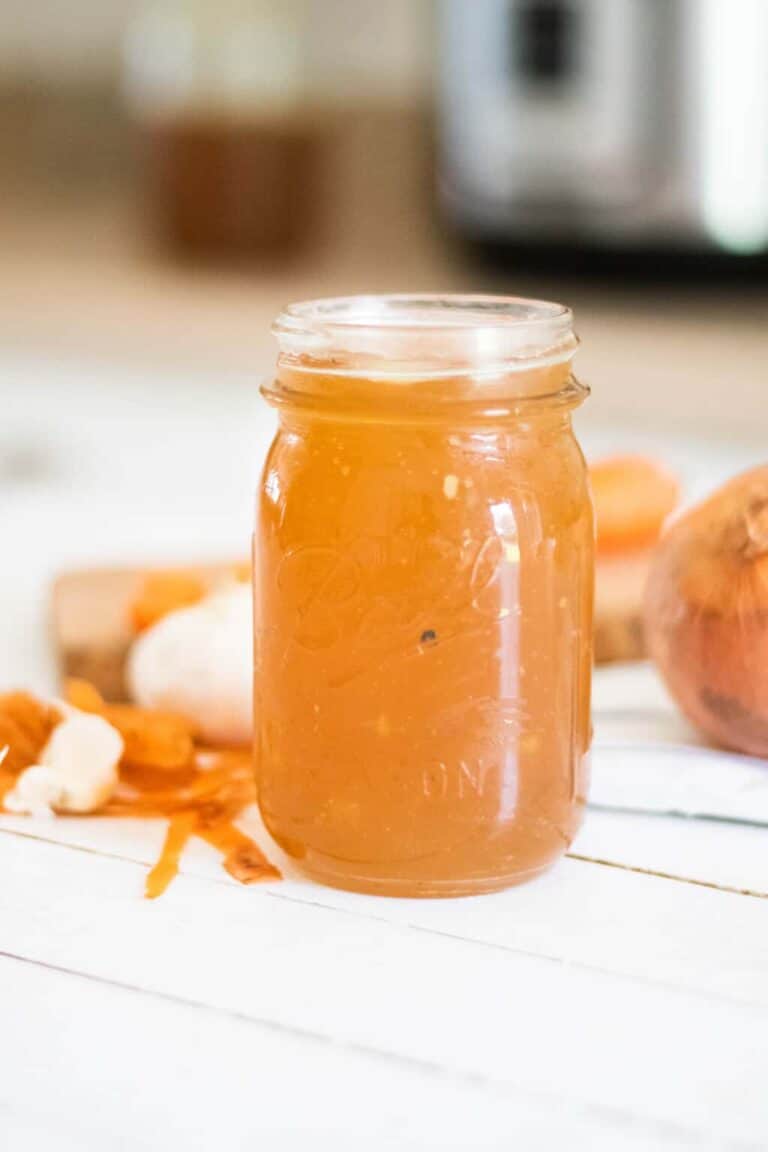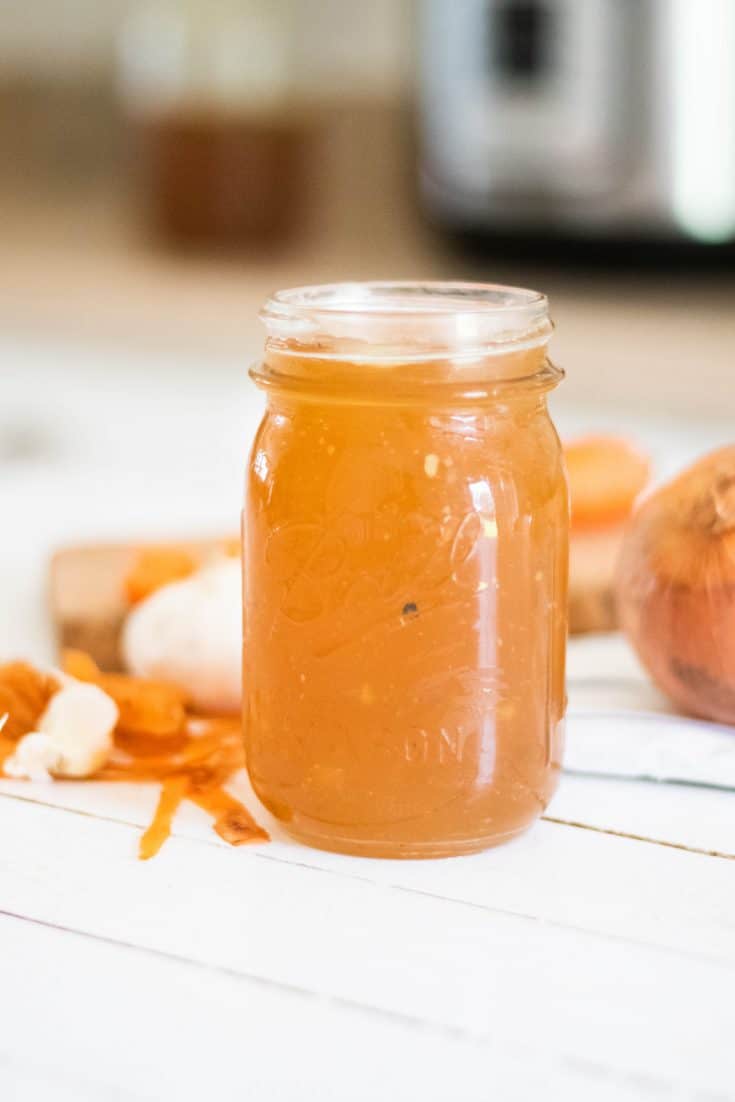 Total Time
1 day
5 minutes
Ingredients
Bones from a whole chicken
Vegetable Scraps
1/2 gallon water
1 tablespoon apple cider vinegar
Instructions
Add the bones and any vegetable scraps to the instant pot.
Cover the bones with filtered water. I use the Berkey filter.
Add 1 tablespoon of apple cider vinegar.
Set it on the soup setting for 240 minutes.
When it is done, let it release pressure naturally.
Strain the bones off from the broth.
Store in an airtight container.