Homemade sugar scrubs are an inexpensive way to give yourself a spa day at home. They're also great for removing makeup before bedtime. And with only 3 ingredients that you likely already have on hand, now is the perfect time to make this simple, natural exfoliant.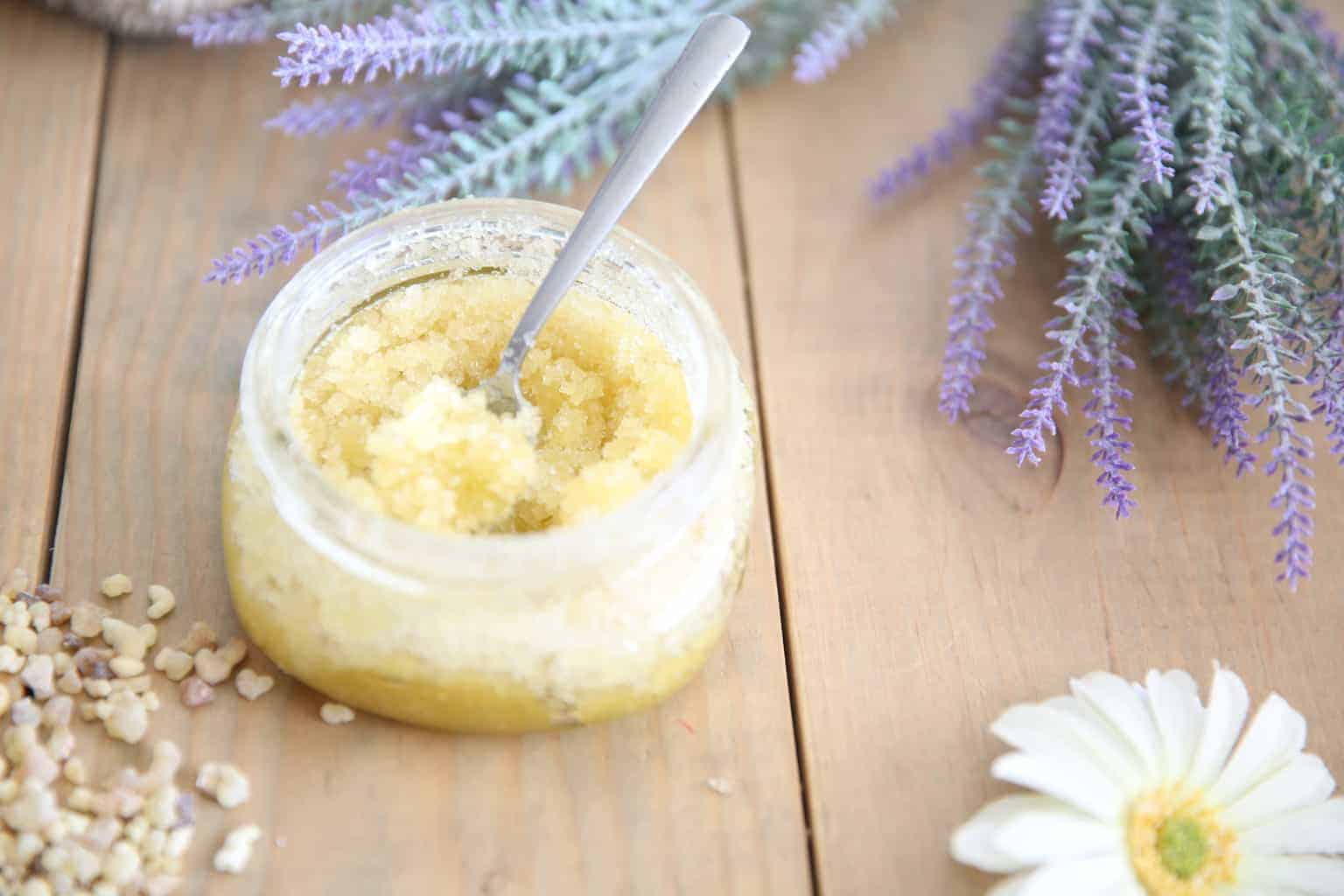 How to make homemade sugar scrub
Something about a sugar body scrub makes me feel fancy. Maybe because of the way my skin looks after I'm done? Regardless, I always love having a jar of it on my bathroom vanity.
And since this recipe can be practically made for pennies, there is no guilt in using it as often as you like.
Sugar scrub benefits
Sugar scrubs are an inexpensive alternative to expensive commercial products. They also smell good and feel nice against your skin while not breaking the bank! You can use them at home, make them as a gift, or take them along when traveling.
The sugar scrub will leave your hands feeling moisturized and clean. And during the dry winter months, it can be quite helpful in restoring dry, cracked skin.
You can also use it as a gentler alternative to salt scrub for cracked skin on the feet or as a face exfoliating scrub. The best part is that only a couple of ingredients and a jar will wrap up this simple DIY project.
This post contains affiliate links, which means I make a small commission at no extra cost to you. Get my full disclosure HERE.
Essential oil sugar scrub recipe
Instructions
Mix olive oil and cane sugar in a medium-size mixing bowl, stirring well.
Add your oil blend of choice choosing from the options below.
Store in an airtight container.
How to use sugar scrub
Feet: Scrub into the bottom of the feet to help remove cracked, dead skin.
Face: Add a dime-size amount to the palm of your hand and gently rub it into the face. Let it sit for several minutes before rinsing off with warm water.
Elbows/Body: You can use this on the back of the elbows to exfoliate dry, flaky skin by massaging into the area of concern. Rinse off with warm water.
For Soothing: Use the cooling sugar scrub blend for a soothing back massage after a long work day.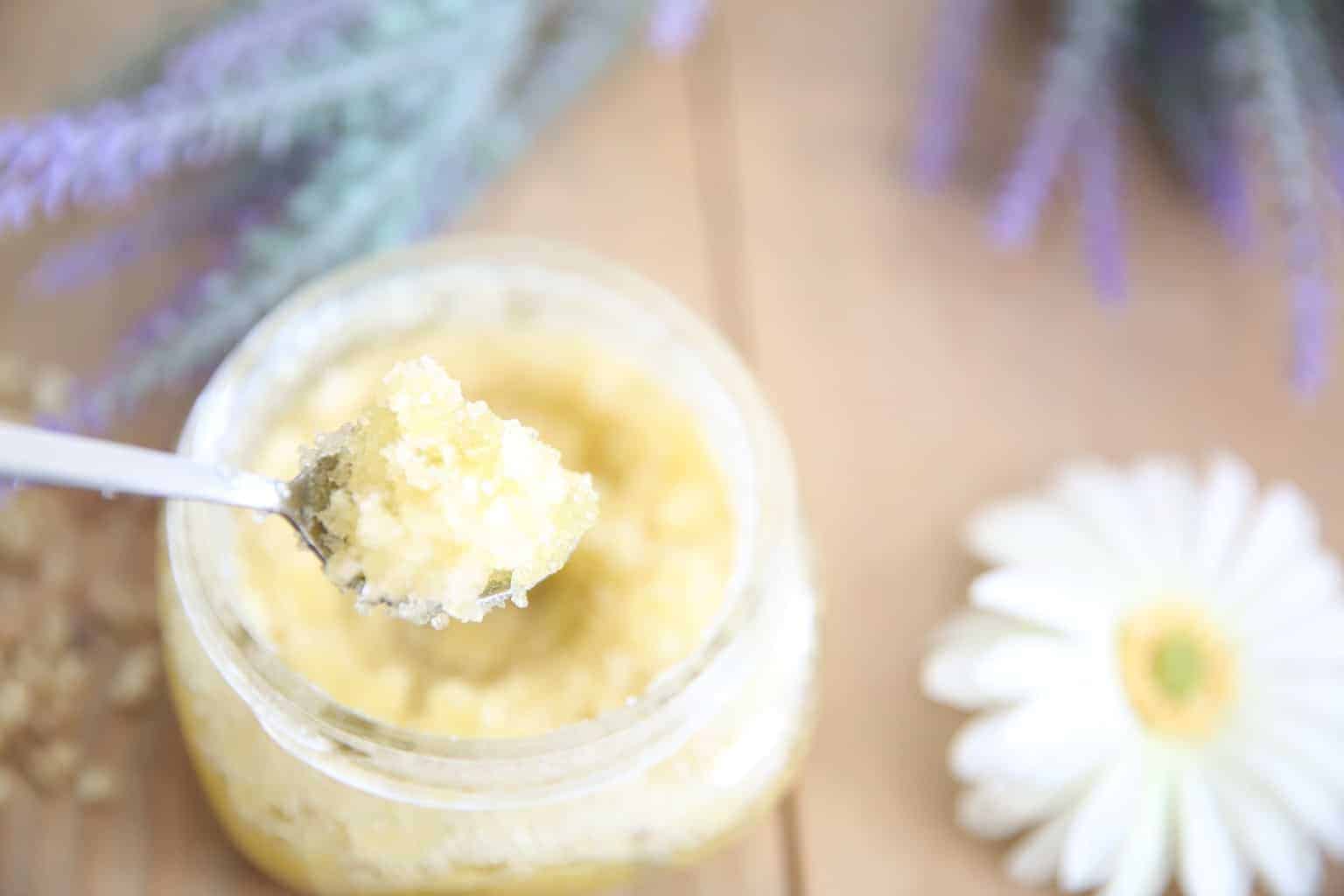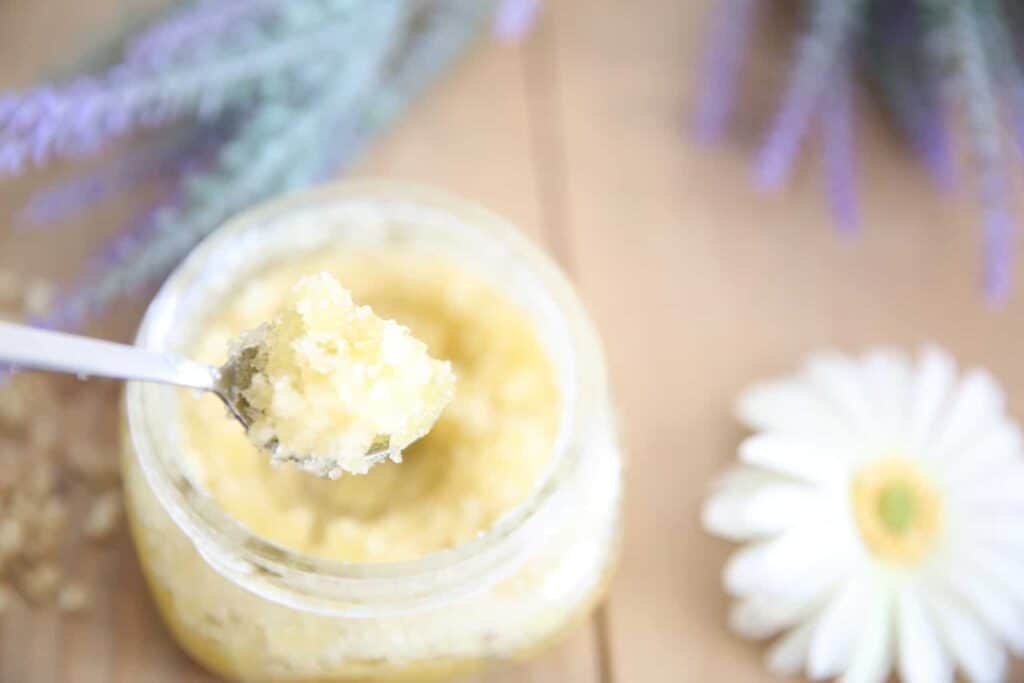 Essential oil sugar scrub blends
Choose from one of these blends below and include it in your sugar scrub recipe, or make up your own blend!
Pamper Skin
10 drops of lavender
10 drops of frankincense
Frankincense and lavender are known for rejuvenating the skin and repairing skin imperfections. Both these oils also work well on dry, flaky skin.
This is my favorite blend, and I use it often in the winter to help with dry, cracked hands.
Citrus Bliss
6 drops of wild orange
5 drops of lemon
4 drops of lime
This is a fun, refreshing blend of all citrus essential oils. Use this in the morning to feel energized and smell great all day long!
WARNING: Citrus essential oils are photosensitive, so be sure not to use this blend before going out in direct sunlight. Personally, if I wash my hands with a scrub made with citrus essential oils, I will make sure to rinse it off before being exposed to any sunlight. If you are one with sensitive skin or burn easily, this is something to be cautious about.
Earthy
8 drops of sandalwood
4 drops of peppermint
4 drops of rosemary
2 drops of tea tree
This has a beautiful fresh earthy scent. This would be a great blend to use if you are making this sugar scrub for a man.
Sugar scrub can be beneficial for rough, working man hands. Oh, and the peppermint also adds a nice cooling effect to the skin!
Sweet Floral
8 drops of lavender
6 drops of roman chamomile
4 drops of rose
2 drops of wild orange
I love all things citrus and floral, and that's just what you'll get with this blend. The scent is beautiful and calming and pairs excellently with a homemade night cream that would make a perfect Mother's Day gift.
Try using this blend after waxing to help with bumps or blemishes.
Cooling
6 drops of peppermint
5 drops of wintergreen
4 drops of lime
This minty citrus blend is very refreshing and can help open up airways, soothe sore muscles, and help you feel energized.
Try using this blend as a soothing back massage if feeling achy or sore.
How often to use a body scrub
Sugar scrubs, or any exfoliating scrubs, are not intended for daily use. It is best to use a sugar scrub 2-3 times a week.
Try this whipped lavender sugar scrub in the cooler months when your skin is more susceptible to dry weather.
Are sugar scrubs safe
Sugar scrubs are generally considered safe for use on any type of skin. However, while sugar scrubs are generally beneficial for people with skin-related conditions such as eczema or psoriasis, some people may experience skin irritations from sugar scrubs. Although this is rare, it's something to be aware of.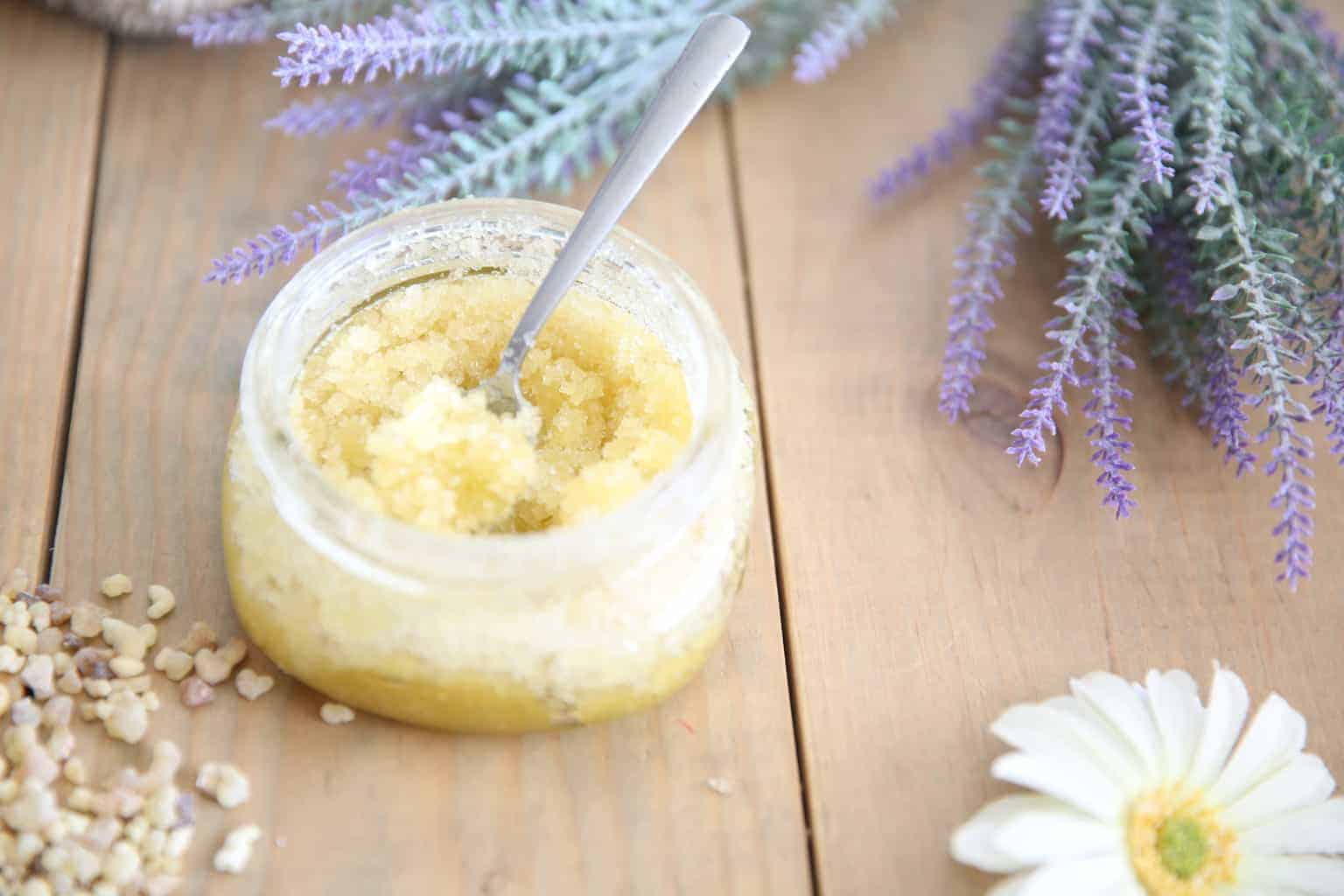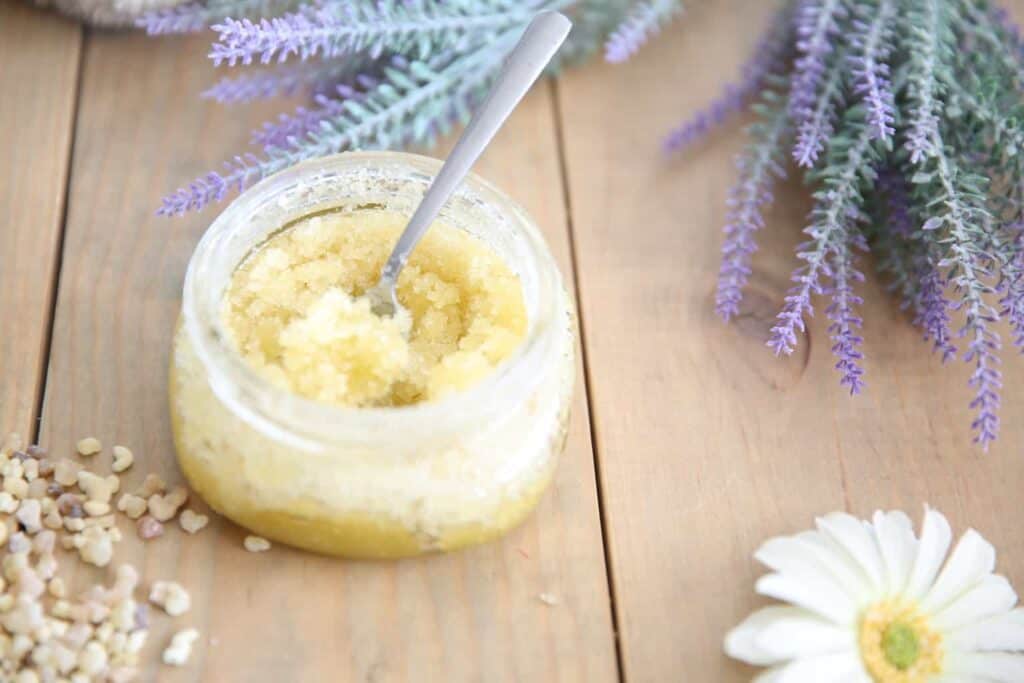 Some more helpful information
Sugar has very small particles making it a gentle skin exfoliator.
Not all sugars are the same; brown sugar is the most gentle on the skin (great for a lip scrub), followed by white sugar and coconut sugar, respectively.
While sugar is widely popular as a gentle face scrub, if you have extremely sensitive skin, try substituting blended oatmeal for sugar.
Using the scrub can help to remove dead surface skin cells and reveal the healthy new skin underneath.
Do I have to use olive oil?
No! You can use any liquid oil to make the scrub. The consistency may change depending on the oil you choose but will still work well.
Avocado oil
Fractionated coconut oil
Sweet almond oil
Grape seed oil
Rosehip oil
I am often asked if one can make a sugar scrub with coconut oil. Unfortunately, coconut oil solidifies in temperatures below 76° and, as a result, makes it nearly impossible to use for its intended purpose with this recipe.
I hope you enjoy this simple sugar scrub recipe! It would make an excellent gift for someone or perfect for pampering yourself.
If you make this recipe, let me know what you think in the comment section below! I love to hear from you! And if you enjoy DIYing natural, sustainable products, be sure you check out some of these favorites below.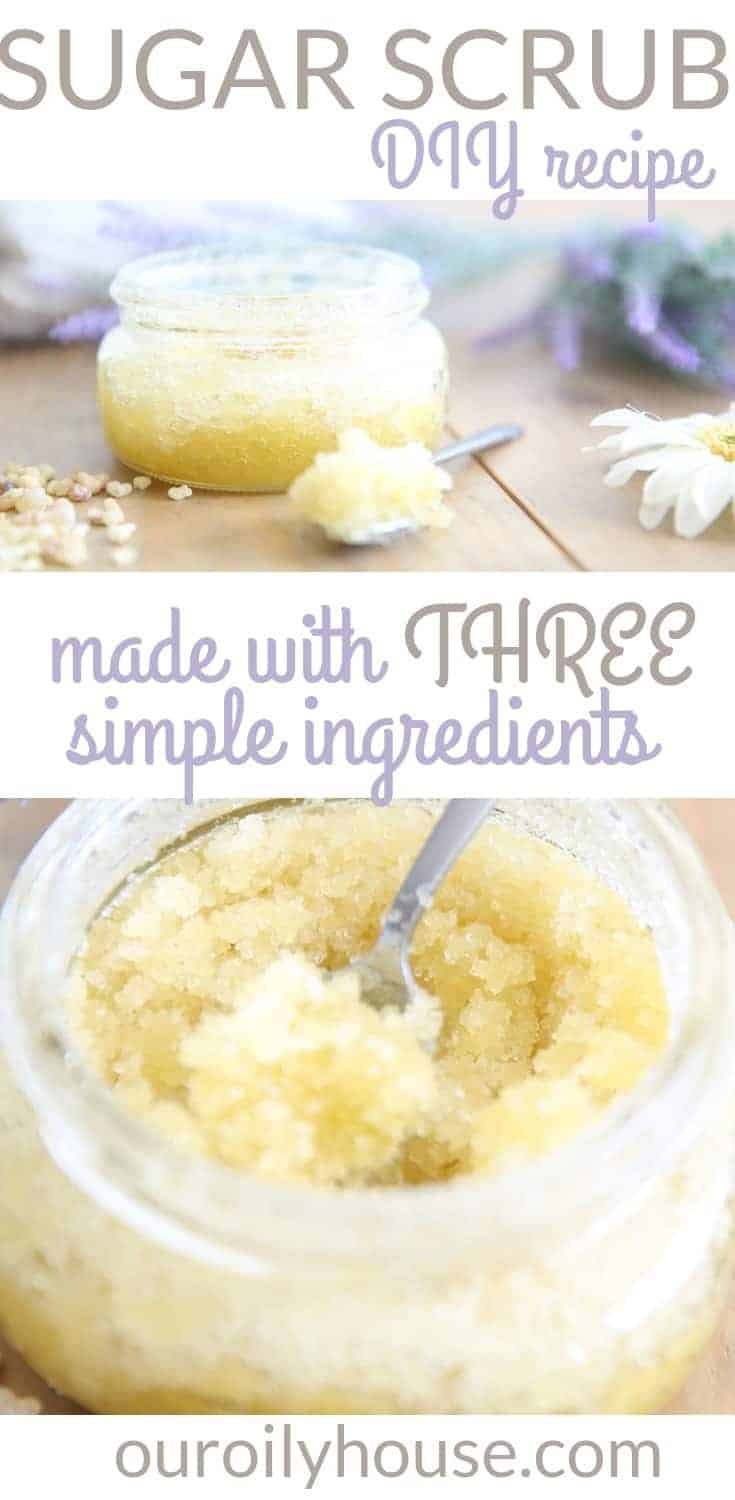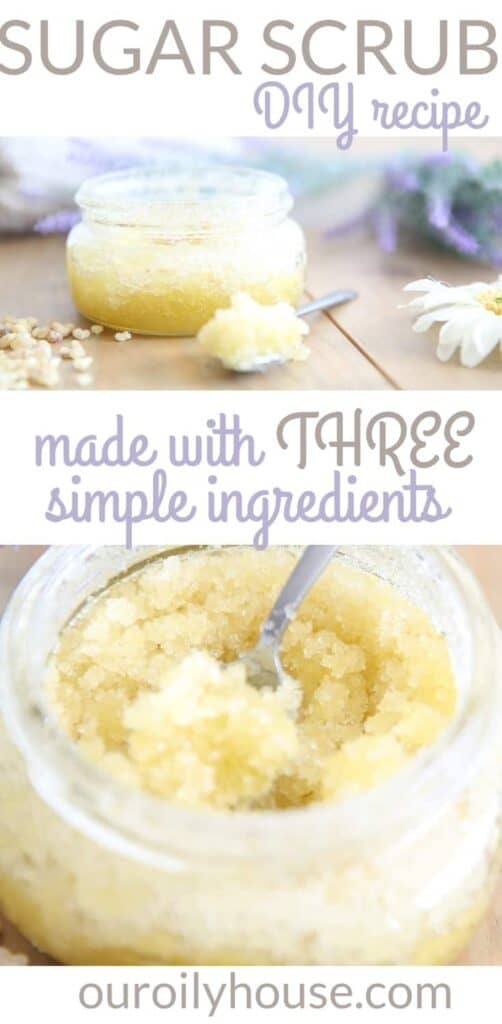 Yield: 1 Jar
Homemade Sugar Scrub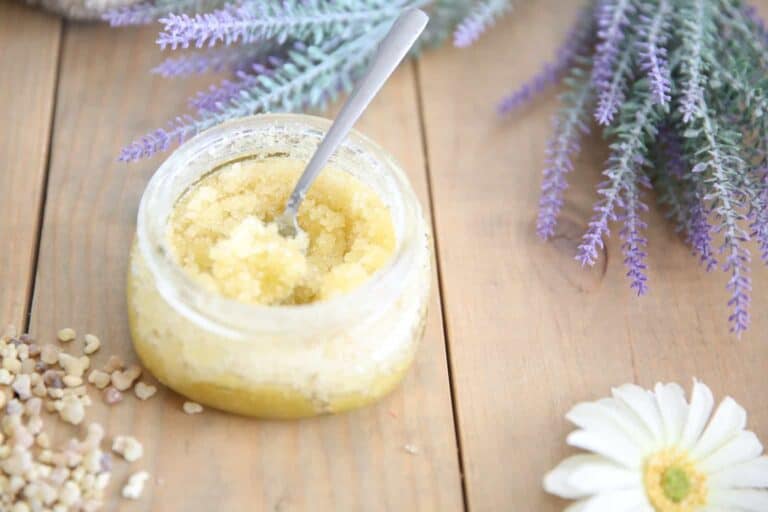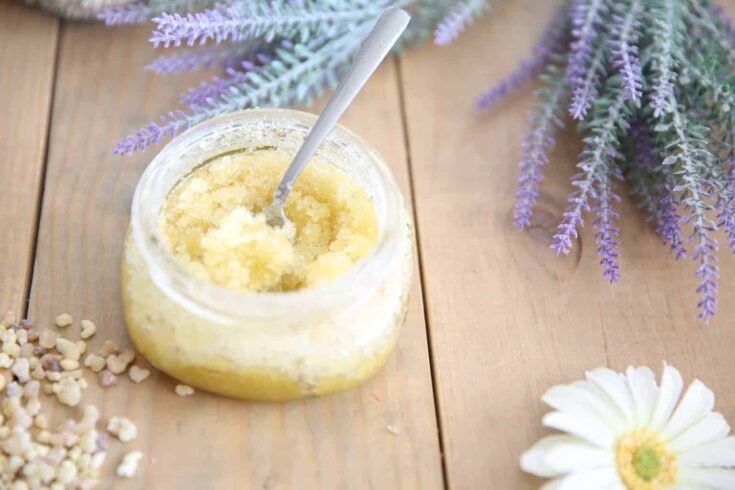 Simple yet effective sugar scrub recipe. It works wonders on all skin types. Use it on the hands, face and feet as a gentle exfoliator.
Additional Time
5 minutes
Ingredients
10 drops of lavender essential oil
10 drops of frankincense essential oil
Instructions
Mix olive oil and cane sugar in a medium-size bowl until well combined.
Add the essential oils and stir in well.
Transfer to an airtight container for storage.

Notes
Add a dime-size amount of sugar scrub to the palm of your hand and gently scrub into the skin. Let it sit for a few minutes before rinsing off with warm water.