Come see our daily essential oil routine in our home. I will show you which oils I use on my 4 kids and myself on a normal day.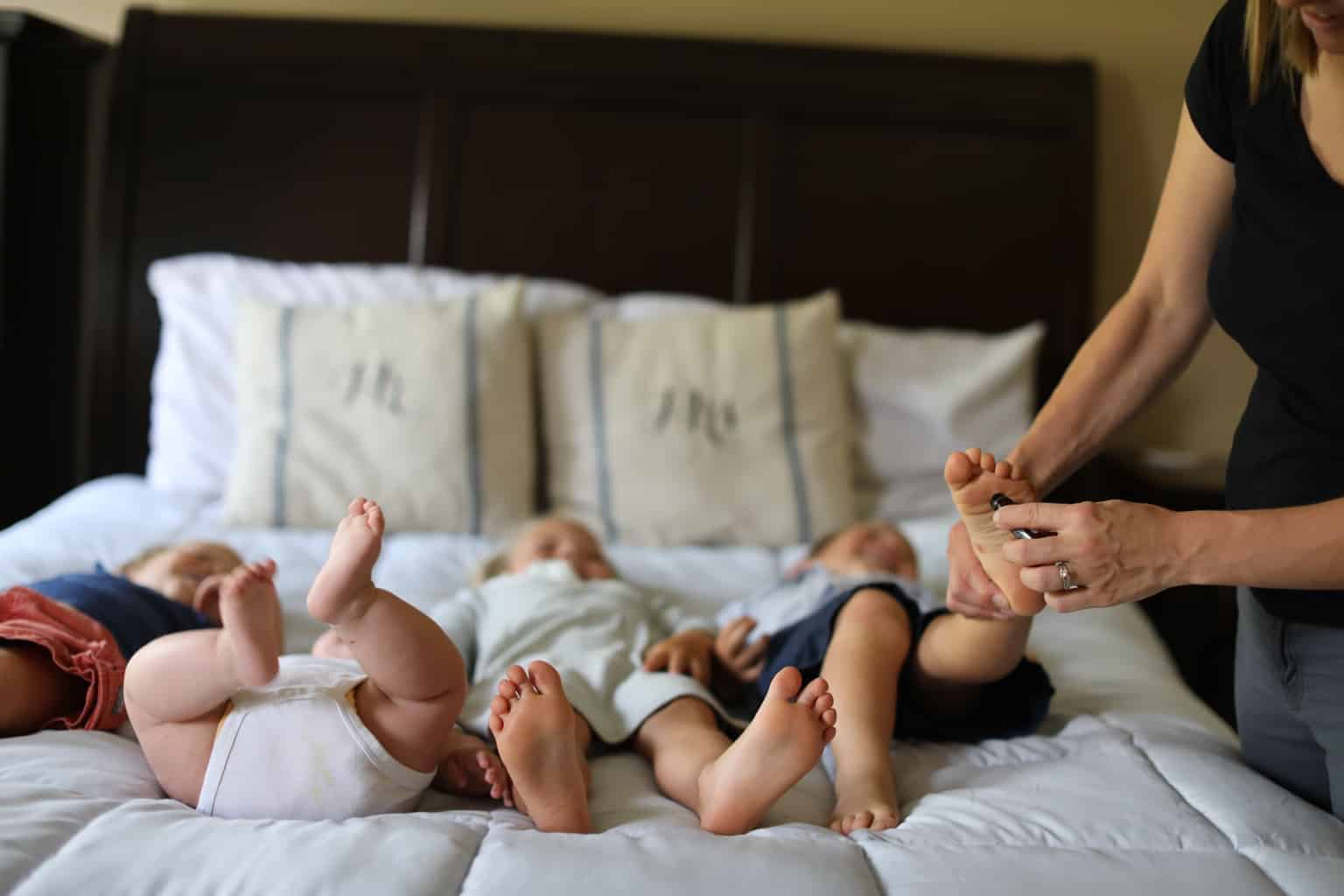 This is a hard post to write because the oils I use change day today. If someone isn't feeling well, we are going to be using all the immune-boosting oils. If someone falls and scrapes their knee, we are going to be using my clear skin blend. When someone is cranky or mama is stressed, we will be using all the grounding and uplifting oils.
So today, I am bringing you through a typical day in my home, with 4 little kids, to show you exactly which oils we used and why. We do use several oils on a daily basis, but I will switch it up if we are dealing with a particular ailment.
DAILY ESSENTIAL OIL ROUTINE WITH KIDS
This post contains affiliate links, which means I make a small commission at no extra cost to you. Get my full disclosure HERE.
MORNING
TOPICALLY
AROAMTICALLY
Every day is a little different from what goes overnight in the diffusers. Sometimes each diffuser gets a different blend, and sometimes I do the same in each.
Today, we stuck to a blend of citrus oils in all the diffusers. I did 2 drops each of wild orange, lemon, and lime. This blend is very uplifting and energizing to help us all get-up and get going. Citrus oils also purify and cleanse the air.
INTERNALLY
I don't regularly give my children essential oils internally. If someone is actually sick, then I will dilute 1 drop in some carrier oil and split it into 4 dosages to take throughout the day.
NOON
TOPICALLY
Before getting my baby and toddler down for naps, I apply my kids' sleep blend to their feet, jawlines, and down their spines. This blend helps calm them down and promotes healthy sleep.
My older two children listen to audiobooks during nap time, and my daughter does her handwriting. They both get the focus and concentration blend before nap time to help keep them focused.
I apply a blend of lemon, peppermint, wild orange, and rosemary on myself before sitting down to get some blog work done. These oils help me to stay alert, awake and focused.
AROAMTICALLY
The baby and toddler get a calming blend in their diffusers for nap time. Today, I did 4 drops of lavender and 2 drops of frankincense.
I keep doTERRA's DDR prime blend in my daughter's room and diffuse this one for her during nap time. It is a blend of frankincense, wild orange, lemongrass, thyme, summer savory, niaouli, and clove. I find this blend to be very helpful for her!
My son listens to his audiobooks in the living room right next to me, so he gets whatever I have going in my diffuser. My favorite afternoon blend is a simple few drops of lemon and peppermint.
INTERNALLY
I like to add a couple of drops of citrus oils to my water to add flavor and gently detox my body.
One drop of lemon and grapefruit is my favorite. I also like lime, tangerine, and green mandarin.
NIGHT
TOPCIALLY
Before bed, all the kids get the kid's immune support blend on the bottom of their feet, and the kid's sleep blend down their spines. If anyone has a particular aliment going on, then they will get an oil for that. Tonight, we used some of the kid's clear skin blend on my son's scratch on his face.
My daughter has a scar on her forehead from a recent shovel accident with her brother. I am thankful for the scar essential oil blend and the progress I have seen. Each night she applies the scar blend to her forehead. If we remember, she applies this more throughout the day.
I use different oils each night before bed. I like to switch it up to see which ones work better for me and depending on the night. Most nights, I go to bed around midnight, and my brain is still going a million miles a minute. Applying lavender and vetiver to my pulse points helps me to fall asleep.
AROMATICALLY
All the diffusers get a calming blend of essential oils at night. Lavender, frankincense, vetiver, sandalwood, and cedarwood are a few of our favorites.
The diffusers in my kids' room only run for 4 hours, and then they turn off. I notice that in the morning, their rooms still smell like the oils I was diffusing the night before. I don't refill diffusers overnight.
INTERNALLY
My husband and I both enjoy lemon water with dinner most nights.
If I didn't take all my vitamins in the morning, I will take the rest of them with dinner.
I take a drop of vetiver under my tongue most nights before bed. Some nights I also do frankincense and copaiba.
DAILY ACTIVITIES
Essential oils have taken over our home, beauty, and hygiene products! So several parts of our daily routine include essential oils, like bathing, brushing our teeth, washing hands, or wiping down the table after lunch.
KITCHEN SPRAY
This is the spray I use on the dishes, countertops, tables, and chairs. I love that it is all-natural, so the kids can help me clean without the worry of chemicals getting on their skin or them breathing them in.
To make the spray, you will need:
Pour the ingredients into the spray bottle and top off with water.
FOAMING HAND SOAP
I ditched the antibacterial soaps awhile ago, and after buying a few rounds of a natural kind, I decided to make my own. It is so simple to make and much cheaper.
To make foaming hand soap, you will need:
BABY AND KID SHAMPOO AND WASH
Same as the foaming hand soap, it only took me a few times buying natural baby wash before I decide to make my own. My oldest child is 6, and I still use this on her, and she has thick hair.
To make the baby and kid shampoo and wash, you will need:
WHIPPED BODY BUTTER
I use my whipped body butter on my kids' skin if it is dry, and I also use it for my baby if he has a diaper rash. My husband and I both use the homemade lotion bars daily.
ESSENTIAL OILS FOR KIDS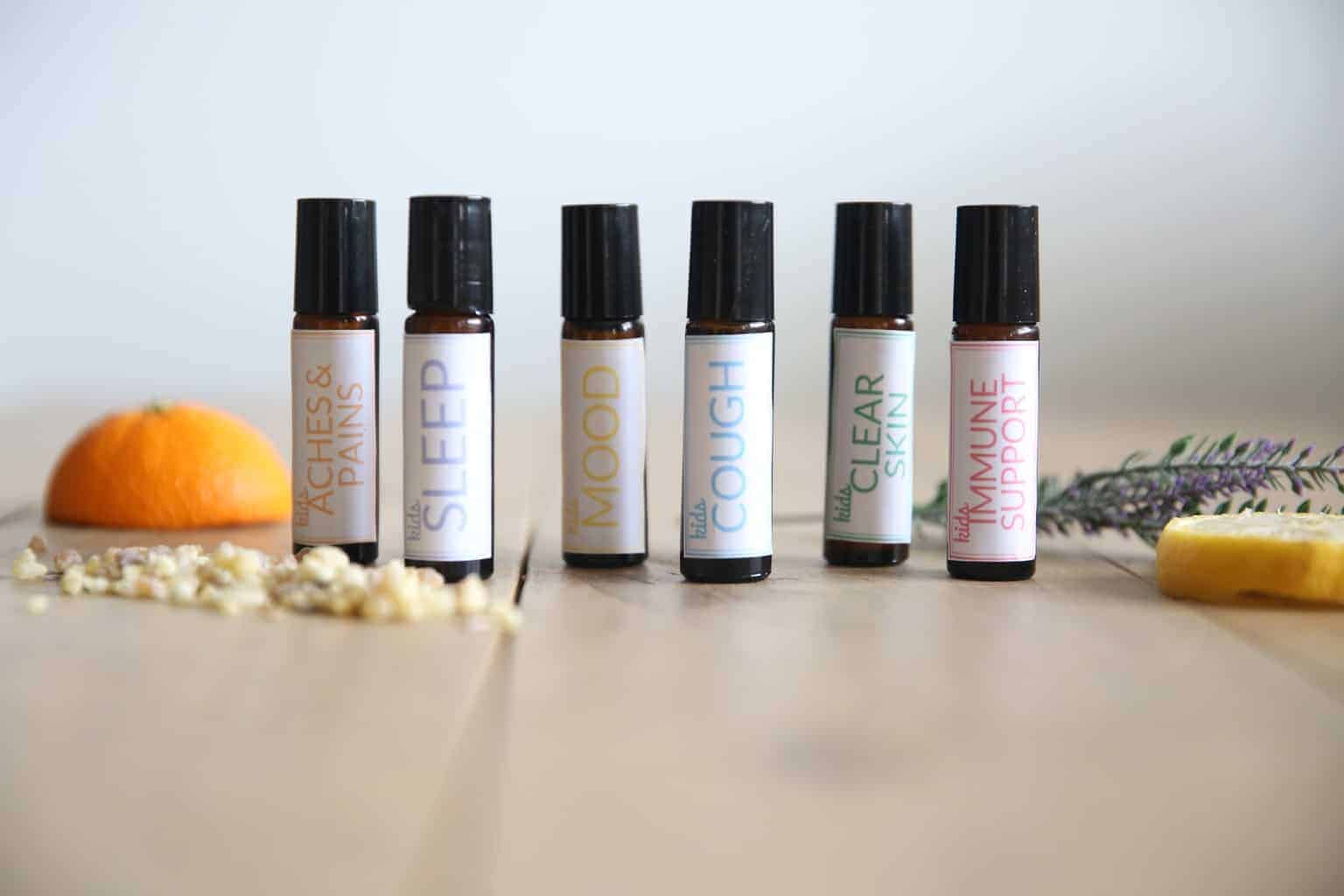 If you are new to using essential oils on kids, you can check out these posts to learn how to use essential oils safely and effectively on children.
Grab my free ebook to learn how to use essential oils safely on children.
PIN IT FOR LATER
Follow along with our oily house:
Thanks for stopping by our oily house!