Create a healthier non-toxic home with these simple cleaning recipes. Using essential oils to clean is effective and better for your health and home.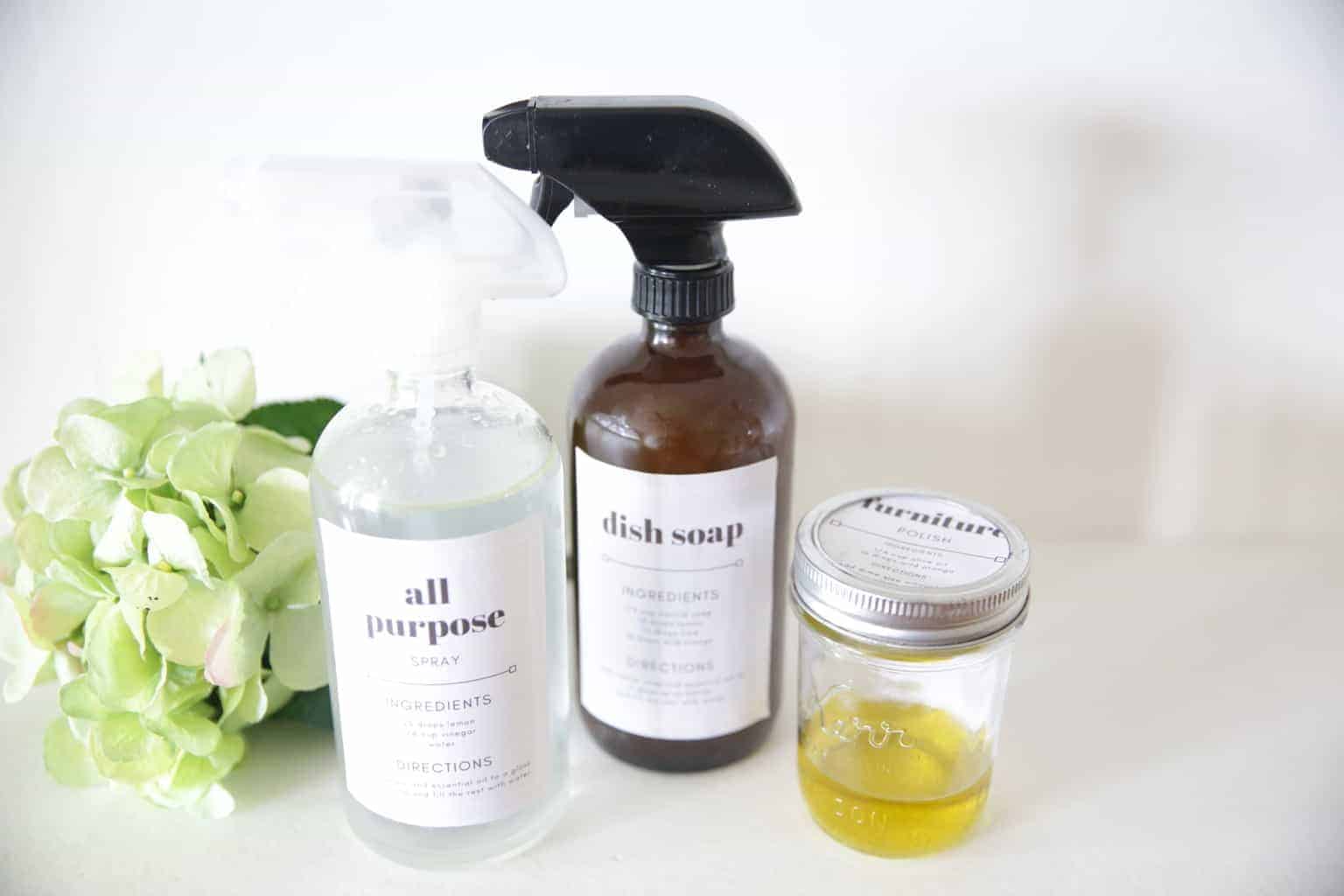 Get access to my online resource library for your natural cleaning with essential oils printable labels.
Ok, so I have to admit that I enjoy cleaning. I like a clean house and I can be a bit over the top when it comes to cleaning and organizing. I can't go to bed with dishes in the sink and I won't leave my house without the bed made, even when I am going to be gone all day long. I know it doesn't matter and the next time I see it, I'll be unmaking it to go to sleep but I still have to make it. I try to be more relaxed about it, but I just can't. If my house isn't put together, I feel stressed. I absolutely can't stand streaks on my mirrors and I like my carpet to have vacuum lines. I am telling you I am over the top and I know it.
A few years ago, I was overhauling the house and getting rid of toxic products in my home. I started making homemade products with my oils and when I came to my precious cleaning supplies, I was skeptical. Would I really be able to make products that work like Windex? Or what about that Lysol smell after my floors are mopped? What about the toilet bowl? Yup, I like cleaning toilets too!
I researched recipes and started trying different things. Let me tell you, I was impressed! I still get that clean, fresh look and scent without the chemicals. I use a couple of essential oils and a few products to clean my entire house, and it still sparkles.
NATURAL CLEANING WITH ESSENTIAL OILS VIDEO
This post contains affiliate links, which means I make a small commission at no extra cost to you. Get my full disclosure HERE.
MY FAVORITE NATURAL CLEANING PRODUCTS
VINEGAR- Vinegar is great for cleaning because of its high acidity level. It can remove sticky buildup, dissolve soap scum, get rid of rings left by hard water, and cut grease. Vinegar can also kill salmonella and E.coli, two bacteria you'll want to kill.
BAKING SODA- Baking soda is great for absorbing odor and removing stains, making it a go-to for your natural cleaning. Baking Soda is a mild alkali and can cause dirt and grease to dissolve easily in water for effective removal.
CASTILE SOAP- Castile soap is gentle, safe and leaves surfaces squeaky clean. Castile soap is highly concentrated, making it cost-effective because you only need a little bit each time you clean, and each bottle will last you a long time.
MY FAVORITE ESSENTIAL OILS FOR NATURAL CLEANING
Lemon- Learn more about lemon HERE.
Wild Orange
Lime
Melaleuca
These essential oils have powerful cleansing and purifying properties. They can be used to cleanse surfaces, purify the air, and leave behind a pleasant aroma that makes your house smell clean and refreshing. I love diffusing citrus oils on cleaning day to get that lemon "LYSOL-Y" smell!
I keep it simple. As I am writing this, I am looking around to see if I am missing anything; I can't believe how little I use when it comes to cleaning. Under my sink, where I keep the cleaning supplies, is pretty boring, but I like it. I like that my kids can help me clean without me having to worry about chemical burns or them ingesting it. I like that the ingredients are healthy and natural. I love that they work!
I am going to share the few recipes I use to clean my entire house, my dish soap recipe, and my favorite DIY foaming hand soap.
ALL-PURPOSE CLEANING SPRAY
You can use it on counters, bathroom vanities, kitchen surfaces, floors, and even mirrors; it doesn't streak!
Do not use this spray on natural stone. If you have granite or marble countertops, you'll want to use a cleaner specifically for those.
Ingredients:
Directions:
Add vinegar and lemon to bottle.
Top off with water and shake well.
TOILET BOWL CLEANER
Ingredients:
Directions:
1) Add essential oils and vinegar to spray bottle and top off with water.
2) Spray in the toilet and let the mixture sit for a few minutes.
3) Sprinkle with baking soda and then scrub with a toilet brush.
This takes away that nasty ring, leaves a sparkling bowl, and eliminates odors.
Try these DIY toilet cleaning bombs for hands-off cleaning!
FURNITURE POLISH
Ingredients:
Directions:
Add ingredients to a mason jar and mix well. Add a dime-size amount to a cloth and rub on furniture to remove smudges and dust. It adds a nice, shiny, protective layer.
DISH SOAP SPRAY
Ingredients:
Directions:
Add essential oils and castile soap to spray bottle and top off with water. You can add 1 tablespoon to a sink of warm water or spray one time on each dish to wash individually.
Check out my new Gel Dish Soap.
FOAMING HAND SOAP
Directions:
Add essential oils and castile soap to a foaming soap dispenser and top off with water. This makes an all-natural, gentle, foaming hand soap.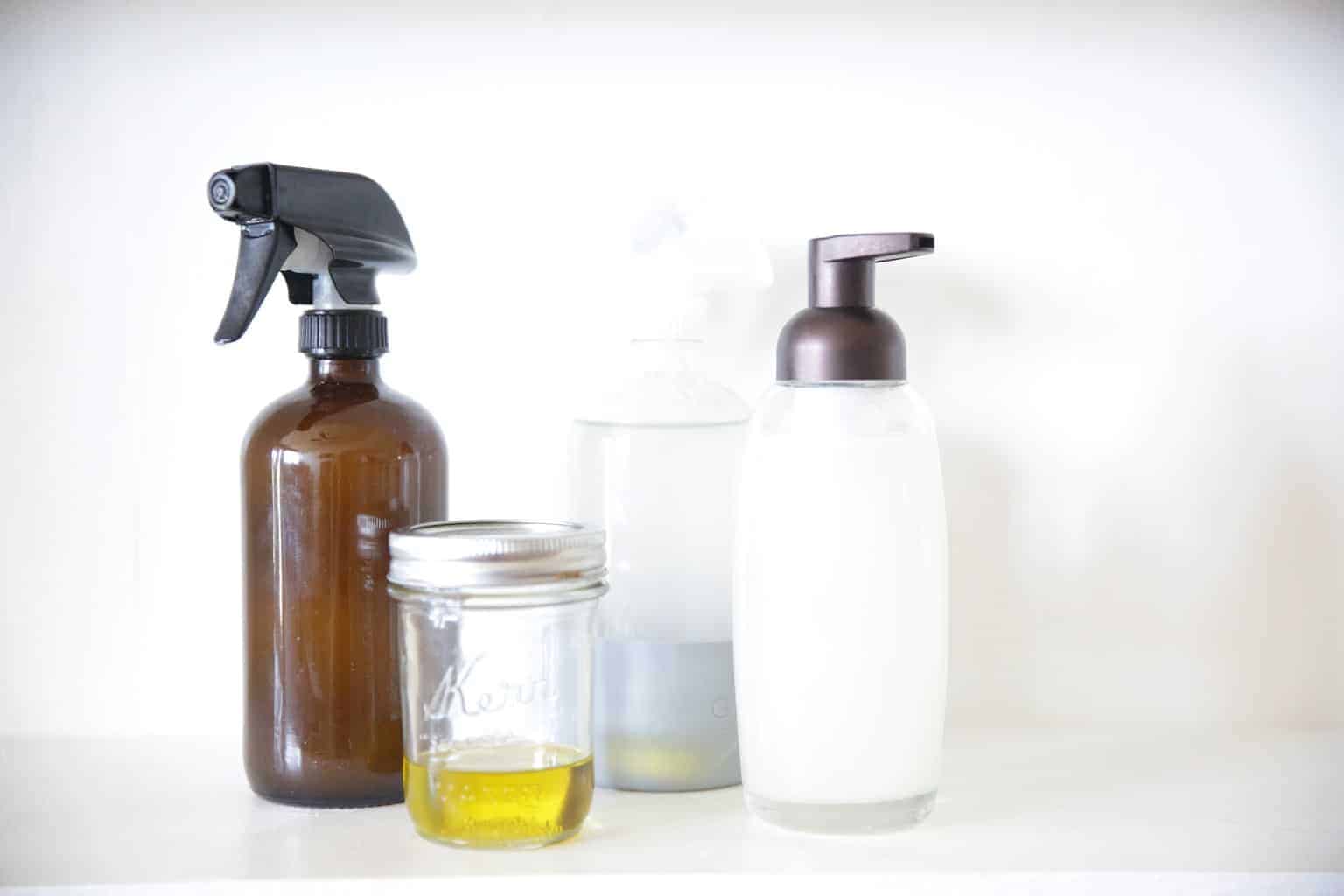 Y'all, that's it! Simple. With these few products, you will cover all your cleaning needs, and I have a lot of cleaning needs. As I said, I am a bit over the top when it comes to cleaning, AND I have 4 little kids, so believe me, these recipes are tried and true.
Happy cleaning, my friends!
PIN IT FOR LATER

More Natural Cleaning Products for You